Jolie Varela on Indigenous Women Hike and the John Muir Trail's Real Name
"The healing is going to start with the women. In indigenous culture, women are a huge part, and it's got to start with us out on the land."
Heading out the door? Read this article on the new Outside+ app available now on iOS devices for members! Download the app.
Jolie Varela founded Indigenous Women Hike in 2017 to help women in her community reconnect with the land and cultivate healthy lifestyles. This summer, Varela, who is Paiute and Yakut, is embarking on a three-week hike retracing her ancestors' trade routes along the John Muir Trail in California's Eastern Sierras. We talked with Varela about her upcoming hike in her hometown of Bishop, California in Payahüünadü, or the Owens Valley.
Backpacker: How did you get into hiking?
JV: I didn't really grow up camping or hiking or anything like that. It wasn't until I was about 26 years old that I started hiking. I started doing it for my mental health. Every time I go out I feel better.
Tell us about the hike.
In May I got the idea that I wanted to hike the [John Muir] Trail. I realized, talking to our elders around here, that these are our ancestral trade routes. They were there long before John Muir was. So I'm going to do the JMT but I'm going to call it the Nuumu Poyo—which means the Paiute Road or Paiute Trail, but directly translates as the People's Trail.
As an indigenous women, how are you approaching this hike differently?
We'll be traveling under the American Indian Religious Freedom Act of 1978. My elders have advised me not to get permits. I think it tells the story even more. We're trying to be out here doing something good, making our community healthy. I understand the importance of having permits too, but us not getting our permits has to do with asserting our sovereignty. But we are going to be talking to [the Forest Service] and letting them know where we'll be.
Tell us about the women joining you on the trail.
I'm 30 and the women are 20s to early 30s. We've got a lawyer, a doctor, a professor—some really amazing women that want to be a part of this. First it was just Paiute women but now it's also other indigenous women from places like Montana, northern California, Alaska.
Right now we're at about 10 women. For me, the concern with having so many women is how can we enhance the trail and not take away from it, because that's a lot of feet. We're trying to work with the Forest Service to see what we can do along the way to make it better.
Will this be your longest backpacking trip?
I've never done an overnight trip, ever. But there have been a lot of women who want to help, offering to show me how to pack for a trip, and do a gear drive to get us what we need.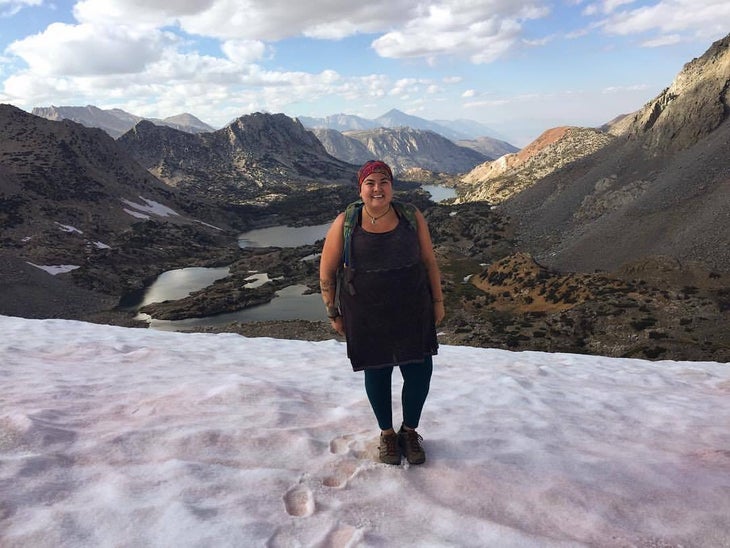 What are you most scared and excited about for this trip?
JV: I guess my biggest fear is putting it all together—the planning and the organizing. I really just want it to succeed. Other than that I'm really excited how [the trip] has reached a lot of people and generated a lot of support. I thought we'd do this hike and it would be over. But I've realized there is more work to be done.
What other work is there to do?
We've been so disconnected from this place for so long. We started getting unhealthy when we were taken away from the land. The healing is going to start with the women. In indigenous culture, women are a huge part, and it's got to start with us out on the land. We want to start building this relationship with the whole community, the outdoor community as well, to preserve our areas together. We all have the same values when it comes to preservation. I think we have a lot to teach each other.
How can hikers in general be respectful of the spaces they travel through?
I want all people who go to recreate to know where you are and to acknowledge where you are. When you go somewhere, you know there's a history. We were taken away from that land and put on a reservation. When you get to be in this beautiful spot, keep that in mind. I don't want people to be super bummed out, but just be aware. Google what tribe is indigenous to wherever you are.