John Muir Trail, Cherokee National Forest, TN
Contemplate the south's wild side on the trail that launched America's greatest wilderness champion.
Heading out the door? Read this article on the new Outside+ app available now on iOS devices for members! Download the app.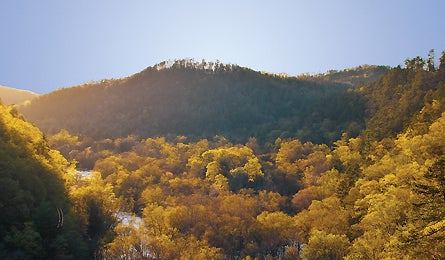 Duckett Ridge on the John Muir Trail. (William Adam Collins)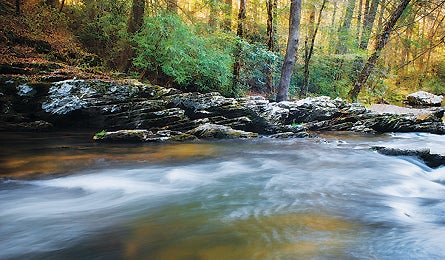 Waterfalls and pools are perfect for cooling off on this trail.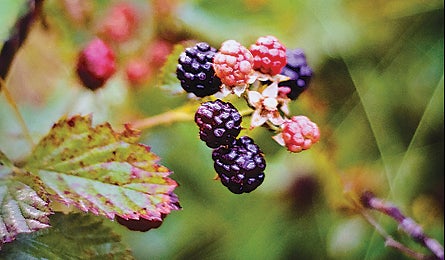 In May and June, ripe mulberries abound. (William Adam Collins)
PLAN IT, DO IT | KEY SKILL/INSIDE SCOOP | THE MENU
The John Muir Trail is a long-distance hiking trail in the High Sierra backcountry, named after famed naturalist, author and Sierra Club founder John Muir.
For 211 miles, the trail follows the Sierra Nevada mountain range from its southern terminus at Mount Whitney to its northern terminus at Happy Isles trailhead in Yosemite Valley.
The trail coincides with the 2,663-mile Pacific Crest Trail for about 160 miles, and rarely dips below 8,000 feet elevation. The trail is usually hiking in July, August or
September after most of the snowpack has melted. Hiking earlier in the season often requires carrying an ice axe and fording streams bloated by snowmelt.
The John Muir Trail passes through Kings Canyon National Park and Sequoia National Park, as well as numerous national forests and designated wilderness areas.
As with other long-distance hiking trails, The John Muir Trail is popular with thru-hikers, who attempt to complete the entire trail in one trip. Most thru-hikers on
the John Muir Trail attempt the hike from north to south, because the southern half of the trail is more remote and at higher elevation.
PLAN IT, DO IT | KEY SKILL/INSIDE SCOOP | THE MENU
DO IT

Unlike the well-worn California route of the same name, this JMT offers 19 miles of surefire solitude, and can be done in a weekend. Muir hiked this route in 1867 on his 1,000-mile walk from Indiana to the Gulf of Mexico. After shuttling a car to the terminus, park the other car on Schuler Road, then walk 200 yards to the trailhead (1). Follow white blazes west along a faint path enveloped in kudzu and sparse maple, oak, and lodgepole pine. You'll ascend 400 feet on 12 switchbacks in the first .5 mile and top out at an overlook of the Hiwassee River, nearly 600 feet below. From here, turn right/north (2) to descend to an old fire road that passes through a dense undergrowth of ferns. Ford a trickling creek (3) at mile two before crossing Old TN 68. Head south to cruise streamside through Miller Cove (4). Reach TN 68 (5) .7 mile beyond, and turn right for a .4-mile road walk to the banks of the Hiwassee. Though the ever-present roar of the river beckons, there's no easy access until mile 5.8, where a boulder hop leads to a secluded natural water park (6), with smooth, sun-baked potholes and swimming holes. Leave by 4 p.m. to reach camp before dusk. Head northeast for three miles to the Benton Mackaye Trail (7). Cross a narrow wooden bridge over Coker Creek (8), and go 1.2 miles for solitary camping in the sanctuary of stout conifers at Loss Creek (9). Next morning, climb 200 feet to the Narrows (10), where the Hiwassee squeezes the trail to a high perch. Follow switchbacks 1.3 miles down to river level, and past a dam (11) at mile 12.5. On summer weekends, fishermen and rafters often dot the shoreline where the river widens (12). From here, it's less than four gentle riverside miles to your car, but don't miss one last chance (13) to lounge on a bed of pine needles.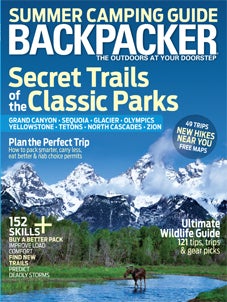 TRIP PLANNER

Shuttle car drop From Etowah, take TN 30 12.6 miles east to TN 315. Turn north and go .3 mile to a right on Childers Creek Rd. It's .6 mile to

obvious parking.

To trailhead Head north on TN 315 for 6.6 miles, turn right on Ivy Trail for 3.4 miles, and right on Towee Falls Rd. (becomes Ironsburg Rd.) for 4.9 miles. Go right onto TN 68 for 7.1 miles, left onto Shuler Creek Rd. for 1.8 miles, and park.

Gear up Get last-minute supplies at Webb Brothers General Store, 3709 Hwy 30, Reliance, TN; (423) 338-2373; closed Thanksgiving to March.
PLAN IT, DO IT | KEY SKILL/INSIDE SCOOP | THE MENU


KEY SKILL: CLIFF JUMPING
Do not swim under waterfalls. Rocks often come crashing down.

If you get swept downriver, float onto your back with feet up

and pointing downstream. Assume whitewater swim position (nose and toes above water) and stroke hard to avoid the drown-hazard of strainers (e.g., submerged trees).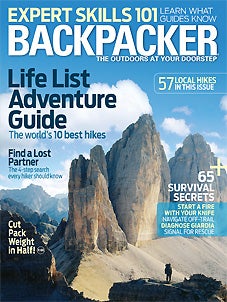 Test depth before jumping. Best way?

Get in. You'll need 15 feet of water for safe landings. And don't even think about diving

in headfirst.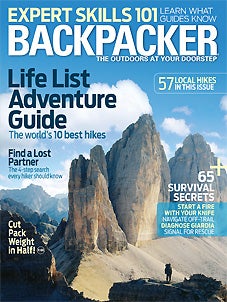 Protect your feet. Wear snug-fitting sandals that protect against sharp rocks and provide grip on slippery banks.


EAT THIS

Wild edibles

Before there were GU packets, hikers like Muir foraged trailside for pick-me-ups. The Cherokee forest offers a bounty of natural sweets—if you know when and where to look. In May and June, ripe mulberries abound from Big Bend to Childers Creek; search the same spots for blackberries in July. And dig the Jerusalem artichoke's potatolike tuber in mid-September. Tip: Keep berries fresh by storing them in unsealed containers out of the sun.
Locals Know

Got an extra day? The 6.4-mile out-and-back up the Coker Creek Trail hits a string of waterfalls and pools, perfect for a cooling dip on a hot day. Break a sweat on the sometimes steep hike, then cool off with a banzai plunge into the first pool .5 mile in. See safety tips above, keep hiking (and dipping), and you'll be a swimming-hole connoisseur by the day's end.
PLAN IT, DO IT | KEY SKILL/INSIDE SCOOP | THE MENU

ON THE MENU

Breakfast 1 On the road

Lunches 1 & 2

Summer sausage, cheese, bagels

Dinner

Hiwassee River Veggies

Breakfast Oats á la Muir

Snacks Peanuts, Goo-Goo Clusters



Hiwassee River Veggies

Hobo cuisine that's simple,

yet nourishing and delicious
2 carrots, sliced

3 new potatoes, diced

1 yellow onion, chopped

Half packet of onion soup mix

2 tablespoons butter

Salt, pepper (to taste)
Place vegetables on a sheet of foil, add pad of butter, and sprinkle with soup mix. Fold to seal the package and place on a bed of coals or low stove flame, and cook for 25 minutes, turning after 10 minutes.
Oats á la Muir

A hearty breakfast perfectly complemented with wild edibles
½ cup oatmeal (not instant)

1 teaspoon brown sugar

¼ cup raisins

2 tablespoons powdered milk
Combine oats with 1¼ cups water and bring to a boil, stirring frequently. Cook until water is absorbed (10 minutes), then let stand for a few more. Combine powdered milk with ½ cup water and stir in. Add trailside berries (Eat This, above).
THE GROCERY LIST
[ ] 12 oz. summer

sausage (deli)

[ ] 4 bagels (deli)

[ ] 1 16-oz. brick

cheddar (dairy)

[ ] 1 stick

butter (dairy)

[ ] 2 carrots (produce)

[ ] 3 new potatoes

(produce)

[ ] 1 yellow onion

(produce)

[ ] 1 box oatmeal (4)

[ ] 1 box Lipton's

French onion soup mix (5)

[ ] 1 16-oz. box brown sugar (5)

[ ] 1 packet powdered

sugar (5)

[ ] salt and pepper (5)

[ ] 1 12-oz. pack raisins (6)

[ ] 2 Goo-Goo Clusters (6)

[ ] 1 16-oz. jar shelled

peanuts (11)
NEAREST GROCERY STORE

PIGGLY WIGGLY

740 Tennessee Ave., Etowah, TN;

(423) 263-6465