How Unsupported Runner Joe McConaughy Broke the Overall Appalachian Trail Record
Fifty miles a day for 45 days. No crew. Joe McConaughy's AT thru-hike was one for the record (and history) books.
Heading out the door? Read this article on the new Outside+ app available now on iOS devices for members! Download the app.
As Joe McConaughy set up camp on his second to last day on the Appalachian Trail, he did some quick math. Just 46 hours remained before he would miss the record set by Karl "Speedgoat" Meltzer on his supported hike of the 2,190-mile trail, and 110 miles stood between him and the terminus at the summit of Mount Katahdin. He'd hoped for something more like an 80-mile final push, but after bleeding time through the rugged terrain of the White Mountains and a three-mile off-trail accidental detour that also added 1,500 feet of elevation the week prior, he was behind schedule.
McConaughy set out from Springer Mountain at 6:31 am on July 17 with plans to cover an average of 50 miles each day. If his plan held, he would reach the trail terminus in 43 days, shaving two days off the supported record set by Meltzer last year and more than 10 days off Heather Anderson's self-supported speed record on the AT of 54 days, 7 hours, and 54 minutes, set in 2013. But the trail had other plans for him. Some days, McConaughy missed his target by as much as 20 miles.
Part of what makes him tick, he says, is not to just complete a race, but to actually race it. So, with the times set by Anderson and Meltzer hovering over his head, he decided to make a continuous push to the finish. It meant covering more than double the mileage of any other single day on the trail.
"At the time, it was kind of like, this is the reality that I created for myself and all I have to do is just go out and execute," he says. "I can only do what my body allows and what the trail allows, and if that's 110 miles in the last 46 hours, then that's what it is, and if it isn't, then I'll be very, very upset with myself. But that's all I can control."
That last push saw him running through the night by headlamp on a blissfully wide, flat trail—some of his favorite miles, he says, though he admits today that may be the ibuprofen talking. Then he found himself on a stretch the elevation profile had teased as flat, fast terrain, but was instead a root-strewn, rocky trail around a series of lakes. He looked toward the next food supply, he recounts, and thought, "I'm a marathon away, I'm just going to push through it," and went a little too fast.
Around 70 miles into his day, he bonked. He'd been consuming an average of 400 to 500 calories an hour, and found he had only 600 calories and as many as five hours of running to the next resupply. He sat down for a moment, head in his hands.
But even as he hit his nadir, the thought of tapping out never occurred to him. "I'd walk or crawl if I had to," he says. "When you're running and doing something like that, you're always going to have some low points. You just have to keep chugging."
Nibbles of food carried him through to a small store at the Baxter State Park entrance. Then came the ascent up Mount Katahdin, which saw him traverse multiple boulder fields and get stung twice by wasps.
Finally, after moving forward for 37 straight hours, at 6:38 pm on August 31, he reached the summit. Seventy mile-per-hour winds, hail, and mist met him as he stumbled out of the fog and into a long hug with his girlfriend. He'd completed the trail in 45 days, 12 hours and 15 minutes, setting a new fastest known time.
"Your thoughts are totally full, but empty," he says. Full of everything he'd just been through: the joy and perseverance, the strangers who had helped, the texts from parents and his girlfriend encouraging him on, and the feeling of finally being among people he knew and loved for the first time in six weeks. "I was kind of sitting there in a stupor."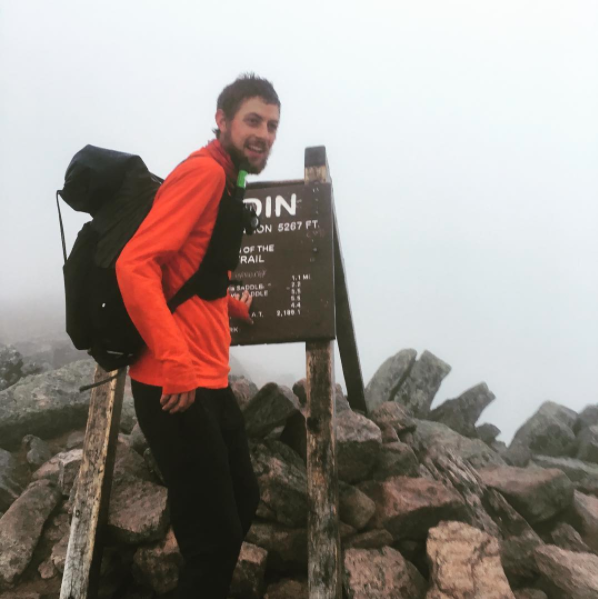 Ten days after setting the speed record on the Appalachian Trail, the soles of his feet are still numb. He's got a chicken-dinner list of aches and injuries, but the swelling in his legs has reduced, and what he feared was a serious hamstring tear turns out to just be—surprise—an overuse injury.
Numb feet he knew to expect from running the Pacific Crest Trail in 2014, when he set the speed record on that trail as well. Unlike his AT hike, a crew of friends supported McConaughy on his trip up the PCT, driving rugged roads and hiking steep terrain to deliver his gear and cook his meals. Even then, there were complications: One night, a missed rendezvous left him stranded in a t-shirt and shorts in 40°F weather, with no tent and only a few trail snacks for dinner. After a fitful hour of sleep, he decided to get up and press on.
Based on that experience, McConaughy built an ultralight kit with a base weight of 6.8 pounds, including a superlight bivy, a poncho that would be well-tested in Virginia rainstorms, and a Spot tracker to verify his attempt. Loaded up with food and water, the bag he ran with peaked at 28 pounds; more often, he carried a weight in the mid-teens.
"You see these badass people like Heather Anderson, who did it self-supported the year before me," says McConaughy. "I was like, 'That's amazing. She's a stud. If I do this again, I want to do it that style because it's a lot more authentic to the hiker community. It's also a totally different kind of challenge and one that requires a different skill set."
McConaughy said his background as a competitive runner feeds his desire to constantly improve his methods.
"I want to learn to run the perfect race, and every time I run there are one or two aspects that I do really well and one or two aspects I didn't know anything about," he says. "With the AT, every day is like that. There are infinite things you can learn and experience that might help you run that much faster.
While McConaughy focused on speed, he still had plenty of time to experience the trail. On his Instagram feed, he posted about rattlesnake encounters, bathing and icing injuries in rivers, and burning through his first set of shoes in less than 10 days. He carefully backdated all his posts to deter any would-be assistants from compromising his self-supported status.
Other speed hikers cheered him on—Jennifer Pharr Davis, who completed the AT in 2011 in 46 days, 11 hours and 20 minutes, setting the fastest known time, weighed in on his Instagram, declaring: "what you are going to do is mind blowing."
The Whites, he'd say later, nearly wrecked him. Knees, quads, hamstrings—even his face took a beating. Then he ran 1,500 feet downhill, off the AT, and lost three hours.
"This section puts my hopes in jeopardy," he wrote at the time. "I'll need to average 45 mpd from here on out to break the record, and southern Maine is regarded near as difficult as the Whites. Time to carry on!"
His posts from tha time are surprisingly positive. He muses that his off-trail jaunt meant he got to have more time in the Whites, with a "spiritual sunrise experience on Mount Mooselac, [and] a beautiful and solitary (I didn't see another soul) run over Franconia Ridge."
"I kind of have an internal optimist," he says. "I think you'll find that with a lot of people in the ultrarunning community."
McConaughy credits his survival of 40-odd days of running to his ability to focus on what's right in front of him. He broke his day into smaller pieces mentally, the way he'd been trained to break up his workouts as a cross country runner for Boston College.
"Giving it all I can [never means] giving 100 percent," he says. "It's just giving what my body can take."
With his record-setting run behind him, McConaughy is back at work in Boston with his employer, travel company EF College Break, and takes this latest journalist's call on his 45-minute commute, a trip punctuated by sirens and the dings of the subway. It's a little funny to be back, he says. And while he has his eyes on the Continental Divide Trail, he won't be going for a record.
"It's not on my radar to run," he says. "Definitely to hike."