Right to Roam: In Scotland, Hikers Can Go Anywhere
The U.S. may have pioneered land protection, but Scotland leads the charge when it comes to accessing wild terrain. Can we learn from one of the most hikeable countries on Earth?
Heading out the door? Read this article on the new Outside+ app available now on iOS devices for members! Download the app.
Less than half an hour into a four-day hike across the Scottish Highlands, I'd lost my way. I had missed a bridge over the rain-swollen Inverie River, and now I was high-stepping over tussocks, baptizing my socks in bogs, and walking the river's soft edges, seeking a point to cross and finding nothing remotely safe.
Disoriented as I felt, I was at least comforted knowing that, here in Scotland, I could be lost on someone's land without feeling like a criminal or worrying about getting shot. It felt good to ramble across the countryside, no trail or signs to guide me, wandering in whatever direction I fancied—even if that direction proved wrong. It reminded me of my boyhood in Western New York, where my brother and I built forts in the woods, played hockey on frozen ponds, and never once thought we were doing anything more nefarious than being kids. But unlike that tiny suburban oasis where neighborhood kids could trespass with impunity, all of Scotland is open for exploration. Aside from a couple of road crossings, every step of my 25-mile trek would be across private property.
I had come to the Highlands to exercise Scotland's "right to roam," which describes a 2003 law that allows citizens and visitors to responsibly enjoy Scottish lands and waters, no matter who owns them. For hikers and other outdoor recreationists, it's a critical legal right in a country that's 83 percent privately owned (by comparison, the United States is about 65 percent private). I was particularly interested in Scotland because I'd recently written a book about how nature in the U.S. is becoming increasingly inaccessible. In This Land Is Our Land, I chronicle how anti-access landowners, conservative politicians, and far-right movements like the Sagebrush Rebellion—which made national news during the 2016 occupation of Oregon's Malheur Wildlife Reserve—are seeking to deny the American birthright to enjoy the natural world. I was eager to visit a country that's moving in the opposite direction by providing unfettered access to its countryside. I wanted to see if Scotland's right to roam worked, and how it worked, and whether it might work in the U.S. Instead of defining a park by its boundaries, is it possible—when it comes to hiking and biking and climbing—to simply declare there are no boundaries? Or would such universal access grate against that other American dogma, What's mine is mine?
To find out, I planned to spend a month in Scotland. I'd talk with folks about the right to roam in lowlands, highlands, and islands. I'd attend a national access forum, interview politicians, and walk town paths. And most importantly, I'd experience the right to roam firsthand on a backpacking trip.
For that, I chose the Cape Wrath Trail, a muddy, unmarked route stretching about 200 miles. It runs generally between Fort William in the south and the Cape Wrath lighthouse on the northwest coast. I zeroed in on what looked like a particularly wild section from Inverie to Glenfinnan.
The first mile followed a well-established trail along the Inverie River. I walked past stone walls growing poofs of moss. The forest floor crept up tree trunks, swaddling them in greenery. A dome of clouds occasionally opened up, allowing the sun to brighten the brooding moors.
But then I missed my turn, and random roaming didn't lead me to the river crossing. Big lumpy raindrops left nickels of moisture on my unfolded topo map as I tried to get back on track. Fortunately, I ran into another hiker. The man pointed me in the right direction, then looked up, as if he was about to castigate the sky, and apologized for the weather: "When it's over, you'll forget about all the shite and remember all the sunny bits." With that, I put on my rain jacket and pants, found my bridge, and continued into one of the most roamable places on Earth.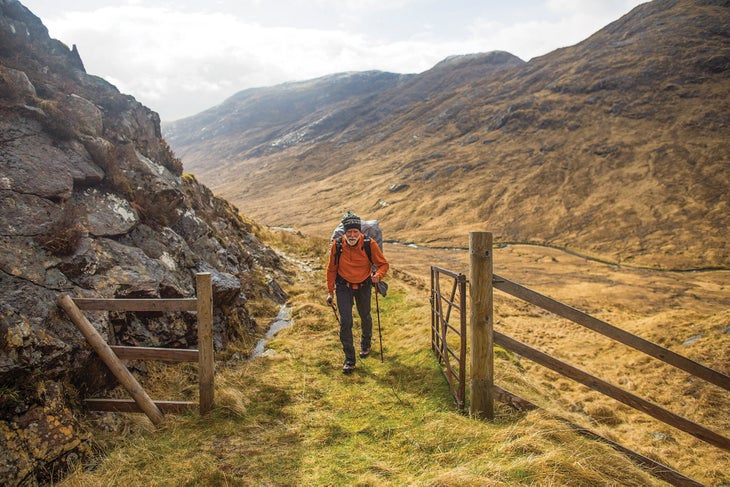 According to an old Gaelic expression, everyone has a right to a "tree from the wood, a fish from the river, and deer from the hills." Subsistence living no longer rules the land, but the right to roam, as a custom, goes back generations. It wasn't always an enshrined right, though. In the 18th and 19th centuries, under aristocratic rule, common lands were made private and poor farmers were forcibly removed in an episode known as the Clearances.
In 1999, after a referendum, the Scottish Parliament was reestablished for the first time since 1707, which meant that Scotland could pass its own land reforms. Just four years later, the Land Reform (Scotland) Act, or LRSA, opened up the whole countryside.
Scotland isn't the only country that allows public access to private property. Norway, Sweden, and Finland have customs that grant generous roaming rights. In Sweden it's called allemansrätten (which means "every man's right"). Several other European countries, including England and Wales, have partial right-to-roam systems, opening up significant areas to recreation, but with restrictions (such as camping bans) that make Scotland's law seem particularly permissive.
For Scots, the transition was not all that controversial. Roaming was customary, if not exactly legal, before 2003, so there was little opposition to the law. Public support is so broad, in part, because very few Scots own substantial landholdings (half of private rural Scotland is held by about 400 owners) and because farmers and sheepherders are heavily subsidized by taxpayers. Malcolm Combe, a legal scholar at the University of Aberdeen, says, "Anytime someone tries to chip away at access rights, there's always a backlash. I think it would be fair to say that anyone trying to repeal access would find themselves persona non grata with the Scottish public."
An American might initially exercise his or her right to roam in Scotland sheepishly, as I did. We've been trained to think of private and public property in black and white terms: You're either in a park or you're not. But as I hiked across the remote and uninhabited Highlands, I didn't feel like an intruder. The Cape Wrath route crosses land so empty and wild that I wasn't worried about walking through someone's backyard.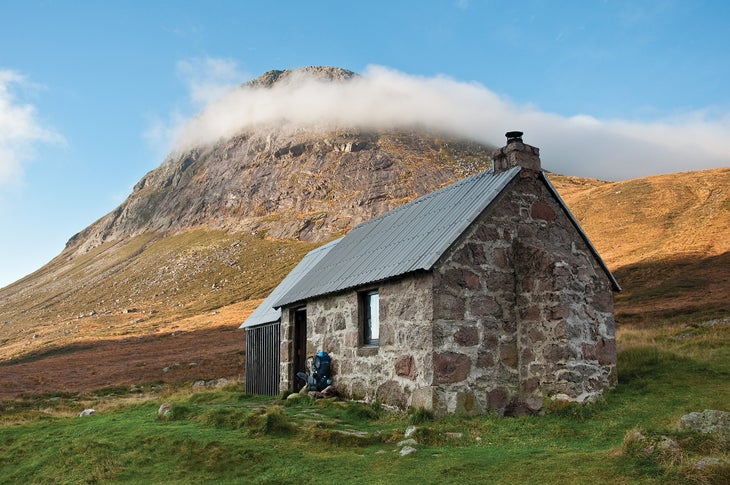 There wasn't a building, road, fence, or telephone pole in sight. Near the stone ruins of Cardoch village, another treacherous creek crossing slowed my progress. In the last minutes of twilight, I reached the coast and hiked across hard sand to Sourlies Bothy, which is one of many old shepherd huts turned into hiking shelters across Scotland.
I'd fantasized about sleeping in a warm, dry shelter, but I took one look inside and decided I'd rather pitch my tent. There was a rat's nest of charred foil and burnt plastic in the fireplace. A 5-gallon bucket overflowed with trash from freeze-dried meals. There was another bucket of empty wine bottles. Mouse poop was strewn about.
The bothies may very well represent the best and worst of the right to roam. They're free, they're maintained by the goodwill and hard work of volunteers, and they're often donated to the public by generous landowners. They represent the shared sense of responsibility, the shared sense of trust, that makes something as free and unregulated as the right to roam possible. But freedom has costs. Like public lands in the U.S., private lands in Scotland can be cared for—or abused—by visitors.
Earlier, in Inverie, I met two outdoor management professionals at the offices of the Knoydart Foundation, which is managed by the 100 community members who collectively own the 17,200-acre Knoydart Estate. (Community ownership of land is becoming increasingly common in Scotland.) I spoke with Amie Dow, the estate ranger, and her husband Ian, the estate forester, about the challenges the right to roam presents.
Several times, Amie has found people looking into their home, despite guidelines meant to prevent such invasive roaming. She doesn't necessarily blame this on the law, adding that their house—a Danish-style timber A-frame—makes a lot of people curious. "I understand it," Amie said about the unexpected visitors. "They're trapped on the treadmill. They get up here and it's like letting the cows out."
Although there can be problems with open access, Amie and Ian stressed to me that they wholeheartedly support the right to roam. "Access to the land—it's our right as humans, if you want to get philosophical about it," Ian said. "It's our only tangible birthright."
It wasn't long ago that Americans enjoyed a similar birthright. In 1867, John Muir walked from Louisville, Kentucky, to the Gulf Coast of Florida, taking the "wildest, leafiest, and least trodden way I could find." In his book, A Thousand-Mile Walk to the Gulf, Muir never even mentions that he was trespassing over other people's property. No one confronts him about hopping fences. He never writes of "Private Property" signs. Indeed, such freedom was so ingrained in our early culture that Pennsylvania's delegation to the Constitutional Convention tried to get a right to roam inserted into the Bill of Rights .
Up until about the Civil War, walking over people's land did not mean what it means to us today. Americans had been hunting and fishing and traversing each other's lands since colonial times. People thought of land that was unimproved (no crops) and unenclosed (no fences) with a flexibility and nonchalance that many of us today would find unimaginable.
But that started to change at about the same time we established the world's first national park. With the protection of Yellowstone in 1872, America revolutionized the idea of public lands conservation. Today, we have arguably the finest system of park lands in the world, but that doesn't necessarily mean we have more access. If Muir tried to repeat his thousand-mile walk today, he'd probably worry about getting fined for trespassing.
As America's park system evolved, it concentrated public lands in the West, a natural outcome of protecting land that wasn't already densely populated. So while the U.S. is about 35 percent publicly owned, the majority of wilderness is in low-population Western states. Together, Alaska, Nevada, Utah, Idaho, and Wyoming contain 62 percent of the public land in the country, but only 3.7 percent of the population. The far more populous states on the East Coast—say, the original 13 colonies plus Washington, D.C.—have 30 percent of the population but only 3.2 percent of the public land. Several Midwestern and Great Plains states have almost no federal public lands at all.
The result: The land we've set aside for roaming is far from many of our largest cities. Yes, people can drive long distances to a national park, but is that a substitute for being able to walk out your front door and explore?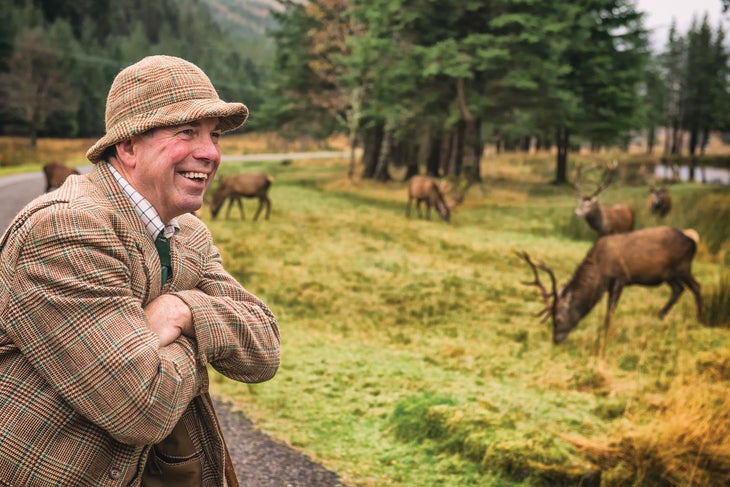 After my night camping outside the bothy, I continued on, hiking up a path that ran alongside the Finiskaig River. Here, the glen contained broad sweeps of grass and moss webbed with streams. Waterfalls gushed from the mountainsides.
There is great beauty in the solitary Highlands, but it can be haunting. I walked for miles without seeing anything move, except the grass swaying in the wind. There were no cattle or sheep in sight. No bugs, no birds, no rabbits, no squirrels—nothing. Sometimes the Highlands are so quiet, so seemingly devoid of life, that it feels like you're the first being to walk the Earth. It's a soul-stirring landscape, but compared to American wilderness, Scotland can seem lifeless. The Highlands, I thought, could stand to have a few lynx, beavers, bison, and wolves roaming as well.
Absence of wildlife aside, the place reminded me of my summers working as a ranger in Alaska. It felt like I was back up in the Gates of the Arctic National Park. With a map in one hand and a compass in the other, I'd walk up and over mountain passes of the Brooks Range and along the cobbled banks of the Koyukuk River. I drank freely from streams and rivers, I collected wild blueberries and cranberries, and I got to experience the exhilarating solitude that comes from a walk alone through wilderness. Alongside equality and justice, I thought that this—the everyday freedom to get close to nature and move where we please—was an advancement in human rights that all civilizations should aspire to achieve.
While the Highlands may lack biodiversity, there are more than a few deer, and I soon started hearing and seeing them. The red deer stags were in rut, bellowing across the countryside. Most of the deer belong to large herds managed by gamekeepers. I met one of them on the 9,000-acre Glenfinnan estate. Alistair Gibson, the estate's manager, forester, and deer stalker, was dressed in knee-high socks, tweed britches, and a tweed drop brim hat, with a rifle slung over his shoulder. His outfit had the curious effect of looking simultaneously ridiculous and intimidating.
Gibson, who's managed the estate since 1995, maintains the Corryhully Bothy, near a 1898 viaduct that has become a pilgrimage destination for fans of the Harry Potter movies (it features in four of the films). Gibson told me he's never really had an issue with hikers. "People sometimes mess up the bothy," he said. "It's only a small percentage, but it happens. But I embrace the freedom to roam. I think it's wonderful." Gibson replenishes the shelter with firewood every day, despite having no obligation to do so. He occasionally asks hikers to take a different route up a mountain when the deer are calving, and for the most part he's found visitors to be conscientious and well-mannered.
This shared sense of responsibility helps make the right to roam work. It's so important, in fact, that it's been spelled out for all to understand. When I called Rob Garner, one of the principal authors of the Scottish Outdoor Access Code, to ask about it, the first thing Garner did was correct my use of the term "right to roam." The preferred term, he said, is the far less sexy "right of responsible access."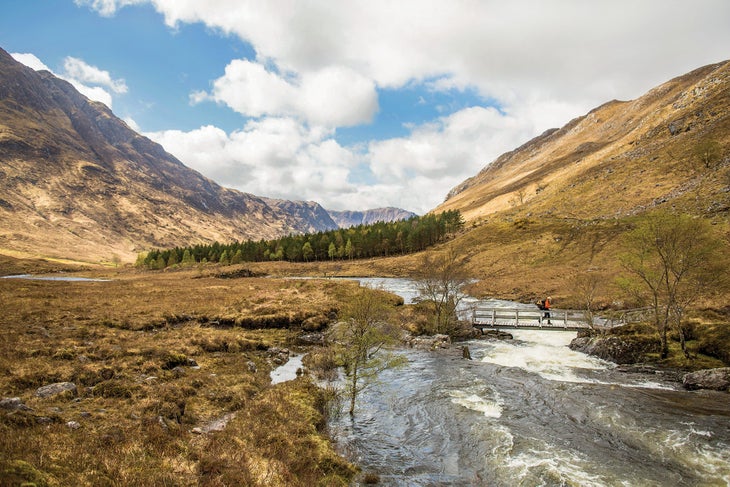 "Right to roam is very popular with journalists," Garner said. "It's a nice little encapsulation. But it doesn't convey the balance. The right to roam only conveys one of two halves. The Land Reform Act gave rights, but the Scottish Outdoor Access Code sets out what the responsibilities are."
The Outdoor Access Code was developed by Scottish Natural Heritage, a semi-public body, and approved by the Scottish Parliament. It's a practical guide for the walking public and landowners. Similar to our "Leave No Trace" principles, the rules in the code aren't exactly laws; they're guidelines that attempt to bring order to the system. They make it clear that rights and responsibilities go hand in hand. For example, property owners can't grow hedges for the purpose of deterring walkers, and hikers can't walk onto a lawn or into a house.
Back in Inverie, I had spoken with Fiona Lennie, who runs a bunkhouse that caters to hikers. "I think in most cases the right to roam works to breed respect," Lennie said. "You have to trust in order to breed trust. It reminds you, although you are an individual, you're part of everything, and that's a good, humbling experience. You take that with you."
Other countries have taken note of the success of right-to-roam laws in Britain and Scandinavia. In 2017, Andrew Weaver, a member of the Green Party in British Columbia's legislative assembly, introduced the Right to Roam Act, which would establish the rights of residents to access public lands, rivers, streams, and lakes for outdoor recreation. The Ramblers organization in England is advocating for more Scottish-style reforms.
Meanwhile, recreational access for Americans may be getting worse. Proponents of the Sagebrush Rebellion stage symbolic occupations of our public lands in the name of "liberating them," which generally means selling them to the highest bidder. Likewise, calls for our federal lands to be handed over to the states in the name of "local control" threaten protections; states have a long history of selling public lands because they don't have the resources to manage them.
In some cases, our public lands are made essentially private by lack of access. In 2015, New Mexico Governor Susana Martinez signed a bill that eliminated the public's right to walk across private land to get to public streams. John Gibson, the vice president of the Public Land/Water Access Association in Montana, says, "For over two decades we've seen some people work to privatize our public lands by cutting off public access. And once somebody controls the access, they control all the public resources, including fish and wildlife on those lands." The Bureau of Land Management says that about 9 percent of its lands, or 23 million acres, are inadequately accessible because of private land. Almost every week, some American field, swimming hole, stream, or stretch of coastline becomes closed off to the public.
This is happening at a time when many of our national parks are overwhelmed with record visitation, and when the U.S. Census projects that our population will increase by almost 100 million people by 2060. Even if the amount of public land in the U.S. remained exactly the same for future generations, we'll still face a crisis in recreational access. Could a right to roam, if just on a local or state level, help? Can it work in America?
Harvey Jacobs, a property law scholar from the University of Wisconsin at Madison, says, "There is absolutely nothing in U.S. property law which stands as a conceptual or practical impediment to the realization of the right to roam." Eric Freyfogle, a property law scholar at the University of Illinois at Urbana-Champaign and the author of On Private Property, recommends passing state laws that authorize local governments to undertake land use regulation. Most all of the scholars I spoke with suggested there were ways to make a right to roam law constitutional, but all agreed that legal issues weren't the biggest problem. First, we'd need a dramatic cultural shift.
Such a change would entail valuing the good of the community over private privilege, and reassessing our devotion to extreme individualism. In our political climate, you'd be right to call the enactment of such a law far-fetched, but when you consider how Scottish land was once closed off and American land was once wide open, the transition to a new concept of property rights doesn't seem so crazy.
In the Highlands, there's nothing more comforting than smoke coming from the chimney of a bothy on a cold, wet evening. Just before dark, I experienced just such a scene at the A'Chuil Bothy, at the edge of a dark-green spruce forest.
I walked in and met Jenny Johnstone, a 25-year-old hiker walking the whole Cape Wrath Trail. She was feeding the fire with branches a previous visitor had left. "It's bothy custom to leave kindling for the next person," she said.
Johnstone, from Glasgow, had just finished a grad program. Before taking a job, she wanted to go on a long hike and tick off a few more Munros (Scottish peaks over 3,000 feet). Jenny signs her name in the bothy journals as "Super-T," a trail name she picked up on the Appalachian Trail, which she hiked after graduating from the University of Virginia.
We hung our clothes to dry by the fire, then laid in our sleeping bags on an elevated platform, the fire crackling and popping a few feet away. I asked her about the differences between hiking in the U.S. and Scotland.
"On the AT, I didn't have to plan much because it was just like following a straight line," she said. "But that kind of takes the fun out of it. Half the fun of hiking is figuring out where you're going, getting lost, finding your way again."
The AT provides a very limited perspective of American wilderness, of course, but I had to more or less agree. Apart from Alaska and the large wilderness areas in the West, there really aren't that many places where we can freely roam. Even in our national parks, we're often directed (for sound ecological reasons) to camp in designated places and hike on established trails.
"Even if I am on someone else's land here, it's not a big deal," Johnstone said. "A farmer will come over and ask how you're doing. And I love telling people that you can set your tent up wherever. Especially Americans. They can't wrap their heads around it. "
This disbelief isn't surprising when you consider the emphasis on private property rights that exists in the U.S. We're proud of our unique brand of individualism, and resist any threat to it. But as I hiked through the Highlands, I began to wonder if walking across each other's property could do more than improve access to the outdoors.
It's not just hikers who benefit from unfettered exploration. The right to roam seems like a leap forward in how we think of others—not as strangers to be mistrusted, but as equals with whom natural resources, scenery, and collective fates are shared. When I was exploring the Isle of Eigg, a local told me, "We don't think of owning land, we think of taking care of it." The right to roam, I came to see, can make a whole country more neighborly.
I had plenty of time to think about these things because when I arrived in Glenfinnan, where my journey was supposed to end, I decided to keep going. I had enough food and a flexible schedule, and the rain had even paused. So in the spirit of roaming, I tacked on another 20 miles of the Cape Wrath Trail.
The route ahead looked straightforward, but really, I knew any direction would do.
Ken Ilgunas is a park ranger and the author of Trespassing Across America and This Land Is Our Land.