One of America's Wildest Thru-Hikes Is Disappearing
The Idaho Centennial Trail is a long trail experience that takes hikers through some of the most remote, beautiful terrain in the lower 48. But years of deferred maintenance mean that it's in danger of vanishing into the wilderness.
Heading out the door? Read this article on the new Outside+ app available now on iOS devices for members! Download the app.
In July 2021, Hailey Brookins found herself bushwhacking through a ravine in Idaho's Frank Church-River of No Return Wilderness. Her hiking partner and younger brother, John, had a splitting headache and was growing confused and irritable—telltale signs of heat exhaustion. After 10 days of hiking, the Brookins had nearly crossed the entire 2.3-million acre wilderness, and their planned route that day, a long but straightforward descent to a historic ranch called Campbell's Ferry where they could resupply and rest, should have been no trouble. But a wildfire had broken out, and the trail to the ranch was closed. Instead, they had to plan an emergency detour on the fly, following an unfamiliar trail that, for all they knew, might have already been reclaimed by nature. At first, the reroute followed a dry, sun-drenched ridgeline. As his water bottles emptied, John's condition deteriorated. When they finally found water in a small stream, the trail disappeared, forcing the pair to endure six miles of brush-choked bushwhacking. When they reached the Salmon River, there was no bridge to cross—they had to wait for a ride across to the other shore. Once he had cooled off, John pulled out his satellite messenger and fired off a cry for help to his dad: "Dude, get me out of here."

It was a close call. But for Hailey Brookins, it was also just a typical day on the Idaho Centennial Trail, a faint path through some of the most dramatic and demanding wildlands in the entire country. Along the way, she and her brother, who rallied and went on to finish the trail, battled heat stress, infected blisters, wildfire smoke, and abysmal trail conditions. There's a lot to love, too. In just under 1,000 miles, the ICT spans desert scrubland, rocky ridgelines, and misty rainforests. There's old-growth cedar groves, countless hot springs, and world-class fly-fishing. But above all, the Idaho Centennial Trail is dominated by two things: immense solitude and disappearing trails. What could be the best wilderness hike in the continental United States has become a cautionary tale in off-trail travel, high water crossings, and route-finding. Those prospects scare off all but a few hikers each year. As Tyler "Iceman" Reiser noted in his trail journal, more people had walked on the moon than hiked the length of the Idaho Centennial Trail when he finished his 2019 thru-hike.

While that's an impressive distinction, hikers have many less flattering things to say, as well.

"Idaho is incredible, but a lot of the ICT is overly-frustrating," Reiser wrote in another entry. Other hikers are more blunt: "This day ranks #1 as the all-time most frustrating, aggravating, horrible backpacking day!" Another wrote, "I know the ICT is rugged, but seriously? This should not even be considered a trail. I just want to hike! Legs are mangled from branches, wild roses, and bunchgrass."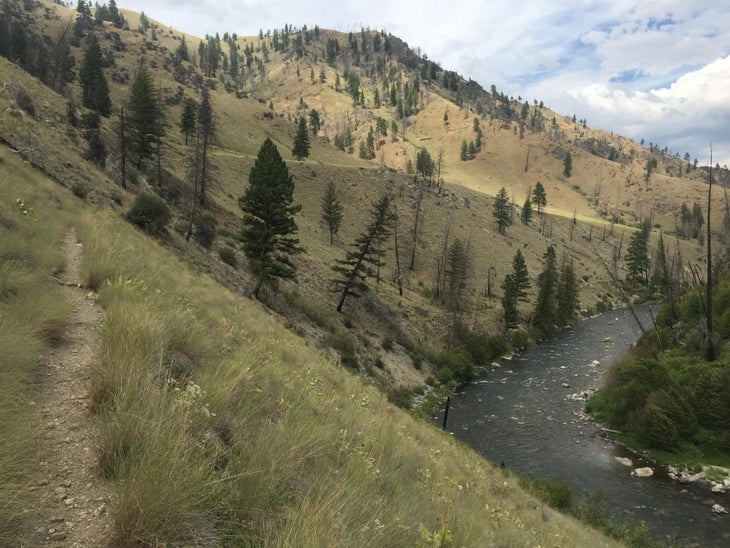 Things weren't always this way. The Idaho Centennial Trail began in the 1980s when a pair of friends from Boise, Roger Williams and Syd Tate, dreamed up a wild adventure. Williams was an accomplished outdoorsman who had explored much of the state through his job with Idaho Fish and Game, and he convinced Tate, a local businessman, to accompany him on a series of hikes crisscrossing it. In 1981, they hiked across the state west to east. In 1986, Williams devised an even more audacious route south to north. The trip, which totaled 1,200 miles, took five years to plan and three months to walk.

Shortly afterwards, Williams learned that Idaho was looking for special projects in 1990 to celebrate the centennial of the state's founding, and pitched the idea of an official state trail to mark the occasion. He and Tate sat down with managers from the U.S. Forest Service, the Bureau of Land Management, Idaho Department of Parks and Recreation, and members of a now-defunct coalition called the Idaho Trails Council. One person sitting in the meetings was Leo Hennessey, the newly minted non-motorized trails coordinator for the state, who would go on to serve in that position for over 30 years. Just in time for the centennial, the group ironed out an official route—for the most part, linking existing trails and forgotten mining roads—and Idaho's new state trail was born.

Hennessey, who today seems to know the entire state of Idaho like the back of his hand, felt an immediate affinity for the new long-distance trail. But being able to devote time and resources to it was another story. For one thing, Idaho Parks and Recreation served as the coordinating agency, even though the trail was mostly on Forest Service and BLM land. That made managing the trail and coordinating projects more difficult. But the bigger challenge was a lack of funding. While all the agencies came together to designate the trail, none of them prioritized paying for trail improvements or maintenance. Hennessey says he found some money in his department's budget to put up signs and trail markers, but that was the extent of official work on the trail for many years. The ICT slowly disappeared as brush grew thicker and unchecked wildfires swept through the wilderness areas. Before long, the Forest Service was removing sections of the ICT from their maps because the trails had essentially ceased to exist.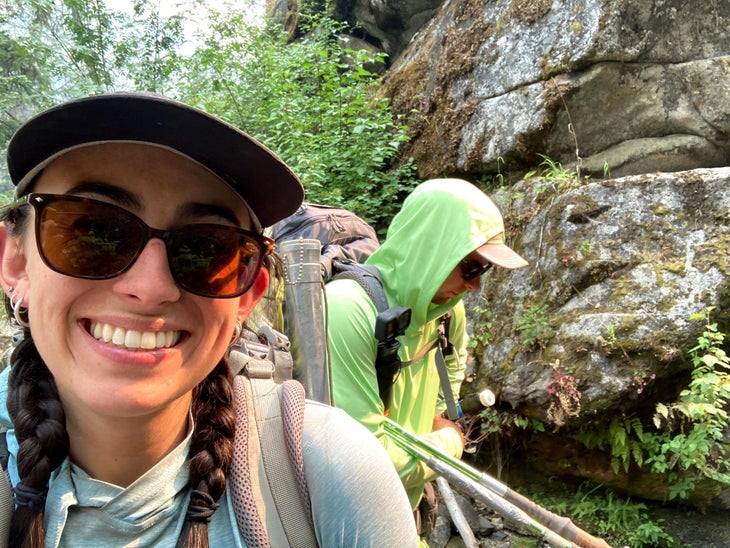 Even the trail's champions moved on. Hennessey ended up focusing his attention on other projects around the state that would bring in more users.

"I liked the ICT, but it really didn't bring income in, the way new Rail Trails or other projects brought money and a lot of users," he says. "Me working in the center of the Frank Church didn't really give a lot of people their money's worth from the state."

Roger Williams, meanwhile, set about trying to capture public attention. He wrote a short article in the August 1991 issue of Backpacker, in effect announcing the trail open for business.

"The Idaho Centennial Trail is 1,000 miles long and stretches from Canada to Nevada," it read in part. "Elevations range from 2,100 feet to 9,200 feet with several sustained climbs approaching 5,000 feet in and out of deep river canyons and over mountain passes. At certain points in the central mountains the view extends virtually across the state, from the Seven Devils Mountains adjacent to Oregon on the west to the Bitterroot Range along the Montana line on the northeast." A short caption accompanying the story was even more understated: "Deep river canyons, high plateaus, a few mountains, and a dune or two."

In actuality, the trail was always supremely difficult, even in its early years when conditions were relatively good. Part of that was due to Williams's often idiosyncratic route choices.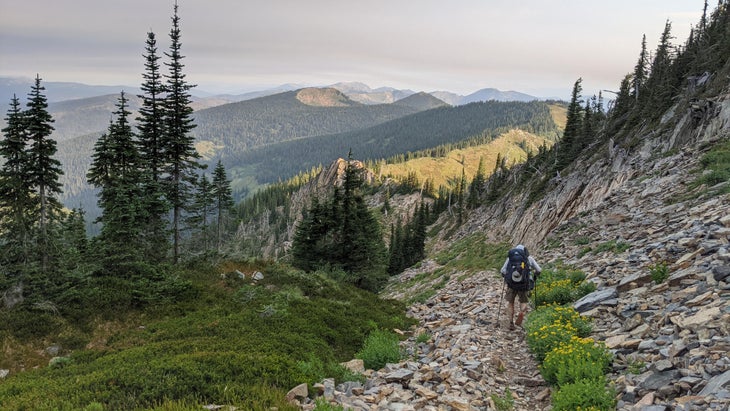 "Roger had a preference towards high ridges," says Hennessey. "So when you hike this trail, you'll notice that you'll run ridges for 10 miles when you can, often at the expense of water access." That's not the only way that Williams' vision proved to be uncompromising. There was broad agreement among agency officials that the route should skirt around the Frank Church Wilderness. Outside of the Wilderness boundary, there were more resupply options and historical landmarks to explore, like ghost towns and old mining operations. In contrast, the Frank was just a neverending series of steep ridges and thick pine forests. Land managers feared that hikers would lose their way, and maybe their wits.

Hennessey says Williams wouldn't hear of it. "Just before they were going to finalize the route, Roger said, 'I'm not gonna endorse this. This is not right. We have to go through the wilderness.' And that's how the wilderness routes were added." While there are technically two official ICT routes through central Idaho, the wilderness route is now the standard option. Williams was right—the 213 roadless miles across the Frank are vital to the trail's character. But that difficulty didn't draw in many hikers: Williams' attempts to market the trail largely failed to find an audience, and there were few ICT hikers in the 1990s.
Since finishing her hike, Hailey Brookins has become a member of an exclusive group: Idaho native thru-hikers who are trying to save the ICT from being lost altogether. Brookins has stepped into Hennessey's role as non-motorized trail coordinator with Idaho's Department of Parks and Recreation. Other thru-hikers have found their own ways to give back. Lisa and Jeremy Johnson penned an exhaustive ICT guidebook that came out earlier this year. It was the first updated guidebook in more than 20 years, and the first to accurately represent real-world conditions by laying out alternate routes around the worst stretches of unmaintained trail. Others are devoting themselves to trail work. Clay Jacobson, a 2016 ICT alum, has helped the Idaho Trails Association expand, recruit more volunteers, and reopen some of the most remote stretches of the ICT.

This flurry of activity isn't going unnoticed, either by government agencies or the hiking public. In 2021, Idaho set aside $250,000 for the ICT as part of a larger bill to improve outdoor recreation opportunities in the state. Brookins says that money will be divvied up between four nonprofits, including the Idaho Trails Association and the Selway Bitterroot Frank Church Foundation, to fund trail projects.

Wilderness trail work is arduous and slow-going. Power tools are off-limits and work sites are often incredibly remote. "There are places in the Frank where you could hike for four days before reaching the trail section that needs maintenance," says Brookins. Instead, trail crews are often flown into backcountry airstrips—a once-in-a-lifetime opportunity for volunteers but an added expense for each project.

As crews work to clear the path, a slow trickle of hikers has begun to rediscover the ICT. In 2016, Jacobson figured he was one of only a handful to have hiked the ICT, ever. But since 2020, there have been closer to 15 or 20 thru-hikers every year, he says. For now, he thinks that's about the extent of traffic the ICT can handle.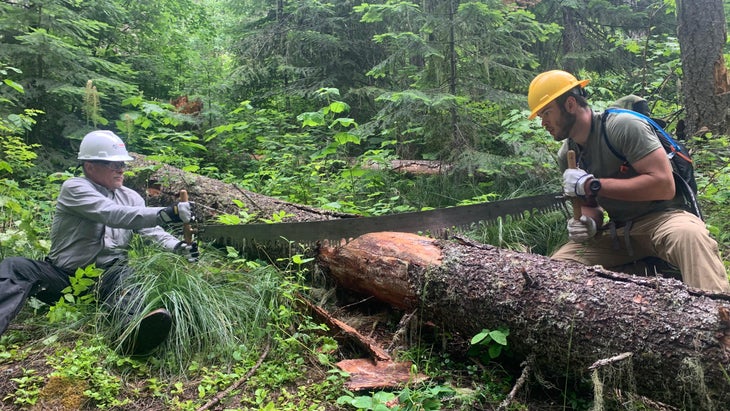 There's still a lot of work to be done. Compared to other American long trails, the ICT is still short on money and volunteer labor: There's no Idaho Centennial Trail Association to coordinate trail work, scouting trips, and official reroutes the way there is for venerated long-distance treks like the Pacific Crest Trail or Appalachian Trail. The ICT doesn't have National Scenic Trail designation, something that another nearby long trail, the Pacific Northwest Trail, recently achieved. That designation led to a full-time coordinator position within the U.S. Forest Service, and a forthcoming comprehensive master plan that will lay out management goals and priorities. For prospective thru-hikers, the ICT remains a serious commitment.

"It's a trail of attrition," says Jacobson, who is also a Triple Crowner. "Thru-hiking the ICT right now is like running the gauntlet. The people that are doing it are going to suffer, and they know that going in."
Hennessey, who section-hiked much of the trail, often guided by Williams and Tate, agrees.

"If people go out there expecting a well-marked trail, they're going to ask what the hell is going on," he says. "It's not for inexperienced hikers, in my opinion. Unless you're a really good map reader and have good wilderness skills, you'll struggle. You need to know to stay on the south slopes, and not to go down into the drainages—things you learn after you've been lost a few times before."

The challenges go beyond the physical. The short length and extreme topography of the trail makes choosing a start date tough: too early and you'll hit snow in the Sawtooth Mountains; too late and you'll roast in the desert section near the Nevada border. In the desert, water caches are a necessity every 10 to 20 miles. What's more, the roadless section through the Frank and Selway is so long that hikers have to get creative with resupply options: Most wind up sending boxes on the small planes that deliver mail to off-grid ranches in the wilderness. "Those ranchers, they're not gonna do it if there's suddenly 500 boxes a day," says Jacobson. "There's a lot of work that needs to be done before you open the floodgates."

Still, for Brookins, Jacobson, and the steadily increasing number of hikers who have experienced the ICT firsthand, the promise of a world-class wilderness trail is hard to shake.

"The sense of solitude is what makes the trail so special. You're so far out there," says Jacobson. "It weighs heavily on you. It's a beautiful, scary thing."