Why Hikers Should Kill Invasive Plants
Humans have unmatched power to alter natural landscapes. Let's use it for good
Heading out the door? Read this article on the new Outside+ app available now on iOS devices for members! Download the app.
Backpacker is your guide to the trail and all of the people who make it their home. Read more essays and opinions on the joys, pains, and quirks of being a hiker.
It would be inaccurate to say Earth is dying. But life is changing here at a pace seldom seen, sorting winners from losers in a game of evolutionary speed chess. We are living the lightning round.
We know for certain that many of our plants and animals—from the smallest bugs to the largest elephants—are swiftly being relegated to history in what scientists are calling the sixth great extinction. However, this mass die-out is the first caused by a single species (us) rather than a natural disaster like the asteroid that cancelled the dinosaurs. (Though it's still on a smaller scale: We've dusted about 10 percent of extant species in the last 20,000 years, while the asteroid bagged 75 percent.)
As humans have conquered the globe, we've been shadowed by plants, bugs, and critters that have hitched their futures to ours. We expand their ranges, and when they arrive with us in a new place, the predators and competition they evolved alongside aren't there to keep their populations under control. In many cases, these invaders go nuts—causing harm to their new neighbors.
Extinction via outcompetition is nothing new. Survival of the fittest has been driving life on Earth to ever-greater complexity for 3.5 billion years. But the reason for this newest wave ought to give us pause, and a push to act: What's happening here isn't really natural, and we are responsible. We can't turn back the clock on invasive species, but we can try to hold the line.
That all starts with plants. Earth is a garden planet. Plants support all the life here on Earth once you look far enough down the food chain. Invasive species disrupt local ecosystems, degrade habitats, and change the look of our favorite places. When our plant communities go haywire, the rest of the food web won't be far behind, making invasive plant species perhaps the most urgent problem of all facing our natural places.
Exotic plants (those that originated elsewhere) can be found in every ecosystem in the country, and each region has its unruliest bruiser. In the West, it's a spiky invasive grass called cheatgrass that sprouts before native species and dries to tinder, increasing the frequency and severity of the fire regime. In the South, a noxious vine called kudzu spreads itself over new-growth hardwood forests (like abandoned pastures) and chokes and shades out anything in its foot-a-day spread. The Southwest has tamarisk that causes erosion, warms  water, and speeds up flow rates, altering the conditions that local species evolved to meet. California has its fire-happy broom plant. The Northeast's multiflora rose is nothing more than a pretty strangler.
This isn't a random list; these are public enemies. Each of these species attacks other plant life and excludes native flora all across the food chain. Each was introduced to the United States by humans.
Luckily, these interlopers are also easy to identify. Cheatgrass stems turn bright red in summer. You can see kudzu from space as it overruns everything in its path. Broom plant is the only California shrub that looks like an actual broom. Multiflora rose can be a shrub or a vine with a spray of button-size white flowers.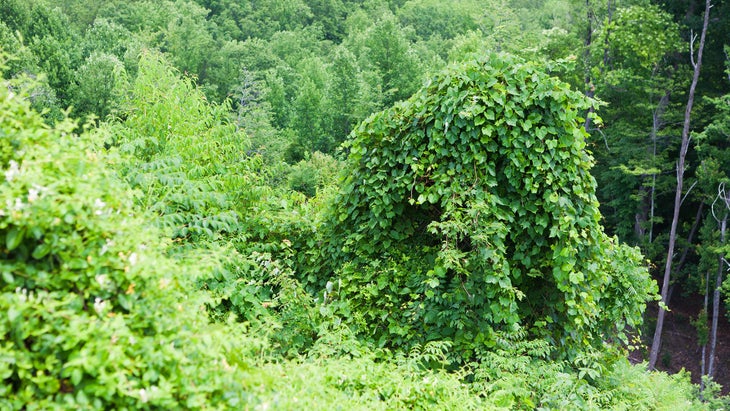 Armed with this knowledge, we can each do our part to fight the horde. It may seem anathema to the outdoor-lover ethos, but hikers should kill these plants when they  encounter them in the wild. These species thrive in human-disturbed areas  and then spread outward, which means the same wild  places we like to hike in are the frontier of the invasion. Stop them there. 
Adopt an area on the edge of the spread and learn to positively identify the culprit. Make it your project and keep coming back to remove plant material (bag and toss in the garbage) and then to weed the next wave. Cut off anything green at the ground. Better yet, pick a remote area, draw your proverbial line in the sand, and hold that line like the place you love depends on it (it does). Check your boots for seeds when you leave.
Yes, there are several problems with this tactic. Top-of-mind for many backcountry travelers, killing plants violates Leave No Trace ethics. However, with the worst of the invasives, leaving something as you found it means the next person could find it worse. Strict application of LNT here is turning away from nature in crisis: This isn't a pristine wilderness. It's a crime scene. 
Second, but more important, is the sort of defeatism that tends to accompany these invasions. Which is to say, what can people actually do in the face of such established and fast-moving juggernauts? 
Not much individually, it's true. But these plants' turbo-charged conquest of our land needs to meet some resistance, and nature hasn't evolved one yet. Affected ecosystems might be workshopping their own fixes, but they need us to buy them all the time we can. One person acting alone can't do much, but the entire hiking community can. 
This is the part of the movie where the under-pressure scientists ask the hero to do something just to stem the tide. We hikers know how to pack out other people's trash—which is what these plants are —and the problem is big enough that we can all be the hero. In fact, to make any sort of difference, we all need to be.