Bears Ears is Still in Limbo—and Oil and Mining Companies are Circling
With Biden's oil and gas moratorium derailed, Bears Ears is back on the chopping block. Here's the latest.
Photo: Mountain Girl Photography / Aurora Photos
Heading out the door? Read this article on the new Outside+ app available now on iOS devices for members! Download the app.
In the past eight months, petroleum companies have nominated more than 40,000 acres of land for oil and gas drilling within the original boundaries of Bears Ears National Monument, a swath of land in southeast Utah known for its nearly unparalleled concentration of Ancestral Puebloan artifacts, sandstone towers, wild singletrack, and sacred sites. Since March 2021, mining companies have staked six new claims on that same land. 
Until this summer, a federal moratorium on all new oil and gas leasing on public lands kept the drills at bay. But after a Louisiana court overturned the moratorium last month, it could soon be open season—and the threat to the future of the national monument may turn out to be very real. 
A Window of Opportunity
If you haven't been following the biggest public-lands battle in U.S. history, here's a brief recap: In 2015, five Native tribes asked President Barack Obama to protect the Bears Ears area. In 2016, he did, granting national monument status to about 1.35 million acres—a cause for celebration among hikers, climbers, and above all, tribal citizens. But the following year, President Donald Trump rolled nearly all of it back: In response to outcry from states' rights advocates, Utah state legislators, and local ranchers, miners, and oil companies, he reduced the protected area by 85 percent. 
There are currently five pending lawsuits challenging the legality of President Trump's reductions to Bears Ears and the Grand Staircase-Escalante national monuments—plus an official report from Interior Secretary Deb Haaland recommending restoration of the original boundaries of Bears Ears. In theory, the current boundaries could be expanded any day now. 
But the Biden administration is stuck in a holding pattern, says John Ruple, a law professor at the University of Utah who also volunteers on the board of directors for Utah conservation nonprofit Friends of Cedar Mesa. Until the administration ticks off big to-do list items like passing a federal budget and an infrastructure bill, he says, Bears Ears will likely stay on the political backburner. 
That leaves open a critical window for extractive industries to cut in. And perhaps it's not surprising that there have been so many expressions of interest from oil and gas companies within the monument's original bounds—according to reporting from The New York Times, oil potential was one of the biggest reasons the Trump administration decided to shrink the boundaries in the first place.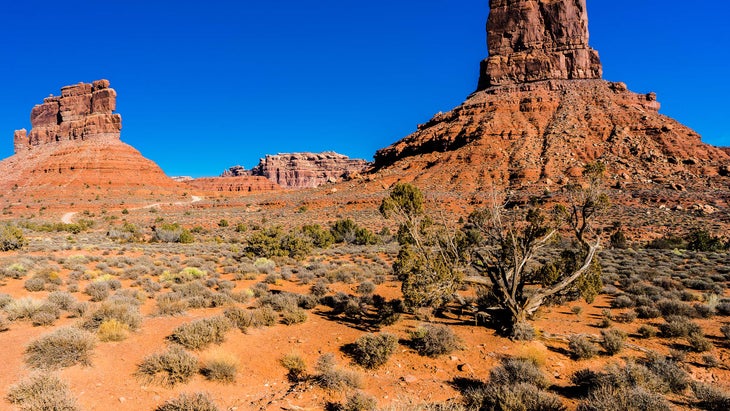 Fending Off Oil and Gas
Oil, gas, and mineral extraction have the potential to destroy cultural resources, disturb wildlife, and leave lasting scars on landscapes valued as sacred to Native peoples. But to understand the actual threat posed by oil and gas parcel nominations, you have to understand how the leasing process works. 
Basically, if a company spots a patch of land that seems worthy of drilling, it submits an "Expression of Interest," to the BLM, nominating the parcel for lease. The BLM then reviews the parcel and conducts a National Environmental Policy Act (NEPA) analysis. According to BLM Public Affairs Specialist Rachel Wootton, the BLM is also careful to search for cultural resources in accordance with "robust laws such as the Archaeological Resources Protection Act and the National Historic Preservation Act," which cover the land whether or not it's designated as a National Monument. If the BLM can't find a pressing environmental, cultural, or legal reason not to lease it, they put the parcel up for auction. 
But so far, nothing has come of these expressions of interest. Over the past few years, the Bureau of Land Management has been hesitant to auction off parcels within the national monument's original boundaries, Ruple says, possibly because doing so could complicate ongoing litigation and future management. (He estimates that the recent uptick in lease nominations likely reflects rising oil and gas prices rather than a change in policy by the BLM.) At the end of the day, it doesn't really matter: If the leases go through and the land takes on patchwork ownership, it becomes impossible to uniformly restore protections. 
"The person who holds the lease has certain legal rights, and the right to develop that comes with a lease makes management of the monument all the more difficult," explains Ruple. 
But at least with regards to oil and gas leasing, there seems to be no new leases on the horizon. 
"Given BLM's considerable discretion in deciding what parcels to offer for lease, and the obvious conflicts in the excluded lands with sacred sites and cultural resources, I would be surprised if BLM offers any leases in this area over the next several sales," says Steve Bloch, legal director and attorney for the Southern Utah Wilderness Alliance.

In fact, in a recent release about potential parcels for sale in the 2022 Q1 auction, the BLM listed no lands within the original Bears Ears boundary.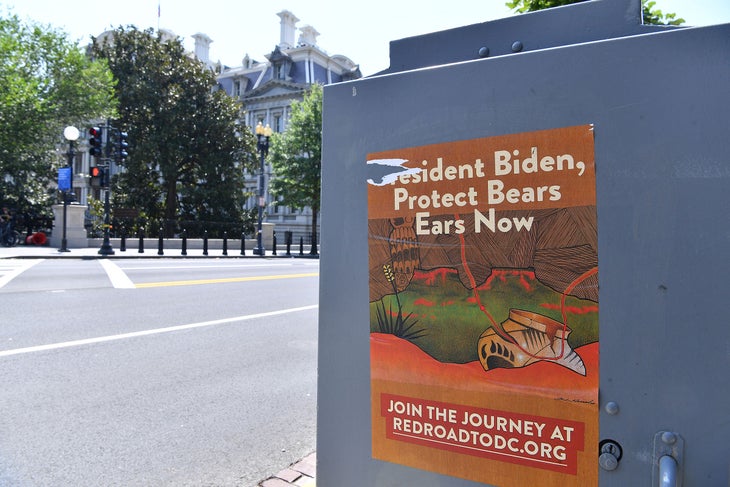 The Real Threat

Mining claims, however, are an entirely different story.
Right now, Bloch counts "between 14 and 17" mining claims made within the original boundaries of Bears Ears National Monument. Wootton says six of these have been staked in the last six months.  
"Of these, one claim has been developed—the 'Easy Peasy' mine on the eastern edge of the original monument," says Bloch. He adds that another proposal has already been submitted to develop several other claims, though no development has yet begun.
Relative to oil and gas leases, mining claims move fast. That's because they're a lot easier to secure than oil and gas leases. 
To get one, "all a person has to do is pound some stakes in the ground to literally 'stake' that claim, and then record that claim with the county," explains Ruple. And once someone has a claim, he adds, they have a legal right to be on that land—one that can last indefinitely if the claim is maintained. 
"Each one of those claims is a potential surface mine in the middle of a national monument," Ruple says. "The more potential mines we have, the greater the risk of development that's inconsistent with protecting the values that led to monument creation." 
With such a quick and easy claims process, new mines are tougher to forestall. Monument designation, and the ban on extraction that will come with it, Ruple says, remains one of the quickest ways to stop them. 
The five Native tribes comprising the Bears Ears Inter-Tribal Coalition—the Hopi Tribe, Navajo Nation, Ute Indian Tribe, Ute Mountain Ute Tribe, and Zuni Tribe—are also pushing hard for monument expansion. 
"The Hopi Nation, with its historical and cultural ties to the Bears Ears National Monument, is anxiously and patiently awaiting a conclusive decision from President Biden, one that will correct the injustices done to us by the last president and his administration," Coalition Co-Chair Clark W. Tenakhongva said in a statement. (The Coalition declined to provide further comment.) "And it is my hope that once the Bears Ears National Monument has been restored, together, we can turn the page to a new and brighter chapter in the shared story of America."
What's Next for Bears Ears
For now, the monument's boundaries will remain as they are, protecting two small, separate patches of land for about 201,000 acres total. Haaland's recommendation to expand the monument is gathering dust on Biden's desk. And the five lawsuits, now consolidated into one, have been placed on hold by Federal District Judge Tanya Chutkan, who's waiting for President Biden to make a decision about expanding the monuments before she makes hers.

As long as that's the case, Bears Ears will stay in limbo. Mining claims will accumulate, and oil and gas companies will continue to mount pressure on the BLM to lease new parcels. As of writing, the original 1.35 million acres of Bears Ears National Monument remains mostly intact and undeveloped. But the window to keep it that way could be closing.

"This is a magical landscape and it should have been made a national park 50 years ago," Ruple says. "It's a place of tremendous cultural and spiritual importance to people whose ancestors have been on that land since time immemorial." 
To save it, he adds, it's critical to act now.