Insider's Guide Rocky Mountain National Park
From the top day hike to the key skills you'll need, we'll have you ready for the Rockies in no time.
Heading out the door? Read this article on the new Outside+ app available now on iOS devices for members! Download the app.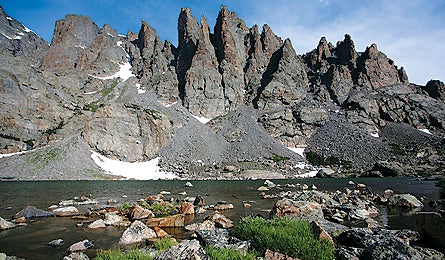 Sky Pond via Lake Haiyaha (Mike Amfahr)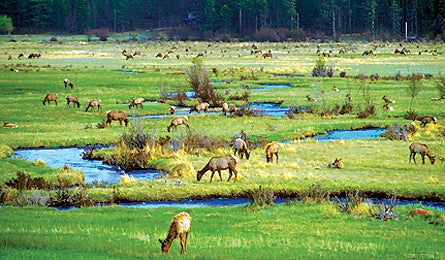 Moraine Park (Pat & Chuck Blackley)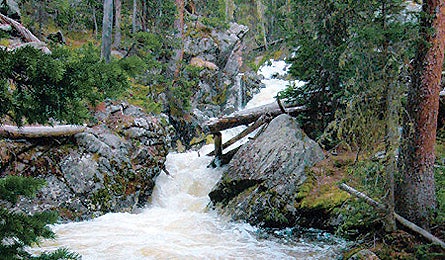 Continental Divide Loop II (Jesse Speer)
Top Trails
Dayhike

Sky Pond via Lake Haiyaha

Seven alpine lakes, two gorgeous waterfalls, and acres of knee-high columbine–this
10-mile reverse lollipop packs in the best of Rocky's east-of-the-Divide delights.
From Bear Lake, hike 1.1 miles to Dream Lake; follow the Lake Haiyaha Trail
to Glacier Knobs. Take the Loch Vale Trail past the windswept Loch and Glass
Lake to Sky Pond, nestled below the Sharkstooth and Petit Grepon spires. Return
to Glacier Knobs and continue down the winding Loch Vale Trail for two miles,
past Alberta Falls, to reach a short traverse back to Bear Lake.
Weekend

Moraine Park to Bear Lake Loop

A wildlife-rich route with lakeside camping below glacial cirques, this trip
follows the gentle Fern Lake Trail 1.8 miles to The Pool, then climbs south
to campsites at Fern or Odessa Lakes (mile 4.8). Next morning, after admiring
the sunrise lighting up Notchtop Mountain's broad east face, continue south
and east to a junction near Bear Lake. Head back northward past Mill Creek Basin
and Steep Mountain for 3.9 miles, then bear right on Cub Lake Trail to return
to Moraine Park, passing meadows where elk, mule deer, and coyote hang out.




Weeklong

Continental Divide Loop II: Tonahutu Creek–North Inlet Loop

Do an abbreviated version of the author's loop over the Continental Divide by
following the Tonahutu Creek Trail to Grand Lake and returning over Flattop
Mountain via the North Inlet Trail, following creeks to a long alpine tundra
traverse. In autumn, the forest floor beside the trail is covered with a golden
carpet of bearberry and other ground cover. Allow three to four days to make
the most of this superb, 34-mile tour of the west side. Get an early start over
Flattop in both directions–you're exposed to severe weather for several
miles above treeline.
Key Skills

Wildlife Watching

See more megafauna with these tips from Estes Park guide Kaiyote Snow, who leads
birding and wildlife safaris through the park.
Go early–or late The best times to see wildlife are from
dawn to 8 a.m., and 7 p.m. to sunset, when predators like bobcats, foxes, badgers,
and weasels begin to prowl.

Sit still "Hike very slowly or find a place to sit and wait,"
says Snow. Good spots: the verge of Big Meadows on the Tonahutu Creek Trail
or Hollowell Park off Bear Lake Road.

Stay low Although you may spot bighorn sheep or elk above treeline,
most animals dwell near lower-elevation meadows like the ones at the bottom
of East Inlet Creek. "The farther into the backcountry you go, the less you
tend to see," Snow says.

See it all The Cub Lake Trail, in Moraine Park (2.3 miles one-way),
"probably has the highest diversity and concentration of wildlife and plants
in the park," says Snow, "with elk, deer, coyotes, bear, bobcat, marmots, ground
squirrels, long-tailed weasels, snowshoe hares, garter snakes, and birds."
Photography

Immortalize your Colorado adventure with these on-location pointers from nature
photographer John Fielder, who spent two summers photographing every lake in
the park for his book Rocky Mountain National Park: A 100-Year Perspective.
Big Meadows, Tonahutu Creek Trail

"Where the creek meanders through the grass, try composing the shores so they
extend from the bottom left and right corners of your viewfinder," says Fielder.
"This creates 'lead-in' lines that draw the viewer's eye toward the upper
middle of the scene. A polarizing filter will reveal the pretty red rocks at
the bottom of the creek."
Boulder-Grand Pass

"Look west for a view of Fourth, Spirit, and Verna Lakes stacked one behind
the other." Fielder suggests using a telephoto lens to compress the distance
between the lakes. Trio Falls, between Lion Lake 1 and 2 "Wait for clouds to
cover the sky, put on your polarizing filter to cut glare and reduce the amount
of light entering the camera by two stops, set your camera to its smallest aperture,
and use a tripod. This will pleasantly blur the water," says Fielder. Fielder's
basic Rocky Mountain photo kit SLR digital or film camera body; lenses covering
20–200mm focal lengths (12–135mm for digital lenses); longer lens,
such as 400mm, for shooting wildlife; tripod for low light and extreme depth
of field; remote shutter release to eliminate shakes at slow speeds.
Handling High Altitude

Our loop climbs above 12,300 feet on day one–upping the potential for
altitude sickness. Local guide Eli Helmuth says the simplest fix is the best:
Dayhike your way to acclimatization. His favorite routes:
Longs Peak trailhead to Chasm Lake: 8.4 miles round-trip; 2,355-foot
gain; 11,760-foot high point. From the lake, look across the Mills Glacier straight
up Longs's east face.



Black Lake, Glacier Gorge: 9.8 miles round-trip; 1,450-foot gain; 10,630-foot
high point. The polished granite walls of 12,575-foot Spearhead monolith loom
over the lake.
The Loch, Loch Vale: 6 miles round-trip; 1,012-foot gain; 10,192-foot
high point. See Alberta Falls and views of Andrews Glacier.
Best Campfire Legend

Eagle-trapping on Longs

John Wesley Powell is usually credited as the first person to ascend Longs Peak,
the northernmost Fourteener in the Rockies (via the south face, in 1868). But
Native Americans almost certainly climbed the peak earlier. In 1914, two elderly
Arapaho toured the area, where they had lived 50 years earlier, and told researchers
stories of the meadows and mountains in modern Rocky Mountain National Park.
One of the men, named Gun Griswold, said his father and other Arapaho climbed
Longs to trap eagles. The men would dig a trench on the summit where they'd
hide, covered by brush, with a tasty-looking rabbit or marmot corpse for bait.
When an eagle landed, they would leap up, grab the bird by the legs, kill it,
and remove its feathers, which were used for ceremonial and ornamental purposes.