Insider's Guide: Great Smoky Mountains National Park
From secret spots to the perfect campsites, this insider's guide has the goods on the Smokies.
Heading out the door? Read this article on the new Outside+ app available now on iOS devices for members! Download the app.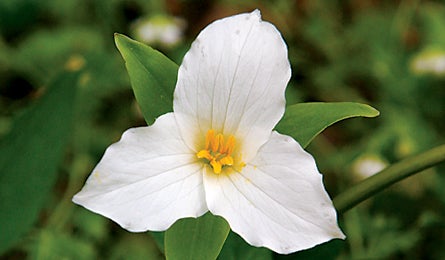 Spot these along Porters Creek Trail. (Brian F. Jorg)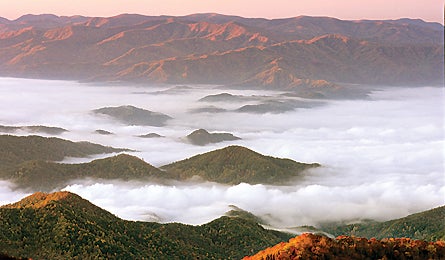 Clingmans Dome to Elkmont (Jerry Ginsberg)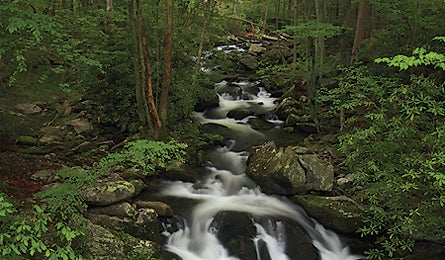 Meigs Creek Trail (Tim Seaver)
TOP TRAILS
DAYHIKE

Porters Creek Trail

This 7.4-mile out-and-back is a great place to look for some of the 30 salamander species that live in the park. (Peek in small pools to find them.) From the Brushy Mountain Trail, hike 1.6 miles through yellow trillium to a wooden footbridge, looking to your left for mayapple, with leaves like green umbrellas. Wild geranium carpets the hardwood slopes, and the tiny blue petals of wild stonecrop cover mossy boulders. At 3.2 miles, find wildflower nirvana in a blanket of white trillium. The trail ends at backcountry campsite 31, a spacious plot with a fire ring and stream.
WEEKEND

Clingmans Dome to Elkmont
Heavenly views, wildflowers, waterfalls, and a storied past–the trails on this 13.3-mile point-to-point (plan a shuttle) include everything that makes the Smokies famous. Begin at the Clingman's Dome observation tower, and take the Clingman's Dome Bypass Trail to the Appalachian Trail, heading west. At 2.2 miles, turn onto Goshen Prong Trail and call out to alert black bears of your presence while descending to cascading falls that collect in small pools. Overnight at campsite 23, then drop 600 feet in 3.1 miles, passing meadows of Solomon's seal and jack-in-the-pulpit on an old railroad bed used by loggers in the 1900s. Take the Little River Trail for 3.4 miles, descending along Little River, which is actually a sizable stream that drains much of the eastern part of the park.
WEEKLONG

Meigs Creek Trail to Appalachian Trail
Watch for timber rattlers on this 38-mile lollipop loop that provides relatively easy access to the heart of the Smokies high country. Begin on the Meigs Creek Trail, about 12 miles west of the Sugarlands Visitor Center. Climb an old logging road into a wild, narrow creek valley; rhododendron tunnels open upon mossy slopes covered in Christmas ferns, foamflower, and violets. Connect to the Meigs Mountain Trail and hike through large hemlocks to campsite 20, a wide plot where several creeks converge. Jakes Creek Trail skirts a roaring stream, then ascends through Fraser magnolias, where yellow-bellied sapsuckers like to congregate. Join the Miry Ridge Trail at mile 14.9, following it to the AT, and peer down from narrow ridges on wide, forested valleys that shift from gray to purple.
Key Skill
SHOOTING WILDFLOWERS

Excellent flower photos require more than great light. Improve your images with tips from Andrew Kornylak, an outdoor photographer based near the southern Appalachians.
Get a better view Right-angle viewfinders can be fitted to almost any SLR camera and allow you to stand above your camera rather than behind it while looking through the viewfinder. When you can't find the correct position, the right-angle lens lets you stand or sit comfortably while giving you a bug's- eye view of a patch of daisies.
Come prepared You don't have to lie down in dewy grass to get the best petal shot. Bring a lightweight folding stool, which gets you up close and personal without smashing daisies.
Use a reflector to give flowers a glow Not only do they block sun and wind, some include multiple surfaces (silver, gold, white, black) that can also provide a background to isolate specific blooms.
SECRET SPOTS

Ray Payne, a volunteer in the park's backcountry office since 1995, spends 100 days a year seeking out quiet places. His favorites:
Pretty Hollow Gap Trail With a 360-degree view of 6,000-foot peaks and the great Cataloochee Valley, the firetower atop Mt. Sterling lures lots of hikers. Even so, this eastern fringe of the park in North Carolina sees fewer visitors than the other gateways in Tennessee. Payne says you'll have little company if you approach Mt. Sterling from the lightly-traveled Pretty Hollow Gap Trail. From Cataloochee Road, take the 5.6-mile path through a forest of large hemlocks along Porter Creek. Ascend to the Mt. Sterling Ridge Trail and head northeast to campsite 38, one of the park's highest backcountry sites.
Long Hungry Ridge Trail When flame azaleas bloom bright orange in spring, Gregory Bald becomes a wildflower-lover's mecca. In come the crowds, but Payne says most people approach Gregory Bald from Cades Cove, the park's equivalent of Grand Central Station. Avoid congestion by sneaking up from the Twentymile ranger station, tucked in the remote southwest corner of the Smokies. From the Twentymile trailhead, climb 3.1 miles on the Long Hungry Ridge Trail. Travel west on the Gregory Bald Trail and begin looking for the fire-orange flowers.
Noland Divide Trail The majority of park visitors drive to the top of Clingmans Dome. Avoid them by taking the little-used, heavily forested Noland Divide Trail. Trout lilies and bluets brighten a path through Eastern hemlocks and virgin oaks. Do it in one day (with a shuttle). From Deep Creek, you'll gain 4,149 feet over 11.6 miles; traverse the rocky Beauregard Ridge, and then pass through a garden of flame azalea and mountain laurel, keeping a watch for black bears, bobcats, mollusks, millipedes, and mushrooms. End at Clingmans Dome Road.
THE PERFECT CAMPSITE

This is the busiest park in the county, but don't let that deter you from finding the perfect digs. Here's how:
Backcountry Advance reservations are required for 17 of the park's backcountry sites, while others are first come, first serve. Arrive early to nab the good ones. Or book one of the following for April and enjoy solitude, great scenery, and a chance encounter with one of the park's 1,500 black bears.
Campsite 13 This wide, grassy plot puts you within seconds of a great sunrise-breakfast spot or a field perfect for deer gazing. Hike 4.1 miles up the Gregory Bald Trail to a 10-acre clearing 0.4 miles from the Bald.
Campsite 29 Though it's just 2.5 miles from the trailhead, this site, in a ravine beside Otter Creek on the Maddron Bald Trail, feels extremely remote (book early; it's popular).
Campsite 83 This spot, tucked in the park's southwestern forest near Bone Valley Creek, is the perfect basecamp for dayhikes on a half dozen trails skirting trout-filled streams.
Shelters Contact (865) 436-1231 and book up to one month in advance of your trip.