When Buying Gear Helps the World
In Mexico's Copper Canyon, LifeStraw's give-back program delivers water purifiers to schools in need.
Heading out the door? Read this article on the new Outside+ app available now on iOS devices for members! Download the app.
Standing on the rim of Copper Canyon, I can plainly see why the indigenous Tarahumara Indians became so accomplished at running and hiking long distances. With a depth of more than 5,000 feet and 10,000 square miles of jigsawed canyon terrain, Barrancas del Cobre, in northwestern Mexico, drops away below my feet and disappears in the distance. The bottom and far edges are both out of sight. It's like looking at an iceberg and knowing there's so much more than you can see.
For centuries, the Tarahumara have traversed this vast canyon system on a network of trails, sometimes traveling more than 100 miles on foot in a single push. Villages and homes are spread all over Copper's nooks and crannies, so going to visit a "neighbor" to help with crops or celebrate a holiday can mean a daylong jog. The maze of trails and river-cut canyons turned the Tarahumara into natural ultrarunners (celebrated in the book Born to Run), and also put the region on the hiking map. Waterfalls, sheer cliffs, hidden valleys, and a unique culture make Copper Canyon a life-list trekking destination.
But the same terrain that makes the Tarahumara some of the fittest people on the planet also makes them one of the most isolated. Rough four-wheel-drive roads access some of the communities, though many can only be reached by foot. This isolation has helped preserve their culture, while also limiting the development of basic infrastructure, including access to potable water.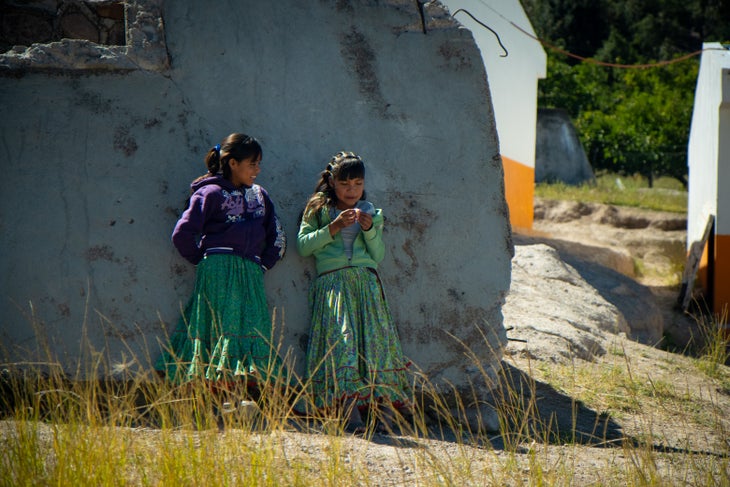 Water is why I'm here now. Specifically, drinking water. Most of the water sources in the canyon require treatment, but purification systems have never been installed in these remote communities. That's no big deal for visiting hikers, who can carry their own personal filters, however it's a very big deal for everyone else. The problem is particularly vexing at schools, because most kids live at school Monday through Friday each week, only returning home on the weekends due to the long distances they must walk back and forth (for some kids, the trek is so far that they only return home on holidays). So they're getting most of their water at school, where the contaminated water causes health problems that—no surprise—interfere with their education.
I'm here in late October with a crew of about 20 people, split into five teams, on a mission to deliver and install LifeStraw Community filters to local schools. Each Community filter serves up to 100 kids, so just one or two of the washing machine-size purifiers can provide water for an entire school. LifeStraw, which promises one year of safe drinking water for a child in need for every product it sells, has donated 20 Community purifiers for distribution this week. Six years after the first LifeStraw Community filter was trucked into Copper Canyon, this week's effort will bring the total number of schools with filters to some 300, with more than 25,000 kids getting access to treated water.
A local team lifts up the community
"Even kindergarteners walk 20 kilometers to school," says Enrique Ovelin, a teacher in Ojachichi, the first village on my team's itinerary. The 43-year-old teaches 5 and 6 grade, and lives at the school himself on weekdays because, like many of the students, he has to travel at least two hours one way to get home.
We had crawled slowly down a four-wheel-drive road to reach Ojachichi, which lies in a wide valley between the canyon rim and floor. Golden grass colors the fields around the village; a handful of homes are scattered along a slow-running creek. The school dominates the settlement. Actually, it's three schools—a preschool, a primary school, and a secondary school—clustered around a cement basketball court that today doubles as a stage for assembling the filters and training the kids and teachers on their use and maintenance.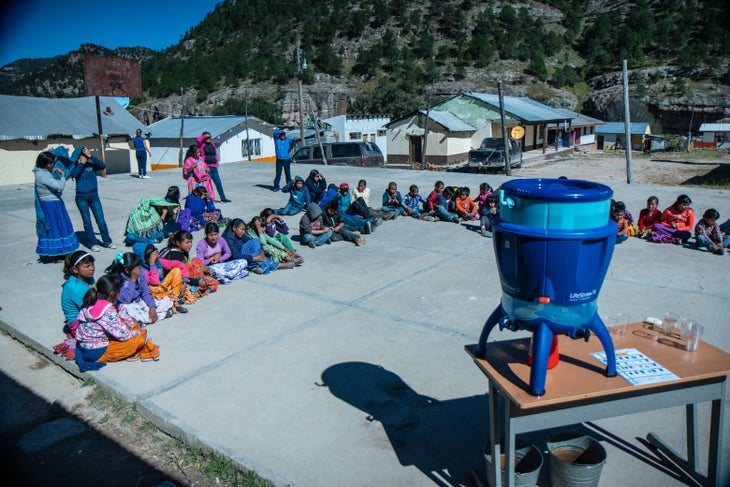 With about 50 students gathered under the bright October sun, an employee from the state of Chihuahua's Department of Health steps up to guide the presentation. Since 2013, the agency has led the effort to bring filters to Copper Canyon, and about a dozen staffers regularly visit the area. Working with locals, whether through its own employees, like in Kenya, or with a partner, like here in Mexico, is a critical part of LifeStraw's humanitarian programs. "We believe that local teams ensure long-term success," says Tara Lundy, LifeStraw's Head of Brand. "Local teams provide comprehensive planning, training, communication, and follow-up visits. They're what makes each program sustainable." To date, this model has enabled LifeStraw, through its give back program, to deliver one year of safe water to more than 3 million kids worldwide, with filters installed at almost 2,000 schools. (The company makes a five-year commitment at each school.)
LifeStraw is not the first company to embrace "cause marketing"—in which for-profit revenue is used to subsidize humanitarian causes. But it's one of the few that started as a cause company, initially designing a product to prevent Guinea worm, a waterborne disease that once plagued African countries (the LifeStraw Guinea Worm Filter was a precursor of the straw-like device backpackers use today). The filter launched in the 1990s in partnership with the Carter Center, an NGO established by President Jimmy Carter. Today, Guinea worm is set to become only the second human disease completely eradicated, after smallpox.
Now the sales of consumer products, like the LifeStraw Go bottle, enable the company to continue doing humanitarian work without relying on fundraising or fickle support from NGOs. It's a more sustainable business model, says Lundy, and allows hikers to use their buying decision to make a positive impact.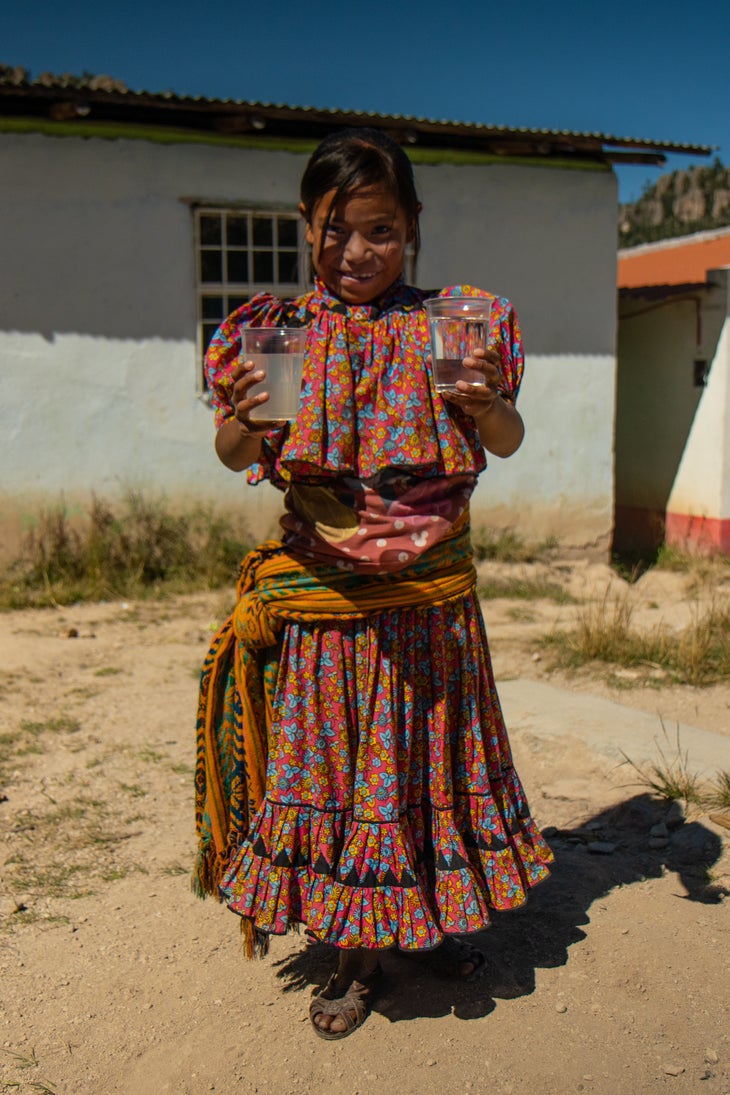 When you're choosing a filter for your next backpacking trip (or the hiker on your list), it's hard to imagine how it affects kids like Cecelia, 12, and Brenda, 10. The two of them go to school in Ojachichi, and like the other students here, will be getting regular access to purified water for the first time in their lives. I talk to the girls and they share, shyly, about getting sick from the water—stomach aches and diarrhea. What they don't know, but what all health experts know well, is that diarrhea kills 2,195 children every day—more than AIDS, malaria, and measles combined. According to the Centers for Disease Control, about 88 percent of diarrhea-associated deaths are attributable to unsafe water, inadequate sanitation, and insufficient hygiene. That's why Alonso, the Department of Health staffer, recruits two volunteers to demonstrate the most effective handwashing technique, and why every school gets a supply of soap with the filter.
Ovelin watches the demonstration along with the others and smiles when the kids giggle at the exaggerated exhibition of the handwashers. But everyone quiets down when Alonso holds up a cup of filtered water next to a cup of unfiltered water: The difference is obvious even from a distance. "That's going to save me money," Ovelin says, explaining that he'd been buying bottled water up on the rim and bringing it with him into the canyon.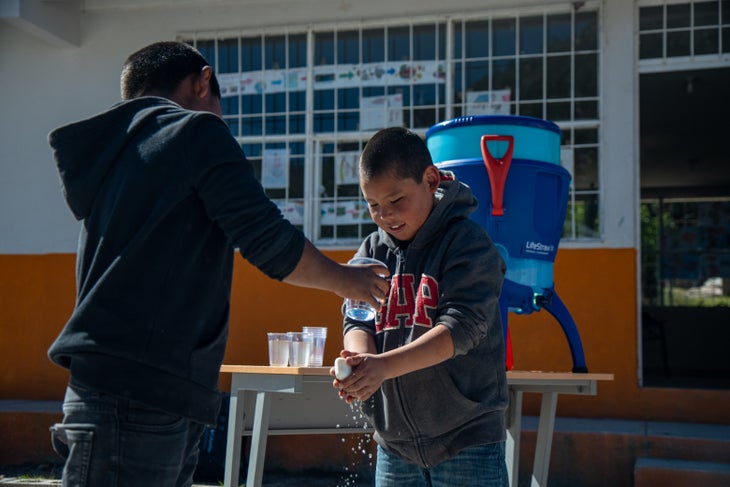 Staying in school preserves culture
Ironically, it was an intrusion from the outside world that first prompted the Department of Health to investigate water quality in Copper Canyon in the first place. Runoff from a tourist hotel on the rim was polluting the water below, and when the state agency intervened, the investigation found evidence of widespread contamination (e. coli is the main culprit).
Alonso and the other Health agency officials working in Copper Canyon are clearly moved by the plight of the children. And it's not just the water. As with many indigenous populations in remote areas, the Tarahumara suffer from poverty, a lack of employment options, alcohol abuse, and the erosion of traditional culture. Alejandra Carlos Aguirre, the department's Director of Evidence and Risk Management, says many parents send their kids to live at the schools for the food and shelter. "We hope to finish delivering filters to all the schools here in two years, before government funding changes," she says. (While some filters have been donated by LifeStraw, like ones we're delivering this week, the Department of Health purchases the majority of them. In a virtuous circle, this contributes to LifeStraw's humanitarian impact and to long-term sustainability in countries where they work.)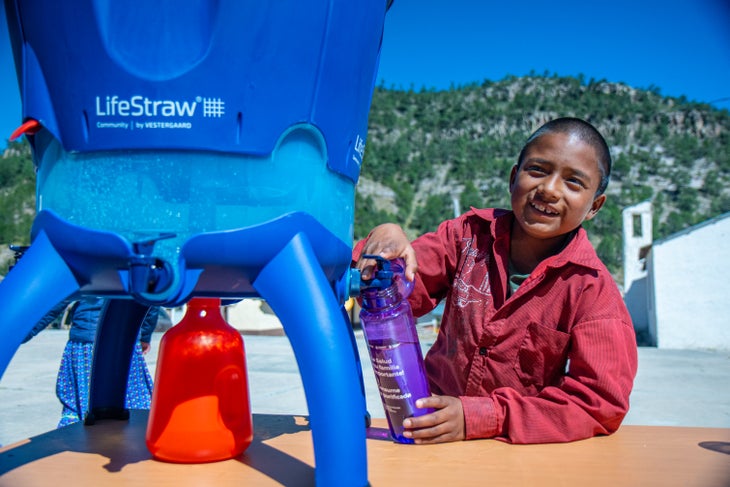 The indigenous schools, which are free for students, are a key part of the effort to preserve Tarahumara culture. Teachers hike to the most remote communities before classes start, in order to better understand where their students come from, and the Tarahumara's native language is worked into the curriculum (at one school we visit, all instruction in 1 and 2 grade is in the native language). Martin Caraveo, a teacher who was raised in Copper Canyon and has been teaching here for 28 years, says the schools are trying to rescue traditions.
"We have a running race for the kids called Rarahipa," he says. "All the schools participate during one week every summer." Of course, as every parent knows, kids have their own points of view. I think of Santiago, an 11-year-old I meet on the first day, whose father and grandfather were famous runners. Santiago wears the Tarahumara signature "running sandal," made from a strip of tire rubber, but says he prefers ball sports.
This next generation of Tarahumara will make their own decisions. Some will decide to run far and fast. Some won't. But it's good to know that drinking contaminated water won't be the reason they can't run. Or stay in school.
LifeStraw makes its projects effective and sustainable by working with local organizations like the Chihuahua Department of Health.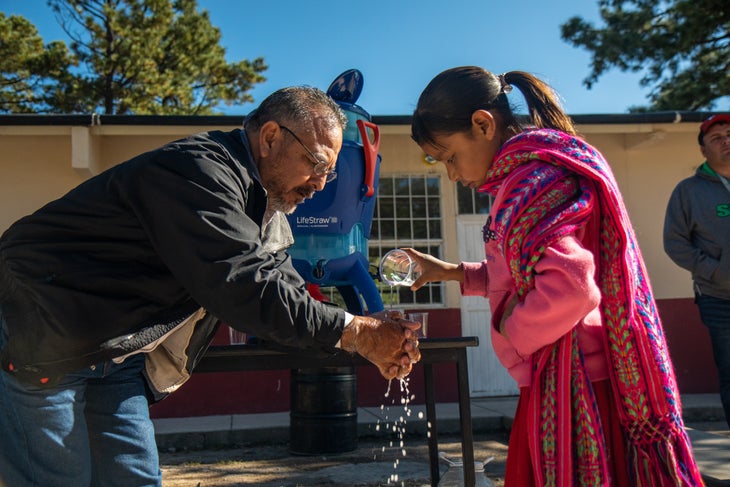 Handwashing is a key defense against spreading illness.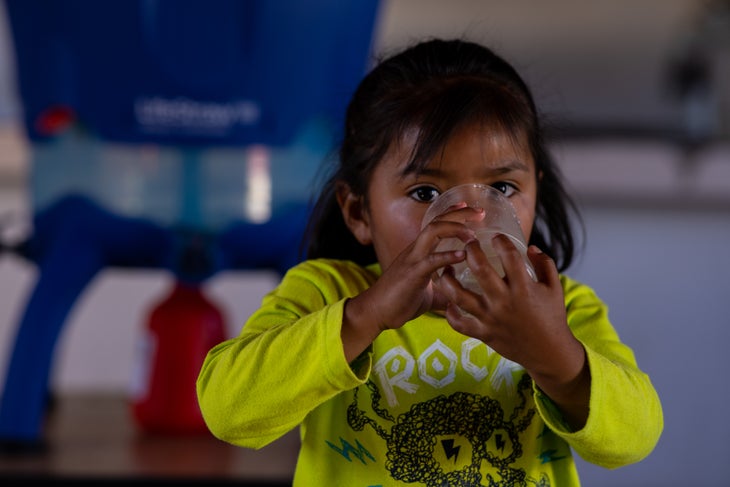 Tarahumara children attend school from ages 5-15.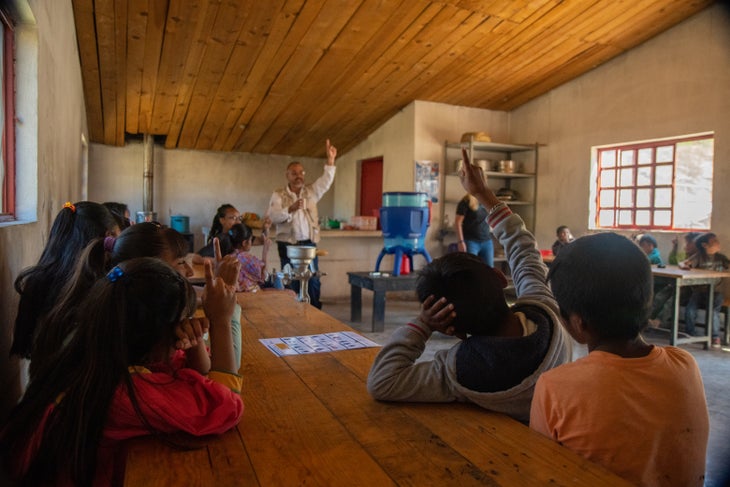 Students at approximately 300 schools in Copper Canyon now have access to purified water.
Gifts That Give Back
Get the hiker on your list a LifeStraw filter and give safe water to one school child for a year.
LifeStraw Go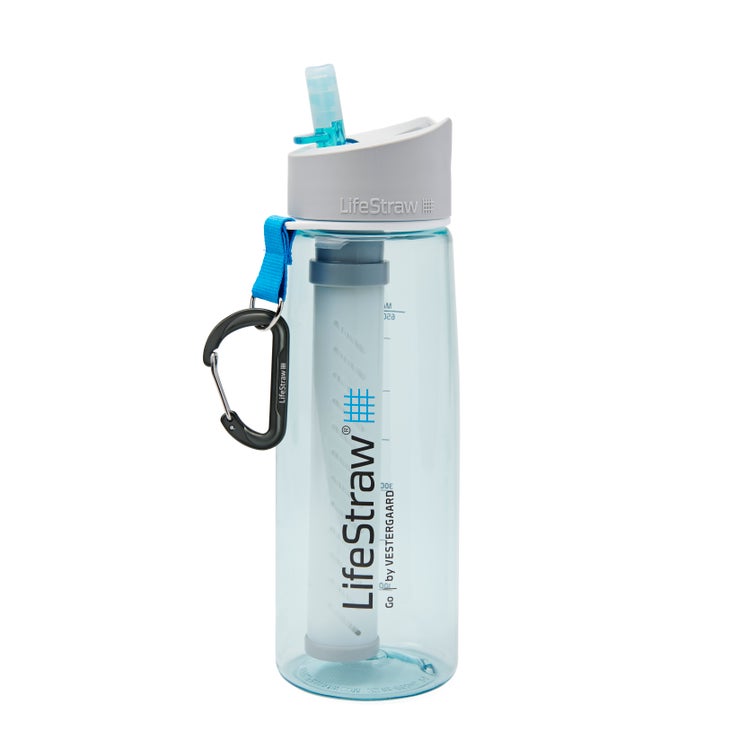 LifeStraw Go advanced water filter bottle that removes bacteria, parasites and microplastics and improves water taste.
LifeStraw Flex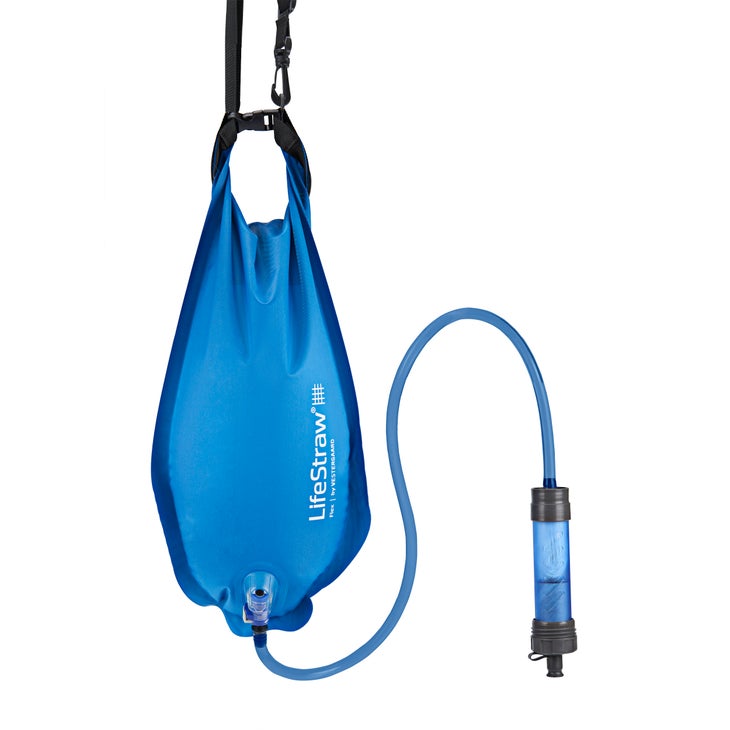 LifeStraw Flex with gravity bag – a compact, lightweight 1 gallon water filtration system that removes bacteria, parasites, microplastics and also reduces heavy metals like lead.
LifeStraw Home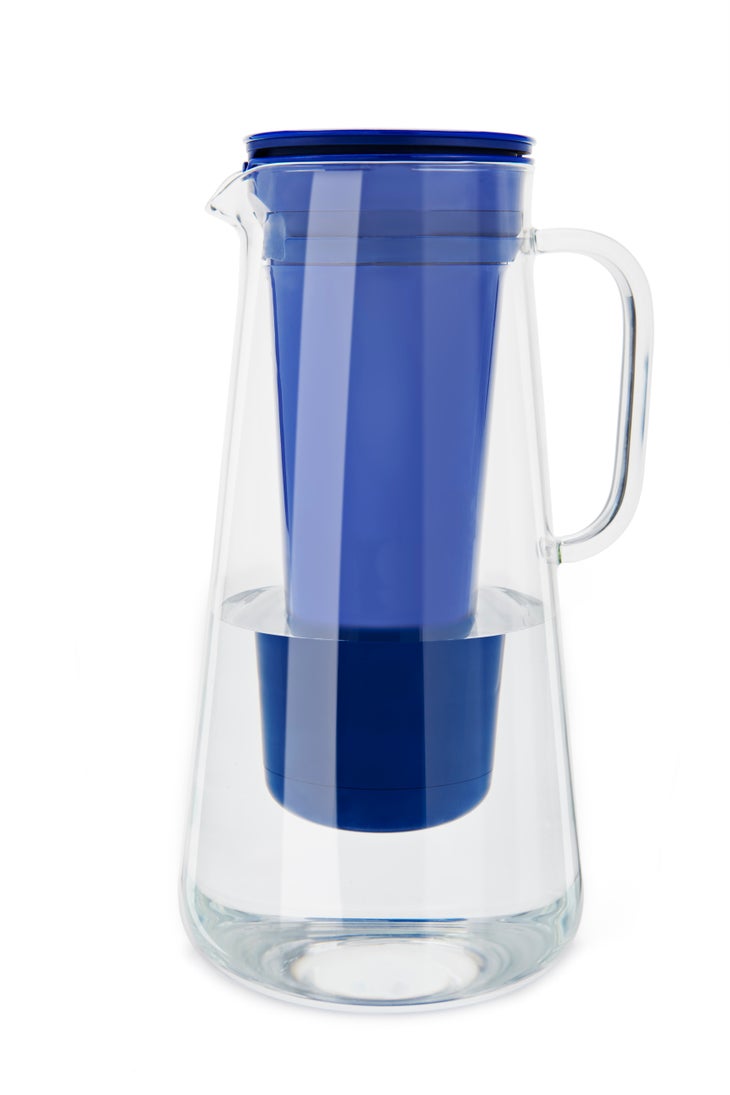 LifeStraw Home – a new addition from LifeStraw this year providing expanded protection in your household – removes bacteria, parasites, microplastics, PFAS and other chemicals as well as heavy metals like lead, mercury, cadmium and copper. Their powerful filtration in a sleek new design.
You can check out LifeStraw's wider portfolio of products on their website LifeStraw.com including the original LifeStraw, LifeStraw Flex with collapsible squeeze bottle, LifeStraw Universal water bottle filter adapter kit, LifeStraw Mission purifier, and LifeStraw Play water filter bottle for kids.