How A Canoe Stroke Changed My Life
A mom's lesson to her 8-year-old son yields a lifetime of wisdom.
Heading out the door? Read this article on the new Outside+ app available now on iOS devices for members! Download the app.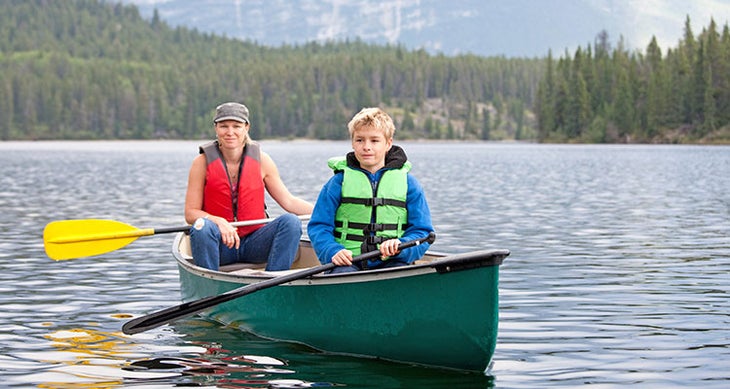 End of summer, a tranquil lake in the north woods. Mist lingers where windblown pines lean over the glassy water, shrouding a pair of loons from morning's first pink rays.
Her paddle dips and twists, dips and twists, propelling our battered Old Town canoe toward a distant cove where we hope to find walleye.
She doesn't seem old yet, or like a girl, that alien species my 8-year-old mind is struggling to comprehend. She's just my mom, tanned and lean with a floppy sun hat squished down on her new perm. She's my pal and my first camping partner, and both seem perfectly normal. When we near the cove, she stows the paddle and the canoe drifts silently through water so clear I can almost touch rocks 20 feet down.
We bait our hooks, saving my shiny new Rapala lure for later. The fishing is good early, but tapers after our 10 o'clock sandwiches. It doesn't matter. We drift and cast 'til midafternoon, content to meander in the corners of our minds that don't get much attention back home. We daydream and point out cloud formations and pierce the silence now and then with a silly story.
On the way home, we'll switch positions and she'll hand me the long paddle with the dark streak down the middle. And she'll teach me the most graceful and efficient of all outdoor skills—the J stroke. At first, like a boy, I'll try to muscle it, pushing the bow left over and over until we're both exasperated. But patience will follow, and soon the blade will settle into that perfect easy rhythm of dip, pull, twist, lift—the rhythm that lets a patient paddler glide plumb-line straight without switching sides.
This year, I'll hand the paddle to her granddaughter when we canoe the Boundary Waters for the first time. I'll share the same technique, and those good lessons about patience and touch, and my own kid will discover that a smart paddler can go farther, faster, if she doesn't fight the water. We'll chat about letting moments unfold, especially in the wilderness, and about not rushing past the loons and the clouds and the quiet times together.
And then I'll close my eyes and listen for the blurp-sssssssss-trickle of her paddle dipping, pulling, and dripping. And I'll imagine it's my mom in the stern again, quietly steering me through the north woods, and life.