Higher Education: Should 13-Year-Old Jordan Romero Climb Everest?
Romero climbed Denali at 11 and has bagged five of the Seven Summits. He hopes to climb Everest in 2010, but is mountain climbing good for a growing kid?
Heading out the door? Read this article on the new Outside+ app available now on iOS devices for members! Download the app.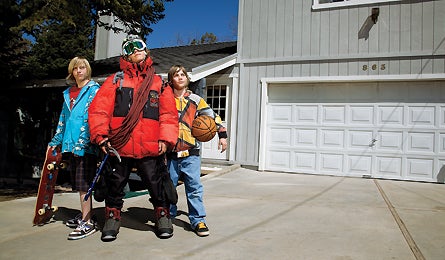 13-year-old Jordan Romero (center) with two friends.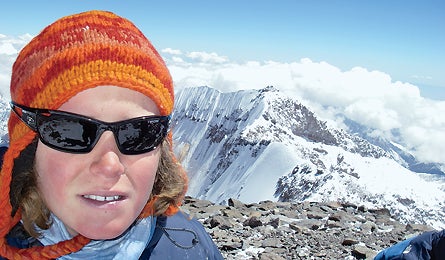 Jordan, 11, on top of Aconcagua.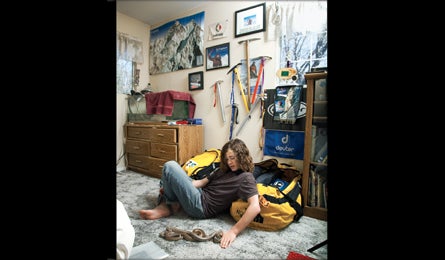 Ice axes and an Everest poster adorn Jordan's bedroom.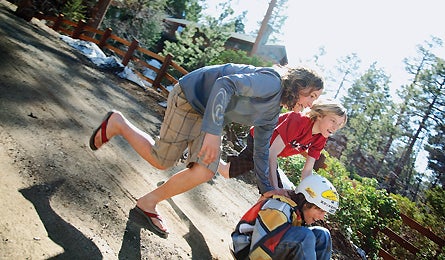 A dirt road becomes a luge course.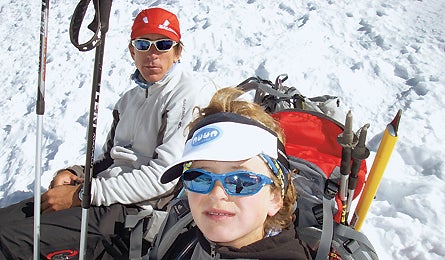 Jordan, 10, on Russia's Mt. Elbrus.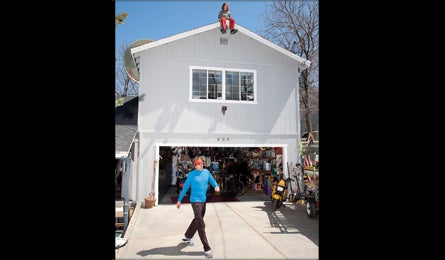 Jordan spies on his dad at home in Big Bear, CA.
Tourists don't visit the children's court in Mendoza, Argentina. Why would they?
The three-story, cement-block building sits in the heart of a centuries-old colonial town that offers sightseers plenty of historic, whitewashed landmarks. But well-tended rose gardens surround the courthouse, and if on your tour through Mendoza you glimpsed them, you might ignore the building and snap a photo. If you had official business inside, however, you might ignore the flowers and see only the building. It looks just like a courthouse should: intimidating.
Rewind to December 14, 2007, when Jordan Romero entered the court, along with his dad, Paul, and Karen Lundgren, Paul's longtime partner. They are not tourists. They are climbers. And they hope to summit 22,841-foot Aconcagua. But unlike other mountaineers–who arrive in Mendoza, pay the $300 permit fee, and head to basecamp–Jordan has an extra challenge to overcome. Park regulations prohibit climbers younger than 14 years old. Jordan is 11.
Paul carries a manila file crammed with permissions and endorsements from Jordan's mother, his pediatrician, even character references from teammates and family friends. The folder contains health records, passport forms, and reams of paper documenting Paul and Karen's expertise (they're both world-class adventure racers, and Paul works as a helicopter medic). They've also hired a young local lawyer, Arturo Erice Argumedo, to help Jordan secure a special dispensation to climb South America's highest peak.
Inside the courthouse, Karen presents their documents and a clerk hustles them off to an examination room, where a doctor takes Jordan's pulse, peers into his ears, taps his knees, and examines his tongue. Next stop: the Honorable Elsa Lidia Galera's chambers. Inside, a large oak desk sits beneath a slowly rotating ceiling fan. Galera waits to hear Jordan's case–from Jordan. Through a translator, the slight 4'11" boy details his previous climbs up the likes of Kilimanjaro and Elbrus. He explains his dream to climb the highest peak on every continent, and he politely asks for permission to attempt Aconcagua.
The judge remains silent for a moment–then she walks around her desk and gives Jordan an affectionate, motherly squeeze and ruffles his disheveled, sandy curls. She squats so she can look directly into his brown eyes. Then she grasps his arms in her hands and makes him promise that he will cherish their new friendship, take care of Paul and Karen on the climb, and send a signed photo when he reaches the summit.
Jordan Romero was not born with a silver ice axe in hand. Neither of his parents were extraordinarily wealthy or climbed seriously (they did backpack and camp with him starting when he was just a few months old). What Jordan really loved, like many 9-year-old boys, were reptiles. He filled terrariums with gopher snakes, rosy boas, bearded dragons, horny toads, and a host of other cold-blooded creatures. He liked to rattle off the details of their physiology, dietary habits, natural habitat, and social behaviors. He filled journals with scientific facts and figures. He dressed like Steve Irwin and tracked The Crocodile Hunter's progress around the globe. He approached his hobby with such zeal that his dad called him "little Rain Man."
Then one day in 2005, when Jordan was 9 years old, he saw a mural of the Seven Summits painted by fifth graders at his elementary school–and proclaimed his plan to climb them all. Immediately.
"I don't remember exactly what captivated me about that mural. But it made me want to do research, to learn more," says Jordan when I visit him at his home in Big Bear, California. "It was exotic, and for some reason I was fascinated by the elevation of each peak nested inside the others, getting higher and higher." So he climbed into his dad's car after school and announced his decision. "Dad's mouth was kind of hanging open when I told him. I was an outdoor kid and played soccer and baseball, but at that point, I wasn't that much of a hiker."
Most parents would have brushed off Jordan's request–That's nice, honey, Everest will still be there when you grow up–but not Paul. "I know it's hard to believe, but after a moment of shock and surprise, we just took it in stride," says Jordan's sinewy 39-year-old dad. He explains that he simply refuses to impose limitations that could restrict Jordan from realizing his full potential. "My parental philosophy has been to set the stage for Jordan to develop into the man he wants to be, and to foster his growth physically, mentally, and spiritually. We gave him the big vision of the world through travel; he developed his own passion for nature; and climbing mountains is the place where those two interests met. It's been magical ever since."
That's not to say Paul was blind to the challenges of the Seven Summits. But instead of treating Jordan like a kid, he explained the hardships of mountain climbing to him. "We tried to scare the shit out of him," recalls Paul. "We laid out the pain, suffering, and danger–plus the training, the fundraising, the planning, learning, and sacrifice–as well as the rewards. And Jordan said he wanted to go for it."
Jordan approached the project with the same intensity he brought to reptiles. He researched each summit's climbing history and geographic and geological details. He memorized names, heights, and the stories of mountaineers who'd made noteworthy climbs.
"I wanted to be super-prepared, to know everything I could about where we were going," recalls Jordan. "I trained for a whole year. I remember the first hike in the woods behind our house. I had a pack on, and I was gasping for air."
Not all observers react to Jordan's quest with Judge Galera's enthusiasm. Like the bureaucrats who imposed the age restriction on Aconcagua climbers, some critics suggest that kids shouldn't be climbing mountains. Anonymous online commenters have accused Paul of everything from child abuse to using Jordan to secure sponsorship money. Jerome Brodlie, a child psychologist and chairman of the Department of Psychology at Greenwich Hospital in Connecticut, states unequivocally, "This sounds like a ridiculous idea, obviously created by an overachievement-oriented parent. No 10-year-old can put into perspective the concept of climbing the world's highest mountains."
Brent Bishop, a two-time Everest climber whose own father summitted in 1963, says, "I have a 13-year-old son who is an exceptional athlete. I took him to the Khumbu region–but we turned around before basecamp [17,600 feet]. Not because he couldn't hack it, but because I don't believe it's right to put that stress on his body. In early puberty, a child's brain is still forming, not to mention the rest of his body."
"They [critics] have dragged us over the coals," says Paul. "Some of the criticism is completely ill-informed; some of it you laugh about. I've taken it to heart, and have done some serious soul-searching. I'm a dad, I'm human. But when I think about what Jordan wants to do with life and that all this is molding him to be a super-amazing young man, it inspires me. In the end, we feel rock-solid about what we're doing. As long as Jordan keeps his vision going, we're along for the ride 100 percent. We always have the option to turn around. And along the way, being safe is our priority."
And really, why shouldn't kids climb mountains? Better that they stay home and join the nearly 20 percent of American youth who risk premature death because of obesity? Plus, there are intangible benefits. Emma Burrous, a clinical psychologist at the University of Vermont, says, "As long as the needs of the whole child are being attended to, projects that fuel and support his emerging sense of self and sense of competence can be extremely valuable to his growth and development."
Nevertheless, skeptical adults–more than blizzards or steep ice–could thwart Jordan's attempt to complete the Seven Summits. When team Romero arrives at the gateway of Aconcagua Provincial Park to pick up Jordan's permit, as the court directed, the ranger says flatly, "Ah, yes, we've been waiting for you. We're not awarding you a permit. We are not subject to the courts, and we will not permit anyone under 14 years of age to climb the mountain."
Paul attempts to negotiate, unsuccessfully, then calls Argumedo, the lawyer. But even he can't sway the head ranger. Eventually, the local park-service chief arrives, and he and Argumedo disappear behind closed doors, with the lawyer toting the manila folder. The boss thumbs deliberately through all 150 pages. Finally he calls Jordan in, shakes his hand, and grants the permit.
Paul, Karen, and Jordan load their gear in a van for the five-hour ride into the park, eventually emerging in a dusty parking lot flanked by yellow rock walls. The canyon forms a natural gate, and here all climbers must present their permits before continuing to the trailhead. Inevitably, almost comically (if they hadn't spent so much money to get here), the ranger looks at Jordan, at his permit, back at Jordan, and says, "We heard you were coming. You are too young to proceed. This permit is not valid."
Again, Paul calls the lawyer, who calls the park service in Mendoza. Another heated conversation ensues. The result: Jordan cannot proceed until a park-sanctioned doctor examines him. The doctor will not arrive for another three hours.
The Romeros had planned to rendezvous with the rest of their nine-person team–including The North Face athlete and videographer John Griber, who'd been hired to shoot Jordan's ascent–at basecamp that night, but they can only sit stoically on their backpacks and wait. The doctor arrives at 6 p.m. He taps Jordan on the back, takes his pulse, asks him to cough, insists he check in with the rangers along the way, and waves them on.
Jordan Romero plans to complete the Seven Summits, ending with Mt. Everest in spring 2010–when he's 13. If successful, he'll become the youngest person to reach the top of the highest peak on each continent by four years (the current record was set in June by 17-year-old Johnny Strange). But does that make him a climbing prodigy or just a really determined kid with a dad who won't say no?
It's hard to tell him apart from the other tweens when I visit his public school in Big Bear. He blends in with the rest of the droopy-jeaned fifth graders so well that I quickly lose track of him. At his mom's house, his room is plastered with muscle-car posters, and his chief concern is remembering to bring his new Billabong button-down and a pair of Vans to his dad's. (His parents are divorced–they married young and separated when Jordan was 3. Jordan splits his time between Paul and mom Leigh Anne Drake, a schoolteacher.)
"It's hard for me sitting at home watching a dot on a GPS climb a mountain," says Leigh Anne. "I am so proud, but the mom thing kicks in and it's a roller coaster for me." She says this while sitting with Jordan, and she practically strangles him with hugs as she talks. "I remember when Jordan got off Kilimanjaro. The first thing he did was call and say, Mommy, I love you so much. He was gone for two weeks. It was the longest time we had been separated, and you were climbing a mountain…" Leigh Anne trails off, her eyes watery.
"Mom, I wasn't 100-percent happy when I got to the top of Kilimanjaro, because you weren't there to share it with me," Jordan assures her. (Apparently, he's learned a few of the nuances of navigating the mountaineer's life along the way.)
Kilimanjaro was the first Seven Summits peak Jordan attempted. A year after seeing that mural, Jordan flew to Tanzania with Paul and Karen. There, they employed the climbing technique that they've used on every peak since: Ascend methodically and directly, go lightweight, and don't waste energy. To prepare for this strategy, all three arrive at the mountain pre-acclimatized, thanks to altitude-simulation tents that they sleep in for a month prior to the attempt. On Kilimanjaro, they hiked from 7,000 feet to 19,340 feet and down in 72 hours.
"On Kilimanjaro, we made really good time, but I was miserable," says Jordan. "My dad motivated me to keep going, to get to the next camp so that I could really rest instead of just stopping on the trail. I wanted to get to the top and get down. I sprinted the last 100 meters to the summit. I didn't feel really great until I saw it, and then I ran."
The experience served more as motivation than intimidation–and Jordan immediately started to plan his next climb, of 18,310-foot Mt. Elbrus. Despite his chill California persona, Jordan leaves no doubt that he shares his adventure-racer dad's driven, competitive spirit. He tells me about a 16-mile run he did when he was 12–to beat Ryan Hall, an Olympian who did the same run at 14. He claims the Guinness Book of World Records as one of his favorite books.
"There are some easy records that I think I could beat, like longest time standing on one foot," Jordan tells me. "Or the most snails on a human face at one time. I think I could beat that one. There is also a record page of mountain climbing," he continues. "There is no youngest person to climb Mt. Everest listed. I hope that if I climb the Seven Summits and Mt. Everest that I might be in that book someday."
On Aconcagua, the Romeros reunite with their team at Confluencia Camp, at 10,500 feet. On the eight-hour trek to the next camp, Plaza de Mulas, they can finally relax and just hike: The weather is balmy, burros carry the gear, and they've gone 24 hours without having Jordan's permit confiscated.
At this point, the climbers assess their physical state and start strategizing their ascent of the Normal Route, a nontechnical ascent on which the chief threats are usually severe weather and altitude sickness. Jordan feels fresh, his appetite is good, and the Romeros have been clear from the start that they'll move at his pace regardless of the rest of the team (which, except for the videographer Griber, consists of five friends from the adventure-racing community). The Romeros are better acclimatized than the others, so they decide to keep moving up the mountain while the rest climb and descend to sleep at a lower camp.
They make good progress to Camp Nido. It's Christmas Day, and they celebrate with a Yankee Swap. Jordan gets a mini Monopoly set and an oversize magnifying glass. He gives a mini Swiss Army knife.
Camp Nido is also the base for rangers who patrol Aconcagua's High Camps. "Is this the tent of Jordan Romero?" one of the rangers demands. He asks if the boy has been eating and drinking, and insists on checking Jordan's oxygen-saturation level. At home in Big Bear, it would be 100 percent. All climbers should have oxygen levels above 80 percent before going higher. Jordan's is 85. The ranger radios the results to basecamp, and the doctors below accuse him of lying. The Romeros respond by placing the oxygen sensor back on Jordan's finger and taking a photo of the gauge.
There are no medical studies of the effect of high altitude on a developing brain. Dr. Peter Hackett, director of the Institute for Altitude Medicine in Telluride, Colorado, and a professor at the University of Colorado School of Medicine, says, "There are plenty of studies that show MRI abnormalities as well as, to some extent, functional abnormalities in people who have come down from Everest and other high peaks. Climbers often show brain atrophy, a shrinking of the brain from cell death, and white spots on their brains that we think could be scarring. People do not come back from Everest babbling idiots. But things like fine motor skills can be off for up to two years. It could be that a kid is more resilient because his brain is still growing. Or it could be worse."
Which is not to say that Hackett opposes the idea of kids climbing big peaks. He's an Everest veteran himself, as well as a father. And he's taking his own son up Denali next year, when he's 15. But Hackett draws the line with Everest. "For me, it's riskier than all the other summits because of the extreme altitude. The danger is that you press on because you've raised expectations with friends, family, and the media."
That's true, of course, and Jordan readily admits as much. "When I am in the worst of it, I ask myself, 'Why am I doing this? What have we gotten into?' I think about the risk of dying, especially when I am in a tiring and boring part. Dad and Karen and I have talked many times about the worst case, the risks, and we try to anticipate and avoid the biggest mistakes. I always think about my family at home. But then there is my dad right behind me saying 'You can do it, little buddy.' I think about everyone supporting me, and I think I've got to climb this mountain for them."
That pressure will raise a red flag to many ears. But how different is it, really, from the expectations faced by kids immersed in more culturally acceptable sports? In 2008, at least 10 teenagers died while alpine skiing at U.S. resorts. Cameron Williams, a 13-year-old competitive skier and nationally ranked mountain-bike racer, comes over to Jordan's when I visit. He says, "A lot of kids these days, especially ski racers, are doing what they're doing because their parents want them to. Jordan is climbing mountains because it's something he wants to do. That's kind of cool."
"There are days when Jordan says he doesn't want to climb anymore," says Karen. "I tell him 'No problem, but you're not staying home to play video games, you're still going to train and be outside.' I think a lot about where the line is between pushing him and guiding him toward accomplishing a goal."
"It's a little Zen," says Paul, "but we constantly push the line. Then the line moves, and the next time we don't push Jordan to that point, and he pushes himself because he knows he can do it, so we help him push to the next level. We help him build new levels of tolerance and accomplishment for his mind and body; with it, his confidence and ability build at lightning speed."
When I ask Hackett to explain his unwillingness to let his own son climb Everest, he says, "He could probably do it, but I wouldn't take the risk at that age. No one is immune from hypoxia, avalanches, or crevasse falls." Still, Hackett refuses to criticize the Romeros. "They're not yahoos," he says, "and it's not a super-crazy thing to do when you [take the precautions] they do."
Indeed, I find Jordan's parents to be extremely engaged, thoughtful, and protective. They're not pimping Jordan to the media. (It took BACKPACKER six months to get an interview, then I had to join a 4:30 a.m. snowshoe training as part of the deal.) And when Jordan starts talking about his climbs, his eyes light up as he recalls the most memorable moments–both good and bad–and one thing becomes abundantly clear: This is his quest.
"What altitude are we at?" asks Karen. Jordan checks his altimeter and responds: "18,700 feet."
"Let's shoot for 18,800 before the next rest," Karen proposes. Jordan nods.
"When we first started," Karen tells me in Big Bear, "we'd tie his boots and zip his coat. Now he puts on his own harness and keeps track of his gear. He's always carried a pack, except on summit day. On Denali, he pulled a sled with 40 pounds of gear. He is a member of our team, not just a passenger."
On every climb, Jordan has jobs that keep him engaged and vigilant. He monitors elevation and sets alarms for weather and wakeup. He's learning knots and navigation and weather forecasting. And he's cultivating qualities that any parent would hope to instill in his adolescent: responsibility, focus, goal setting, planning, and teamwork.
Later, in camp, he uses the Lake Louise Consensus test to quiz other mountaineers about their altitude sickness symptoms. He surveys his own team, as well as climbers he has just met, checking off their answers about headaches, stomachaches, and appetite loss on his chart. At 11, he's learning to negotiate real-world complexities that confound many adults.
"Figuring out how to wade through the head noise, what's right and wrong, what's truth and bullshit, is part of the climb," says Paul. "Whether in my job or in adventure racing, I constantly manage little bitty calculated risks." With Team Sole, Paul and Karen placed third at the 2008 Adventure Racing World Championships, and have competed in demanding events worldwide. They understand the value of true self-sufficiency in the wild.
So it's no surprise that team Romero chooses to break trail from Camp Nido to Berlin Camp, the last stop before summit day. Eighteen inches of fresh snow cover the route, and climbers from Britain, Poland, and Italy hunker down in tents amid the silent drifts–waiting for someone else to lead. The Romeros set out alone through gray air heavy with snow. Wind slashes their bodies as they ascend–Paul in the lead, Karen in back, Jordan in the middle.
As they plod on, Paul and Karen feed Jordan with the rhythmic regularity of an IV drip: a Werthers candy here, string cheese, water. But after several hours, Karen notices that Jordan is slowing down and breathing hard. She calls to him, and he looks back with tears streaming down his face.
The trio stops abruptly. Paul sits cross-legged in the snow and draws Jordan into his lap. Jordan erupts in a flood of emotion. He's no longer sure why he wants to climb Aconcagua; he's sad about his grandma, who died the previous summer; he's tired. Everything on his mind bubbles to the surface–he's bonking. Paul holds him and hugs him and tells him it's okay, cry, use the memory of your grandma to help you. After 10 minutes of sobbing, Jordan takes a drink, eats some M&Ms, and says he's ready to move on. They lean into the storm for another hour and a half, finally dragging themselves, exhausted, into high camp.
"It's hard to strike a balance at this age," says Jordan's cross-country running coach, Tracy Tokunaga. "None of his peers really understands what Jordan is doing. In fact, many adults don't either. But I've only heard support for Jordan from both teachers and students." Other teachers at Big Bear describe Jordan as humble, composed, and compassionate. He only talks about his climbs if he's asked.
That balancing act is getting trickier, now that Jordan's climbs are getting bigger and more expensive. In January, he received a Polartec Challenge Grant, which helped fund this summer's trip to Indonesia's 16,023-foot Carstenz Pyramid. In June, he launched a new fundraiser called 7 Summits of Big Bear Youth Challenge, aimed at getting local kids to climb local peaks. But it'll take more than small-town fundraisers and T-shirt sales to pay the price tag for Everest and Vinson. As the cost and risks increase, the pressure that sometimes makes Jordan wish to "just be a normal kid"–as he says to me more than once–also mounts.
Of course, despite Jordan's low-key approach, an 11-year-old mountaineer is not normal. ABC's Nightline program covered his Denali climb. And on Aconcagua, word quickly spreads that there's a kid in high camp. Other climbers from all over the world pepper him with questions and snap photos.
After the friendly welcome, Paul and Karen tuck Jordan into his sleeping bag and make cocoa and tea. Jordan sets his alarm for the 7 p.m. weather report. When the forecast crackles across the radio, it's not good: The park service recommends that no one attempts to summit the next day. The report calls for deteriorating conditions for about 24 hours, with the weather finally improving on December 30.
Nobody leaves Berlin Camp on the 29th. The climbers stay in their tents and shout through the nylon to neighbors. Griber arrives with two teammates. (He commits to a summit bid with the Romeros, but the others want more time to acclimatize.) The five teams in camp agree to a united effort the next morning.
Jordan's alarm sounds at 4 a.m., but no one has slept in the battering winds. Outside, a gale blows 60 mph and the temperature is -40°F. Another six inches of snow have fallen. Jordan puts on two layers of polypro, two layers of fleece, then wind gear, double socks, glove liners, and a big down jacket. He inhales the steam from a thermos of hot cocoa, trying to blow smoke rings with his breath. With mittens, balaclavas, and goggles in place, the trio emerges from the tent into stormy darkness. Despite the camaraderie the previous night, no other teams appear: The Romeros and Griber are the only ones postholing toward the summit at 5 a.m.
They ascend in near-whiteout conditions, the wind blowing unabated. Occasionally, Jordan has to anchor himself with his ax to stay upright in a sudden gust, and Karen periodically grabs the back of his jacket to keep the 99-pound boy from blowing away.
After six hours, the team sets the next saddle as its goal and a possible turnaround point. At the saddle–which is the junction of the Normal and Polish Glacier Routes–they meet a Swedish team that's retreating, defeated by the weather. The Romeros find a scrap of shelter behind a boulder and evaluate their options; while they rest, spots of blue appear in the gray sky and they decide to continue.
Two hours later, at the edge of a huge bowl, they finally see the summit. More blue spreads through the sky and boosts morale. The peak is still an hour away, but Jordan perks up. He walks with his shoulders back. All the scary scenes from the mountaineering documentaries have slipped away. "We're going to make it," he says. They're not yet at the summit, but Jordan starts planning ahead. "When we do the next one, I want to come down and have a giant plate of spaghetti."
They're only an hour from the summit, but Griber, who had not yet had time to acclimatize, announces he's retreating. They continue on, 10 steps at a time. When a Canadian team overtakes them, the climbers ask Jordan to pose with each of them for a photo, incredulous that they're meeting a kid near the summit of Aconcagua. Two more teams, from the Ukraine and the United States, pass the Romeros just before the final rocky couloir. All of the other teams have climbed the Polish Glacier Route (today only the Romeros will ascend via the Normal Route).
As Jordan's head pops over the summit ridge at 3:15 p.m., he gets a standing ovation, hugs, and high-fives from an international crowd. Later, on 7summits.com, a Canadian climber would write about his ascent that day, "I was working really hard not to get passed by an 11-year-old."
Putting in an epic 16-hour day, Jordan, Paul, and Karen descend to basecamp. Time to start the long journey back to Big Bear. As always after a climb, Jordan knows he can quit. He can "hang out at the teen center and eat more Subway and pizza," as he says he sometimes longs to do.
But not yet. He tells me, confidently, "I want to finish this project. The summits aren't all I think about now–I have school, friends. But I'm almost done, and I don't think there is anything that's going to stop me. Then I just want to be a normal kid for a while."
There's no telling what, exactly, that will mean in Jordan's case. But one thing's certain: He's already a good kid. After Aconcagua he sent a signed summit photo to Judge Galera, as promised.
Berne Broudy wrote a guide to adventure-travel skills in March.