High Note: Climbing Mount Kilimanjaro with Rock Stars for a Cause
The only problem with cancer survivors and rockers joining forces for a fund-raising concert on top of Mt. Kilimanjaro? It's hard to cheer when you can't breathe.
Heading out the door? Read this article on the new Outside+ app available now on iOS devices for members! Download the app.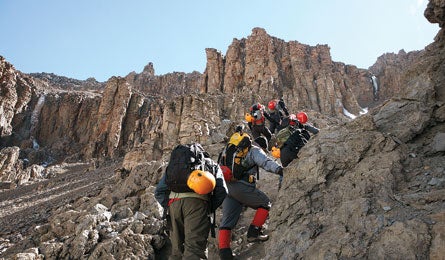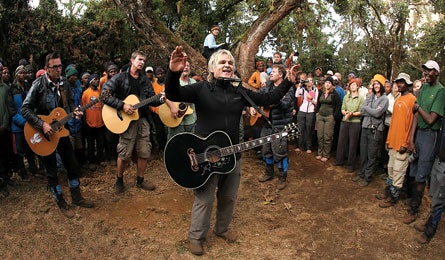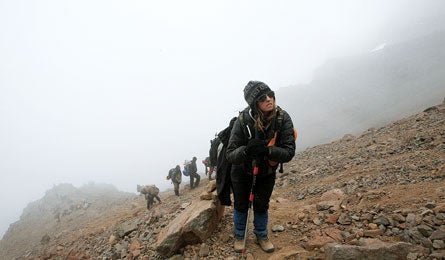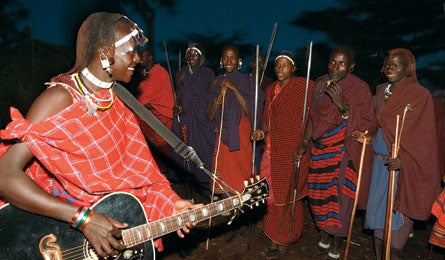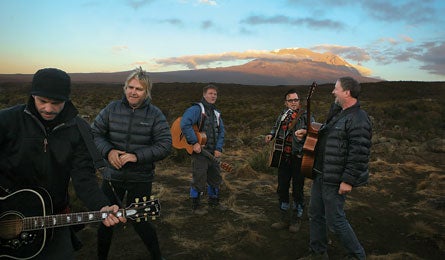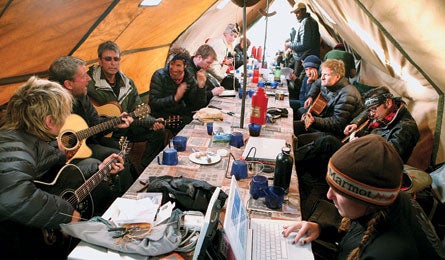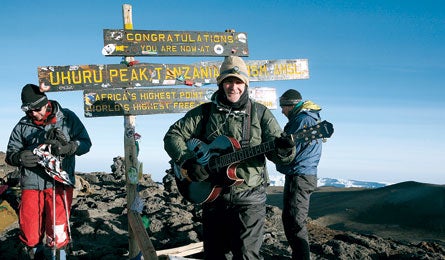 Mike Peters is playing a song.



Typically, he does this on stage with his band The Alarm, hair moussed into quills, throng cheering, klieg lights strobing, drums detonating like cannon fire. Today, however, he's dressed in a camouflage parka, baby-stepping back and forth in front of the Furtwangler Glacier, more than 18,000 feet high on Mt. Kilimanjaro, performing for an audience of one, our expedition's lone cameraman, Stash Slionski. Later, Slionski will upload the footage via satellite to a website where fans have been following Peters's journey to the 19,341-foot summit, though it's hard to say at the moment whether he, or anyone else from our beleaguered team, is going to make it.



Nothing is certain at this altitude, especially if you're a two-time cancer survivor like Peters. Back in 2005, he was nearly killed by leukemia. A decade before that, he beat non-Hodgkins lymphoma. But few things leave you feeling more alive than a near-death experience, and in the wake of his most recent recovery, Peters, who is now 53, cofounded a nonprofit, the Love Hope Strength Foundation, and devoted himself to fighting the disease–literally one step at a time.



The foundation helped him combine two great passions: music and mountains (he'd grown up hiking among the craggy peaks of Snowdonia, near his home in Wales). Since LHS's inception, Peters, a handful of his musician friends, and teams of sponsored trekkers have been staging elaborate fundraising treks to lofty destinations around the world. In 2007, the LHS crew hiked to Everest basecamp, where they performed a concert at 18,540 feet; the event generated $460,000 and was later televised on MTV. In 2008, they scaled Machu Picchu. This time, October 2009, it's Kili: seven musicians, 16 trekkers, 125 African porters and guides.



Earlier today, our sprawling entourage pulled into Crater Camp, at 18,500 feet, following an arduous scramble up a steep headwall of shattered basalt called the Western Breach. Crater Camp, located in the summit caldera, is our last stop before the top, which looms a mere two hours' walk above. If all goes well, come sunrise we'll be grinding out the final steps to the summit.



But all is not going well. Despite the liberal deployment of what our teammate Cy Curnin, from the Fixx, calls "altitude remediation therapy," including various combinations of on- and off-label pharmaceuticals, whiskey, banghi (Swahili for marijuana), breathing exercises, songcraft, yoga, and walking uphill at an excruciatingly pole-pole (slow) pace, at least half of our group is sick. Earlier, I saw Glenn Tilbrook, the lead singer from Squeeze, worm through a vent in his tent until his torso emerged, his hair matted with sweat, like some sort of bizarre alpine birth. "I'm burning up!" he rasped, before suddenly convulsing with a violent cough and disappearing



back inside. Trekker Carrie Marzolf, a microbiologist from Phoenix, Arizona,
is in such bad shape that the guides have dosed her with dexamethasone, a powerful steroid.
At dinner in Crater Camp, after Peters's glacier solo, we play pulse-ox poker using a digital oximeter that clips onto the end of your finger. My blood-oxygen level has plunged to 80 percent. Another Casper-complexioned teammate has hit 69. At sea level, any reading below 90 percent would get you hospitalized.



"OK everybody, here's the deal," says Shannon Foley, our trip organizer and Love Hope Strength's executive director, standing up in the corner of the pitch-roofed mess tent. In her hiking boots, she's more than six feet tall. The Africans call her Mama Kubwa. Big Mama. "I know everyone feels like crap, but we're heading out at 4 a.m. Got that? Four-Ay-Em."



Nods and groans. Only about half of the team has even made it to the meal. The others are convalescing in their tents, blitzed by altitude, fever, nausea, and ballistic headaches.



"No wonder they call it Kill-a-man-jaro," quips Robin Wilson, lead singer for the Gin Blossoms.



"I feel like we're stuck in an episode of I'm a Celebrity, Get Me Out of Here," Peters jokes. Actually, he's one of the few among us who appears to be doing pretty well, looking like he always does: shoulder-length shag of brown hair gilded blonde; raffish scruff; deep-set blue eyes that turn into crescents when he laughs, which is often, even at altitude.



Peters looks like a rock star but he doesn't act like one, at least not in the conventional sense: no 72-hour drug benders; no tantrums or furniture smashing. He's congenial and unassuming, charged by an earnest intensity that I remember from his '80s-era Alarm albums. Peters's music has always been aspirational and inspirational–passionate rock anthems about, well, love, hope, and strength mostly, with a sprinkling of political protest. His willingness to be vulnerable and sincere has made him the consummate frontman, whether belting out lyrics or championing a cause.



"I've always thought of my music and the foundation in the same way," he tells me later. "You know the Rolling Stones' song, 'It's Only Rock and Roll (But I Like It)'? The lyrics go, stick a pen in your heart and bleed all over the stage. That's what I've always tried to do as a songwriter, and that's what the foundation does, it bleeds."

That night, in Crater Camp, I'm not bleeding but I might as well be. I'd been to this elevation a couple of years before, while trekking to Everest's North Col, but it didn't hurt as bad. Maybe I'd just forgotten. I press the heels of my hands into my eye sockets because it feels like my eyeballs are about to explode. Sleep is a distant fantasy. I lie in my bag, listening to the percussion of pee and projectile vomiting outside, wishing the hours would evaporate so we can get going again.



Climbing big mountains always entails a certain degree of self-imposed suffering, but there's nothing quite like extreme altitude to make you feel your worst. The triple whammy of fatigue, cold, and hunger only exacerbates the slow bodily disintegration that sets in for real at around 18,000 feet. It's a condition, I realized after spending time with cancer survivors, that's eerily akin to chemotherapy. "I felt like I almost had a strange kind of advantage," says a trekker named Kelly Carpenter, an oncology nurse from Burlington, Vermont, who had spent the previous year being treated for colon cancer. "The nausea and exhaustion from chemo are really similar. You learn just how much your body can take, how to persevere through the lowest moments. Throw up, keep moving."



The Love Hope Strength Foundation was born from this sort of misery. Peters created the organization in 2006 with James Chippendale, an entertainment-insurance executive from Dallas, Texas. A year earlier, concerned about swollen glands in his neck, Peters had gone to the hospital for tests and discovered that he was in the advanced stages of chronic lymphatic leukemia. The white-blood-cell count in a healthy adult ranges from 4,500 to 10,000 cells per microliter; Peters's was more than 500,000. "I'm not quite sure how you walked in here," his doctor said.



The idea of staging a mountaintop concert and fundraiser took root during the weeks that followed. Peters was undergoing leukapherisis, an emergency procedure that knocks down your white blood cells by siphoning blood out of one arm, running it through a centrifuge, then reloading it through the opposite arm. It requires a patient to lie still for up to six hours at a stretch. The process was so painful that Peters sometimes passed out in the middle of it. To take his mind off the discomfort, he stared out of his hospital room window, where he could see Mt. Snowdon, the tallest peak in Wales, shining out of the distant mists. He vowed that if he survived, he'd play a show on the summit.



In fact, Peters believed that he'd already experienced the miraculous healing power of music. Ten years earlier, after he had been diagnosed with a different cancer (lymphoma), he'd insisted on completing a solo concert tour in the United States before beginning what would be a debilitating bone-marrow transplant. A faith healer named Bambi told him he should wear green, a color that would protect him. In the States, he bought all of the camouflage gear he could find at an army surplus store.



"I knew I had to stay really upbeat and focused," Peters says. "It was this incredible feeling. I'd go out on stage in my combat jacket, like John Lennon, and play songs like 'Strength.' I'd been playing music all of my life, but I found my voice on that tour, my real voice. It felt like all of the songs I'd ever written had been preparing me for this moment."



The day after Peters returned home, to the astonishment of his doctors, more blood tests revealed that he had gone into spontaneous remission. He was healed. For the time being.



Like Peters, Chippendale had also been broadsided by cancer, in 1998 at age 31. At the time, the charming young executive–who had once been voted one of Dallas's most eligible bachelors–had been living the Texas-size life: six-figure salary, all-night parties, babes galore. Then one morning, unable to shake what he thought was the flu, he'd gone to see his doctor. The next day, he started treatment for acute melogynous leukemia. A hole was drilled in his chest to pump in chemotherapy, and the desperate search for a bone-marrow donor started, a frightening purgatory that lasted for seven months. He wouldn't go back to work for two years.



"Everything changed after I got sick," he told me. "I wish I could invent a pill that would let people experience what it's like to have a deadly disease and then get another shot at life. Before, it was, 'How does the world revolve around James Chippendale?' Afterward, I was like, 'How can I help?'"



The two men met in March 2006 through a mutual friend, when Peters came to the U.S. for his first post-leukemia performance. They were both in remission by then, basking in the bright light of second chances, and they talked about ways they might parlay music into charity.



Chippendale loved the idea and, his entrepreneurial wheels turning, encouraged Peters to think beyond a concert on Snowdon. A global cancer fund. Concerts in the world's most exotic and inspiring locations.



"I've always wanted to trek to Everest basecamp," Peters said.



"That's it!" Chippendale replied. "We're going!"



And they did. It was a stunt, of course–musicians climbing mountains for cancer–but a soulful one, and it seemed to strike the proverbial chord. The roster of trekkers filled almost immediately, despite the required $25,000 donation. There seemed to be no shortage of individuals who wanted to test themselves against the dizzying terrain, including a few, like Peters, who were cancer survivors themselves. The message was blunt and forceful. Climbing a summit is an iconic metaphor for obstacles overcome, strength confirmed, a battle won.



The Everest trek raised enough money to purchase the first mammography scanner and internal radiation machine in Nepal. The following year, after a trek to Machu Picchu, LHS funded a mobile screening unit that now conducts as many as 30,000 cancer exams a year in Peru. Between treks, the group hosted bone-marrow donor drives at events like Colorado's Red Rocks concert series and the South by Southwest music festival in Austin, Texas. By the end of 2009, LHS had added more than 4,000 names to an international database of donors, and raised nearly $2 million.



"The climbs have a dual incentive," Shannon Foley told me when we first met. "The mountains pose a personal challenge for those on the trek. And the treks are a source of inspiration and motivation for those who follow the journey. Plus, our message is really positive. We're rock and roll. We want to make philanthropy cool."



Hell looms above, but our journey begins in heaven. Our preclimb basecamp occupies a lush grove of towering podocarpus trees and cassia bushes spackled with yellow blooms, tucked away on the lee side of Kilimanjaro's 14,980-foot neighbor, Mt. Meru. In the afternoon, the musicians noodle melodies on their guitars while warm winds scented with wood smoke drift across the foothills, rustling our canvas cottages. The bucolic setting reminds me of a quote from George Mallory, of Everest fame, who said that the first rule of mountaineering is to stay as comfortable as possible for as long as possible. I mention this to my teammates one morning while we wait in line at the omelet bar.



It seems bizarre, bordering on the surreal, to be sharing a camp with this particular cast. Love Hope Strength is like a punk-rock version of Livestrong: tattooed, edgy, antiestablishment, but with a commitment to the outdoors and a cause. In addition to Peters, Tilbrook, Curnin, and Wilson, our expedition includes Slim Jim Phantom, the drummer for the Stray Cats; British singer-songwriter Nick Harper; and a rockabilly guitarist from Australia named Brien McVernon, who sports a pommade-shellacked, Elvis-inspired coif and refuses to climb in anything other than his black leather jacket. "A man has to have standards," he tells me.



Granted, they aren't exactly current chart toppers, but, to an alt-leaning Gen-Xer like me, they're sentimental favorites who featured prominently on the mixed tape of my youth. The chance to spend some quality time with them, on a trip that might be described as a mash-up of VH1's Behind the Music and Into Thin Air, filled me with glee.



The cause carries personal resonance, too. A few weeks before I'd left for Africa, my mother underwent a double mastectomy after her third bout with breast cancer. She seemed to be through the worst of it, and the prognosis was favorable, but it had been an exhausting run. I left for Kili feeling like I could breathe again for the first time in months.



In Tanzania, I rendezvous with the LHS team on Mt. Meru. Our expedition is led by African Environments, a premium outfitter that had recently guided Today Show host Ann Curry. I pester our lead guides, Noel "Mchili" Mbwambo and James Kivuyu (who bears an uncanny resemblance to Wesley Snipes), for route details.



About 30,000 people make it up Kilimanjaro annually. But about an equal number fail, undone by steep trails and punishing heights. On average, about 10 are killed each year, usually from complications brought on by altitude.



The plan is to ascend the Lemosho Route, which will provide a relatively measured pace–eight days (six up, two down) instead of the five typically taken on other routes–during which we'll cross the Shira Plateau and climb the Western Breach, including a dangerous section called the "Bowling Alley." It's arguably the best route on the mountain: fewer crowds, more scenic diversity, and a more interesting (if more challenging) crux.



Alas, the comfort factor drops the moment we depart basecamp, embarking on a dust-choked jeep ride followed by a steep four-hour hike through the jungle to Big Tree Camp, at 8,700 feet. We crowd into a forested grove, colobus monkeys frolicking in the branches, and set up for the night.



Foley reads off the tent pairings: Peters piles in with his wife, Jules. Cy Curnin and Nick Harper bunk together. Glenn Tilbrook gets his own tent, due to his seismic snoring. I room with photographer Owen Fegan.



As we disperse, I see Slim Jim Phantom–pale, rail thin, and wearing a Yankees baseball hat–staring at his shelter with a twisted expression. "I've never slept in a tent before," he says.



"What about in Nepal?" I ask. "On the Everest trek."



"We stayed in tea houses. They were dingy, but they had walls!" Phantom lives in L.A., where he spends much of his time at the Cat Club.



Phantom was touring with Peters when Peters received his diagnosis in 2005. The band, ironically, was called Dead Men Walking, and Peters had shown up for practice the night after his first chemotherapy treatment. "I didn't want to let the guys down," he says. When he later approached Phantom about LHS, Phantom promptly signed up, even though the highest ascent he'd previously made was an elevator-assisted trip up the Empire State Building.



Phantom's tentmate, Robin Wilson, 43, is the LHS band's newest recruit. The two make a curious pair. Wilson was once nominated for a Grammy, has teen-beat good looks, and likes skateboarding and video games. Prior to Kili, he worked out five days a week with a personal trainer and went camping in Arizona's mountains. Outfitted in the latest trekking gear, Wilson looks like he could outpace the guides.



That afternoon, we gather under the Big Tree for a concert. The musicians are armed with acoustic guitars, except for Slim Jim, who wields drumsticks brought from home and keeps the beat on a five-gallon white plastic pail, turned upside down in his lap.



The performance, our first on the mountain, is a rousing open-air jam. No mics, no amps, just five guitars, a bucket, and Robin Wilson slapping a tambourine. The musicians are still feeling good, aglow in the spotlight of jungle-filtered sunshine.



They run through a medley of past hits before Peters steps out with "Right Back Where I Started From," a jangly number with syncopating verses that get the whole camp clapping. The song gathers and swells, chords snapping in the crisp mountain air. Peters sings and strums and wails on a harmonica. He's a master showman, on stage or in camp, and soon he's got the crowd belting out the chorus while the instruments pause–one beat, two, three, four–then kick in again for an overflowing finale. It's music at its most elemental, stripped of props and digital production, performed for an audience of strangers-about-to-become-friends who bound through the circle doing the chicken dance. I've been on high earnest-alert since arriving, but I can't help myself–I'm still humming as I crawl into my bag late that night.



Day two is a doozy: We grind up 3,000 vertical feet in eight hours, tracing a ridge out of the forested foothills to the sparsely vegetated moorlands of Shira Camp, elevation 11,300 feet. The porters gallop past us en route, pulverizing the trail into a fine talc, gargantuan canvas duffles containing our food, shelter, and chemical toilets balanced on their heads. When I get to camp, my tent is up, pad inflated, sleeping bag rolled out.



Before dinner, the musicians gather for another alfresco performance. Nearly 8,000 feet above, Kilimanjaro's dramatic summit cone turns ocher. If anyone's suffering at this point, it doesn't show.



At dinner, I sit next to Paul Cooney, a 28-year-old IT entrepreneur from California who sometimes goes by the moniker Coondog. I ask him how he hooked up with the expedition. "My company started making money, and I was looking for a charity to support," says Coondog, gnawing a chunk of bread. "I researched a bunch of organizations, but I wasn't feeling it. Then I saw Mike Peters at a concert, talking about Love Hope Strength, and it just clicked."



Thirteen trekkers (10 women, three men) raised $15,000 each–pestering relatives, holding bake sales, soliciting corporate sponsors–to secure a spot on the trip. Their connection to the cause varies by degree and type. Some, like Cooney, are looking to do good with some discretionary income. Some have lost parents, grandparents, siblings, friends. Others, like Peters and Kelly Carpenter, are cancer survivors.



"The hike is a test," Carpenter tells me one morning on the trail, describing how chemo left a lingering numbness in her feet and hands. "It's a way to confirm that I'm healthy again. That I have my life back."



Another trekker who intended on joining the trip was named Kevin Carlson. The 36-year-old musician from L.A. had been fighting a brain tumor, and he'd appeared to be fairing well until about a month before departure. Then we received a somber email from Foley, informing us that Carlson had relapsed and died. Carlson's name came up occasionally during the trip, ghosting along with us on the trail, a reminder that most cancer stories don't end with mountain climbing.



Cancer is one of the only major diseases that has resisted our best and boldest efforts to eradicate it, or even reign it in. Since Richard Nixon declared a "war" on cancer in 1971, the National Cancer Institute alone has spent more than $100 billion on research. But cancer mortality rates have fallen only five percent since then, according to a recent story in The New York Times. It's a woeful statistic, especially compared with, say, heart disease, which has dropped 64 percent in that time.



That's one of the reasons LHS focuses on treatment, not research. In places like Nepal and Peru and Tanzania, recovery rates could be increased simply by providing technology that already exists. Likewise, bone-marrow donors can save lives–there just aren't enough of them registered. Recently, LHS's practical approach to the problem has been noticed by bigger players.



Last year, Peters, Chippendale, and Foley attended the first Global Cancer Summit, in Dublin, Ireland, organized by Livestrong. It featured organizations like the International Union Against Cancer (UICC), with whom Love Hope Strength is now partnered. The UICC will help manage money–like driving donations from the Kilimanjaro climb into the construction of a new cancer ward for children in Tanzania's capital, Dar es Salaam. And LHS is becoming the new face of bone-marrow donor drives around the world, using quick-and-easy mouth swabs and tying into musical events wherever possible. It's the most significant LHS development since Foley spilled a Guinness in Lance Armstrong's lap at the conference. "I can be a little accident prone," she says.



We push higher into the alpine moonscape: Fischer's Camp, at 12,950 feet. The team is gathered in the mess for tea this afternoon when Foley whips the canvas door flap aside and strides in like an army colonel.



"Molly's sick," she announces. "She says she's dying."



There is group-wide guffawing. Molly Silverman, 31, one of the trekkers, is a self-described "hippie chick" and single mom who does part-time eldercare work in Phoenix, where she lives. (Her well-off family had paid the $15,000 donation.) I like her, but she'd proved an enthusiastic conversationalist, and had sent the others running. She'd occupied her hiking time picking up kitchen Swahili from the porters.



Foley has spent most of the afternoon playing nurse.



"Don't leave me!" Silverman had cried. "Biridi! Biridi! I'm cold! I'm cold!



"I thought you said you were hot?"



"Molto! Molto! I'm hot! I'm hot!



"You have to stop speaking Swahili," Foley told her. "You don't even speak Swahili."



Foley's had a rough few days. A couple nights ago, she bit into a crusty roll and broke off a tooth. Yesterday, she tripped on a rock while walking to her tent at night and blew out her knee. Here it comes, I think, the loose thread of attrition that will start unraveling our delicately woven team. Will we have to jettison Molly? Endure more nights of wailing? Will it derail what have become our regular afternoon concerts? None of the above, it turns out. Molly seems better the next day, despite having thrown up on our guide James.



The musicians appear unfazed. "Molly's driving everyone nuts," Phantom tells me later with a shrug. "But she's got great spirit. I think her heart's in the right place."



That afternoon, after we've shuffled our way up to Lava Tower, at 14,000 feet, the musicians goose morale with an inspired show, including a version of Sam the Sham and the Pharaoh's "Wooly Bully," during which they substitute pole-pole for the chorus.



The following day, we ascend a series of short switchbacks to Arrow Glacier Camp, set on a denuded bench at nearly 16,000 feet. Tendrils of snow and ice, what little is left of Kili's retreating icecap, thread down from the cliffs above. Mchili calls this place Ann Curry Point, since the anchor and her crew turned around here. I arrive at my tent to find a bright orange helmet near the entrance. "Why are there helmets?" I hear a teammate ask anxiously. Tomorrow, we depart at 4:30 a.m. to navigate the steep rubble fields and blocky ledges of the 3,000-foot Western Breach, including the Bowling Alley, an exposed stretch where three climbers were killed by a massive rockslide in 2006. The helmets, I think cynically, are mostly there for liability reasons.


Before dinner, I join Robin Wilson for a hike above camp, the old mountaineer's trick to help push acclimatization: Climb higher than you sleep each night. Wilson got involved with Love Hope Strength through a friend and film producer who had been on the Everest trek in 2007; the only musician he knew previously was Slim Jim Phantom. "I can't think of anything in my life that has affected me in such a positive way, on so many different levels," he says of his decision to join the Kili trip. "I got in great shape, and I'm surrounded by musicians I admire doing a good thing for a good reason. Plus, I'm pretty sure I'm the first person ever to play a Cheap Trick song for 100 African porters."


We're above the clouds, which have gathered during the afternoon and now stretch across the horizon, hiding the savannah. Bulbous columns of vapor float toward the mountain like Macy's Parade balloons.


Wilson and I trundle back down to camp and join the others huddled in the mess tent, sipping Ballantines-spiked tea. It's too cold for our usual evening concert, so Cy Curnin and Nick Harper practice some new material before Foley wraps the evening with the Reading of the Emails–messages from back home that she downloads every afternoon and shares with the group.


"Mom, I miss you! I put onions near my eyes to make me sad," writes the 5-year-old son of Angie Devaney, 38. After a few more, Foley reads a note from my mom: "I hope all's well. I have new boobies from a box!"




I'm in bed before 9 p.m., but it
hardly lessens the jolt of our 3:30 a.m. reveille. I wake to a frozen water bottle, the tent walls glazed with icy condensation. An awkward cage fight ensues with my clothing, fumbling with sweaters and boots in the dark, breath tufting through my headlamp beam. I recall a few lines from "Four in the Morning," a poem by Wislawa Szymborska that some of my mountaineer friends can recite from memory. "The hour when earth betrays us/The hour when wind blows from extinguished stars… No one feels good at four in the morning/Let five o'clock come/If we're to go on living."


When five o'clock comes, I'm in a tight line with the rockers and trekkers, lockstepping our way up the breach. In the early morning glow, basalt minarets dagger at wisps of cloud above. We stop for a snack and I register now how easy it would be to stumble off a ledge and fall several hundred feet to the boulder fields below. Still, as the day brightens and warms, so does the mood.


"I think the mirth barometer is on the rise!" says Nick Harper, who lives at sea level in London. Harper has a heavy jaw and a brooding poet's disposition, leavened by a sharp, sometimes acerbic wit. His mother died abruptly from breast cancer in 2000. By chance, it was on her birthday in 2007 when he received a call from Mike Peters about joining LHS. "That was one of those moments that you look back on and think, yeah, that's when everything changed."


Since then, Harper's been one of LHS's most ardent participants, releasing singles and funneling the proceeds to the foundation. "After my mother died, I realized there are a lot of families out there with holes in them, and that we can help them, just by pushing ourselves a little bit, by having a laugh, and playing guitars," Harper tells me. "It's not just about the grief either. It's the development of children, and how they grow up without a family member, and how it might not have happened if, say, a scan had been done on someone's breast at the right time."


His sentiments aren't just shared among our group, which seems to skew toward an earnest world view. There's a gathering body of research suggesting that altruism and philanthropy, and even small daily good deeds, don't emanate from some carefully developed higher moral faculty, but are hardwired into humans. Brain scans of individuals merely thinking of selfless acts light up the same neural networks associated with appetizing food and sexual arousal.


Does helping actually help the helper? Quite literally, yes. Studies have suggested that compassion serves those who give as well as those who receive in quantifiable ways, stimulating our immune systems, decreasing inflammation, and reducing pain, among other things. It appears that the very cause that brought us to Kilimanjaro might be the same thing that enables us to reach the top.


A little before noon, we zag under red cliffs and pass through a notch in a vertical rock wall. It's as though we step through a portal into another world. The landscape tilts back to horizontal and we enter Kilimanjaro's sprawling, beachlike caldera, the ground covered in sandy black ash, the Furtwangler Glacier's alabaster face rising in front of us like a monster wave.


The summit looms a tantalizing 800 vertical feet higher, a ragged knob at the eastern edge of the caldera rim, but we'll hunker down here for the night, at a woozy 18,500 feet. Not many teams sleep up here. The more conventional approach is to place high camp at around 15,500 feet and conclude the climb with an epic 15-hour summit push, hiking through the night in a conga line of trekkers. I'm glad we've come this way, even though I dread the discomforts of the hours ahead.


It is, as expected, a night of Job-like suffering during which my teammates will report hallucinations, nightmares, out-of-body experiences, headaches, vomiting, diarrhea, and, for one or two, a deeply held conviction that this is the last place they're ever going to see.


At our 4 a.m. breakfast, I sit across from Kelly Carpenter, the colon cancer survivor, as she stoically spoons up a few mouthfuls of porridge with a trembling hand. Saying something to Foley, I inadvertently blast my voice into Coondog's ear. He has such a severe headache he can't turn his head, though he's able to grab my arm and squeeze. "Don't talk," he whispers. "Just don't."


After we've choked down what few calories we can, we huddle outside. It's a bracing 15 degrees Fahrenheit. Overhead, diamond rivets punch through an obsidian sky. When everyone is present, including Glenn Tilbrook and Carrie Marzolf, we head up, miserable and silent, but moving under our own power. We'd been slowly coalescing as a group, and now, tribulation the great equalizer, we creep upward in an unbroken line–not musicians, trekkers, survivors, or guides, just a single goose-down-wrapped centipede inching over the scree.



Two hours later, we turn onto the final low-angle ramp to the summit, the sun breaching in the east. The shadow of Kilimanjaro stretches west, a massive black triangle extending to the horizon. Above it hangs the moon's fading sphere, the sky painted in striations of gold, green, and turquoise.



The centipede breaks apart as we approach the top. Leaning on each other, we lurch through the last steps until everyone has made it–sobbing, laughing, both at once. It's one thing to endure difficulty when the outcome is assured, I realize. It's another thing entirely to persevere through the anguish of uncertainty, and then to reach that point, at last, when weakness becomes a wellspring of strength.



"There's this funny parallel with music," Peters tells me later. "You live for this moment when you're on stage, playing your instrument in front of the crowd. But there's all the practice and hard work and doubt leading up to it. Then, you have this moment, like when you reach the top and you have that incredible feeling that you did it, you made it, and you know what all the torture was for."



If there were fantasies of a full-blown summit concert, they are squelched by the realities of complete exhaustion, crippling cold, and various degrees of illness. With what little moxie remains, we gather for a group photo, pulling strings of prayer flags from our packs, 6,000 in all, each bearing the name of someone who's been afflicted by cancer. I've written my mother's name on one.



By nightfall, we'll be luxuriating in the blessed comforts of lower altitude, but before we stampede off the top, Peters pulls out his guitar. He begins to strum in fingerless gloves, wool hat yanked snug, arms stiff under multiple layers of clothing. The other musicians join him and, hunched together, they eke out the Love Hope Strength theme song. It's barely an echo of earlier performances, but still, somehow, they sing. For a few moments, in the dawn light, everything turns bright red. Then it's done and we start down, the last notes swallowed in the wind, the music as brief and fleeting as we are.



Nick Heil is the author of Dark Summit: The True Story of Everest's Most Controversial Season. For LHS events, go to lovehopestrength.org.