Gunsight Canyon, Glen Canyon National Recreation Area, AZ
In spring 2006, BACKPACKER editors Jon Dorn, Peter Flax, and Kris Wagner joined a group of readers for a weekend of hiking and mapping in a remote slot canyon. (Photos by Jonathan Dorn)
Heading out the door? Read this article on the new Outside+ app available now on iOS devices for members! Download the app.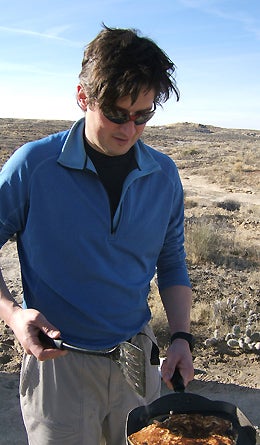 Customer service never rests! Jon cooks up a batch of his overstuffed whole wheat pancakes to fuel our group of hungry readers. Chocolate chips and walnuts, anyone?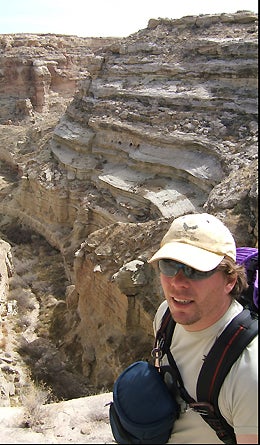 Map ace Kris Wagner leads the way as we scout for a route down to the canyon floor, approximately 300 feet below.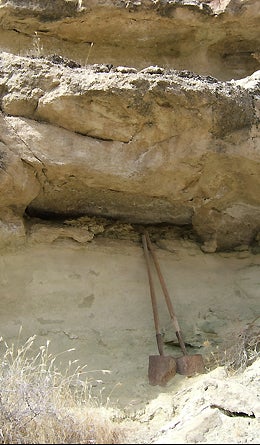 Side drainages all over the Glen Canyon area bear evidence to the work of prospectors and cattlemen who searched the canyons (mainly in the first half of the twentieth century) for the Southwest's two most-coveted treasures: precious metals and water.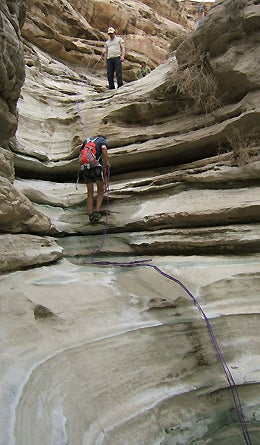 A two-drop rappel of about 80 feet is the only real technical barrier between the canyon rim and the creek bottom. We anchored our 60-meter climbing rope to a large boulder just out of sight behind Kris (in hat at top).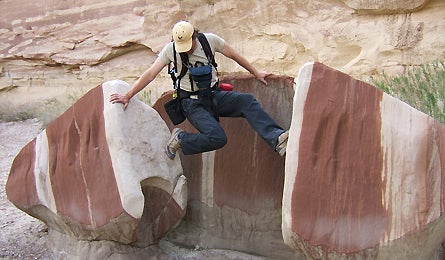 Wilderness rohrschach test: Each member of our group saw something different in this exotically colored and split rock. The red stains come from iron oxide leaching out of the rock as water works over and through the porous sandstone.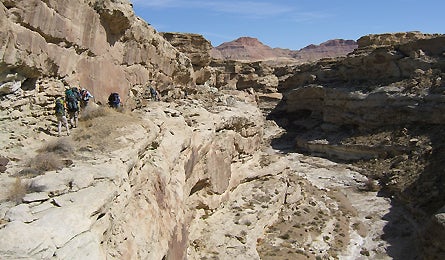 As we traveled down-canyon, we occasionally had to climb above the stream bottom to follow ramps like this one around pouroffs and other obstacles.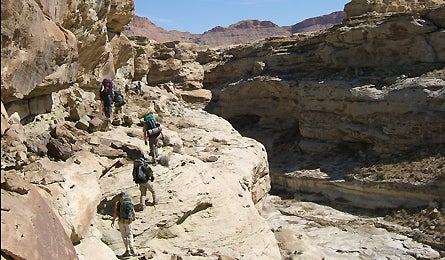 Typical of the Glen Canyon area, the drainage dropped at a steady but not steep clip, also widening–with exceptions–as we covered the 8 miles to the current edge of Lake Powell.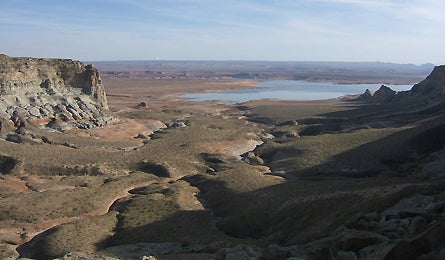 A view from near camp on day two. This shows the canyon we followed to Lake Powell, and the degree to which this area is about negative topography.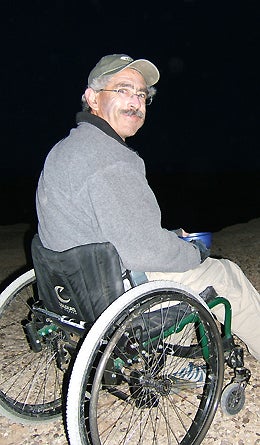 California reader and all-around inspiration Bob Coomber. Known on Backpacker.com by his screen name, 4WheelBob, Coomber has lost the use of his legs to diabetes, but still tackles tough singletrack trails, including high peaks in the Sierra.
For a full route description, interactive map, and GPS downloads for this route, click here.