Great Smoky Mountains National Park: Mid-Smokies Circuit
String together the Appalachian, Benton MacKaye, and Mountains-to-Sea Trails for a 48-mile instant classic that hits the park's best views and backcountry campsites.
Heading out the door? Read this article on the new Outside+ app available now on iOS devices for members! Download the app.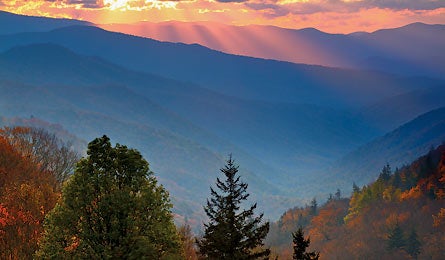 Newfound Gap (Photo by Daniel Ewert)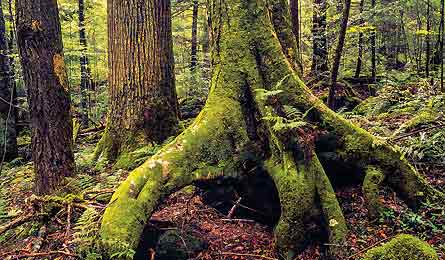 Old Growth Yellow Birch (Photo by Paul Rezendes)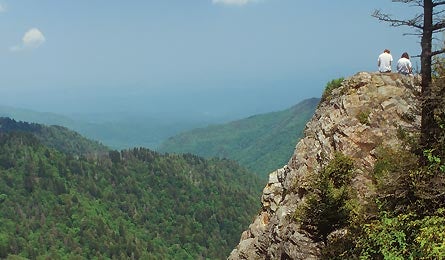 Charlie's Bunion (Photo by Chuck Blackley)
Do it Tick off Smoky Mountains must-sees and sample hidden gems on an unforgettable six-day trip tiptoeing across lofty ledges and everything in between. From the Noland Divide trailhead (1) on Clingmans Dome Road (closed December through March), descend the ridgeline west of 5,150-foot Roundtop Knob. Pass through patches of rhododendron and mountain laurel (blooming in June) into stands of hardwood-hemlock forest. At mile 3.7, turn left onto Pole Road Creek Trail (2) and head downhill, past trickling springs. Cross a log bridge and turn left onto Deep Creek Trail (3) at mile 6.8. Nearby Burnt Spruce Campsite (#56) (4) offers six creekside, first-come, first-serve tent spots in the valley.
Day two, continue along Deep Creek before turning left onto Martin's Gap Trail (5). Meander through boggy hemlock stands by way of boardwalks and ascend 1,000 feet to Martin's Gap and the intersection with Sunkota Ridge Trail (6). Turn left for a five-mile ridgewalk with intermittent views into forested valleys; you'll gently ascend to 5,000 feet. Stay on the Sunkota Ridge Trail at the intersection with Thomas Ridge Trail (7) and reach the Newton Bald Campsite (#52) (8) at a grassy saddle on the flank of its namesake peak. Here, synchronous fireflies stage a dazzling, bioluminescent flash mob during peak mating season, from early- to mid-June. Viewing tip: The show starts after 9:30 p.m. and lasts until midnight. Look for males as they fly and flicker; females remain stationary and shine in return. 
The next morning, traverse just below the crest of the 5,160-foot peak before hitting the Newton Bald Trail (9). Turn left here to begin a 4.7-mile, 2,500-foot descent through forest dominated by towering tulip poplar and dotted with ferns and rhododendron. Emerge at US 441 (10), jog left, then cross the bridge toward Smokemont Campground. Continue past another bridge and turn left onto the Bradley Fork Trail. Reach Lower Chasteen Creek campsite (#50) (11) at the confluence of the fork and the creek.
Day four, prepare to regain the altitude you lost yesterday with a 500-foot rise on the Bradley Fork Trail. After 2.8 miles, turn right to stay with the Bradley Fork Trail (12) and begin the real test: a 3.3-mile, 2,000-foot climb up Tawya Creek through mature beech, oak, and maple. Reach Hughes Ridge and turn left to continue climbing via the Hughes Ridge Trail (13). After 1.8 miles, look for your accommodations: Pecks Corner Shelter, below the trail to the right (14). 
On day five, start with a steep, .3-mile push that takes you from hardwood stands to the spruce and fir on the high ridgelines. Turn left at the intersection with the AT(15) to begin one of the most iconic ridgewalks of the Smokies: Six miles of uninterrupted ridgeline provide back-and-forth vistas into North Carolina and Tennessee while winding along Laurel Top and The Sawteeth. A signed, .6-mile side trail (16) leads to Charlie's Bunion, a can't-miss rock outcropping with vertigo-inducing views to the valleys below and clear shots east to Mt. LeConte. Back on the AT, pause after a mile for the .4-mile detour to the Jumpoff, a secluded perch with big drops and Instagram-worthy views of Porters Mountain. Continue .4 miles to Icewater Spring Shelter (17) and stop for the night.
Next day, rejoin the AT through stands of wind-stunted fir, hemlock, and beech. Hike a 2.7-mile stretch through a meditative tunnel of green before reaching the bustle of Newfound Gap (18), the only road-crossing along the 100-plus miles of the Smokies' crest. Continue following white blazes across US 441 and back into dense evergreens. Cross the 6,000-foot line twice on this 7.5-mile section over Mt. Collins and Mt. Love, and emerge on the 6,643-foot summit of Clingmans Dome (19), the highest point in the park (and on the whole AT). Climb the spiral observation tower for near-100-mile vistas—if a mist hasn't enshrouded the lookout. Descend .8 mile to the Clingmans Dome Parking Area (20) and walk 1.5 road miles to your car. Trip ID1912909
Get there From Gatlinburg, TN, take US 441 south. In 15 miles, turn right on Clingmans Dome Road. Continue 5.5 miles to the Nolan Divide trailhead. If full, go 1.5 miles to the Clingmans Dome parking area.

Permit Backcountry permit required (currently free; $4/person/night starting in 2013); available at Sugarlands Visitors Center

Reservations Required for campsite #50 and all shelters. Call 30 days in advance.

Gear up Nantahala Outdoor Center, 1138 Parkway, Gatlinburg, TN; (865) 277-8209; noc.com

Local flavor Après hike, stop just outside the park at Smokey's Sports Pub & Grub for the plate-size Mountain Burger. (865) 436-4220; smokyspubandgrub.com

Season May-June to avoid thru-hikers; September to miss high season on Clingmans Dome

Contact (865) 436-1297; nps.gov/grsm



GET THE PRO MAP