Grand Canyon: Hardest Hike Ever
This epic trip is hard, dry, steep--and gorgeous. The Cranberry Route--the final leg of this challenging loop--is the boldest, hardest scramble our scouts have done in the Grand Canyon. Study the key steps of this eight-mile section and see more details a
Heading out the door? Read this article on the new Outside+ app available now on iOS devices for members! Download the app.
| Life List: Grand Canyon Home |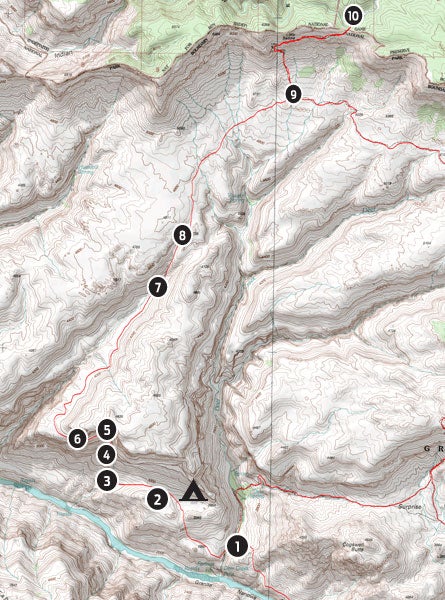 1. BEGIN CRANBERRY
The Cranberry Route starts on day four of the Deer Creek-Thunder River Loop. Just before sunset, top off all of your water jugs and exit Deer Creek just above where the gorge narrows. Camp is at the two dry lake beds located one mile west, at 2,854 feet. This gets you in prime position for a huge day five. 0364915E 4028291N
2. DRY LAKES
Pitch camp near the sandy divots of these two parched lake beds. No water here. Target a sunrise departure, and the next morning hike .7 mile west to the first prominent rock slope. From camp to the rim is seven hard miles. 0364119E 4029011N
3. CRANBERRY BREAK
Ascend northward nearly 1,000 feet over one-quarter of a mile toward the top of the Redwall. You'll slow to a quad-burning crawl as you zigzag through an avalanche of loose rocks, some the size of pickup trucks. Stick to the higher ridges to avoid rockslides in the gullies. Tip: Plug UTM 0363284E 4029397N into your GPS to verify you have the correct rock slope.
4. CHUTE
After an hour of step-breath-step climbing, the terrain slightly flattens and two gullies lead up through the Redwall. Go left (west); it's the easier way out. 0363287E 4029723N

5. THE CRUX
The route is now pockmarked by upturned limestone, and your heartbeat will surely spike in the last 50 feet, which requires class 4 climbing (but there are numerous solid hand- and footholds). Be meticulous, test holds, and stagger hikers on the climb to avoid multiple rockfall injuries. Worried? Pack a 100-foot rope to haul packs up. 0363279E 4029823N
6. CONTOUR
Once on top of the Redwall, the route contours around an alcove (nasty and loose!) until you hit flatland east of an unnamed slot between Fishtail and Deer Creek Canyons. The most technical section is behind you. Go ahead and pick up the pace, but don't get lazy on navigation. 0363239E 4029863N
7. HIDDEN WATER
This drip spring, near mile 3.2, is quite reliable but yields only about one quart per 20 minutes, so plan a long break from the sun. Some hikers leave milk jugs to collect water. 0363979E 4031962N
8. EXIT DRAINAGE
Scramble north over giant sandstone boulders, under tree snags, and exit the drainage upcanyon left to more sagebrush- and blackbrush-spotted flats. Near this area, on a nondescript, 40-foot-high sandstone dome, are two giant ghosts believed to be painted by Native Americans. Ghost Rock, as Grand Canyon insiders call it, also has bullet holes in it, probably made by cowboys who used to drive cattle through here. Bear northeast back to the Thunder River Trail. 0364370E 4032759N
9. TRAIL AGAIN
Rejoin the Thunder River Trail. Now, locate your water cache left on day
one. From here, it's 1,200 feet (or roughly two hours) to the North Rim. 0365795E 4034615N

10. THUNDER RIVER TRAILHEAD
End loop. High fives and group photos required. 0366622E 4035650N

TRIP PLANNER
MAPS These routes require expert navigation skills. Carry 1:24,000 USGS quads:
Tapeats Amphitheater, Fishtail Mesa, and Powell Plateau. Download field-scouted GPS waypoints and tracklogs at backpacker
.com/hikes/637203 (red loop) and backpacker.com/hikes/637440 (yellow loop).
PERMITS Required backcountry permits cost $10 per group, plus a $5 charge per person per day. Apply up to four months before desired departure date. Download form at nps.gov/grca/planyourvisit/upload/permit-request.pdf.
WHEN TO GO Spring, when water is more plentiful, or fall, with mild weather. Avoid summer, when temps soar well above 100°F in the lower canyon.
CONTACT (928) 638-7875; nps.gov/grca