Going to Extremes
Can you ever really have too much of a good thing? Once you've seen the biggest tree, largest glacier, and deepest canyon, nothing else compares.
Photo: Jerry and Marcy Monkman
Heading out the door? Read this article on the new Outside+ app available now on iOS devices for members! Download the app.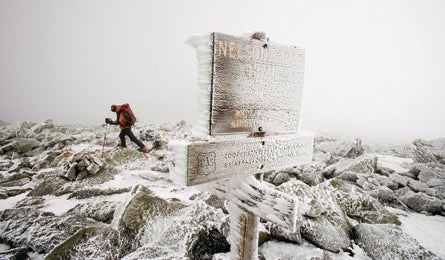 Mt. Washington's Nelson Crag Trail (Jerry and Marcy Monkman)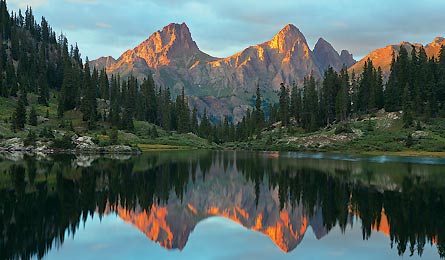 Emerald Lake in the Weminuche (Tad Bowman)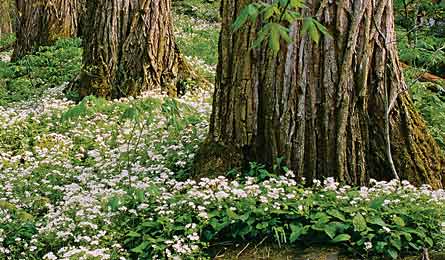 White Fringed Phacelia in the Smokies (Paul Rezendes)


Biggest and Lowest Glacier

Carbon Glacier, Mt. Rainier NP, WA

Imagine the margaritas you could make with 21 million square feet of ice. That's what you get with the Carbon Glacier. At 5.7 miles long and 700 feet thick, it's the largest glacier by volume in the Lower 48. And its terminal moraine ends just 3,500 feet above sea level, making it the lowest-elevation glacier as well. But we're happy to report it recently lost one claim to fame: It used to be one of the country's most-visited glaciers—until the Carbon River spilled its banks in 2006 and destroyed its namesake road. This year, park officials announced plans to convert Carbon River Road into a permanent trail, thus preserving five miles of bonus forest hiking—and enough distance to keep the minivan crowd at bay for good. Tackle the 20.8-mile trip with a mountain-bike assist. From the Carbon River ranger station, the first five miles wind gently through mossy rainforest over old roadbeds. Lock up your wheels at Ipsut Creek Camp (racks coming this summer) and link to the Wonderland Trail to follow the braided, roiling Carbon River for three miles. Now cue the adrenaline. Cross a wobbly, 200-foot suspension bridge and come nose-to-snout with the Carbon Glacier itself. The river's milky headwaters and chunks of ice pour from a black-blue ice cave. From here, the rocky trail steepens and gets pinched between glacier's edge and valley wall, gaining 1,500 feet over a mile to reach Moraine Park, a meadow choked with lupines in August. Hump over two wooded ridges to reach Mystic Lake at mile 10.4. On clear days, Rainier's imposing, 3,500-foot Willis Wall dominates the horizon. Camp .3 mile downhill in a forested site beyond the lake's east end.
Do it From Buckley, take WA 165 over the Carbon River Gorge bridge. Bear left to the park entrance. Map Green Trails Mount Rainier West No. 269 ($6, greentrailsmaps.com) Guidebook Hiking Mt. Rainier National Park, by Heidi Schneider and Mary Skjelset ($16, falcon.com) Contact nps.gov/mora



[More glacier extremes]

→ At more than a mile wide, the cirque carved by the carbon Glacier is the largest in the Cascade Mountains.

→ Longest U.S. glacier: Bering Glacier, Alaska (118 miles)

→ Highest concentration in North America: Wrangell-St. Elias NP

→ Most in lower 48: North Cascades (300+)

→ North America's oldest: Canadian Arctic ice sheet (100,000 years)


Deepest Canyon

Seven Devils Loop, Hells Canyon Wilderness, ID

The Grand Canyon may be massive in scale, but it does not own every record relating to size. North America's deepest trench? That's Hells Canyon, on the Idaho/Oregon border—it plunges 8,043 feet from the top of He Devil Peak down to the Snake River below. (The Grand? A mere 6,000 feet deep.)
The Seven Devils—9,000-foot peaks of dark granite—dominate the Idaho side of the 10-mile-wide gorge. On the 26.7-mile Seven Devils Loop, dip as low as 6,500 feet and scrape as high as 8,100 feet while wandering through old-growth forest, across lush meadows, and around quiet lakes. Overlook wide-angle panoramas of the yawning gorge below, with creepy sentinels like He Devil, She Devil, Mt. Baal, and the Tower of Babel at your back. Start at the 7,500-foot Windy Saddle trailhead and hike clockwise, covering 7.6 miles before reaching camp at Dog Creek. Tank up in the morning: Day two includes 10 miles of dry hiking, first through conifers and then up and over the treeless, crushed talus of 8,100-foot Horse Heaven Pass. As you round the pass to turn north, gaping Hells Canyon and the 5,000-foot grassy bench on the Oregon side fill the western view. In late July and early August, patches of Indian paintbrush carpet the path to Baldy Lake; take a three-quarter-mile spur trail to camp by the peak-circled pool (look for flat, wooded areas on the northwest shore).
The final leg presents ample side-trip opportunities. The best: The 2.6-mile spur to Dry Diggins Lookout, at mile 22.1, from which you can gaze 7,000 feet down to the Snake River. Bonus night: Camp near Sheep Lake (a worthy four-mile detour) or Lily Pad Lake, and rest up for the final 1.4-mile, 1,000-foot climb up a shadeless rock slope. Two more wooded miles close the loop at Windy Saddle.
Do it From Riggins, take ID 95 south one mile to Seven Devils Rd. (FR 517, gravel). Go 17 miles to Windy Saddle trailhead. Map Hells Canyon NRA Map, available from the NRA office in Riggins Guidebook Hiking Hells Canyon & Idaho's Seven Devils Mountains, by Fred Barstad ($19, falcon.com) Contact fs.fed.us/hellscanyon Trip data backpacker.com/hellscanyon



Lonliest Mountain

Luna Peak—North Cascades, WA

You'll need determination and navigation savvy to reach 8,311-foot Luna Peak, the rarely visited highpoint of the remote Picket Range. From Big Beaver Landing, it's a 16.5-mile bushwhack that ends with a class 4 scramble. nps.gov/noca
Quietest Place / Tallest Dunes

Great Sand Dunes National Park, CO

The sand-muffled wilderness here is so silent, nighttime readings bottom out beyond the capabilities of the NPS Natural Sounds Program's ultra-sensitive instruments. Claim your quiet: Tag North America's highest dune (750-foot Star Dune) by hiking about 4.5 miles northwest from Medano Creek; camp in the dune field after (BYO water; permit required). backpacker.com/hikes/10220
→ Tallest tree: 379-foot Hyperion, a redwood taller than Lady Liberty.

Find it: backpacker.com/hikes/52000.



→ Most snow: Rainier's Paradise Ranger Station averages 672.6 inches annually: backpacker.com/snowshoewash.


Biggest Tree / Highest Peak

High Sierra Trail, Sequoia NP, CA

Few treks start and end with a bang quite like the High Sierra Trail. The 72-mile route begins at the foot of a giant sequoia called General Sherman, the world's most massive tree, and ends atop Mt. Whitney, the Lower 48's skyscraping highpoint. In between, you'll slice east-west through the Sierra's finest territory in half the time it takes to hike the JMT. Which means this trek also wins the most-granite-per-mile award.
A short paved trail leads past the 2,500-year-old General, which dwarfs even surrounding sequoias with its 275-foot height and 102.6-foot girth. Gape awhile, then continue 2.4 miles through the Giant Forest toward Crescent Meadows. Sequoias peter out by Eagle View, a rocky perch above the 1,000-foot gorge cut by the Middle Fork Kaweah River. Here, catch your first views of the glacier-scooped peaks of the Great Western Divide.
Now start your nonstop tour of Sierra highlights. Make first night's camp at mile 11.4, among the daisies of Bearpaw Meadows. Day two: Begin climbing the Great Western Divide, with the sheer granite wall of Angel Wings rising 1,800 feet above the switchbacks. Pond-hop glacial tarns to reach 10,700-foot Kaweah Gap at mile 20 and camp 2.5 miles farther in Big Arroyo Junction. A mellow third day crosses the Chagoopah Plateau and Sky Parlor Meadow before dropping into U-shaped Kern Valley at mile 30.8 (it's steep and dry; fill up at Sky Parlor). Camp at Upper Funston Meadow (mile 34.5). Soak in Kern Hot Springs at mile 36.8 on day four and overnight at Junction Meadow.
Next comes the Whitney approach and climb. Jump on the JMT at mile 48.9 and hike until Crabtree Meadow (53.1) or Guitar Lake (56.6), the last suitable basecamp with water before the big summit day. Start predawn and ascend Whitney's back side; take the 2.4-mile summit spur trail and dash to 14,505 feet (carry layers and snacks). End your big-to-high epic at Whitney Portal and grab a shuttle.



Do it From Visalia, go east on CA 198 to Giant Forest trailhead. (Whitney Portal shuttle: DIY or highsierrashuttle.com.) Map Tom Harrison Mt. Whitney High Country Map ($10, tomharrisonmaps.com) Guidebook Sierra South, by Kathy Morey ($19, wildernesspress.com) Contact Reserve permits at least two weeks prior to trip: nps.gov/seki. Trip data backpacker.com/hikes/25771



→ Most wintering bald eagles and most salmon in the Lower 48: This two-fer goes to Washington's Skagit River.



→ Most hot springs: Yellowstone's10,000 thermal features. Target Dunanda Falls for just-right 110°F pools.


Coldest / Windiest / Wettest

Mt. Washington, NH

Who needs a Fourteener when you have this bad-weather magnet? Mt. Washington's records put the Lower 48's higher peaks to shame. Coldest year-round average temperature (27.2°F)—check. Most subfreezing days (242) in the continental U.S.—check. Most days per year (244) coated in heavy clouds—check. Highest annual rainfall (101.9 inches)—check. Until 2010, the world's highest recorded surface wind speed (231 mph)—check. Temps have never risen above 72°F on the mountain. Fave fact: From November to April, you have a two-in-three chance of experiencing hurricane-force winds at the summit.
Unless you're an extreme-weather vet, tackle Washington in summer or early fall, via Tuckerman Ravine (backpacker.com/ hikes/20773). Odds are you'll still get a taste of the mountain's stormy personality. For ultimate hardcore cred, consider (cautiously!) the White Mountains' Presidential Traverse in winter. You need no-nonsense winter mountaineering bona fides in order to attempt this 23.3-mile route's 10,000 feet of elevation gain and 10 peaks above 4,000 feet. The traverse starts with a 3,500-foot grind up the Valley Way Trail, to the base of Mt. Madison, then another 557 feet of kick-stepping to the summit. From here, the trail rounds counterclockwise past Mt. Jefferson and over Mt. Clay before topping out on 6,288-foot Washington. Camp near the Lake of the Clouds hut. Next, tackle seven miles of crampon travel across Monroe, Franklin, Eisenhower, Pierce, Jackson, and Webster, descending 5,000 feet to the Crawford trailhead.
Want a winter warm-up? Get a taste of wild Washington without the overnight by hiking 4.1 miles one way to the summit from Pinkham Notch. You'll gain 1,000 feet per mile, but packed snow instead of broken summer talus makes for easier going, provided the weather cooperates—which it won't.



Do it Pinkham Notch is about 10 miles north of Jackson via NH 16. Map AMC Maps Presidential Range ($10, outdoors.org) Guidebook AMC White Mountain Guide ($25, outdoors.org) Contact (603) 466-2721; mountwashington.org
*Mt. Washington lies at a convergence of storm paths coming from the south Atlantic, the Gulf of Mexico, and the Pacific northwest. Add the mountain's north-south orientation (which blocks moderating west winds), and you get a recipe for perfect storms year-round.



Hottest / Driest / Lowest / Most Stars

Death Valley NP, CA

Meet the extreme champ. This singular moonscape of crumbling peaks, white dunes, and desolate salt flats holds North American records for the highest temperature, driest climate, and lowest elevation. It's also the largest national park in the Lower 48, and, in terms of bragging rights, no backcountry has starrier night skies. Our advice: Skip the record-setting heat (in July, eyeball-melting temps of 120°F are common) and visit fall through spring.
Tank up at Furnace Creek and start at the Badwater Basin trailhead. In a wet year, Badwater gets 1.5 inches of rain. To reach the precise lowest spot in the Lower 48—282 feet below sea level—plug "11S 515682E 4010795N" into your GPS and head onto the flats; you'll bottom out in about 2.5 miles. Crossing the bleached sand and undulating, crumbling salt pan feels almost like traversing a glacier. "It's rugged—you have to pick your line and adjust as necessary," says Death Valley Wilderness Coordinator Charlie Callagan, who recommends budgeting at least a half day for the hike. The payoff? "Ninety-nine percent of people don't go more than a half mile," says Callagan, "so you get this vast openness ringed by mountains all to yourself—it's like being on another planet."
For stargazing, Callagan recommends the remote northwest end of the park, where light pollution is virtually nil. The best viewing is in the three-mile-long, two-mile-wide dry lakebed called Racetrack Playa. You'll need a four-wheel-drive, high-clearance vehicle to navigate the 26 miles from Ubehebe Crater to the Grandstand parking area. Pitch a tent in the nearby primitive campsite, and stretch your legs on a six-mile round-trip, 1,800-foot climb of Ubehebe Peak (start on an old miner's trail at the west end of the parking lot). From the summit, look for striated tracks of "sailing stones"—rocks pushed across the playa by high winds—and wander in the maze of hexagonal salt cracks that score the 1,000-foot-thick sea of dried mud. Then descend for the big show: On moonless evenings, the central band of the Milky Way shines like stop-action fireworks.



Do it Furnace Creek is 60 miles from Pahrump, NV. Map Trails Illustrated Death Valley ($12, natgeomaps.com) Guidebook Hiking Death Valley National Park, by Bill & Polly Cunningham ($13, falcon.com) Contact nps.gov/deva Trip data backpacker.com/hikes/511232
*Death Valley reigns supreme as America's driest place over the last century, but it might lose the title due to climate change. Death valley has received increasing rain each year during the last decade. Meanwhile, Calexico, California, on the edge of the Salton Sea, has become drier. Calexico could take the title from Badwater by the end of the century.
→ Highest national park campsite: Rocky Mountain's 12,760-foot Boulder Field: backpacker.com/hikes/22760
→ Largest national forest in Lower 48: Humboldt-Toiyabe covers 6.3-millionacres in CA/NV: backpacker.com/hikes/30922.



Most Berries

100-Mile Wilderness, ME

Maine's acidic soil grows more wild blueberries than anywhere in the world—an acre can yield 6,000 pounds of fruit. Gorge yourself in early August; look for bumper crops near bogs and creeks. backpacker.com/hikes/542144
Most Remote

Rock Creek Lake, Weminuche Wilderness, San Juan Mountains, CO

Technically, a spot deep in Yellowstone's Thorofare region is farther from a road than any other place in the Lower 48. But as Mark Jenkins reported in 2008's "Destination Nowhere" (backpacker.com/nowhere), hiking to it can feel busy indeed. To experience real wilderness, head to Hinsdale County, Colorado, which a 2007 USGS survey determined to be the continental U.S.'s most roadless area per capita. Why? With only a single incorporated town (Lake City, population 387), the county is dominated by the half-million-acre Weminuche Wilderness (the state's largest) and the 100,000-acre Uncompaghre Wilderness. Here lies the wild heart of the Rockies, a land of windswept tundra, undisturbed forests, and sheer granite guarded by a handful of Fourteeners, scores of 13,000-foot peaks, dozens of cascades, and persistent rumors of grizzlies.
To reach its deepest hideaway, take the Durango Narrow Gauge Railroad and hop off with a loaded pack at the Needle station. You'll tromp six miles to camp at idyllic Chicago Basin, where loads of peakbaggers hoping to nab dramatic Fourteeners Windom, Eolus, and Sunlight ensure you won't be alone—yet. Leave 'em behind on day two by climbing 2.2 miles up and over 12,680-foot Columbine Pass; the next seven miles drop past multiple waterfalls in the Johnson Creek drainage. Connect to the Vallecito Creek Trail for seven miles of brookie-filled stream and wildflower-spotted meadows before passing under the shadow of 13,617-foot The Guardian. Camp near the confluence of Vallecito and Rock Creek. On day three, go six miles on Rock Creek Trail to the middle-of-nowhere: Rock Lake Basin, more than 20 trail miles from any road. Ford the rust-orange, mineral-stained Rock Creek (runs high and fast until July) to reach your treeline camp, encircled by a dozen shark-fin peaks. Climbers: Rise early on day four for a class 3 scramble up 13,684-foot Mt. Oso, towering directly over your camp. Return to civilization by connecting to Half-Moon Lake Pass, Emerald Lake (the second-largest natural lake in Colorado), and the Pine River Trail. End at Pine River Campground at the Vallecito Reservoir.



Do it Board the Durango & Silverton Narrow Gauge Railroad at 479 Main St., Durango, CO. Shuttle car: From US 160 in Bayfield, turn left on CO 501 for 25.5 miles to Pine River Campground. Map Trails Illustrated Weminuche Wilderness ($12, natgeomaps.com) Guidebook Hiking Colorado's Weminuche and South San Juan Wilderness Areas, by Donna Ikenberry ($17, falcon.com) Contact fs.fed.us/sanjuan and fs.fed.us/r2/riogrande



Deepest Lake

Crater Lake NP, OR

With an average depth of 1,148 feet (it bottoms out at 1,943 feet), Crater Lake is the deepest in the Western Hemisphere and third deepest worldwide. And since it's fed only by rain and snowmelt, it's also one of the clearest lakes you'll ever see. From the PCT, take the Dutton Creek Trail to hike six miles along the ice-blue waters (total route length: 9.4 miles). nps.gov/crla


Alaska

It's all extreme

• Highest Peak Mt. McKinley 20,320 feet

• Coldest Temp Prospect Creek Camp -80°F

• Largest National Park Wrangell-St. Elias 3.2 million acres

• Largest National Forest Tongass 17 million acres

• Rainiest Place Yakutat 160 inches a year

• Most Remote Spot St. Matthew Island 209 miles from nearest inhabited island

• Largest Glacier Bering Glacier 2,250 square miles

• Most Earthquakes 5,000+ per year A 5.2 quake was recorded in Denali NP on Jan. 23, 2011.

• Most Bald Eagles 40,000—half the world's population hot spot: southeast coast and islands

• Highest Tides Cook Inlet up to 40 feet

• Most Volcanoes 130+ most active: Akutan, with 33 eruptions

• Most Lakes Over 3 million larger than 20 acres biggest: 1,012-square-mile Iliamna Lake



→ Biggest backcountry lake: Lake Shoshone in Yellowstone NP
→ Buggiest wet: Isolated Isle Royale NP hosts biting insects in pre-1900s sizes and densities. Pack deet.



HIGHEST WATERFALL

Colonial Creek Falls—North Cascades NP, WA

Want to put yourself in the record books? Colonial Creek Falls has never been officially measured. But topo maps and aerial photos suggest the obscure cascade bests Yosemite Falls by more than 100 feet, making it the Lower 48's tallest. To see all 2,584 feet pouring down from a glacier, bring a topo map and ascend a tricky climber's path that follows Colonial Creek 1.5 miles to a hidden basin just below the falls. nps.gov/noca



Tallest Cliff / Oldest Trees

Notch Peak, UT

Until Guinness crowns a winner in the tallest-vertical-cliff category, we'll have to content ourselves with parsing between the many spectacular contenders. That's because interpretations of "pure vertical" vary. Happily, that means we can skip the glamour queens (Yosemite's Half Dome and El Capitan, Glacier's Mt. Siyeh) and anoint the cliff with the best backcountry solitude: Utah's Notch Peak, in the barely visited House Range of southwestern Utah. Its north face rises nearly 3,000 vertical feet. A strenuous 7.5-miler (dayhike or overnight) ends at the top of the 9,654-foot peak, where you'll score dizzying views of the Tule Valley nearly a vertical mile below. Bonus record: You'll pass stands of the world's oldest trees—bristlecone pines—while hiking along the ridges of white and gray limestone.
From Sawtooth Canyon trailhead, follow a clear user trail .8 mile until it fades where the canyon forks (good navigation skills required). Take the left (south) fork through a narrow wash until it ends. An easy scramble .3 mile through piñon and juniper ends at a drop-off where you'll first glimpse Notch Peak's sheer west face—indisputably the tallest limestone cliff in the U.S. Hike along the summit ridge (stay well back from the edge) and through scattered groves of gnarled bristlecones. Finally, ascend a class 2 scramble over broken limestone to the summit.



Do it The trailhead is 53 miles west of Delta. Map USGS quad Notch Peak & Miller Cove ($8, store.usgs.gov) Guidebook 100 Hikes in Utah, by Steve Mann and Rhett Olson ($17, mountaineers-books.org) Contact blm.gov/ut
*Most Notch Peak bristlecones haven't been dated, but the few that have are more than 2,000 years old. Some researchers suspect that groves here could contain individual trees up to 4,000 years old—close to the current record-holder, the Sierra Nevada's Methuselah at age 4,789.



Most Wildflowers / Most Biodiversity

Great Smoky Mountains NP, TN/NC

Flower fans can't do better: More than 1,660 types bloom in the Smokies. High moisture content nurtures scores of glacially isolated species, and the range of elevation—875 to 6,643 feet—supports all of the climate zones you'd find traveling from Georgia to Maine. Tom Harrington, a park interpreter who hikes hundreds of miles annually to provide real-time bloom bulletins (smokiesinformation.org), suggests marking your calendar as follows. Mid-April to mid-May: Up to 40 species of spring ephemerals like Dutchman's breeches, trout lilies, and white-fringed phacelia burst forth on the first 1.9 miles of the Porter Creek Trail to Fern Falls. "When white-fringed phacelia are in full bloom, it appears as if the ground is covered with snow," Harrington says. He also likes the 7.4-mile Lower Mt. Cammerer Trail in spring. "If you time it right [last week in April], you'll be lucky enough to see dwarf-crested iris appearing as a lavender-colored carpet," he says. Mid-may to mid-June: Purple catawba rhododendrons light up the Alum Cave Bluff Trail. Mid-July to mid-August: Catch displays of crimson bee balm, wild golden glow, monkshood, and turk cap lilies on the 8.1-mile showstopper on the Appalachian Trail from Newfound Gap to the Boulevard Trail. Harrington's personal fave? Flame azaleas—bracketed by "pickup truck-size" shrubs of red, pink, white, lavender, and peach—atop Gregory Bald in mid-June. Make it a 15.6-mile loop by following Wolf and Hungry Ridges, camping at mile-high Sheep Pen Gap.
Do it From Fontana Village, drive five miles west on NC 28 to the Twentymile Ranger Station. Map Trails Illustrated Great Smoky Mountains NP ($12, natgeomaps.com) Guidebook Hiking Great Smoky Mountains National Park, by Kevin Adams ($17, falcon.com) Contact nps.gov/grsm Trip data backpacker.com/hikes/424997



Most Predators

Black Canyon, Yellowstone National Park, WY/MT

Drop several notches on the food chain in Black Canyon, where as many as one wolf, mountain lion, grizzly, and black bear stalk every two square miles. Take the 17-mile Yellowstone River Trail, bring binocs, and don't forget to yodel every step of the way. Get a route description and tracklog: backpacker.com/hikes/53473.
Living Large

Size records for mammals big and tall
→ Largest freshwater fish: 10-foot, 300-plus-pound alligator gars. Spot monsters in central Texas rivers.
→ Most arches: Arches NP has 2,000-plus—the longest spans 290 feet. See it: backpacker.com/hikes/18410.