From the Field: West
Experience the varying habitat in California's Lobo Canyon Trail, get a high-vantage view of the Colorado River in Arizona, hike former mining roads, and more!
Heading out the door? Read this article on the new Outside+ app available now on iOS devices for members! Download the app.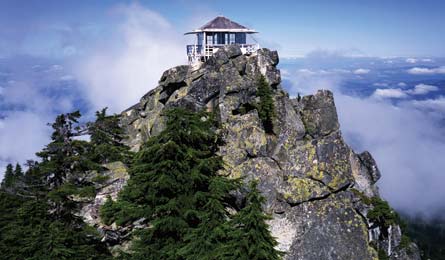 See the Olympics and Cascades on a clear day (Photo by Kirkendall-Spring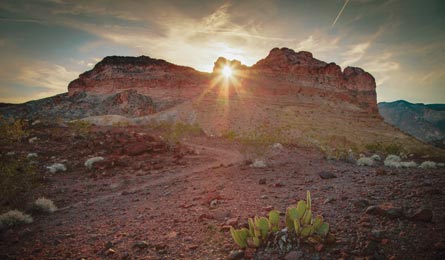 Liberty Bell Arch at mile 1.7 (Photo by Steve Burns)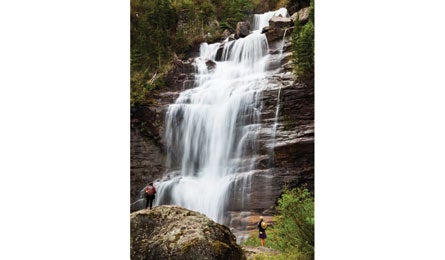 Bear Creek Falls – mile 2.3 (Photo by Ethan Welty)
Lobo Canyon Trail, Santa Rosa Island, Channel Islands NP, CA

Sandstone canyons and wildlife galore: This 13.5-mile lasso on a surf-battered Pacific island has the goods. Take a ferry ($114 round-trip; islandpackers.com) from Ventura to camp at Water Canyon ($15; recreation.gov); day two, hike 4 miles to the trailhead. Descend past sandstone formations (look for Pacific tree frogs and foxes) to a rugged coastline where you'll find resident sea lions and harbor seals on a 5.5-mile lollipop loop. Trip ID10241
"One of the beauties of the Lobo Canyon Trail is that every 10 minutes you're in a different habitat."
Field Scout: Dave Begun, Ventura, CA


Liberty Bell Arch, Lake Mead NRA, AZ

Glimpse the wild Colorado River from 1,000 feet above on this 4.4-mile Mojave Desert out-and-back. Near mile 1.7, admire a 25-foot sandstone arch silhouetted against the (often-bluebird) sky. Dead end at the Black Canyon overlook, where dark volcanic walls plunge to the winding river below. Hike early (start around 8 a.m.) to beat the heat and catch morning rays illuminating the canyon's craggy cliff faces. Trip ID 5703
"Look for white rump patches of desert bighorn sheep on the steep cliffs at the end of the trail."
Field Scout: Leslie Paige, Boulder City, NV


Narrow Gauge Loop, Yellowstone NP, WY

Check out the Mammoth area's signature thermal features on this 5.2-mile loop. "As soon as you're 50 yards up the trail, you're hardly going to see anyone," Suderman says. Near mile 2, cross a grassy plateau with views to 8,564-foot Bunsen Peak; continue 2 miles to Orange Spring Mound, a 20-foot lump of travertine stained by bacteria from the 160°F water that flows from its spring. Close the loop past Narrow Gauge Terrace, where a handful of sulfur-scented pools steam. Trip ID300074
"We often see grizzlies in that area in early summer."
Field Scout: Brian Suderman, Gardiner, MT

Bear Creek Uncompahgre NF, CO
Climb 1,000 feet up a former mining road to a surging waterfall on this 4.5-mile out-and-back that departs from downtown Telluride. Within .5 mile, you'll gain views of 12,804-foot Ballard Mountain and 13,472-foot La Junta Peak from the lush valley below. In June, look for fingertip-size wild strawberries ripening trailside on sunny, east-facing slopes. Continue .3 mile to Bear Creek Falls, which cascades 100 feet down a series of rocky shelves. Trip ID424275
"In the spring, bring rain gear and plan on getting wet at the falls; a huge spray comes of of them."
Field Scout: John SirJesse, Telluride, CO

Mt. Pilchuck, Mt. Pilchuck State Park, WA
Transition from forest to subalpine meadows on this 4.8-mile out-and-back up a 5,340-foot Cascade summit. At mile .5, enter a section of 200-foot-tall old-growth Douglas fir and cedar. The woods give way to talus fields near mile 1; watch for marmots scampering among the rocks. At the top, climb a 10-foot ladder to a fire lookout. Summit after 2 p.m.—once the fog has lifted—for your best chance of unobstructed mountain-to-ocean views. Trip ID23356
"You can get 360-degree views of Puget Sound, the Seattle area, and 10,541-foot Glacier Peak." 
Field Scout: Shawn Tobin, Gold Bar, WA