From the Field — West — March 2013
Our trail scouts' top local hikes: ancient Oregon volcanoes, a Nevada slot canyon, a hidden California oasis, and more.
Photo: © Ron Niebrugge/wildnatureimage
Heading out the door? Read this article on the new Outside+ app available now on iOS devices for members! Download the app.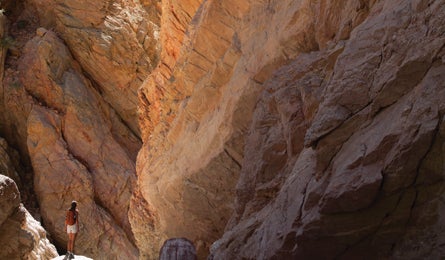 Lovell Wash Narrows (Photo by Ron Niebrugge)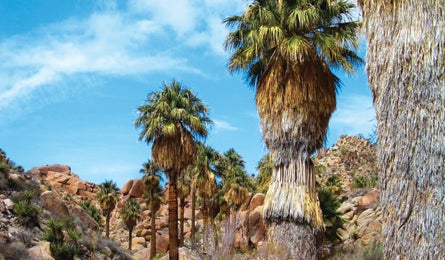 Lost Palm Oasis (Photo by Terry Tyson)
Anniversary Narrows, Lake Mead NRA, NV

Warm up early-season legs on this 6.6-mile modified out-and-back among the remnants of an ancient volcano. Begin on the 1.9-mile Ancient Juniper Trail and hike past gnarled, 20-plus-foot specimens, some more than 1,000 years old. Turn left on the Flatiron Trail and continue 1.6 miles to Flatiron Rock, an eroded lava outcropping, for close-up views of lava arches and distant glimpses of the Cascades. Return on the Flatiron Trail. Trip ID779254
"Watch for rattlesnakes once the rocks start heating up."



Field scout: Heidi Hastings, Henderson, NV


Flatiron Rock, Oregon Badlands Wilderness, OR
Take a Technicolor geology tour on this six-mile out-and-back. You'll pass rainbow-striped cliffs and ocean-colored gemstones on your way to a fiery sandstone slot canyon. Browse for broken geodes exposing blue and green crystals near the old Ore Car Mine at mile 1.2. Continue into Lovell Wash, past mine remnants, until the path narrows at mile 2.6; squeeze the final .4 mile through a slot canyon, which is 60 feet tall and as narrow as six feet in some spots. Backtrack to the trailhead. Trip ID49365



"Hedgehog and prickly pear cacti bloom in March."



Field scout: Eli Boschetto, Portland, OR
Liberty Cap Trail, Colorado NM, CO
Ramble atop a piñon- and juniper-crowned mesa to a 160-million-year-old fossilized sand dune on this seven-mile shuttle hike. From the Upper Liberty Cap trailhead, gaze into remote red-rock canyons en route to the domed, 50-foot-tall namesake formation; climb it for views north to the Colorado River and look south for golden eagles and peregrine falcons riding thermals over Ute Canyon. Descend 1,100 feet through layers of red-orange sandstone to 1.7-billion-year-old black Precambrian rock to reach your shuttle vehicle at the Wildwood trailhead. Trip ID32293
"Look for desert bighorn sheep on rocky outcroppings."



Field scout: Michelle Wheatley, Grand Junction, CO
Lost Palms Oasis, Joshua Tree NP, CA
Journey through hills speckled with yucca and barrel cactus on this 7.4-mile out-and-back to a spring-fed desert refuge. In March, you'll see yellow bladderpod, brittlebrush, and fiery red chuparosa blooms; look overhead for occasional flocks of pelicans, visitors from the inland Salton Sea (30 miles away). A cluster of more than 100 Washingtonia palms lends a tropical air to the lush, shady oasis at the base of the rocky ravine. Trip ID338185
"You could see any of the park's 40 species of reptiles, such as Mojave collared lizards and desert tortoises."



Field scout: George Land, Twentynine Palms, CA




Devils Garden, Arches NP, UT


Peer through eight of the park's 2,000-plus arches on this 6.1-mile lollipop loop undulating over fins of Entrada sandstone. At mile .8, spy Landscape Arch, the park's longest at 306 feet. Follow two short spurs to glimpse sturdy Navajo Arch and keyhole-shaped Partition Arch en route to the twin gaps of Double O Arch at mile three. Acrophobes beware: The loop's eastern side traverses increasingly steep, exposed sections of salmon-colored slickrock. Trip ID18410
"At times, you're almost swallowed between walls, then you scramble on top for views across miles of park."
Field scout: Karen Henker, Moab, UT