From the Field — East
Let our field scouts' beta fuel your next adventure from the wildlife-rich Sky Meadows State Park Loop, to thickets of mountain laurel in Georgia, and more.
Heading out the door? Read this article on the new Outside+ app available now on iOS devices for members! Download the app.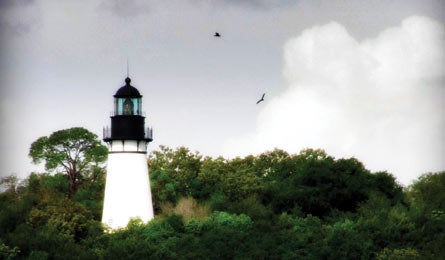 Amelia Island Lighthouse (Kimesa Jones)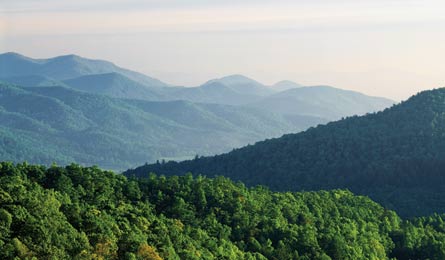 Smokies view from Lookoff Mountain (Lawrence Parent)
Fort Clinch Loop, Fort Clinch SP, FL

Wind through a maritime hammock and a grassy salt marsh on this 5.3-mile loop finishing at a pre-Civil War brick fort. Hiking counterclockwise, you'll tunnel beneath a live oak canopy on gently rolling terrain—the remnants of ancient sand dunes. Near mile 3, savor views across the marsh to the 19th-century Amelia Island Lighthouse. Return to the trailhead to tour the barracks, kitchens, and blacksmith shop at Fort Clinch ($2/person). Trip ID*32358
"Look for wading birds, like pink roseate spoonbills."
Trail Scout: Marie Bucher Fernandina Beach, FL 



Gleasmans Falls, Adirondack Park, NY

Trace wildlife-rich ridges and meadows on this 4.7-mile loop an hour west of D.C. Nab the best views .5 mile from the trailhead, overlooking the rolling hills and historic buildings of a 19th-century farming valley. Ascend 600 feet along a hardwood-forested ridge. (In late spring, watch for ruffed grouse.) At mile 3, scan the trailside pastures for the park's 60 butterfly varieties, including swallowtails and monarchs. En route to the trailhead, take a side-trip onto the 1-mile, wildflower-lined Snowden loop. Trip ID369194



"Look for pinxter bushes (a native variety of azalea) and cherry trees blooming near the Independence River."
Trail Scout: Bill Ingersoll Barneveld, NY



James E. Edmonds Trail, Black Rock Mountain SP, GA

Meander through thickets of mountain laurel—blooming in late May—on this 7.2-mile loop to 180-degree summit views. Watch for turkey, deer, and grouse en route to 3,162-foot Lookoff Mountain at mile 3.5, scoring views to the Smokies across the Wolffork Valley. Option: Camp just 100 yards from the overlook at Lookoff Mountain site 2 ($9/person/night). Near mile 5, descend to the shoreline of placid Black Rock Lake; circle it on a 1-mile spur for catfish and trout fishing, or keep straight to close the loop. Trip ID40830
"On a clear day, you can see all the way into Tennessee and to Asheville, 70 miles away."
Trail Scout: Joey Thornton Mountain City, GA



Sky Meadows State Park Loop, Sky Meadows SP, VA

Trace wildlife-rich ridges and meadows on this 4.7-mile loop an hour west of D.C. Nab the best views .5 mile from the trailhead, overlooking the rolling hills and historic buildings of a 19th-century farming valley. Ascend 600 feet along a hardwood-forested ridge. (In late spring, watch for ruffed grouse.) At mile 3, scan the trailside pastures for the park's 60 butterfly varieties, including swallowtails and monarchs. En route to the trailhead, take a side-trip onto the 1-mile, wildflower-lined Snowden loop. Trip ID5681
"You can frequently hear coyotes calling near dusk."
Trail Scout: Erin Brockmann Winchester, VA 



Appalachian Trail, Tyringham Road to I-90, MA

Follow this section of the AT for a 14-mile overnighter near the banks of a pristine glacial pond. Near mile 2.5, look for beaver activity in Knee Deep Pond; continue 2 miles to cross a wooden bridge over a swampy area frequented by moose. A .5-mile spur at mile 7 leads to campsites overlooking tree-lined Upper Goose Pond. Return the way you came. Trip ID47444
"In May, you'll find fewer crowds and bugs—plus spring's ephemeral flowers, like delicate trout lilies."
Trail Scout: Jim Pelletier Pittsfield, MA