From the Field — Central
Take in the birder's paradise around Vern Wolf Lake in Wisconsin, cleanse yourself in the mist of a 15 foot waterfall in Arkansas, marvel at a 320-million-year-old sandstone formation in Ohio, and more.
Heading out the door? Read this article on the new Outside+ app available now on iOS devices for members! Download the app.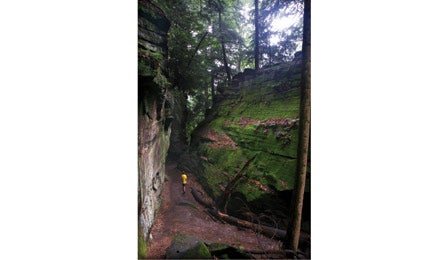 Ledges and Pine Grove Loops, Cuyahoga Valley NP, OH (Tom Jones)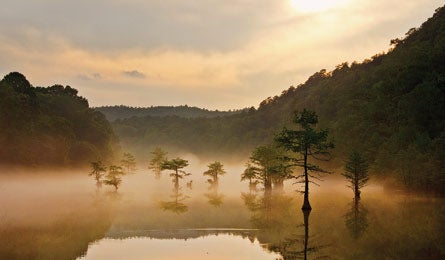 Skyline Trail, Beavers Bend State Resort Park, OK (Laurence Parent)
Skyline Trail, Beavers Bend State Resort Park, OK

Undulate over the wooded bluffs and ravines of the western Ozarks on this 6.7-mile loop with overnight potential. At mile .5, gaze 100 feet down at a horseshoe bend in the Mountain Fork River from atop an exposed shale bluff. Continue 1.5 miles to fern-lined Bee Creek (primitive, permit-free camping). Thanks to a recent rerouting, spy 6-foot Silvey Falls at mile 3.5, then link the Beaver Lodge Nature Trail to the park road to reach your car. Trip ID43668
"At mile 1.6, soak your feet in Bee Creek's kiddie-size pool."
Field Scout: Frank Griffith Broken Bow, OK 


Fancy Creek Loop, Fancy Creek SP, KS

Escape traditional Kansas terrain on this surprisingly rugged 4.6-mile loop through the Flint Hills. Gain eastern views across 12,500-acre Tuttle Creek Reservoir 200 feet below at mile .4. Continue through shady cedar forest interspersed with pockets of native tallgrass prairie. Hike beneath 10- to 15-foot exposed limestone bluffs near the halfway point, then continue over rolling terrain to close the loop along a lakeside ridge. Trip ID36716
"Look for meadowlarks and long-necked upland sandpipers."
Field Scout: Jonathan Conard Sterling, KS 
Ledges and Pine Grove Loops, Cuyahoga Valley NP, OH

Circle a 320-million-year-old sandstone formation and peer into wooded ravines on this 4.1-mile figure eight. At mile .3, take a half-mile spur loop on the Haskell Run Trail for spring flowers like bluet and wild geranium. Follow a side trail near mile .7 inside a 30-foot-deep crack in the rock. Climb about 50 feet to score valley views from the Ledges Overlook at mile 1.1, then connect to the Pine Grove loop to trace the edges of steeply eroded gullies that explain the park's nickname: "the Badlands with trees." Trip ID10737
"The Ledges Overlook gives you a wide view of the entire Cuyahoga Valley; it's hard to see any signs of development."
Field Scout: Jennie Vasarhelyi Brecksville, OH 
Vern Wolf Lake Loop, Richard Bong SRA, WI

Spot waterfowl, migratory warblers, and raptors on this 4.2-mile loop encircling a 150-acre lake. From the trailhead, follow a boardwalk across a pond popular with herons, ducks, and Canada geese (plus goslings in springtime). Just past mile 1, enter a mature woodland overrun with spring wildflowers like shooting star and trillium, and migratory birds such as Cape May warblers and indigo buntings. Continue through a grassy habitat, then past a sandy beach to close the loop. Trip ID*56351
"Listen for a spring chorus of frogs and toads."
Field Scout: Beth Goeppinger Lake Geneva, WI 
Redding-Spy Rock Loop, Ozark NF, AR

Combine this 6.6-mile loop with a 1.6-mile spur to score vistas atop a 1,640-foot outcrop. Start along the banks of the Mulberry River, then climb 1.5 miles through pine and oak to trace a bluff overlooking Bowden Hollow. At mile 3, turn left for the spur to Spy Rock, with 180-degree views of hillsides leafed out in spring green. Hike another .5 mile on the main trail to spot a seasonal waterfall plummeting 15 feet off a rock ledge; pass another seasonal creek, then descend 2 miles to the trailhead. Trip ID5753
"Go within two days of rain to see the waterfall flowing."
Field Scout: Charlie Williams Tulsa, OK