From the Field — Central — March 2013
Follow the footsteps of Wild West outlaws in Oklahoma, marvel at Gooseberry Fall's frozen cascades, search out arrowheads at Hot Springs National Park, and more.
Heading out the door? Read this article on the new Outside+ app available now on iOS devices for members! Download the app.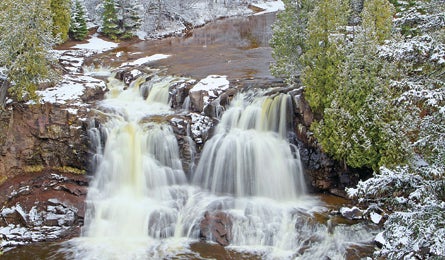 Gooseberry Falls (Photo by sundbergphotography.com)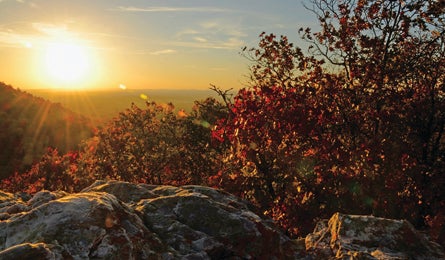 Balanced Rock (Photo by Eric Coburn/NPS Photo)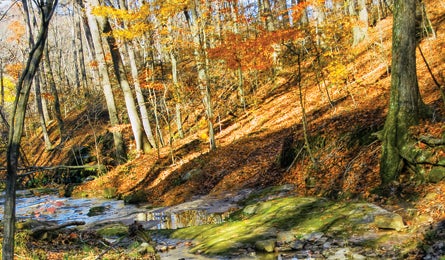 Stream feeding Kinkaid Lake (Photo by larrybraunphotography.com)
Gitchi Gummi/Nelson's Creek Loops, Gooseberry Falls SP, MN

Traipse through a winter wonderland along Lake Superior on these two loops totaling 5.1 miles. Wear snowshoes or ice grippers on the two-mile Gitchi Gummi Trail, and hike to a lake overlook atop ice-covered, 65-foot cliffs. The park requires skis for the groomed Nelson's Creek route, which gradually ascends to views of the river valley. Or, keep your hiking boots on to try the 2.3-mile Fifth Falls Loop, along the Gooseberry River to three frozen cascades. Trip ID8676
"The lakeshore looks like an arctic moonscape, with crystal blue ice several inches thick covering the rocks."



Field scout: Shawn Donais, Two Harbors, MN




Horsethief Spring Trail, Ouachita NF, OK

Follow in the footsteps of Wild West outlaws on this 12.8-mile lollipop in the Oklahoma Ozarks. Ascend 1,000 feet through a pine forest to pitch your tent at the edge of a ravine at mile 4.8 (the spring is .2 mile farther); the site's namesake 19th-century rustlers hid out around here. Next day, hike 3.5 miles to a white-blazed, .8-mile spur atop 1,300-foot Snake Mountain for views back at your route across the valley. Return to Cedar Lake trailhead to close the loop. Trip ID5752


"In March, look for redbud and white dogwood blooming."
Field scout: Bill Durant, Talihina, OK
Sunset Trail, Hot Springs NP, AR

Circumnavigate the Park Service's oldest unit (circa 1832) on this 12.4-mile loop following seldom-traveled ridgelines to the park's highest point, 1,405-foot Music Mountain. Just past halfway, take a .3-mile spur to Balanced Rock, a MINI Cooper-size chunk of precariously perched novaculite (chert). Scraped areas indicate where Native Americans shaved its surface to make arrowheads, which you may spot on the ground nearby. Continue past Ricks Pond, a haven for beaver, herons, and frogs, en route to creekside Gulpha Gorge Campground to close the loop. Trip ID10212


"Look for black bears, especially near Balanced Rock."
Field scout: Nalissala Allen, Mountain Pine, AR
Low Gap Loop, Morgan-Monroe SF, IN

Tunnel beneath a chartreuse hardwood canopy on this 10.3-mile loop traversing rugged ridges. Around mile 1.5, you'll pass a 200-foot-long rock overhang; stand underneath at one end and whisper to your hiking partner at the other to marvel at the acoustics. Continue past early-blooming wild irises, snow trilliums, and jack-in-the-pulpit. Take a .6-mile spur just before mile 10 to overnight at the rustic, 130-year-old Draper Cabin ($27; 765-342-4026). Trip ID8351


"If it's a wet spring, keep your eyes on the ground for morel mushrooms growing at the base of trees, especially elms."


Field scout: Bonnie Wilcoxson, Edinburgh, IN
Kinkaid Lake Trail, Shawnee NF, IL

Trace the pristine shoreline of a 2,750-acre lake on this little-traveled 9.3-mile out-and-back section of the Kinkaid Lake Trail. Descend 300 feet to the lakeshore and the base of 80-foot sandstone bluffs around mile 1.5, and scan for bald eagles and ospreys soaring above the water. Turn around at the junction for the Hidden Cove trailhead to retrace your steps, or connect to the four-mile Waterfall Trail to loop back to your car (8.9 miles). Trip ID60520
"In winter, bare trees afford open lake views the whole way."
Field scout: Kelly Pearson, Jonesboro, IL