From The Field: East
Our trail scouts' top local hikes
Heading out the door? Read this article on the new Outside+ app available now on iOS devices for members! Download the app.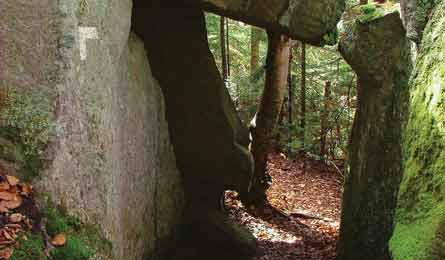 Moxie Bald Trail (Photo by: Jeff Chow)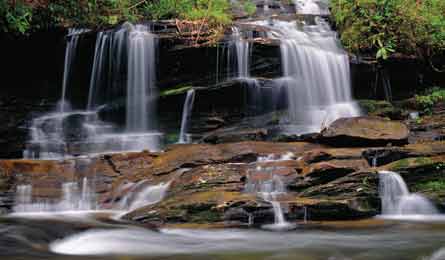 Tom Branch Falls, Deep Creek Loop (Photo by: Donnelly-Austin)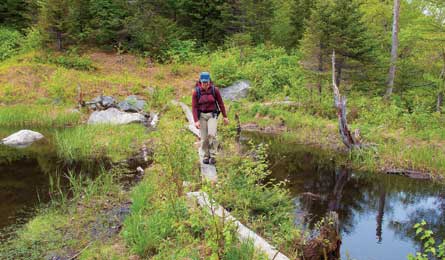 Lake Mansfield Trail (Photo by: Broudy/Donohue Photography)
Appalachian Trail: Moxie Pond Road to Shirley-Blanchard Road, ME

Craig Dickstein Caratunk, ME
Schedule two nights for this 17.9-mile AT section
replete with pristine ponds, 360-degree mountain vistas, and–come August–moose in full antler, Dickstein says. "Moxie Bald lean-to is great for nearby
swimming and for reliably sighting moose," he adds. En route to the shelter, summit 2,629-foot granite-topped Moxie Bald. A mile north of the bald, follow
the 1.4-mile out-and-back North Peak spur for a wide-open, rock-slab ridgewalk. Trip ID
47882
"In August, look for blueberries on rocky, sunny ledges."
Deep Creek Loop, Great Smoky Mountains NP, NC

Lynda Doucette Waynesville, NC
"If you're looking for waterfalls, you get your biggest bang for your buck at Deep Creek," Doucette says. No fewer than three year-round gushers,
ranging from 45-foot Indian Creek Falls to 80-foot Tom Branch and Juney Whank Falls, cool this shaded, mellow 5.5-mile loop. Bring a fly rod for rainbow and brown
trout, but skip the crowded banks of Deep Creek near the trailhead: "The farther in you go, the better your chances for solitude
(and nabbing a big one)." Trip ID 6931
"Near the water, look for bluebirds, tanagers, and orioles."
Lake Mansfield Trail, Mt. Mansfield State Forest, VT

Megan Duni Fayston, VT
Pack a picnic from the Burlington Farmers' Market for this 3.6-mile out-and-back to an 1,800-foot-high notch in the Green Mountains. A quarter-mile in, look
for two 19th-century, stone-lined cellar holes, and spot a 40-foot unnamed cascade at mile 1.5. From the Taylor Lodge lean-to, which overlooks the lush valley you
just ascended, don't miss the .4-mile Clara Bow spur loop: "It goes through a really dark, cool tunnel of big rocks–glacial deposits–leaning against one
another," says Duni, of the Green Mountain Club. "You climb over huge boulders and up a 15-foot ladder." Trip ID
934895
"Stay at the free Taylor Lodge to get an incredible sunrise."
Foothills-Fork Mountain-Chattooga Loop, Sumter NF, SC

Kevin Allison Columbia, SC
Escape the summer swelter on this 18.5-mile loop through Appalachian foothills, which average 10 degrees cooler than the lowlands. "The terrain isn't
what you typically think of in South Carolina," Allison says. Wade into pools below 70-foot King Creek Falls, ascend above 3,000 feet on the Foothills Trail to
forest vistas, and find solitude (except wildlife like deer and turkeys) on the Fork Mountain portion through the 9,012-acre Ellicott Rock Wilderness. Camp at
Burrell's Ford to make it an overnight. Trip ID 1672381
"There's great trout fishing downstream of the hatchery."
Rapids Bridge Trail, Rock Creek Park, Washington, D.C.

Tony Linforth Washington, D.C.
This urban oasis offers sanctuary for deer, foxes, and even a family of barred owls. "Near dawn and dusk, you'll potentially hear the owls' 'Who cooks for you' call," Linforth says. Spotting tip: "If the crows seem agitated, that's a good indication the owls are
nearby." On this 2.7-mile loop (which you can extend for miles in either direction), get your best shot at seeing a fox along shaded Rock Creek; the trail
parallels the stream for roughly a mile. Trip ID 802431
"Just before you cross Ross Drive, keep an eye out for an obvious trench, a remnant of a Civil War-era Union rifle pit."