From the Field: BACKPACKER Trail Scouts' Top Western Local Hikes
From a panoramic hike above Sin City and Lake Mead to a slot canyon adventure in Utah, our scouts provide trail beta.
Heading out the door? Read this article on the new Outside+ app available now on iOS devices for members! Download the app.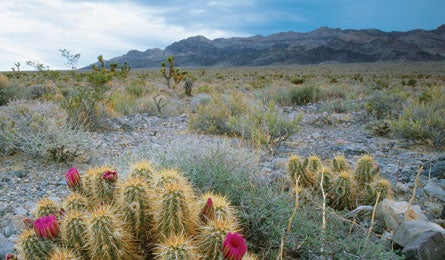 Hedgehog Cactus (Photo by Ed Calleart)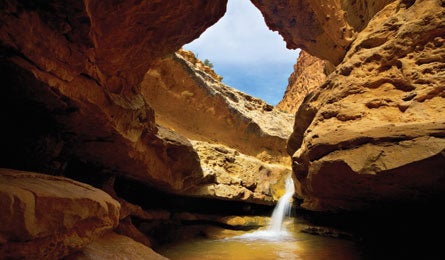 Sulphur Creek (Photo by Dave Cawley)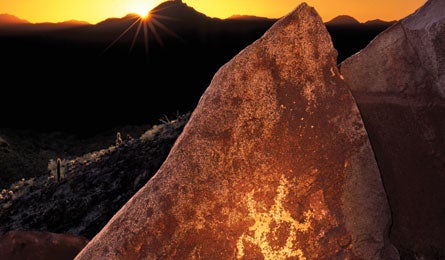 Hohokam Petroglyph (Photo by Frank Zullo)
Gass Peak, Desert National Wildlife Refuge, NV

Alan Gegax, Las Vegas, NV
Gain panoramic views of Lake Mead and Sin City on this seldom-traveled, 6.3-mile out-and-back to a 6,943-foot Sheep Range peak. Steadily climb 2,000 feet along arid ridgelines, watching for desert bighorn in the valley below. Pass intermittent Joshua trees and red-, purple-, and yellow-flowered barrel and hedgehog cacti (blooming in May) en route to the summit. Beware what Gegax calls "some of the most diabolical-looking cholla I've ever seen." Trip ID*54991"The contrast between views of untrammeled desert to the north and Las Vegas Valley to the south is amazing." Willow Creek, Sawtooth NF, ID

Katelyn and Don Watson, Boise, ID

Follow a creek through towering ponderosas to a secluded hot spring on this 7.8-mile out-and-back. You'll pass the springs—a chain of pools in a rock-strewn meadow—just before mile 1; take a dip on the way back. Climb steadily up the drainage, catching periodic glimpses of the Sawtooths and gaining 1,000 feet before the turnaround at Haypress Creek (3.9 miles). Return to the springs to soak in the +100°F, waist-deep water, keeping an eye out for elk that frequent the area. Trip ID47110

"Watch for marmots in rock piles near the start."
Sulphur Creek Route, Capitol Reef NP, UT

Lori Rome, Torrey, UTSnake through a slot canyon on this splashy 8.4-mile loop. From the Chimney Rock trailhead, follow a dry wash 1.5 miles toward Sulphur Creek. Hike southeast in the creek (it varies from ankle- to waist-deep and narrows to 6 feet wide at parts). Zigzag through the crooked Goosenecks section, where the rock walls soar 800 feet overhead, and scramble down three small waterfalls before popping out of the canyon near the visitor center. Hike or hitch 3 miles northwest on the park road back to your car. Trip ID34933

"Go in May or June before the monsoon season."

Embudo-Whitewash Loop, Sandia Mountain Wilderness, NM

Bill Velasquez, Albuquerque, NMTraverse the rocky ridges and seasonal streams of this 9.5-mile loop in May, after the snow has melted but before summer temps skyrocket. Ascend along an arroyo to 180-degree mountain and canyon views near mile 4. Continue to Oso Pass at mile 6. (Option: A 3-mile out-and-back spur climbs 1,200 feet to 9,782-foot South Sandia Peak.) Return to the trailhead on the ridgeline Whitewash Trail, with alternating views of 10,447-foot North Sandia Peak and panoramic city vistas to the south.Trip ID16919

"At mile 4.4, look east into the canyon to spot resident raptors, like red-tailed and sharp-shinned hawks."South Mountain Loop, South Mountain Park/Preserve, AZ

Erich Braun, Phoenix, AZ

Escape the city on this challenging 13.4-mile route just minutes from downtown Phoenix. Hiking east from the Holbert trailhead, look left immediately to spot Hohokam petroglyphs of mountain sheep etched into the desert varnish 100 feet above the trail (binocs recommended); watch for more on boulders near mile 1. At mile 2.9, follow a paved road a mile to 2,660-foot Gila Valley Lookout for sweeping downtown views. Pass marquee Sonoran species like saguaro cactus and elephant trees as you close the loop. Trip ID 34936"Look for foot-long chuckwalla lizards on rocky outcrops."