From the Field: BACKPACKER trail scouts' top Central local hikes
Try a 9-mile out-and-back in Ohio's Hemlock Gorge or hike through history in Per Marquette State Park or on the Saddle Rock Trail in Nebraska.
Heading out the door? Read this article on the new Outside+ app available now on iOS devices for members! Download the app.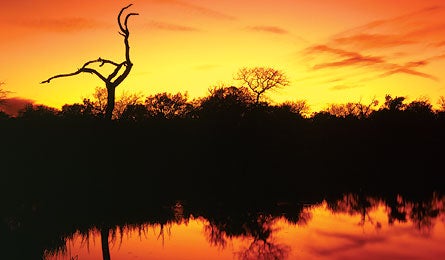 Moss Lake (Photo by Laurence Parent)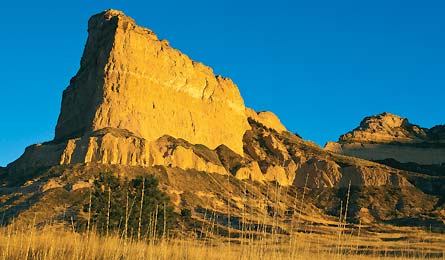 Eagle Rock (Photo by Chuck Haney)
Enchanted Rock Loop, Enchanted Rock SNA, TX

James Arno, Fredericksburg, TX
Scramble atop a 425-foot, 640-acre dome of pink granite on this 6.4-mile loop through boulder-strewn canyons and oak woodlands. The park's namesake batholith is "just the tip of the iceberg," Arno says. It's part of a granite complex that extends six miles underground. On warm afternoons, watch for turquoise collared lizards at the base of Enchanted Rock from miles four to six. At mile 5.5, turn left to ascend the dome, where fragile, rain-dependent vernal pools sustain centimeter-long fairy shrimp. Trip ID27508
"From the summit, get 20-mile views across Hill Country."
Saddle Rock Trail, Scotts Bluff NM, NE

Lesley Gaunt, Gering, NE
Ascend through 11 million years of geology on this 3.8-mile out-and-back to a sedimentary rock promontory that towers 800 feet above the Nebraska plains. "You get to see the sandstone, siltstone, and limestone layering close up," Gaunt says. Just past mile one, enter a 100-foot, 1930s-era tunnel. From the bluff's 4,659-foot summit, look west 100 miles (on a clear day) to 10,276-foot Laramie Peak. Combo with the .5-mile Mitchell Pass Trail (Trip ID399005) to follow the path of 19th-century Oregon Trail pioneers. Trip ID399003
"The whitish-gray layers in the rock are ash from ancient volcanoes as far away as Nevada."
Wilderness Trail, Meramec SP, MO

Brian Wilcox, Sullivan, MO
Soak up quintessential Ozark scenery and solitude on this nine-mile loop past shady hollows, spring-fed streams, and the free-flowing Meramec, one of the state's longest undammed waterways. Hike through an open oak-hickory forest to camp at one of three sites at mile 4.5. Day two, catch sunrise at mile five, overlooking the river valley. Close the circle past a handful of small glades, home to prairie grasses that turn golden in the autumn chill. Trip ID17035
"Centuries-old post oaks tend to grow twisting branches."
Hemlock Gorge to Lyons Falls, Mohican SP, OH

Mike Moore, Columbus, OH
On this nine-mile out-and-back, follow the Clear Fork of the Mohican River as it winds through a 200-foot-deep gorge. Cross the river via a 50-year-old covered bridge at mile 2.5, then continue a mile to the base of Big Lyons Falls, where the stream plummets 80 feet from a concave sandstone cliff. Visit trickling Little Lyons Falls at mile 4.6, then loop back from there. Option: Continue .5 mile to the Pleasant Hill dam, which offers the route's best view, up a reservoir. Trip ID 12341
"Start at the nature center to add two rugged miles."
Pere Marquette Loop, Pere Marquette SP, IL

Pam Warford, Grafton, IL
Hike past 2,000-year-old Native American burial mounds on this 3.5-mile loop through rugged southern Illinois. Exposed 20-foot limestone bluffs near the trailhead signal the Cap au Grés fault, the rift believed responsible for the Mississippi's abrupt eastward jog nearby. Watch some of the park's hundreds of overwintering bald eagles soar from 828-foot McAdams Peak (mile 1.2) and Twin Mounds (mile 1.4), where tribes once buried their dead. Pick up the Fern Hollow Trail at mile 2.2 to make a six-mile loop. Trip ID311935
"On very clear days, you can spot St. Louis' Gateway Arch."