Forest: Monroe Skyline, VT
This 15-mile section of the Long Trail traces the spine of Vermont's Green Mountains.
Heading out the door? Read this article on the new Outside+ app available now on iOS devices for members! Download the app.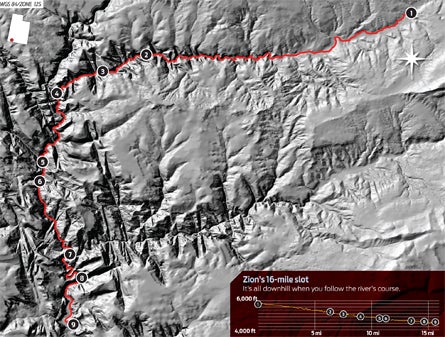 The 273-mile Long Trail tracing the spine of Vermont's Green Mountains has a well-deserved reputation for bringing the pain—to your quads. It shoots straight up and over peaks, instead of switchbacking. This 15-mile section—known as the Monroe Skyline—is a prime example. Expect 8,000 feet of ups and downs, challenging routefinding around blow-downs , hand-over-hand scrambles up steep granite slabs, and thin sidehill traverses. No pain, no gain, right? You'll enjoy wicked multistate views from the tips of the 'Dacks all the way down to the surface of Lake Champlain. The bald, 4,083-foot summit of Camel's Hump, which is this section's crux, features rare (for this latitude) alpine vegetation and a stone lodge for weary hikers. You'll also find pure solitude on seldom-traveled Mts. Ira Allen and Ethan Allen, and then finish up by descending one of the Long Trail's few long, rocky ridgewalks. INFO No permits required. (802) 244-5867; greenmountainclub.com. Trip data: backpacker.com/hikes/624358
1. App. Gap trailhead

0665313E 4897393N; mile 0

Leave VT 17 for a 560-foot chug up Baby Stark and Molly Stark Mountains.
2. Burnt Rock

0667934E 4903761N; mile 5.8

Scramble a granite ridge to the 3,168-foot summit of Burnt Rock Mountain. Descend fixed trail ladder over lichen-covered rock.
3. Mt. Ethan Allen

0668783E 4906690N; mile 7.9

Ogle the Worcester Mountains (east) and descend 900 vertical feet through mixed forest to Wind Gap.
4. Bypass

0668499E 4909460N; mile 9.9

In bad weather, take the yellow-blazed Alpine Trail to skip the exposed, rocky scramble under the Hump's south face.
5. Camel's Hump

0668550E 4909538N; mile 10.1

Rise out of trees into alpine terrain and gain the rocky summit to finish this 1,300-foot climb in 1.4 miles . It's all downhill to Duxbury Road.
6. Hikers lodge

0668610E 4909811N; mile 10.3

Stay in a rebuilt 19th-century mountain lodge (May to October, $5/night; November to April, free). The trail then dives 1,500 feet along Banforth Ridge. [Ed. note: We've since learned that this lodge no longer exists. Apologies for any confusion.]
7. Gleason Brook

0669224E 4914277N; mile 14.3

Descend through a wide drainage and cross a footbridge before polishing off the seven-mile descent to Duxbury Road.
Tree Time

Find more forest hikes.