First Night Out: Views
Three hikes with spectacular views
Heading out the door? Read this article on the new Outside+ app available now on iOS devices for members! Download the app.
Upper Green River Lake (Jeff Diener)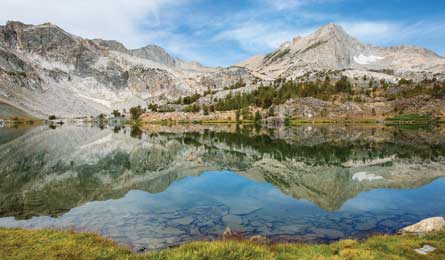 Greenstone Lake (Dave Miller)
Hoover Wilderness, CA

Saddlebag Lake Loop
Fair warning: Making this hike through a High Sierra alpine paradise your first overnight is like learning to drive in a Ferrari—you'll be forever spoiled for anything less than the very best. The 20 Lakes Basin, just east of Yosemite in the Inyo National Forest, boasts soaring granite fins, steep talus, sparkling sapphire lakes, and rainbow-hued bursts of columbine, all accessible via a beginner-friendly, 8-mile loop. From the trailhead on the shore of Saddlebag Lake, gain just 300 feet in elevation as you delve into the basin, passing cliff-cradled Greenstone Lake at mile 2. Near mile 3, select one of the established sites along Wasco Lake (at least 100 feet from the water) for the best wake-up of your life: a view of morning sun on 12,590-foot Mt. Conness and 12,242-foot North Peak looming above the surreal, rocky expanse. On day two, wind past a string of glittering tarns—Steelhead, Shamrock, and Hummingbird Lakes among them—and nameless pools to close the loop on the northwest side of Saddlebag Lake.
Go Late summer and early fall Get there From Mammoth Lakes, take US 395 north; turn left on CA 120. Turn right on Saddlebag Lake Rd. and go 2.5 miles. Permit Required; free Map Trails Illustrated Yosemite NE Tuolumne Meadows & Hoover Wilderness ($10, natgeomaps.com) Contact fs.usda.gov/inyoTrip ID*17038

High Peaks Wilderness, NY

Van Hoevenberg Trail



Mellow hikes are hard to find in the High Peaks: The terrain is so rugged even the soil has a hard time holding on (look for the bald scars left behind when torrential rains trigger slides on the peaks' rocky faces). The route to Marcy Dam is an exception, combining a nearly flat trail with the mountain views that make this region a backpacker favorite. Meander through mature stands of red pine and yellow birch, paralleling MacIntyre Brook for part of the 2.2-mile trek to the pond at Marcy Dam. From there, three peaks—slide-striped, 4,715-foot Mt. Colden, 3,832-foot Avalanche Mountain, and 4,580-foot Wright Peak—frame a 180-degree panorama. Choose from one of four lean-tos and 20 campsites around the pond; the middle lean-to on the west affords the best mountain view.

Go Late September/early October for fall colors Get there From Keene, take NY 73 west 10.9 miles to a left on Adirondack Loj Rd. Follow 4.4 miles to park at Adirondack Loj ($10/day). Permit None required Map Trails Illustrated Adirondack Park Lake Placid/High Peaks ($12, natgeomaps .com) Contactadk.orgTrip ID17038


Yellowstone National Park, WY

Ribbon Lake



You could spend a lifetime exploring Yellowstone's vast stretches of untouched wilderness—and you'll want to after this marquee trip along the brink of a 1,000-foot gorge. Some of the park's most dramatic views belong to the central Canyon district, where the Yellowstone River slices through a chasm of yellowish volcanic rock. Most see the Grand Canyon of the Yellowstone from a handful of drive-to overlooks, but this 4.8-mile out-and-back is your ticket to a private sunset show along the canyon rim. From Artist Point's vista of 308-foot Lower Falls, follow the rim .5 mile east to join the Clear Lake-Ribbon Lake Trail and enter a lodgepole forest where elk and bison roam. The trail climbs 200 feet to two campsites at Ribbon Lake. From the streamside site on the north side, hike a couple of hundred yards to the edge of the canyon and peer from the top of 1,000-foot Silver Cord Cascade. Linger here to watch the fading rays ignite the canyon with a golden glow.



Go July/August for snow-free trails Get there From Gardiner, MT, take US 89 south 5.5 miles; go left on Grand Loop Rd. Follow it 38.7 miles to South Rim Dr.; turn left for Artist Point. Permit Required; free Map BACKPACKER PRO Map Mt. Washburn via Dunraven Pass Trailhead ($20, backpacker .com/promaps) Contactnps.gov/yellTrip ID333325


Wind River Range, WY

Upper Green River Lake
The remote, rugged, and remarkable Winds have a rep as an experts-only destination. But this sweet campsite requires just a two-hour hike along a mostly level trail. Kick back lakeside and enjoy the views, or explore nearby alpine terrain like Squaretop Mountain. get there At Cora on US 191 north of Pinedale, turn right on WY 352. Go about 40 miles; the road dead-ends at the Green River Lakes Campground and trailhead. Permit None required Map Earthwalk Press Northern Wind River Range ($10, onmimap.com) Contactfs.usda.gov/btnf