The Ecosystem of a Family Camping Trip
Like nature, it's all too easy to throw a road trip with the kids off-balance.
Heading out the door? Read this article on the new Outside+ app available now on iOS devices for members! Download the app.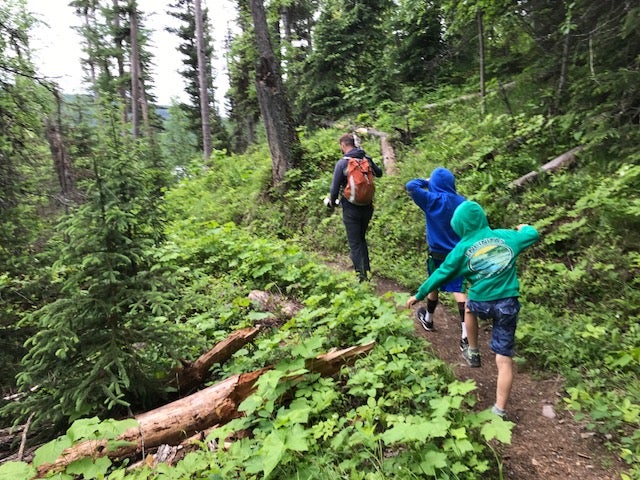 Park rangers have become invaluable resources to us on this trip, advising us on the quietest campgrounds, the weather, what hikes would be best for our family and what not. These cheery, knowledgeable people in hats have been nothing but helpful and informative.
In Grand Teton National Park, we joined a park ranger for a guided hike to Phelps Lake. Ranger Sarah pointed out an osprey nest, told us about impact that the Rockefeller family has had on the area, and told us to look for black bears up in the trees (and not just on the ground).
Sarah also introduced us to a new game. She had each of us choose an animal or plant from her stack of laminated cards. Once we had chosen, she took out a small ball of yarn, and asked each of us to say a fact about the organisms we had chosen.
Ranger Sarah, who had picked a chipmunk, started by explaining that chipmunks like to hide in snowberry bushes, and stretched her piece of yarn to my husband, who held a picture of said bush. My husband then passed me the yarn, saying that my animal (a grizzly) ate snowberries. Once everyone had gone and was holding onto the yarn, Sarah asked my six-year-old, Ben, to pull on it. We all started to lose our balance. Sarah's point: If one organism pulls too hard on the web of life, the whole ecosystem begins to teeter.
As we're into the middle of our second week driving across northern Colorado, Wyoming and Montana in a Toyota 4Runner and Thule rooftop box packed to the gills, my husband and I are realizing that the ecosystem of a vehicle on a long road trip is delicate like nature's.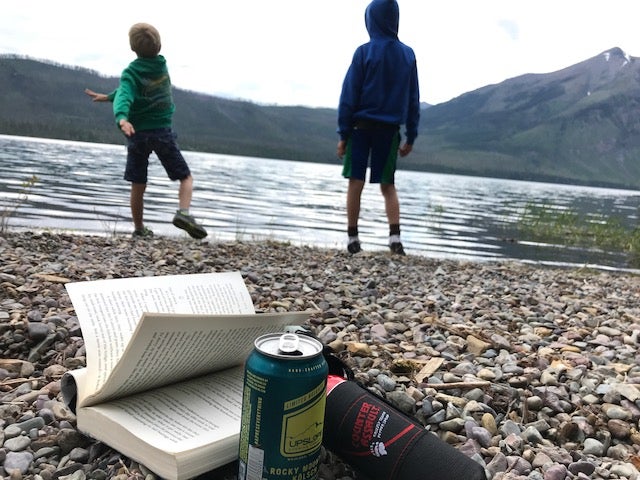 We've got a front seat biome—me with the maps and snacks riding shotgun, the bear spray, bug spray and sunblock at my feet; my husband driving, with water bottles, lip balms, sunglasses at the ready. Between us is the First Aid kit, our wallets and, most importantly, the control of the music.
We've also got a backseat biome—Sam and Ben in their seats, toy and book-laden backpacks wedged between them, clothing bags at their feet, pajamas, and tooth-brushing kits in the seatback pockets directly in front of them. The kiddo ecosystem is rather complex (and can be very messy). Then there's the gear storage biome in the way back of the truck, which scientists are still struggling to understand.
When something goes missing—like when Sam's toothbrush was nowhere to be found as we got ready for bed in the Sprague Creek campground of Glacier National Park, there's a strain on the ecosystem. Suddenly, not only could he not brush his teeth (gross), but Ben threw a fit that Sam didn't have to and that he shouldn't have to either…And I got all irritated that the toothbrush was missing and that Ben was revolting, so I was short with everyone. We solved that one by having Sam brush his teeth with toothpaste on his finger and Ben realizing his situation was better. (And by me cracking a beer.)
We've also realized more about our own personal habitats, and what our roles are within the family ecosystem. I've made it my job to make a fire every night without using fire starter, and though I burned through more matches last night than I care to admit (wet wood!), I have yet to use the fire-starter.
My husband's habitat is at the camp stove, making the majority of our breakfasts and dinners and doing the camp dishes (bless him). When we roll into a new campsite, I set up the tent, and he prepares the sleeping pads and the camp kitchen. When we pack up camp for the next location, he packs up most of the gear, and I do the Tetris game that is packing up the truck.
If he encroaches on my campfire/tent set up/car packing and I encroach on his cooking/camp set up/camp breakdown, we get territorial with each other.
Like the ranger's example with the ball of yarn, if we respect each other's roles and keep the biomes intact—both in the car ecosystem and in our personal habitats—we'll stay pretty well in balance.
Lesson learned: A road trip is its own kind of wilderness.