Experience Dogsledding: Mush!
You don't need to tackle the Iditarod to enjoy this fast and fun winter adventure.
Heading out the door? Read this article on the new Outside+ app available now on iOS devices for members! Download the app.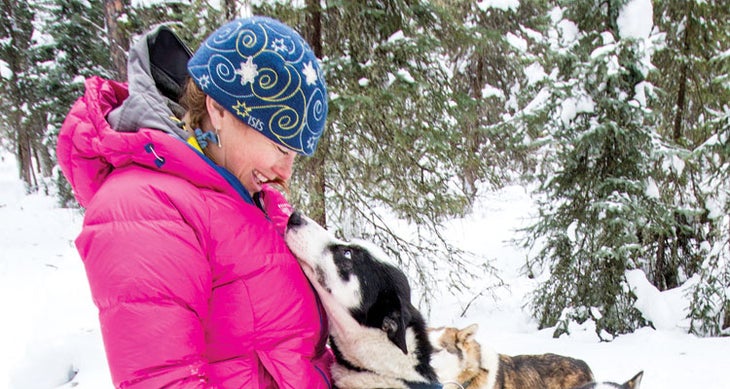 The author greets a member of her team. (Eric Lindberg)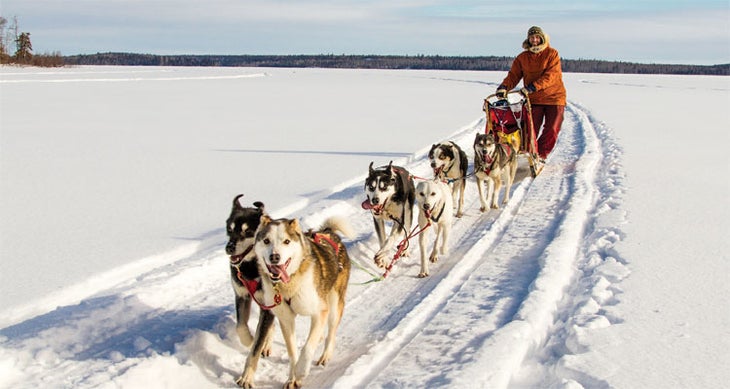 The order is no mistake. Each dog is given his place based on aptitude, leadership, and ability to get along with other team members. (Eric Lindberg)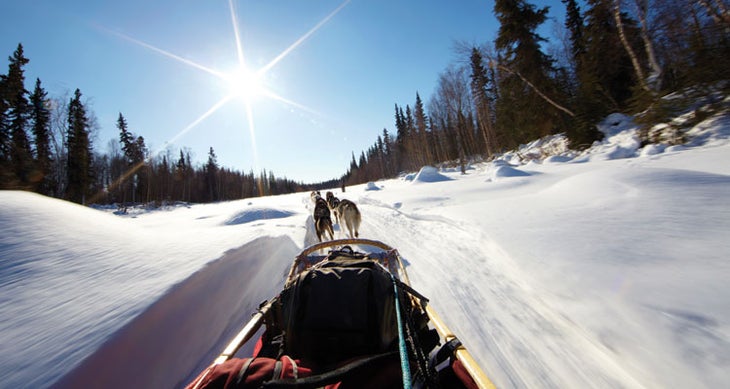 Any flat, open terrain makes for primo dogsledding. (Photo by Chris McLennan)
With one mittened hand death-gripping the handle bar, I lift the metal hook that tethers me to the snow. And we're off, chasing our instructor's sled down the snowy embankment onto the frozen, oceanic expanse of Saskatchewan's Churchill River.
It's a crisp February day in the 20s but who can focus on that? The team of four high-energy husky-mutts surges and pulls like a carnival ride. Once we've careened down the bank and we're on the flat expanse of the lake, I relax my grip. All this animal energy is a lot to control, but I'm figuring it out. There's no use in try to command the team into compliance. Steering the sled is more like hitching a ride on a primal force, like surfing an almost too-powerful wave.
It's an important realization on the first day of my three-day intro to the old ways of Saskatchewan trappers. Dogsledding was how they traveled across this icy landscape, and, I'll admit, it was the part of trapper heritage I was most excited to learn. I let forth a whoop, urging on my teammates—Baxter, Cilo, Domino, and Cheerio—as they dig their paws into the packed snowmobile track.
It goes like this for four hours, until the setting sun paints the snow in pastels and we make camp on a small prow of land overlooking the frozen water. Cold, blue twilight sneaks toward us as we erect a wall tent, and, like the trappers of old, line the floor with green pine boughs and caribou hides to insulate against the cold. We begin feeding the fire that will keep us warm throughout the night. (Aside: I'm a Leave No Trace Master and much of this makes me cringe, but back-in-the-day trappers didn't have a need for LNT and it turns out the instructor doesn't think we do, either.)
Our shelter—a tall canvas tent, the kind typically used in big hunting camps—is a toasty reprieve from the 15°F chill that has set in. A few of the older, calmer dogs have snuck under the bottom of the tent and nestle amongst the sleeping bags lying in wait at the back of the tent, while we warm our hands and feet by the fire. In the middle of the night, I roll over and find two of them by my side. In the dark, they make an anonymous pile of fur quietly curled up next to me like hot water bottles. At daybreak, we set pans of kibble in the snow for them, break down camp, and pack it into the sleds. Then, the switch: As soon as the dogs see the webbing, they know it's sledding time. We replace their fleecy jackets with harnesses, unfurling the leads and clipping in each point, careful not to tangle the lines. It's not easy, given the dogs' energy. At the first sight of the harness, they transform from quiet little bed warmers to a riotous ball of barking and excitement.
Today's agenda: Build our skills from going straight on wide-open snow to technical maneuvering in tight terrain. I rocket along with birches whizzing by my face. A large root jutting into the trail catches me by surprise. I don't commit enough to leaning the sled away from it and clip the root, causing an abrupt change in direction that pulls the sled onto its side, flinging me onto the ground. That's one. By the end of the day I've rolled my sled twice more and rammed it into a tree once. The instructor is annoyed, muttering something about how she'll have to bend the runner back into place, but the dogs are still all toothy grins and wagging tails. Any moment they're attached to the sled is the best moment of their lives, as far as I can tell.
Dogsledding is hard—no surprise, I endure a few lumps trying to learn how to do it. And like figuring out any new thing, trial and error is how it goes. But I also experience enough heady moments bouncing over little hills, dancing on the skids, and flying fast over rolling winter terrain to make the learning curve worthwhile. But you've got to stay focused. I'm daydreaming about how dog travel could enhance my winter when we snake around a tight corner and I'm thrown face down into the snow. Again.
"Whoa! Whoa!" I shout toward the team, but it's no use, they're moving like gangbusters—like my dog at home chasing a squirrel. Even though I've got snow caked on my face and packed into my nostrils, I'm convulsing with laughter. Like the dogs already know, even the hard parts are fun.
________joring
Take your dog for a ride.
"Joring" is a Scandinavian term that means being pulled by something while on skis. The sport has evolved beyond skis, but hook your dog up to a cheap sled—too dangerous!
Bikejoring
Slip your dog into a harness (the kind with the clip between the shoulders), attach a 6-foot lead, and hold it (never attach it to yourself or your bike). Start slow in open terrain.
Skijoring
Skijoring Strap on Nordic skis, slip your dog into a harness, and attach his 8-foot leash (you'll need the extra clearance) to your belt. Head onto trails devoid of trees, ice, or other hazards.
Walkjoring
Walkjoring This is not a real thing, but feel free to toss the term around to passersby giving you the side eye when you slip and fall while walking your dog in the snow.
[Tips]
Prep your pooch
Expert advice from Don Kiely of alaskaskijoring.org
Train up. Some dogs naturally want to pull. If yours doesn't, put him on leash, have a friend stand in front of him and call him while you introduce commands like "Pull." Reward him with food.
Mind the paws. Check for splits or cracks every half hour.