Everest Confidential: Trekking Through Nepal's Khumbu Region
See the Himalayan giants--and cross three passes more than 17,000 feet high--on this off-the-radar route through the Khumbu region.
Heading out the door? Read this article on the new Outside+ app available now on iOS devices for members! Download the app.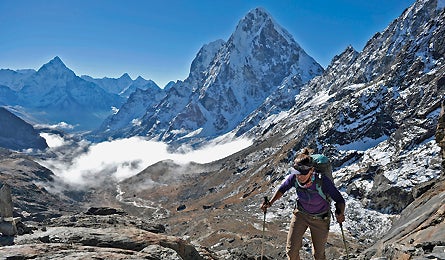 Leah climbing Cho La (Hage Photo)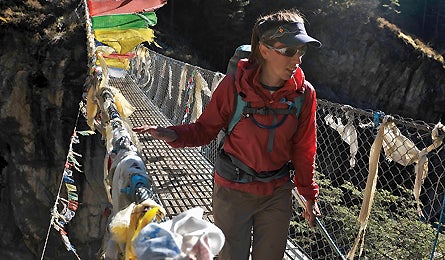 Suspension bridge Over Dudh Kosi (Hage Photo)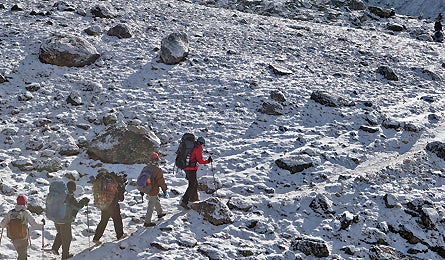 Climbing Cho La (Hage Photo)
Be careful what you wish for.
The cliché echoes in my head as I stare numbly at the bushes and boulders receding in the distance. My partner Leah Gallant and I are one week into a month-long circuit of the Everest region of Nepal, stopped dead in our tracks at 14,000 feet in an isolated valley close to the Tibetan border. The trail, which has grown progressively more indistinct and narrow over the last four hours, has finally vanished into a web of animal paths that fade in the brush. Around us, arid foothills fold up into craggy peaks of neck-straining scale. The irony is painfully obvious: We've come in search of something most trekkers in the Khumbu never experience—something akin to raw wilderness—and we're getting more than we bargained for.
It's an unheard-of problem elsewhere in the Everest area, where the well-trod trails are as wide as a highway lane, worn by centuries of yak trains and four decades of trekker traffic. Not here. After two days of hiking up the Bhote Kosi valley, on the western side of Sagarmatha National Park, we've strayed far enough from the high-use areas that the route forward is too faint to follow. I know we can ask for help, but that seems almost as bad as getting lost. Leah has no such reservations.
"Let's wait for Dawa," she says. Dawa is our porter. A porter I didn't want to hire. A porter I'm still not sure I want. It feels like cheating. Plus, our communication strains the limits of my Nepali phrase book, and it seems that regardless of the question, Dawa's answer is always a big grin and the same words, "Yeah, yeah, no problem." I'm not even sure he's ever traveled this route.
It's getting late, and clouds are beginning to gather around the peaks. Somewhere in the valley ahead of us is Lungde, the last tiny hamlet that offers shelter, a safe haven where we can sleep before heading over the 17,500-foot pass beyond. We're not facing a crisis, exactly, but it's not the kind of place to be wandering around in the dark, in subfreezing weather, without a tent or stove.
Just then, Dawa catches sight of us and calls out from down the hill.
"Sister! Justin! This way," Dawa says, stomping through the knee-high underbrush with Leah's pack.
"Are you sure, Dawa?" I ask.
"Yeah, yeah, no problem."
The Three Passes trek is the grand tour of the Everest region, a three- to four-week circuit that hits the highlights on every backpacker's checklist—Everest Base Camp, Ama Dablam, Buddhist monasteries, stone villages, yak trains, prayer wheels, and swaying suspension bridges festooned with prayer flags—but also loops well away from the usual trade routes, so you get the iconic sights as well as quiet villages and remote backcountry few trekkers see.
The 80-mile journey starts at Lukla, just like the main route to Everest, but after three days the trail breaks away, crossing over three big passes—Renjo La, Cho La, and Kongma La—each more than 17,000 feet high. In between, you trek up the four main valleys below Everest, Cho Oyu, Lhotse, and other giants along the Chinese border. Every few miles, the route passes villages where you can usually get a cheap bed and a steaming plate of fried noodles or dumplings. But the trails going over the passes between the valleys are steep, high, and wild.
For Leah and I, seeing the Himalayas up close was at the top of both of our life-lists. We finally quit postponing it, cashed in a decade of frequent-flier miles, and began planning a DIY trip. We're both experienced backpackers and travelers, and I'd done enough research to feel confident about going without a guide. The idea of having a third wheel tagging along for a month, toting our stuff like some kind of mountain bellhop, seemed absurd. Plus, we're both fascinated by Tibetan Buddhism, and we wanted to see how isolation and the tight-knit culture of the Sherpas had helped preserve ancient traditions. We felt we'd have the best shot of crossing the cultural divide as independent travelers.
But in the final week before the trip, we faced a minor travel catastrophe. Leah had an old, painful knee condition suddenly flare up, and was limping around the house even without a 35-pound pack on her back. It was clear we'd need some help after all.
Which is how I make the acquaintance, reluctantly, of Dawa Sherpa, a 24-year-old porter (and default guide), on day one. When he shows up at our lodge in Lukla, he doesn't look like much of a guide. He's wearing a threadbare white cotton T-shirt, a UV-bleached head wrap, and an old nylon jacket that looks like it has spent a few years on a highway median in Los Angeles. For the month we'll spend on the trail, Dawa packs all of his things—two pairs of thin cotton dress socks, a knock-off Millet jacket, 80s-era ski gloves, and a battered Thermos—in an ancient schoolboy's backpack re-stitched at every seam.
Our plan is to hike a loop with some 30,000 feet of climbing over about 130 miles, with all the side trips factored in. Dawa looks like he's ready for a day of gardening.
The first leg of the Three Passes trek winds up the Dudh Kosi valley through terraced foothills and riverside villages. In early April, the apple trees, dogwood, and rhododendron are in full bloom. Prayer flags hang from the eaves of houses, draped to nearby fir trees. Stupas (dome-shaped Buddhist shrines), prayer wheels, and long stacks of mani stone tablets etched with the Buddhist mantra, om mani padme hum, dot the trail.
At Namche Bazaar, the trading center of the Khumbu region, the Three Passes route branches off into the quiet, arid Bhote Kosi valley. We climb gradually to Thame, the boyhood home of Tenzing Norgay and Apa Sherpa (who later in the season climbs Everest for a record 21st time). Despite the smattering of lodges, the town feels untouched by time or outsiders; its potato fields and grazing yak and dzo (yak/cow hybrid) herds and slate-roofed stone houses probably looked no different 200 years ago. We're the only foreigners at the 344-year-old monastery above the village, set into the side of Sumdur Peak with a breathtaking view down the valley. In the dim prayer hall, the walls are painted with rich and lurid scenes from Buddhist lore. In the stone yard out front, a monk dances and sways across the yard with a young boy on his feet. Another shows us a steel oxygen bottle stamped with the year 1953, which the monks use as a dinner gong.
The next day, Dawa saves us from our temporary bushwhacking session on the way to Lungde. He knows the way, it turns out, and I can't deny I'm relieved to be in a warm teahouse rather than out wandering in the cold and dark. After a fitful sleep at what amounts to camping atop a Fourteener, we get up at first light and eat a double breakfast of omelets and fried rice to prep for our first big pass: 17,500-foot Renjo La. It's only a seven-mile, 3,300-foot day—a piece of cake closer to sea level, but a thousand feet below the top, the altitude kicks in. The 50 pounds in my pack feel like 100.
By the time we crest the rocky, prayer-flag-draped pass, clouds have descended on the peaks above us, and the skyline I've seen pictures of—Everest, perfectly framed above the turquoise Gokyo Lake, over a sawtooth range of giants like Cholatse and Taboche—is lost in the milk. We're in no condition to linger anyway. Leah feels like there's a nail in her forehead. My head is stuffed with cotton. Even Dawa looks a little glazed. We stumble down the crumbling trail to 15,582-foot Gokyo, overlooking the frozen glacial lake, and spend the night slurping garlic soup (some say it helps with altitude) and black tea in a lodge warmed by a yak-dung stove.
The high village is perched in a magnificent setting, and we decide to spend a few days here. On a cloudy afternoon, we sit by the edge of the Ngozumpa Glacier, listening to it crack and grumble, stones tumbling down its retreating flanks. When the skies clear, we take side trips to high vistas—catching sunrise on the way up to the 17,519-foot overlook of Gokyo Peak, where we meet one of the local lodge owners stringing a line of prayer flags in the rocks. I ask him how often he comes up here. "Every day," he responds, beaming proudly. Every day? I repeat, skeptically. We're 2,000 feet above town. "Every morning," he insists. He and a friend jump between rocks, stringing up the five-colored flags. Behind him, dozens and dozens of lines of old, fading flags snake away along the ridge, frosted with rime in the 25°F morning air.
The next morning, Dawa takes us on a side trip up the Gokyo valley. We walk several miles along the glacier toward the enormous crystal pyramid of Cho Oyu, the world's sixth highest peak, and then veer off the trail, sidehilling for a couple of hours up faint yak paths to a stunning surprise: a private view of Everest. The cloud-caped pyramid looks like a black shark fin above the fluted peaks around it. Most of the Everest overlooks around the Khumbu are jammed with snapshot-mad trekkers. We sit by ourselves and watch the clouds swirling around the summit.
My misgivings about hiring a porter have been eroding, and the spectacular, private view eliminates any shred of doubt. We might have managed to follow the Three Passes route with some trial and error, but we never would have found our way here. And knowing the right trails and secret overlooks are just two of the ways Dawa keeps adding to our trip. His help is not only practical, like catching snippets of gossip as we hike, thus learning that a big commercial group is up ahead and rooms are short. But it's also meaningful, like when he bridges the cultural gap, breaking the ice with monks and locals we meet along the trail. He gently corrects my cross-cultural faux paux—like asking a young Nepali woman porter how much her load weighs (a social no-no that made her blush with embarrassment).
Knowing my interest in Tibetan Buddhism, Dawa gets me an invite to watch the private prayer ceremony of the family running one of the lodges we stay in. I enter a room with an elaborate Buddhist shrine—an intricately painted wall of drawers and cubbies anchored by a Buddha and 14 silver bowls of water. The air is filled with the smoke of smoldering juniper branches and incense. I watch a young woman perform a ritual refilling of the water bowls, and make an offering of incense in an ornate copper censer. She bows and prostrates several times in a way that's both casual and elaborate. I ask her how often she performs the ceremony, and should have expected the reply: "Every morning."
Dawa thinks my interest in Buddhism is funny, and starts calling me "lama," Tibetan for priest, and cracks himself up—flashing his broad, gap-toothed smile—every time he says it. But he isn't without faith. Dawa passes every stupa and mani stone pile to the left in a sign of respect, even when he has to walk well out of his way to do so, and after a few days I find myself following his example, even when he isn't around.
Twelve days in, we hit the second of the three passes, Cho La. From the village of Tagnak at 15,400 feet, the trail snakes toward a wall of snow-dusted peaks for about three miles before switchbacking through some steep, slick granite slabs and cresting the top at 17,782-feet. Unlike the first pass, we're not alone on top: Porters and trekkers from commercial groups have converged at the same time. We don't linger. Dawa borrows a rope from one of the porters and tosses it down a 10-foot, ice-glazed section of rocks. We ease down the slick ramp. The descent begins on the flat swale of a small glacier, then drops alongside the unbelievably sheer and monstrous north face of Cholatse. We spend the next few hours hiking along a perfect U-shaped glacial valley before intersecting the main trade route to Everest Base Camp and turning north toward Lobuche.
The detour to Everest Base Camp falls about midway around the Three Passes route, and it's here we get our first hint of the trekker traffic ahead. We hear through Dawa's Sherpa grapevine that there's almost no vacancy in the next towns, and we race to beat a large group of Russians. We score beds, but the lodges here feel more like crowded huts in the Alps. Anyone who had hoped for a quiet peek at Sherpa culture might as well have Googled it.
But crowds be damned, there's no denying the pull of Everest—or the magnificent scenery along the way. Legendary peaks rise on each side—Cholatse, Nuptse, Pumori. At Everest Base Camp, the Khumbu Icefall's aquamarine carnage pours 2,000 feet off the Western Cwm (pronounced coom). Early one morning, we join the string of headlamps ascending 18,192-foot Kala Patar, a hill about 1,000 feet above the last lodges at Gorak Shep, to catch the sunrise over Everest and Nuptse, and the first light on the enormous white cone of Pumori.
At sunrise, a large, pushy crowd collects on the craggy summit. Dawa grabs my camera and takes the initiative to crop everyone else out of the frame by swinging out toward a precipice, stemming with his bald tread near a sheer drop. "That's OK, Dawa. That's good. Thanks buddy," I say, trying to coax him off the edge.
"Yeah, yeah, no problem," he says, leaning back farther and snapping away. I have to smile. By this point, I can't imagine doing the trek without Dawa.
At 18,150 feet high, Kongma La is the highest of our three passes, and the only one that can be bypassed in a pinch without adding much time to the trip (in a day you can walk around to Chukkung). We stop in the thin air of the pass and gaze at Makalu, Baruntse, and a fluted wall along the shoulder of Ama Dablam called Peak 6430 that looks like a colossal dorsal fin.
We can also see Island Peak. Almost anywhere else on the planet, the 20,275-foot mountain would be a giant. Here, it's just a glacier-capped bump that sits at the head of the valley. But what a bump. It's the easiest of several minor "trekking" peaks in the area, and beginners do it after an afternoon of training with a guide. I'm keen to give it a try. Fabrizio Zangrilli and Kinga Baranowska, two pro climbers on an acclimatization jaunt before an attempt on Makalu, offer to let me tag along. I rent some 1980s-era mountaineering boots and crampons, and a harness with a disturbingly threadbare belay loop.
At sunrise, we're zigzagging up the steep, rocky trail, and soon snaking between crevasses on the glacier. Then we slowly ascend a 200-foot fixed line to the summit ridge. I'm woozy and weak, at an altitude just a few hundred feet below Mt. McKinley, and feel dangerously clumsy as I sway up the knife-edge ridge. From the summit, the 10,000-foot south wall of Lhotse soars another vertical mile above us, and a daytime moon sets over Ama Dablam.
On the way down, as tired as I've ever been, I'm surprised to run into Dawa, who has hiked the 4.5 miles from Chukkung and halfway up the rocky slopes, just to offer help. Stumbling with exhaustion, I couldn't be happier to see him. My pack doesn't weigh much, but that's not really the point. By now we've spent nearly a month together, and it's like meeting a friend on the trail. And who refuses help from a friend?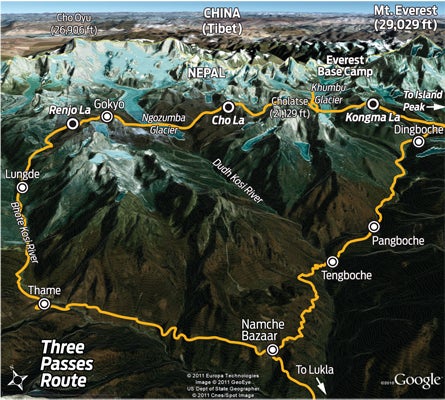 Justin Nyberg is a freelance writer based in Albuquerque, New Mexico, and now has a dog named Khumbu.