The Yellowstone Floods Weren't "Once-in-a-Lifetime." They're Backpacking's New Normal.
When a massive flood wrecked the Yellowstone area—and derailed her backpacking plans—Maggie Slepian had to contend with the ways the changing climate is already affecting hiking's most storied spaces.
Photo: NPS Handout via Getty
Heading out the door? Read this article on the new Outside+ app available now on iOS devices for members! Download the app.
Hiking isn't just a hobby—it's a lifestyle. Maggie Slepian tackles the hiking life—and all of the joys, problems, arguments, and weird quirks that go along with it—in her column.
As often happens in the summer months, I was in the mountains when Something Big happened. As I got back into service from the Tetons, I received a flurry of texts from a friend who was supposed to meet me in Montana for a Yellowstone backpacking trip.
Instead, he sent a picture of a demolished bridge with a blown-out river surging underneath. 
"That bad over there?" he asked. Then more messages started pinging in from my cohort of outdoorsy friends scattered across the country. 
"Heard about the flooding in Yellowstone!"
"What's going on with your backpacking trip?" 
"Did you guys get hit with the floods?"
While I'd been gone, several rivers—bloated from a rapidly melting late-season snowpack and unusually heavy rain—had blown their banks, flooding towns and valleys. The park was closed, bridges were washed out, multiple homes had crumbled into rivers, and hikers were being evacuated from the backcountry. 
My friends and I had spent spring complaining about the rain while being cautiously hopeful that increased precipitation could mean a less extreme fire season. Then, because we can't have nice things, the rivers flooded. This canceled trip made me think back to last summer's relocated trip up Mt. Whitney (smoke), a canceled Oregon backpacking trip (fires), and a truncated bike route last fall (drought). The floods were just another "unprecedented" natural disaster.
Backpacking is contingent on seasonal conditions, so it makes sense that ours is one of the first outdoor activities to be impacted by extreme conditions, weather events, and a changing climate. Like thru-hiking in the age of wildfires, simply planning trips at this stage of climate change is rife with complications and uncertainties.
Obviously other people had it much harder. Over the next few days I waded across the flooded streets in Red Lodge and drove with a friend to Absorkee to retrieve horses from the flood zone. I helped clean porches and yards of local businesses, and consulted with a hiking group trying to reconfigure its Yellowstone trips.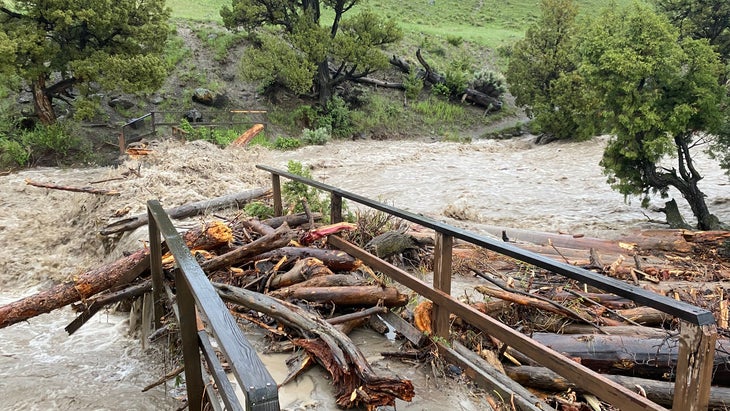 Once the floodwaters receded, Yellowstone began to reopen and restoration is slowly underway. But it's safe to say that unusual snowpack patterns and high water levels will continue to impact backcountry travel in the future.
A few weeks after the floods, a friend and I headed into Idaho's Sawtooths, an area that had also experienced late-season snow and a rainy spring. We had planned to complete the 70-mile Sawtooth Wilderness Loop, but the wet spring meant that the route—which would have likely been clear in a normal year—was checkered with hazards every few miles. We clambered over massive downed trees, encountered snowpack 1,000 feet lower than we expected, and struggled across some of the diciest water crossings I've ever seen. 
As new natural disasters unfold, they are often heralded as unprecedented, unimaginable, or even once-in-a-lifetime. But each season I find myself messaging friends in various mountain towns and different climates, all impacted by a range of disasters. Some are extreme, some more slow-burning. I have pictures from my buddy in Tahoe of a sepia-toned sky, trails of smoke visible through the trees. An article from a friend outside Vegas talking about Lake Mead's historic low water.
Our conversations increasingly revolve around low water tables, disappearing snowpack, extreme fire seasons, and whiplash-inducing temperature fluctuations. Most of my friends, scattered across the country, have endured extreme weather or a natural disaster in the last few years. With the Yellowstone floods, my part of the country became the headline until the next "thousand-year disaster" takes its place. 
My hiking partner and I decided to cut off the passes on the Sawtooth loop. Our nerves were too frayed by the water crossings to deal with variable pass conditions. The adjusted route still took us through miles of snow to crystal alpine lakes surrounded by snow-streaked cliffs, and we marveled at the drama and power of the natural world. 
As backpackers, our choice of recreation puts us deep in the backcountry, but even there—especially there—there's no escaping the changes our planet is undergoing. The season for high-elevation trips out west is already limited, with an ever-narrowing window thanks to unpredictable precipitation, floods, and fires. Sometimes conditions work out, sometimes they dictate a change of route or timing, and sometimes we have to bag the whole thing. Each year it seems like we change our plans more and more.
As my friend and I crested the final hill before beginning our descent, we stopped to admire the jagged spine of the Sawtooths framed perfectly against a cloudless blue sky. 
"Pretty amazing we can still see blue sky at this point in the summer," she said. I agreed, and we took picture after picture, knowing that nothing could do the view justice.
I thought about the months I've gone each summer without seeing blue sky, smoke hanging low and claustrophobic as fires rage across the west. For now, I'm grateful—despite high waters and waist-deep post holes and flooded valleys—we can still enjoy it.