Have You Lit Your Last Campfire?
Campfires used to be a ubiquitous part of the outdoors; thanks to wildfire risk, they're getting rarer and rarer. Could we see the day where they're a thing of the past?
---
Join Backpacker
Create a personalized feed and bookmark your favorites.
Join Backpacker
Create a personalized feed and bookmark your favorites.
Join for free
Heading out the door? Read this article on the new Outside+ app available now on iOS devices for members! Download the app.
Hiking isn't just a hobby—it's a lifestyle. Maggie Slepian tackles the hiking life—and all of the joys, problems, arguments, and weird quirks that go along with it—in her column.
I've rarely had success building a campfire from scratch. If this is a knock against my outdoors skills, so be it. Even when my job involved making a nightly campfire for crowds of tourists, I'd sneak cans of firestarter to the pit, dousing cardboard and wood until it caught. 
There was always someone else better at starting fires, so I never really had to learn. Occasionally I'd give it a half-hearted try. I'd build up a tinder pile, collecting the sticks and twigs in varying sizes, blowing on the baby embers. But I'd almost never get anything to catch. 
We are drawn to campfires, instinctively seeking out their light, warmth, and protection. Fire keeps the dark and cold at bay, and it's also just something to look at. You don't need to talk: the crackle of flames and occasional spray of embers as a log collapses fill the silence naturally. Anyone who has sat around a campfire—either alone or in a group—will understand when I say I find them mesmerizing. They bring us together too, drawing nearby hikers out of their tents to sit or stand around the fire sharing snacks and stories and enjoy each other's company.
"No one wants to be responsible for the next megafire because they lit a sparkler, had a loose chain, or lost a spark from a campfire."
Once the fire is going, its maintenance requires just the right amount of attention to keep you occupied without feeling labor intensive. I'd always come in at this part, sheepishly placing a few sticks or a log onto the coals, glancing around to make sure I'd done it right. I'd get a reassuring nod from my partner, then sit back and watch my log catch.  I really wanted to be better (or successful at all) at building fires, but as each season wound down, I figured there was always next year. 
Lately, though, I've been wondering if I've run out of time. "Campfire season" in Montana started getting noticeably shorter a few years ago. We'd always experienced some level of restriction during summer's driest months, but suddenly the fire bans were increasing in frequency, range, and duration. And it wasn't just the policies that shortened (or eliminated) our campfire season. The wildfires and droughts had become so bad that even if there wasn't a restriction, my group had an unspoken agreement that open flames weren't worth the risk. Gradually, we stopped making fires at all.
It's hard to want to build a campfire when highway signs flash warnings, telling you to watch out for sparks from dragging chains, and petitions circulate around the community begging for a July 4th fireworks ban. No one wants to be responsible for the next megafire because they lit a sparkler, had a loose chain, or lost a spark from a campfire. 
I understand that not everywhere is as dry as the state I call home. There are plenty of places left in the country with few or no fire bans, where wildfire season doesn't (yet) pose an ever-increasing risk to land, developments, ecosystems, and recreation. But more often than not, it's irresponsible to light a campfire in the western US these days.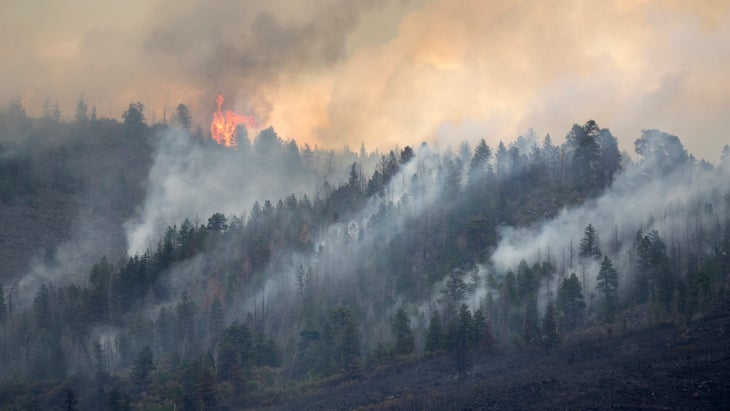 Campfires used to seem ubiquitous—something to be taken for granted. They were an automatic element of the nightly ritual during a camping or backpacking trip. Now, we may be in the last gasp of campfires; some of us may have already witnessed our final campfire season pass by with no fanfare. I think about those nights around the fire with the heaviness that comes with knowing something is irreversibly changed. 
We already look at thru-hiking season differently thanks to the explosion of climate-change induced wildfires. Seeing the end of carefree campfires is another tired box to check as we watch our planet change faster than even the dire warnings of yesteryear predicted.
If this is the swan song for campfires, it makes me wonder what changes the next season will bring. Maybe someday, campfires will be so forgotten that those of us who built them will point out evening autumn light filtering through a yellow-leaved tree and say, "This is what it was like, this brightness." We'll imagine the warmth and community that formed around our fires, and try to conjure some semblance of that feeling around battery-powered lanterns or canister stoves. 
Instead of watching the flames and warming our chilled bodies, we'll climb into our tents as the sun goes down, and I'll read on my phone until I fall asleep. In the tents nearby, zipped into sleeping bags under the cold glow of their phones, my campsite neighbors will do the same.