Why Intergenerational Friendships Thrive on the Trail
Take a long hike, and you'll find yourself falling in with people decades older and younger than you. There's good reason for that.
Heading out the door? Read this article on the new Outside+ app available now on iOS devices for members! Download the app.
Hiking isn't just a hobby—it's a lifestyle. Maggie Slepian tackles the hiking life—and all of the joys, problems, arguments, and weird quirks that go along with it—in her column.
For many people, multi-month thru-hikes are most possible at several junctures in life. The biggest of these natural breaks: the year or so after graduating and right after retirement. While plenty of hikers fall between those stages (myself included), it can be more difficult to take extended time off without these naturally-occurring "stop points." For this reason, the majority of thru-hikers fall into two distinct age groups.
The age gap between post-college and post-retirement creates an interesting dynamic on long-distance trails. It helps forge tight-knit bonds between people who wouldn't otherwise be engaging in the same activities at all, let alone for months at a time. Hikers are around one another day in and day out, all working towards a common goal.
Despite the obvious differences in lived experiences, I've found generational gaps disappear almost entirely on a thru-hike. Even as it climbs, the trail has a way of flattening certain differences: No matter what age you are and what life experiences you've had, you're all experiencing the same thing in the moment, walking in the same direction and climbing the same mountains. On the trail, hiking groups naturally form as long as you maintain roughly the same pace and town schedule. 
I hiked the Appalachian Trail a few years post-college, and the person I grew closest to was a retired software engineer in his sixties. "Spartacus" had a similar personality to my friends back home. He was funny, smart, and positive without being saccharine. He had amusing takes on the ups and downs of thru-hiking, and above all, he appreciated being out there more than many people I met.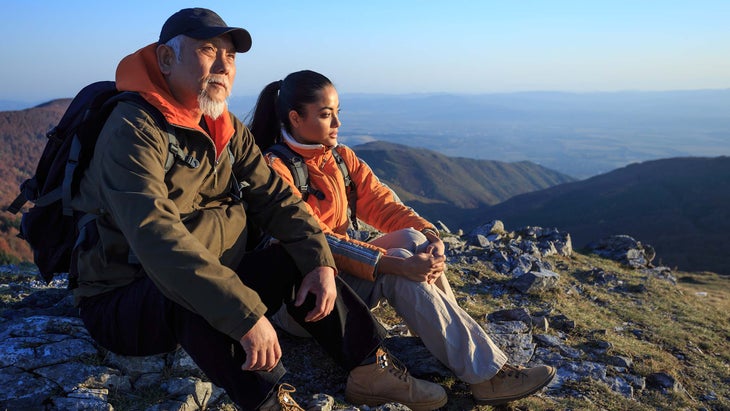 Sometimes, our differences in perspective were exactly what I found valuable: When I'd find myself complaining about the weather, the PUDs, and the monotony, Spartacus would remind me to be grateful I had the chance to be out in the woods for five months, that I hadn't spent 40 years in a cubicle to get there. Other trail groups seemed to have a similar blend of people in their early twenties combined with recently retired hikers. 
Aside from time with my family, I don't know many instances in the real world where I'd spend my days (and nights) with people of different generations. While I've had coworkers a few generations older than me, we all went home to our separate lives at the end of the day. Our shared experiences stopped at 5 p.m.. 
Yes, some generational differences are real, especially where finances are concerned. In some ways, Spartacus and I had different thru-hiking experiences. My partner and I bunked in hostels and resupplied out of hiker boxes. Spartacus stayed in nicer hotels and didn't have the same resupply budget (or lack thereof) that we did. He would call an Uber instead of hitching, and eventually he ended up slackpacking with a few other retirees, staying in hotels and paying for rides along different sections. This didn't change how I related to him in a hiker sense, but it did mean our experiences weren't entirely the same. 
Fast forward five years, and I found myself on another thru-hike where I witnessed similar generational gaps. This time, I didn't fit into either category: I was in my thirties, a homeowner, and had some semblance of a career. I wasn't on a super tight budget, but I also hadn't recently sold a software company. 
On this trail, I fell in with two hikers about to start their freshman year of college. They were more than a decade younger than me and hiking on shoestring budgets. On this trail, it was me who snuck my credit card to the server to pay for dinner, and offered my hotel laundry and amenities when we were in town at the same time. 
But aside from the budget differences, we had more in common than not. They were intelligent, savvy, and though they were a generation younger than me, we could easily pass 12 hours hiking and chatting. 
Occasionally they'd talk about getting ready to move into their dorms, and I was reminded that they were experiencing things I'd gone through in 2006. But instead of feeling horrified at the forward crawl of time, I was grateful that I had an opportunity to encounter these two people that I might never have met in the normal rhythm of my life. Through the trail community and similar hiking paces, I was able to meet two inspiring, forward-thinking, genuine people who greatly enhanced my trail experience. 
A long-distance trail is about more than the hiking itself—it's about the community. Socializing through the generational gaps enhances this even more. The chance to connect with people a decade younger—or four decades older—isn't something I take for granted, even if at first it seems like the only thing you have to have in common is the same hiking pace. I am grateful to be able to experience these trails at different times in my life, and grateful for the people I meet along the way.