Ask a Thru-Hiker: What to Do When You Want to Quit Your Thru-Hike
Is your motivation running dry? Try one of these strategies to recharge it.
Heading out the door? Read this article on the new Outside+ app available now on iOS devices for members! Download the app.
Do you dream about hitting the trail for a long—really long—hike? In Ask a Thru-Hiker, record-setting long-distance hiker Liz "Snorkel" Thomas answers your burning questions about how to do it. Normally, you'd need to be an Outside+ member to read it, but we're sharing this column with everyone to give you a taste of what you're missing. Get Liz's advice, plus all of Backpacker's members-only skills coverage, in-depth stories from the trail, destination reports with interactive maps, full-length gear reviews, and more by becoming an Outside+ member today.
Dear Snorkel,
I've been on the trail for a while and am not feeling as into it as when I started. I gave up my job and apartment to do this hike, but am getting bored and depressed and thinking about quitting. Is there any way for me to get my bounce back?
Blasé
Dear Blasé,
It's normal for thru-hikers to feel a touch of disillusionment after some time on trail. There's even a term for it: the "Virginia Blues" on the Appalachian Trail, or the "Northern California lull" on the Pacific Crest Trail. 
The start of a thru-hike is exciting. It's hard to get bored when you're jumping into a new experience and constantly learning challenging trail skills. But once you're into a groove, trail life can lose that initial luster. And once it does you start to really notice the bugs, nasty weather, aches, and hiker hunger, and thoughts of getting off trail start to cross your mind. Quitting isn't an easy decision, especially when you've given up so much for your hike. But if you're dedicated to staying on trail and seeing it through to the end, here are some tips.
There's an old thru-hiker saying that you should never quit on a bad day. If it's rainy, a new blister appears, or you run out of food, that's not the time to make a  hike-altering decision. Instead, I recommend taking a zero day, or a few, to decompress and reassess. It's easier to remember all the reasons why you gave up your job and old life to come and hike when you're not as stressed about making miles or running out of water.
Yes, zero days can be expensive, but they're also  essential for restoring the body and removing you from some of the annoyances of trail life that could be feeding into your decision. I've found that once my body has had some rest and replenished the calorie deprivation that inevitably comes from thru-hiking, my mind is in a better spot to make sound decisions.
Once you've had downtime, think about what you've enjoyed about the trail experience. What can you do to bring more of that into your thru-hike? Try to take your zero day in a trail town with a lot of excited hikers. Sometimes, being with a group of energized people can remind you why you wanted to thru-hike in the first place.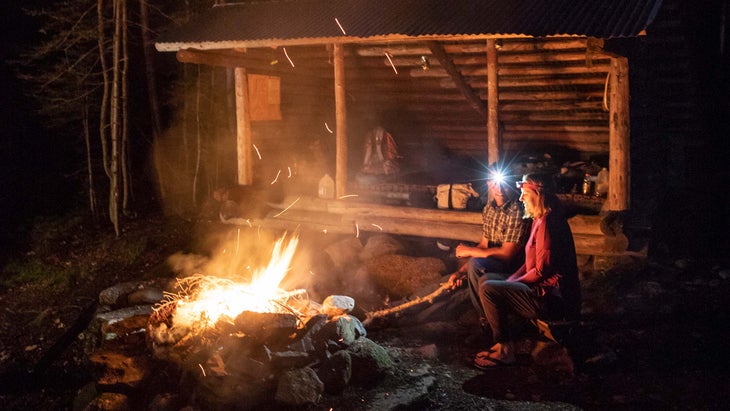 Small irritating things can add up and lead to thoughts of quitting. Bugs, the odor of your clothes, an ache, or a hole in a piece of gear—just one of these may not be enough to start thinking about the "Q" word. But piled together, they can cause trouble. 
Your zero days are the time to figure out how to alleviate these issues. Would buying a new shirt improve your overall experience on trail? Would repairing that slow leak in your sleeping pad improve how you sleep in camp? Would a more potent bug spray or a few days off your feet to heal a wound do the trick? Maybe making a conscious decision to change the style of your hike, perhaps by aiming to walk a few miles less per day than your old average, could help. Small changes can have a ripple effect. 
If bugs, high snow, or weather have got your spirits down, wait a few days or even a week to see if conditions change. You can use this time for sightseeing at the local attractions. Long trails often go through the most scenic parks and recreation areas in the region. Just because you're on a zero day doesn't mean you can't expend energy. I've known thru-hikers who liked to reset their minds by spending zero days canoeing, fishing, or even day hiking. 
If boredom is getting to you on trail, many thru-hikers listen to music, podcasts, and books. Just bring earbuds for listening—most national parks and forests ban the use of speakers (and your fellow hikers and the bears may not want to hear "Peaches" on repeat). 
I've also found that talking to other hikers—whether distance walkers or day hikers—can be rewarding and rejuvenating. While talking for hours with strangers can feel uncomfortable in the "real world," it feels less awkward on the trail and many people are glad to have someone else to walk with, too. (Just be socially aware, and if someone seems like they'd rather be left alone, take a cue.)
If you're still not excited about returning to the hike, maybe there's another section of your long trail that you still want to see. If you can't bring yourself to get back on the trail where you got off, and your permit allows, consider restarting your journey by skipping ahead. 
And here's the thing: After all that, you may decide you want to head home early after all. If that's the  decision that's right for your body and mind at the time, then know that there's nothing wrong with that. There are many reasons why people quit. If you have an injury that won't get better after a few days of rest, that's a good sign it may be time to call it. Running out of time and money are common issues too, and forest fires and other trail closures may make it impossible to continue even for the motivated. 
Remember that just because you get off trail now doesn't mean you can't return to the same spot in another year: Section hikers walk the total distance of a long trail over many years. Sometimes, your mind or body need more than a few days before you're ready to get back on trail.
Whatever your decision, take the time you need to make sure it wasn't a snap judgement you'll regret after a week back in the cubicle. 
—Snorkel