The Mountain-Guide Wisdom I Use Every Day
Look up, be prepared, and don't forget the snacks.
Heading out the door? Read this article on the new Outside+ app available now on iOS devices for members! Download the app.
More than a decade of working as an international mountain guide taught me a lot about the backcountry — but the lessons I learned translate to the rest of my life, too. Climbing mountains is a high-consequence endeavor, and demands all kinds of practical skills. It also requires judgement, awareness, perception, and perseverance, all of which are as valuable off the mountain as they are on the slopes. These are some of the most valuable lessons I've learned in the alpine.
Define what success looks like for you. At the beginning of every adventure, whether it's a Himalayan expedition or a 10-minute romp with my dog, I try to take a few moments to deliberately ask myself: what would make this excursion a success? 
The value of this practice lies in the specificity. Rather than telling myself "I just need to get the dog some exercise," I'll say "I'd like to be fully present with Salty and not look at my phone during our one-mile walk." Instead of "Let's climb this mountain," I might write down goals of achieving a new high point, testing out a new blister prevention system, and descending safely before dusk. Defining success helps me focus my energy, prioritize intentionality, and evaluate the experience. 
When in doubt, watch your blood sugar. There's an old mountain adage that goes like this: you are either an asset or a liability, nothing in between. It's a very black-and-white perspective, of course, and it's a little harsh. But I find it a useful reminder to take care of myself. Part of that is making sure you're fueled right and have the energy to play your part. 
To that end, I set up systems: I pre-think how accessible my snacks are, I keep high-sugar snacks in my jacket pockets for a quick burst of energy when we roll into campsites and need to set up the tents and stoves, and I carry extra calories to share with teammates in need. By staving off lethargy, moodiness, chills, and the ever-dreaded bonk, I'm able to be the best teammate and leader I can be.
My blood sugar management carries over to non-mountain life, too. I keep a stuff sack full of healthy, nutritious snacks in the center console of my car. If my partner's being a grump, I set out a bowl of nuts. It's incredible how helpful a snack can be.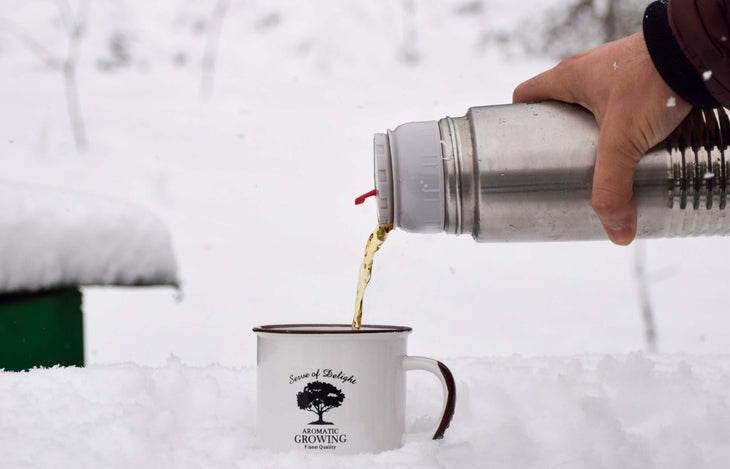 Caffeine withdrawal is real. Most of us who drink coffee or tea know that we're chemically addicted. If you're used to drinking a triple-shot latte every day, you'll absolutely notice some sluggishness if you change that habit. 
In the mountains, however, morning routines can get re-shuffled — particularly on summit days, which may start many hours before dawn. I can't count the number of clients I've guided who wake up at 1 A.M., chug half a cup of instant coffee, climb beautifully — and then suddenly develop spontaneous and severe headaches between 7 and 8am. As I assess their situation, I always ask how much coffee they drink at home, and it's almost always several cups a day. If your body is used to that chemical at that time every morning, it's going to remind you of that in the mountains. I always carry Excedrin and a couple of caffeinated gel packets specifically for these moments — both in the mountains and in town. 
Always know what is directly above and below you. At a very fundamental level, two of the greatest risks in mountaineering are falling off of something (a cliff, a crevasse bridge, a ravine) and having something fall on you (rockfall, icefall, avalanches.) It took me years to develop that  situational awareness to the point where it became automatic, but now it's a spider sense that's never turned off. When I'm hiking in the forest, I'm glancing up at the trees to look for broken limbs, widowmakers, or signs of animals. When I'm navigating a trail with exposure, I'm constantly assessing the survivability of a fall. Even as I maneuver through city streets, I'm keeping an eye on what's above and below. 
Prepare for contingencies. When I first started guiding, one of my supervisors told me something I'll never forget. "I hired you because I trust you, and I'll back up your decisions," he said. "But if shit goes sideways, you need to make damn sure you can explain your rationale."
I love that philosophy, because it showed confidence in me as an employee — but it also asked me to make very, very sure I took my job seriously. We all make mistakes, but some are more serious than others — and if I'm asked to debrief after an accident, I'd much rather be able to say that I took reasonable action that didn't pan out the way I expected than have to admit I wasn't prepared. If my car breaks down on a road trip, I want to know that I've pre-thought what supplies I have in my trunk. If my dog gets hurt on a day hike, I want to have a canine first aid kit and the skills to use it. If I'm stuck in the mountains for an unexpected overnight, it's important to know I've thought it through. 
Take action to address the variables you can control, and don't waste time or energy worrying about the ones you can't. I learned this from many, many sleepless nights on climbing trips, where I'd toss and turn in my sleeping bag or bivy sack worrying about the climb. Will the weather hold? What if the route has changed? Am I capable of this?
The system I've landed on is this:  I run through a mental check-list of every variable over which I have power, and I take every possible action to set myself up for success. I plan extensively, double-check compulsively, and think through contingencies. And then, once I've  done everything I can, I let it go. Preparations serve me. Worries don't.