PSA: You Don't Need to Replace Your Old Backpacking Gear
Gear companies are constantly upgrading their products and pulling old ones off the market. But there are some advantages to being a few seasons behind.
Photo: Jordan Siemens / Stone via Getty
Heading out the door? Read this article on the new Outside+ app available now on iOS devices for members! Download the app.
A significant part of my job as an outdoor writer and gear reviewer is testing new gear and apparel, so when spring finally made an appearance in Montana, I sifted through the new hiking clothes I'd been sent for testing. I had sleek new tights, windproof pants, synthetic jackets, and a rainbow of merino layers in 2023 colors. I had so many options that it felt overwhelming, and I ended up grabbing my favorite fleece-lined tights and wind jacket instead. The tights were worn out at the knees, but I knew they wouldn't slide down. The jacket's zipper was finicky, but I knew it was perfect for the 40-degree day. 
I ended up testing most of the new gear over the next month, and while there were certainly pieces I was excited about, none of it was that much of an  improvement over my worn-out tights and wind jacket. It was a reminder that sometimes, it's better to stick with what you know and love.
Outdoorspeople love new gear, but we're also picky about what we wear and carry. Backpackers, especially thru-hikers, are some of the pickiest. Plenty of us have tightly dialed kits that we've run through the gauntlet over hundreds (or thousands) of trail miles. Each year, outdoor publications, including this one, race to put out best-of lists and top 10 roundups in every category, implicitly encouraging us to upgrade to a lighter tent, a new type of jacket insulation, or a stove that will finally ignite reliably. But as an industry professional, I've learned that sometimes the best thing to do is to stick with what you know. 
The tech industry has a fairly established product cycle schedule—their gadgets are designed to have a shelf life of between 6-18 months—but our industry is a bit more nebulous. There's certainly innovation happening in the outdoor industry—new designs and functional upgrades to old ones. But outdoor brands also need to stay engaged each season whether or not they have anything groundbreaking to sell us.
Most outdoor gear and apparel pieces look fairly similar season to season. True design and material changes have a longer lead time, and it usually isn't until you take a decade-long look at specific items that you see a marked difference. These long-term changes and trends often start in the cottage industry: Smaller designers are able to take bigger risks, then larger manufacturers follow suit a few years later. 
Take packs for example. Ten years ago, most thru-hiking packs were weighty models with numerous pockets, ultra-plush hip belts, removable toplids, and reservoir holders. Cottage brands started sewing simpler, lighter, sack-like packs, putting an emphasis on lowering the weight of the pack and streamlining the design to a main pocket with a roll-top closure, a stretchy mesh outer pocket, and slimmer straps. From there, more mainstream brands started releasing simpler, lighter packs geared towards long-distance hikers.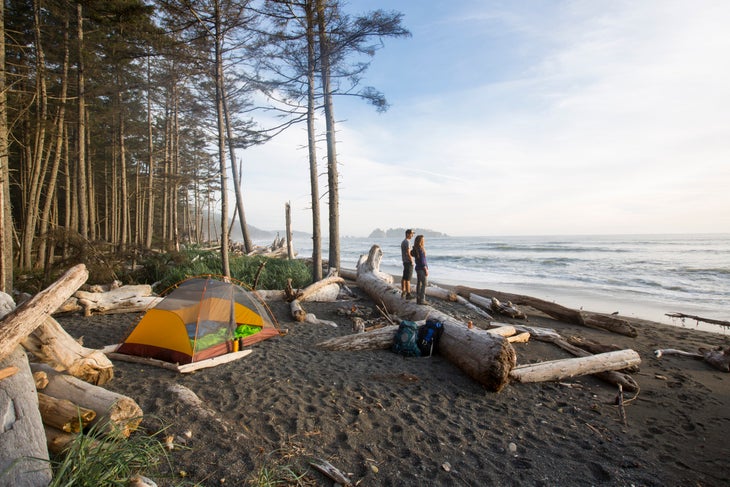 We know that upgrades are inevitable as years go by, but seasonally, what changes are worth buying a new kit? What should you replace and what should you leave alone? It's a tough question. I'm lucky enough to try out new gear in every category each season, yet I often just go back to my old standbys after testing the new gear.  I was curious about product release strategies, so I checked in with a few brands, including Altra, who makes some of my favorite trail shoes. Alex Lind is a senior product manager at Altra and says the company is strategic in its updates, with the brand often planning ahead two years when updating hiking products. 
"This gives us enough time to do research, get consumer feedback, and find relevant upgrades that we can then implement into the update," he says. Removing products from the line usually comes down to a combination of popularity, shelf-life, and brand direction. Altra works to balance new products and upgrades with existing products to "balance the newness," but doesn't hesitate to release more products if they're ready.
So where are we at? It comes down to being a savvy consumer. Do you want a lighter, loftier sleeping bag? Go for it. Is it a necessary upgrade? Unless yours is genuinely too heavy to carry, maybe not. Is the better ignitor worth buying a new stove? It depends how much time you're losing trying to light your current stove. Being a smarter consumer and researching upgrades before buying into them will keep money in your pocket and can help reduce the amount of gear that ends up in landfills.
Buying new gear is exciting, and targeted marketing actively encourages this. But season to season, most outdoor gear launches aren't debuting life-changing updates, and it's often worth waiting a few seasons for your current gear to wear down, and for the new technology to improve and become more readily available. 
From my own testing experience, the first year of a brand new launch is usually a little glitchy, less durable, might not have the highest functionality. When I've tested the second and third iteration of the model with the new features or materials is when it really starts to settle. I found the first round of Katadyn's BeFree filter clogged quickly and the reservoirs developed pinhole punctures within a few weeks of testing. Likewise, Therm-a-Rest's 9-ounce Uberlite couldn't hold air for my beta testing season. A few seasons later, both of those items were working wonderfully.
And sometimes the classic is a classic for a reason. I've been using an original Sawyer Squeeze since my 2015 Appalachian Trail thru-hike and despite the box of other filters I've tested, that little cylinder is still unbeatable. 
There's nothing wrong with being a season or two behind trends; it gives manufacturers time to work out the kinks. In the time it takes them to do that, you might realize you don't need the upgrade after all. 
My suggestion is to take a look at your backpacking kit and play your strategy as a long game, like Altra does. If your gear doesn't need to be replaced due to breakage or wear-and-tear, have there been significant enough upgrades in that category to make the upgrade worthwhile? Is it worth waiting another season or two to see more significant updates? Like we've seen over the years, the major upgrades don't happen every season, so while you'll likely get a sleeker, more functional kit by replacing items in the five-year range, you won't necessarily see major differences by buying new gear each season. Sometimes the gear looks new and exciting, but you'll end up reverting back to your old favorites anyway. 
In the end, what you upgrade will be up to you. But after over a decade of gear testing, I can attest to the fact that season to season, most model upgrades are minimal, and it's worth thinking long-term.