In Defense of the Instagram-Famous Hike
Backpackers often turn their noses up at the Havasu Falls and Horseshoe Bends of the world. But that's elitist, and it ignores one important fact besides: these places are gorgeous.
Heading out the door? Read this article on the new Outside+ app available now on iOS devices for members! Download the app.
Hiking isn't just a hobby—it's a lifestyle. Maggie Slepian tackles the hiking life—and all of the joys, problems, arguments, and weird quirks that go along with it—in her column.
One of the most Instagram-centric outdoor destinations I've ever visited was Horseshoe Bend in Arizona. I was on an impromptu road trip with another backpacker, and we were driving from Montana down to the Grand Canyon. 
"Should we detour and see Horseshoe Bend?" he asked. I said yes immediately, not making the connection between the spot's name and the images I'd seen splashed all across outdoor instagram accounts. When I looked it up, I groaned.
"This place? We're going to have to fight through piles of people taking the same dumb picture," I lamented, scrolling through dozens of identical photos. Too late: we were there. We stopped at a kiosk to pay the $10 entrance fee.
The most iconic places on social media and outdoor bucket-list round ups have a few things in common. These spots usually aren't hard to access, and they have a big visual payoff that looks great on the internet. 
Click through thousands of hashtags and near-identical 100-word blurbs in travel blogs and it isn't hard to roll your eyes at Zabriskie Point in Death Valley, Havasu Falls in Arizona, McAfee Knob in Virginia, Peek-a-Boo and Spooky slot canyons in Utah, or Park Butte Lookout in Washington. Included in this is Horseshoe Bend, where I found myself adrift in an ocean of cars and people, heat waves rippling from the pavement in the late afternoon sun. 
As with plenty of trends and destinations that have found traction in the greater population, the judgment from the more "hardcore" enthusiasts—backpackers and hikers in this case—runs like a current through the community. I am not excluded from this: I was absolutely feeling judgmental as I reluctantly joined the migration of tourists wearing strappy sandals and wielding iPhones for the half-mile walk to the photo op. I felt like I'd outgrown this type of outing.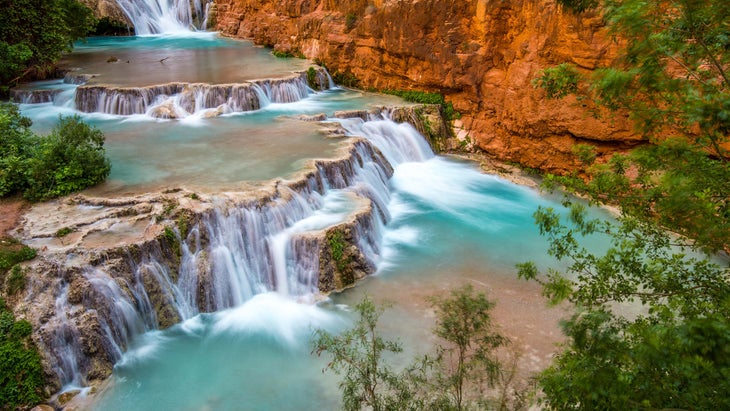 But when I saw Horseshoe Bend in person, I understood the hype. Hundreds of feet below me, the water swept in a dramatic curve around a towering pillar of sandstone. The color of the water was somewhere between turquoise and navy, and the contrast between the water and the brilliant reddish-orange rocks looked like the backdrop of a movie set. 
Seeing Horseshoe Bend in front of me was a far cry from the photos I'd seen featured in listicles and edited influencer photos. The sheer scale of the feature, the contrast of the colors, and the perfect, sweeping curve of the water was inspiring. We stayed for an hour—snapping photo after photo, naturally.
"Pretty cool, right?" My hiking partner asked. I fully agreed, aware that my preconceived notion of a place just because it was popular hadn't been fair. 
These easy-access, high-reward destinations might be the beginning and end of someone's outdoor adventures, but for others, these spots could be the gateway to further exploration. The vistas made popular via social media can help people discover the wonders of the natural world, as well as help them understand how to get out there. It's easy to get wrapped up in the mindset that going big is the only way to go, and I often have to remind myself that no one starts out with 20-mile dayhikes. 
There is a fair argument to be made, however, that the increased popularity of these Instagram-famous spots harms them by drawing hordes of hikers, many of whom may not understand the basics of Leave No Trace. This is a delicate balance. How, after all, are we supposed to share our love for the outdoors in the internet age without loving the outdoors to death?? Conversely, when we keep the best spots to ourselves or insist that people only learn about them by word of mouth, are we gatekeeping the outdoors?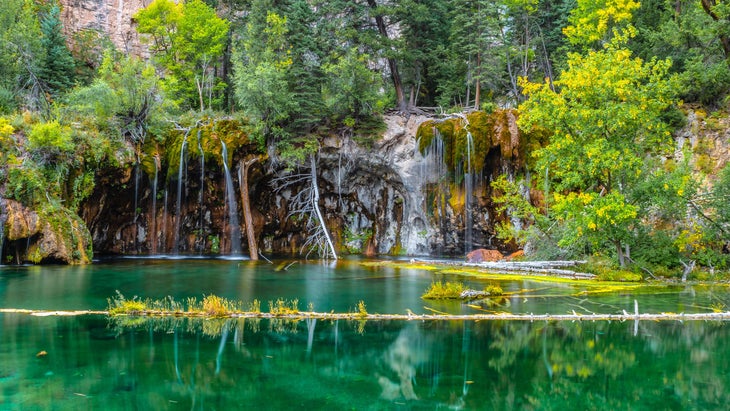 Permitted access and reservation systems help keep fragile areas intact by limiting the number of visitors and campers. Land managers have added parking fees to spots like Horseshoe Bend, and In some extreme cases like Max Patch, the spots are more regulated or even closed. The idea of limited, permitted access is a whole essay unto itself, but it's hard to argue that limiting visitors this way helps preserve these incredible spots while allowing people to experience them, as long as they plan enough in advance.
These spots have become popular for a reason, and every time I've been to one of these spots, I've shared them with plenty of other people. Sure, the crowds can be frustrating, but the  awe and appreciation of everyone around me also makes the experience that much more special. 
It's easy to judge these locations simply because they became popular on the internet, or that they have a big payoff without an arduous journey. But as someone who has now been to many of the spots on these bucket-list roundups and backpacked way too far to get to a remote hot spring, I'm ready to admit that there are different, equally valid ways to appreciate getting outside. 
And really, isn't being outdoors and appreciating the natural world the whole point? Whether you walked a half-mile to see a cool bend in a river, or you hiked thousands of miles to touch a sign, the sense of wonder that these places leave us with is the same.