No, Speed Hikers Aren't "Missing the Point"
There's nothing wrong with a leisurely hike. But when hikers sneer at people who choose to go fast, they prove that they don't get it.
Heading out the door? Read this article on the new Outside+ app available now on iOS devices for members! Download the app.
We're making this member-only article free to everyone, because we're betting that once you've read one, you won't want to stop. Outside+ members get access to Maggie Slepian's essays on the joys of national monuments, the Appalachian Mountains, thru-hiking, and more. And if you're not a member—what are you waiting for? Sign up today to get free access to Outside's entire library of titles, plus training plans, event entries, and more. 
I had just finished Collegiate West on the Colorado Trail and was grabbing breakfast after resupplying at Monarch Pass. There was a man at the restaurant about to start his section hike on the 80 miles I'd just completed, and when he saw my gear, he sat down across from me.
"How long did Collegiate West take you?" He asked. When I told him I had done it in 3 and a half days, he rolled his eyes. 
"I'm going to take nine full days," he said smugly. "Why would you race through a fine art masterpiece?" It was a small slight, but I bristled. 
"I'm hiking alone and going at my own pace," I told him, "Who cares how many miles I do?" I kept shoveling pancakes as he turned to the hiker next to him and said with a sigh: "Hike your own hike."
The phrase "hike your own hike" has well-intentioned origins. Nowadays, people are more likely to utter it with snide sarcasm, like the hiker version of "bless your heart," to refer to someone who chose to hike in a manner that the speaker doesn't consider acceptable. Live and let live, it says, but I wouldn't be caught dead doing it that way.
Along with hitching around road walks and skipping ahead, it seems like you can add "walking too fast" to the list of offenses that will earn you that eye-roll. Over the past few years I've been surprised to see how many people are snobby when it comes to judging people's pace on a thru-hike. This includes fast-packers, athletes attempting FKTs, or really anyone doing anything but casually strolling through a thru-hike. Even this magazine sometimes casts aspersions at people who move too fast.
The fact was, I didn't feel like I was rushing. I started hiking early each morning and didn't take long breaks during the day. I took photos, admired the view, and stopped for snacks— never felt like I was pushing myself. I usually ticked off 22-25 miles by late afternoon, descending off ridgelines before the storms started and relaxing at camp as it got dark. I enjoyed the feeling of efficiency, physical strength, and accomplishment as I hiked through some of the most incredible terrain I'd ever seen. I finished the Colorado Trail in 23 days, faster than average but certainly not breaking any speed records. I did the miles that felt natural each day and didn't feel like I missed out on any experiences. To have a stranger judge how I was choosing to walk was as unnecessary as it was irritating. 
When someone says that speed hikers are "missing the point," they are only considering their own purpose for being out there. Speed hikers, fast-packers, and athletes setting trail FKTs are doing something fundamentally different than a hiker who chooses to go slow. They might be on the same trail as a hiker taking on a classic thru-hike, but that's about where the comparisons end.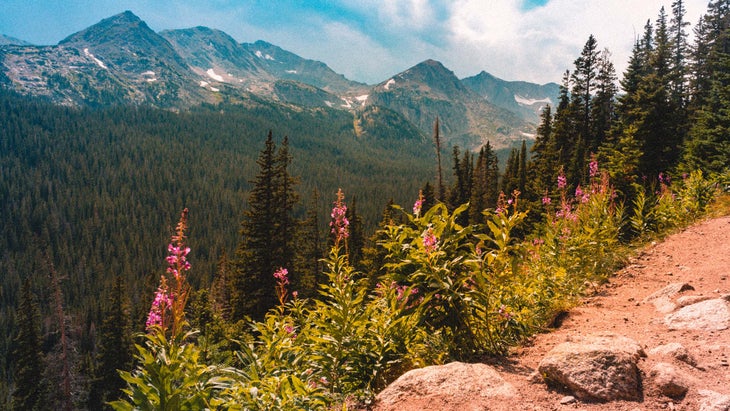 There's a lot to be said for hiking at a slower pace, savoring the miles, and immersing yourself in your surroundings. When I take trips like this, it rejuvenates me and helps connect me to a sense of place. But that's not the only way I feel fulfilled in the backcountry. 
Motivations for hiking fast vary. I've met high-mileage hikers who wish they could be on trail longer, but time off from work or their financial situation necessitates a speedier hike. I know record-setting hikers who equally appreciate their standard thru-hikes and their record hikes, discussing the beauty of both slowing down and the feeling of pushing themselves as hard as possible.
I met a hiker at the start of the Colorado Trail who was hiking the 486 miles in fewer than 20 days. She was starting a new job in just a few weeks, and this tight timeline was her only chance to hike the trail. She was incredibly capable, and ended up pushing big miles to meet her goal. I also chatted with hikers who were spending 35 days on the trail, having a much more social experience than I did. That's what they were out there for, and neither style diminished the other. 
Personally, my extended backpacking trips are a combination of physical challenge and backcountry experience, and increasing my capabilities in the mountains are something I take pride in. Seeing how quickly and efficiently I can move along a trail is a challenge I don't get in my day-to-day life, and getting to push myself in gorgeous terrain is a challenge I find immensely fulfilling. Cutting my mileage to 15 miles a day and taking hour-long breaks wouldn't have been relaxing for me; it would have left me anxious and restless as I scanned the sky for storm clouds and thought about how nice it would feel to move. 
People who say that speed hikers are "missing the point" are foisting their narrow perspective onto everyone else. Time on the trails and in the mountains means something different for everyone: Fast hikers aren't missing the point. Their point just looks different.