Our Carelessness Is Killing Bears
From unleashed dogs to unsecured food, it's time to change the culture around bear conservation.
Heading out the door? Read this article on the new Outside+ app available now on iOS devices for members! Download the app.
There's a popular picnic area in North Carolina's Pisgah National Forest where locals and tourists sit by the river to enjoy their lunch. I was enjoying the ambiance of the area on an early fall day when I witnessed a skinny-looking bear perusing the empty side of the park. I'd seen him before. He often comes out near dusk to feast on the items that picnickers leave behind. 
The next day, I returned to the river and witnessed an older woman throwing slices of bread to local squirrels. The squirrels, unable to eat a loaf of bread in an afternoon, left most of the food untouched. A pit grew in my stomach when I realized how the following events might unravel for the local bear: It would likely return to the crowded picnic area to eat the remnants of the bread. Over the short term, he'll get fatter and, presumably, healthier. But the day will come when he gets too close to humans or decides to try to scare some picnickers off their lunch, and as a result, he will likely be euthanized. Because the North Carolina Wildlife Resources Commission almost never traps or relocates bears, local bear incidents usually end terminally for the animal.
We often think of black bears as non-aggressive, more likely to climb a tree than face down a human, and that's generally true. But when black bears come into conflict with people, it's usually over food. And it's almost always our fault: irresponsible human activity is causing more frequent and aggressive bear encounters, and we need to change.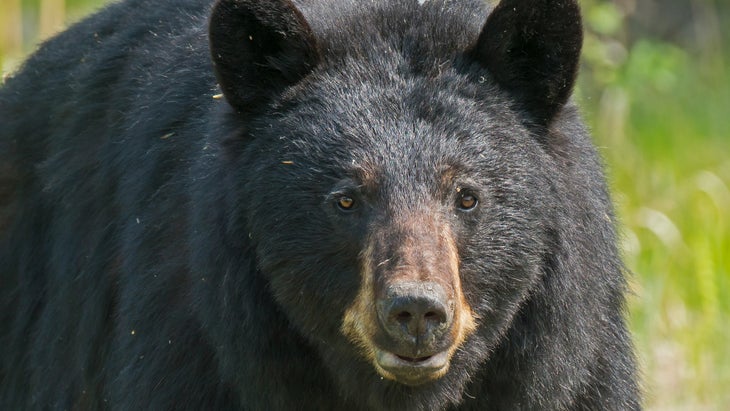 Dogs and Bears
Last week, a couple in Asheville was picnicking when their unleashed dog ran after a bear and sparked an attack that left the three injured. Had the dog been leashed—as is usually required in the park—the result may have been different.  
After the incident, local officials began working together to attempt to capture the bear and link it to the incident. If they do so, policy will force them to euthanize the animal even though it could have been provoked. If official reports are correct, the bear was acting naturally; the responsibility for that encounter lies with the pet owner. But North Carolina policy won't hold a trial for the bear. Its fate is already decided.
This isn't the first time a pet has escalated a bear encounter. Far from it: In 2019, Lynn Rogers, a research scientist for the Wildlife Research Institute, reported that nearly half of bear attacks are related to dogs in Minnesota. In some cases, pet owners may insert themselves in a fight that's taking place between a dog and a bear. In others, they might be looking for their pet when they're attacked. But in most cases, the dogs are unleashed and out of the pet owner's control when an incident occurs. Like abandoned food, it's another example where bears end up saddled with the consequences of human carelessness.
Bears and Garbage
This year, Colorado Parks and Wildlife released a report about the state's bear activity in 2020. Although it was a relatively normal year for bear activity, euthanizations significantly increased, reaching 120 bears in 2020. The organization relocated another 89 bears. Since 2015, authorities in the state have euthanized 592 bears in total. 
"An astonishingly large number of bears are being euthanized because people aren't informed enough or don't care enough to exercise caution around them."
What's most striking about the data is that 1,661bear calls (roughly or a third) were related to trash. Last year was a particularly difficult year for wildfires, which may have caused an uptick in bear and human encounters as animals wandered into neighborhoods to look for food. Humans can impact bear attraction by managing their garbage practices—using bear-proof cans and keeping scented trash inside until it's time for it to be picked up. 
According to this same report, "being rewarded with food over time makes a bear willing to take greater risks to get the calories it needs. The next and most dangerous step they may take is to break into a home." By allowing bears to become accustomed to human food, we're making it possible for them to build the courage to take riskier steps. 
Bear Survival
About 300,000 black bears live in the United States. In some areas of the country, black bears are losing their habitat, which is causing migration or death. In Mexico, the species is critically endangered. The main threats to their survival relate to injuries, the loss of their homes, and human conflict. While black bear populations are not currently threatened in the U.S., a jump to a threatened status wouldn't be new: It wasn't until the early 1900s that the government stopped paying bounties for killing black bears for crop and livestock destruction. It took a century-long effort to allow bear populations to bounce back. 
Some bear euthanizations occur for humane reasons. A bear might become severely injured or incapacitated; other bears might be threatening livestock. But an astonishingly large number of bears are being euthanized because people aren't informed enough or don't care enough to exercise caution around them.
Bears have a right to exist. They're an essential predator to local ecosystems. And rather than accepting responsibility for the part that we have in changing bear behavior, we're euthanizing them for attempting to survive. Our unwillingness to put our food away, to install and use bear-proof containers, to shift the culture around bear management, and to restrain our pets is contributing to changing bear behavior. Bears are our neighbors, and we are theirs. It's time to start acting like it.