Cairns Are Good, Actually
Cairns—navigational aids made out of piled or stacked rocks—get a lot of hate nowadays. That's not justified.
Heading out the door? Read this article on the new Outside+ app available now on iOS devices for members! Download the app.
Hiking isn't just a hobby—it's a lifestyle. Maggie Slepian tackles the hiking life—and all of the joys, problems, arguments, and weird quirks that go along with it—in her column.
It was early fall in 2008, and I was backpacking in New Hampshire with my dad and brother. As we neared treeline on Mount Monroe, the infamous White Mountain weather blew in and we were completely socked in within minutes of leaving the protection of the krummholz. The wind was so fierce I couldn't catch my breath, and the visibility was so bad I lost sight of my brother and dad immediately. I followed their voices as we stumbled from one cairn to the next, the only way we knew we were on the right path.
On that trip, the cairns were a lifeline, and not just for me.When I called my father to fact-check this memory, the first thing he brought up was the relief at seeing each rock pile appear out of the swirling clouds as we picked our way over the boulders. The cairns on the side of Mount Monroe were our markers to the top, and then back down to the protection of the trees. 
Cairns have been my guiding points for more miles than I can possibly remember. They've led me in the right direction above treeline and on desert routes across blank expanses of rock. Like the comfort of seeing a blaze or trail sign, a cairn reassures you that you're on the right path. This is especially true on terrain where cairns are necessary, as those unsigned sections by default are more confusing. 
If I'm following a route marked with cairns, it means there's no marked path or beaten-down trail to follow. I will also use GPS or a map and compass to ensure I'm heading in the correct direction, but peering towards the horizon and seeing the next few cairns brings the most relief. 
I really didn't think cairns were controversial until I was at dinner last year with a thru-hiker who had quite a following on social media. "I always kick down cairns when I see them," he said, saying that he also recorded knocking them over for his YouTube channel.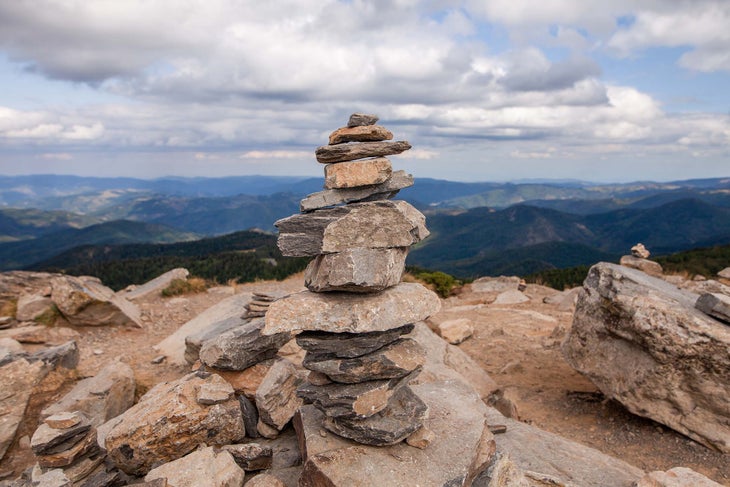 I was genuinely baffled. It was the first time I'd heard any sort of argument against cairns. To me, cairns are what I used to find my way on a route when there wasn't a place to stage a trail sign, or a tree or rock to blaze. (I'm talking here about real navigational cairns, not the decorative rock piles that pop up next to rivers and along busy hiking trails.) They were nothing more than a hiker-made trail sign, and knocking them down made as much sense to me as peeling AT blazes off of bark.
There are several main arguments I've heard people make against cairns. The first argument is that cairns aren't compliant with Leave No Trace, as the piles are created from taking natural items and rearranging them into man-made "structures." I also appreciate the backcountry left as pristine as possible, but if you're making that argument, you also have to include trail markers, signs, blazes, campfire rings, and the flattened, bare ground of dispersed campsites. In that context, a rock stack doesn't seem to be such a big deal.
The second argument is that since cairns aren't regulated like other trail signage, anyone can create one, whether their location is correct or not. Personally, I have never experienced a cairn that took me off the correct route. While I'm sure it's happened, the benefits of using cairns for route-finding far outweigh the off-chance there's one in the wrong place. The times I take the wrong route are when I mistakenly wind up on a game trail, or the (incorrect) path of least resistance worn down by hikers before me. 
The third argument against cairns, stated in this piece, is that cairns take the fun out of route finding in the backcountry. I also understand this point. Route finding is an engaging, challenging aspect for advanced backcountry travelers. Anyone attempting advanced routes should have enough experience and skills in backcountry navigation to find a route, but it doesn't mean that the safety net of trail-marking cairns—leading to fewer backcountry rescues—should be eliminated. There are still plenty of places to explore that don't have trail markers or cairns. Why would you want to make an already challenging, cairn-marked route more dangerous and confusing?
One of my aims in outdoor media is to help people get into the backcountry by reducing barriers to entry. People who knock down cairns are making routes more intimidating and challenging for people new to exploring this type of terrain. Who is it hurting to have the occasional rock stack to guide hikers along the safest path over boulder fields, or towards the correct desert canyon? Whatever impact it has on the environment, it's certainly less than the damage hikers do with their footsteps, especially when they get lost and wander off trail.
Many thousands of hands have built the cairns that helped me stumble to the top of socked-in peaks, or across miles of blank slickrock where a wrong turn could have deadly consequences. I've followed cairns across boulder fields to the top of Colorado's 14'ers and along the sides of desert canyons where the safest path to the top would be otherwise indiscernible. 
Cairns are also a symbol of community effort. While trail signs and markers are placed by trail organizations and trail crews, cairns are a collective effort of hikers communicating with one other. Similar to comments on navigation apps updating fellow hikers on trail conditions or water levels, we place cairns to help guide other hikers through confusing or unmarked areas. It's a silent way of lending a hand to the people who come after us along the trail.