Ask a Thru-Hiker: Should I Carry a Gun on the Trail?
If you're thinking of bringing a firearm on a long trail, there are a few things you need to be aware of first.
Heading out the door? Read this article on the new Outside+ app available now on iOS devices for members! Download the app.
Do you dream about hitting the trail for a long—really long—hike? In Ask a Thru-Hiker, record-setting long-distance hiker Liz "Snorkel" Thomas answers your burning questions about how to do it.
Dear Snorkel,
I'm thru-hiking next year and am putting together my gear list. My family is worried that I'm going to run into trouble on the trail and is asking me to bring a gun. Should I? 
Gun Shy
Dear Gun Shy,
You're not alone in wondering whether you should pack heat during a thru-hike: This is one of the most common questions that I get when I give talks around the country. My answer is always the same. It's your choice, but you should be aware of how the trail you pick, your patience for complicated logistics, and your tolerance for carrying extra weight might impact your decision.
The first thing to consider is whether bringing a firearm is legal where you will be hiking. It is complicated to bring a firearm on a thru-hike because you will likely be traveling through a mix of federal, state, and local forests and parks, each with their own set of rules. For example, the Appalachian Trail goes through 14 states—each with their own regulations. The AT also travels through national parks, national forests, state parks, and local parks, each with their own rules as well. 
To carry a gun on the AT, not only would you have to procure a permit for each state, but you likely also need to get concealed carry permits for each state, or at least each state that isn't covered by reciprocity laws. The amount of additional forethought and planning required to carry a gun (on top of all the other thru-hiking planning you'll need to do) is one reason why the Appalachian Trail Conservancy discourages hikers from carrying firearms.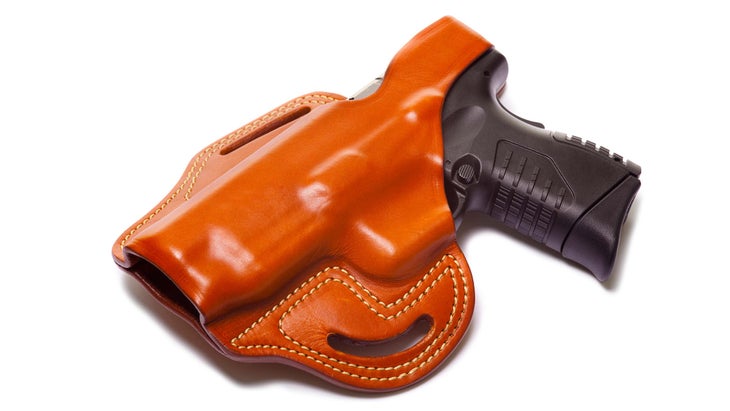 You'll be responsible for memorizing all of these varied rules before you leave: As this National Park Service document about the Appalachian Trail explains, it is up to the hiker to know the different rules attached through each jurisdiction you'll be walking through—and to adhere to them. While this is complex enough to figure out on a road trip, it becomes even more involved when on a backpacking trip, where borders between state, local, and federal lands aren't always marked.
Even for those with the proper permits, having a firearm can add some logistical challenges to your thru-hike. You may not be permitted to enter certain buildings or access certain services that you would want as a thru-hiker. For example, even in national parks that allow firearms, you may not be allowed on park shuttle buses. Speaking as a thru-hiker, it would be a bummer to see everyone else in my trail-family get on a shuttle bus that goes to a restaurant and know that I'd have to find an alternate way to get there. Similarly, some hotels, grocery, or gear stores may have policies against having firearms in the room. These aren't total dealbreakers—many of these place-based restrictions also impact thru-hikers with dogs. But it's easier to find a kennel to shuttle your dog around a national park than someone who can shuttle your firearm. 
Some buildings, like national park visitor centers, require that visitors "safely store your firearm according to federal, state, and local rules" prior to entering the building. For visitors with a vehicle, it shouldn't be much of a logistical issue to place their firearm in a secure in-vehicle firearm storage vault or lock in the trunk (as some state laws allow). But as a thru-hiker, you'll be carrying your life on your back. You aren't going to be able to carry along a cumbersome storage device. You won't have access to a locked trunk.
Then there's the heft. Most thru-hikers are obsessed with cutting down their pack weight choosing minimalist gear and carrying only what they need. Many thru-hikers refuse to carry items that they aren't using every day. A fully-loaded Glock 19 weighs nearly two pounds; even a lightweight concealed carry pistol weighs well over a pound. And unlike a heavy tent or pair of leather boots, if you decide you don't want to carry your gun after all, it's going to be tricky to mail it home.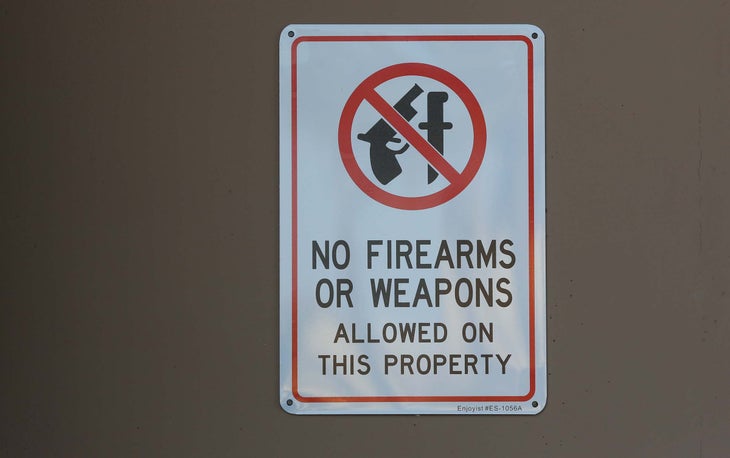 Finally, there's the question of whether you really need it. Despite the way that true-crime writers eat up murders on the Appalachian Trail, the real crime rate on long trails is incredibly low. In fact, some studies show that being in nature is correlated to less crime. As the Appalachian Trail Museum documents, the trail sees 2 to 3 million visitors per year and has only had 10 murders in 45 years. You're much more likely to encounter crime in any major US city than as a thru-hiker, and you're more likely to die in a traffic accident than from any kind of danger on trail, including bears, raging rivers, or natural causes like heart attacks. Should you need your gun, you may have trouble using it: It's tough to keep anything, including a firearm, clean on the trail, and unless you're going to hike 2,000 miles in a holster, your firearm will likely be buried in your pack much of the time.
Consider whether there's a lighter way to feel safe on the trail. The trail community is tight-knit, and hikers often keep each other informed about threats through an informal "neighborhood watch" program. Especially during peak hiking season, we're quick to report and share information about suspicious characters. These days, there's a lot of cell phone reception along many major distance trails, and that makes it easy to post to forums and report suspicious activity to authorities. Additionally, the Appalachian Trail employs ridgerunners whose job it is to hike the same miles back-and-forth, checking up on hikers and patrolling the trail.
People often ask if I carry a firearm in the case of a bear attack. This could make sense if you were thru-hiking in a place like Alaska, where bear populations are high and you might encounter brown or even polar bears. But on a thru-hike in the Lower 48, you're most likely to encounter black bears, who are more easily scared away. Even in grizzly country in the US, most thru-hikers opt to carry bear spray because it weighs less than many firearms and doesn't come with the logistical challenges involved with permitting and carrying it across state lines. There's even evidence that bear spray is more effective at deterring bears than guns, and it's significantly easier to use—most hikers won't have the skill needed to draw a pistol and hit a charging grizzly.
Ultimately, as a thru-hiker, you must decide with all of your gear whether there is a lighter weight alternative that will still perform the functions that you need to survive and thrive out there. In my opinion, that goes for firearms too. The vast majority of thru-hikers conclude that they feel safe from wildlife and other humans by carrying other types of gear—including knowledge in their heads on how to deal with suspicious humans or dangerous wildlife. There's a lot of planning, prep, learning, and skills that you'll need to do before going on a thru-hike. Most hikers find that adding a firearm into their gear list can pose more challenges than it is worth. 
—Snorkel