I Don't Want to Hike the PCT. And That's OK.
Is a hiking resume complete without a long-distance thru-hike?
Heading out the door? Read this article on the new Outside+ app available now on iOS devices for members! Download the app.
The morning sunlight peeked through the towering tops of Douglas firs, creating an ethereal atmosphere in the woods of Gifford Pinchot National Forest in southern Washington. My footfalls were muffled by the dusty trail, dry from the lack of rain, and a heavy dusting of rust-colored pine needles that make even the tap-tap of trekking poles nearly inaudible. 
It was quiet and cool in the shade, an occasional bird song audible in the distance, and when I stepped into the warm pools of light where the golden mid-morning sun bears brightly down, the intoxicating scent of pine was everywhere. Diffused by the heat of the sun, it was an almost palpable presence in the woods and meadows; another life form sweeping childlike through the tall grasses, into high branches, and between feet swish-swishing to the beat of 20 miles a day.
I breathed it deeply and called ahead to my hiking companion, exultant, to make sure she, too, had inhaled the intoxicating aroma of the woods, knowing all of this is far from novel for her. Just this weekend, "Possibly" celebrated her four-month trailiversary on the Pacific Crest Trail. I, on the other hand, had made the journey from Austin to the Pacific Northwest just to spend a few days backpacking with her and was delighted by every lichen-covered rock and moss-swaddled tree trunk.
But my motives for making the trip weren't as simple as wanting to join a friend for a few days' hike through the woods. I was scratching an itch, striving to answer a question I'd been asking myself for years: Do I want to thru-hike the PCT? Do I really?
It's a question my husband and I had vacillated over for some time. As an experienced backpacker with the flexibility that comes with being an outdoor writer, photographer, and YouTuber, it seemed a natural fit. Why wouldn't we take five months off to tackle one of the three longest scenic trails in the country? It practically belonged on our resumes. Especially since the first question strangers often ask upon hearing what we do is, "So have you done the PCT?"
It's a question that's always made me cringe. For starters, I've never wanted to "do" a trail, as if it were something to check off a list. I want to experience a trail, to explore it and let it leave its mark on my nature-loving soul. Secondly, I've never felt thru-hiking should be considered the end-all, be-all of hiking accomplishments. Is it an impressive feat? Absolutely. Should anyone who has completed a hike of this magnitude feel proud and worthy of praise? One hundred percent.
But are pride and adulation good enough reasons to plant a pair of Altra-shod feet onto the trail at the U.S.-Mexico border and start walking north? I wasn't sure yet. Which is part of why I wanted to join "Possibly" on the trail for a few days: to get an insider perspective on what a thru-hike was like, and attempt to decide once and for all if it was time to apply for a permit.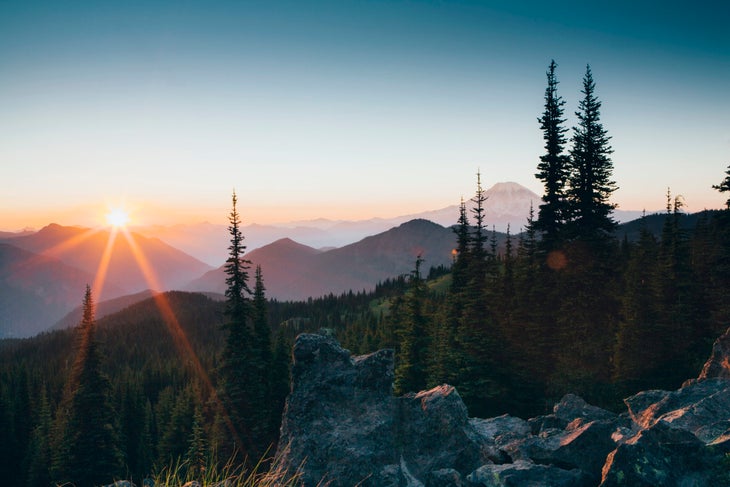 Aware that three days on the trail was hardly enough time to inform such a decision, I made the most of it. At PCT Days, an annual festival celebrating the trail and its thru-hiking culture in Cascade Locks, Oregon, in the days before the hike, I watched as thru-hikers spread quilts and boots in the sun to dry. I listened to talk of wildfire detours and resupplies, of 30-mile days and zeros well (or not so well) spent. I witnessed jubilation over restaurant-prepared food and the availability of cold six-packs. 
I listened at picnic tables and in circles of hikers sprawled on foam pads at dusk, headlamps hung around necks so as not to blind each other, and heard backpackers swear under their breath at the too-often-uttered platitude, "hike your own hike." They bemoaned friendships forged fast that had fizzled just as explosively and celebrated milestones and new shoes (their fourth pair) and 24-hour challenges that ended with monumental breakfasts.
I felt thrilled to be included in these glimpses into their struggles and triumphs, but few of them made me want to follow in their footsteps. Their photos, on the other hand, when strung together, one striking landscape after another, did activate a desire to spend days hiking from viewpoint to viewpoint, waterfall to mountain meadow.
On trail, I adored the woods, the views, and the cheerful camaraderie that occurs when several backpackers gather around a litter of canister stoves at dinnertime. But I was unaccustomed to the long days of hiking (13, then 20, then 14 miles; nothing for a thru-hiker) and lamented the all-too-brief rests at alpine lakes at which, if I were backpacking for days instead of months, I would sit and appreciate for hours.
It didn't take long before I began to realize that the reasons I love backpacking aren't congruent with a thru-hike. Though I tend to be a fast hiker, I love to quietly amble through the woods with mileage goals that allow for leisurely breakfasts, reading by headlamp light, and wandering down side trails to viewpoints and summits.
I love to sit and marvel at a view until I have painted a picture in my mind that will last in my memory for years. I backpack to let the serenity and quiet of nature work its therapeutic magic, to disconnect from the world, to wake up at midnight and gaze at the stars until my eyes mist over, to catch my breath at the majesty of mountains.
But when the first goal of every day is to check off miles, to make it to the next resupply, to reach the end of the journey before temperatures drop below freezing in the North Cascades, and keep to a schedule, constantly adjusting timetables in order to compensate for too many zeros, friends hiking off-pace, shin splints, or off-trail events—what I want out of time in nature is suddenly less achievable.
Not impossible, of course. Over the week I spent with thru-hikers, I met plenty whom the trail filled with joy and a sense of accomplishment. But I also realized that those hikers weren't me. And that hiking my own hike might mean not hiking the PCT at all. That realization was a burden lifted: I don't have to hike 2,650 miles in one go to feel like an accomplished backpacker. The greatest accomplishment is experiencing nature in a way that moves and heals me.
As I flew home, a purple haze hovered above the parched California landscape far below, quietly simmering into bands of pink, orange, yellow, and finally the dusty blue of dusk. It was a watercolor painting come to life in hazy, diaphanous tones. I smiled, content with the decision to leave the PCT as a nebulous possibility for some distant future. It's not a trail I will conquer next year, or the year after that. Someday, perhaps, but not now. And that's OK.