Growing Up as a Park Service Kid Was the Best Education I Ever Got
Takeaways from a thoughtful life spent outdoors.
Heading out the door? Read this article on the new Outside+ app available now on iOS devices for members! Download the app.
I learned to kayak at the same time I learned to walk. For the first few years of my life, my dad was a park historian on Isle Royale National Park, off the coast of Minnesota in Lake Superior, just south of the Canadian border. My family would spend summers on the island, and on calm days I would sit in his lap in his Old Town kayak and pretend to grip the paddle as he propelled us forward. This was the closest thing to daycare in my outdoors-obsessed family. 
As far back as I can remember, my dad has loved being outside. Often, it's the little things he enjoys the most—wolf tracks, bird calls, the changing seasons. My parents tried their hardest to share that love with us: Mom and dad took us on backpacking trips in Alaska, weeks canoeing in the Boundary Waters, and spring breaks on "vacation" to parks around the country. These adventures weren't technical or aimed at big objectives. My family spent the majority of our time batting at mosquitoes and slogging through muskeg, neither of which are glamorous in the slightest. 
I learned a lot on those trips, starting with the skills to take care of myself outdoors—layering, weather watching, first aid, navigation, pooping in the woods, and so on. Meanwhile, Dad moved up the ranks, eventually being promoted to superintendent of a small park in northern Minnesota, Grand Portage National Monument. He held that position for two decades before retiring in 2017.
My dad's goal was never to climb the ladder. He started his career as a backcountry ranger, rebuilding trails and answering questions from passing hikers. This enabled him to work hard, help others, and live simply. He cared little about the prestige of being a superintendent—he only wore his dress uniform two days in 20 years—but understood it was an opportunity to positively impact others.
For years I listened to and learned from my dad, picking up lessons big and small along the way. Here's a handful I still live by.
Enjoy The Adventure In Between
Every summer during childhood we would take a week-long family trip into the Boundary Waters in Minnesota. It was a production: two dogs, two canoes, two parents, two sisters, and a lot of gear stuffed in Duluth packs. We'd make pancakes and swim and stop in blueberry patches and sometimes get lost. We'd paddle further than most of the boy scouts on the lakes. Not once, on any trip, did we take a "zero" day. 
One day in particular stands out, from when I was 12 years old. I was tired and hangry, having paddled into a headwind for most of the afternoon, when we found a campsite. A small cedar grove, a smooth sheet of basalt running into the pristine lake, a flat tent spot and a ring of log benches around a fire. It was perfect! Or so I thought.
I looked over at dad, who was gazing into the distance. He didn't say a word. I could feel the curiosity beaming out of him and instantly knew we were continuing on. I don't remember where we ended up staying that night, but it's immaterial. I've spent the last 25 years emulating that look, trying to find meaning behind it. Eventually I did: The end destination isn't as important as enjoying the adventure in between.
Find Joy In The Small Things
Growing up in St. Paul, Minnesota, dad didn't have easy access to the snow-capped peaks of the West like I do now. He didn't grow up with a National Park in his backyard, or anything close to it. As a kid, being outside meant sneaking onto the neighborhood golf course, shoveling snow to play pond hockey, and summers at a YMCA camp. Still, he built a love of the outdoors as deep as anyone.
Dad fell in love with wilderness during college in Missoula and during summers building log cabins on Lac Seul, Ontario. River trips with friends, hopping trains to get home to Minnesota, and backpacking in parks like Glacier made an impression on him. He was happiest outside, which led him to an entry-level trail building job for the Park Service 
Dad is able to find joy in almost anything outside. It doesn't matter if it's on an epic trip or just fixing a fence, he's equally content. This isn't how most people operate these days, but I've come to appreciate it more with age. Funneling his wisdom, I've learned to not predicate my joy on accomplishments, like summiting peaks or skiing a big line. Instead, I try to find it in every moment I'm outside, no matter how small.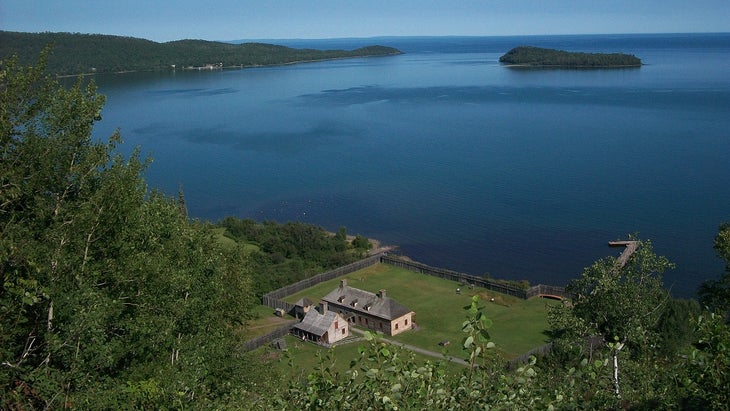 Invest Wisely
Recently, while chatting about long-term investments, I asked dad about the best way to spend $100. He laughed, then responded. "Probably Forest Service permits. Maple sugaring, harvesting downed maple for firewood, and wild ricing are each around $20. That's the best ROI anyone can get." 
That, in a nutshell, explains both my dad's values and why mom manages their joint retirement account. It's not that he doesn't care about money, but that he cares more about other investments, like where he puts his time and energy. Dad worked for the Fed his entire career—from backcountry ranger to the boss of a park—not because of the paycheck, but because he cares about wilderness and his connection to it.
Of course, the most valuable thing you can invest is time. When I asked dad about the importance of place, he responded, "The most glorious thing about working for the Park Service is where you get to live, so I always tried to drink that in. It's an experience most people will never get.
Of all dad's lessons, this, admittedly, was the hardest for me to learn. I've yet to find a place that called me like the boreal forest of northern Minnesota did for him. I lived as a nomad for five years, chasing adventure anywhere I could. Knowing a place takes years, maybe lifetimes. It takes watching patterns, season after season. Dad knows the date when each bird will return to the feeder outside their living room window in the spring, because he's spent decades in that place. Hopefully I'll be as lucky to do the same some day. 
Remember Those Who Came First
By accident, at least initially, dad learned about the Tribal Self Governance Act of 1994. It, in theory, gave Indigenous tribes a role in national parks through co-management of resources and policies. However, it had never been put into practice.
Dad saw an opportunity to take this critical step forward, returning part of the value created by the park to the Indigenous community that had lived here for centuries. Just a few years later, Grand Portage National Monument and the Grand Portage Band of Lake Superior Chippewa established the first co-management agreement in the country. My dad worked with Norman Deschampe, the tribal chairman at the time, to initiate it. Isle Royale, Canyon de Chelly, Glacier Bay, and Big Cypress have since followed suit. 
"It was a no-brainer," my dad says. "It added Ojibwe perspectives, approaches, and history into the park, and we both were able to bring in more funding."
Together they worked on projects like the preservation of historic structures, ethnobotanical restoration, construction of a LEED Platinum dormitory, archeological excavation, wildland fire activities, timber stand improvement, and moose surveys, totalling over $27 million from the federal government.
This made a big impression on me, even before I could articulate what it meant. I was in middle school as dad was fighting red tape to get this agreement in place. He knew this was their land, and we were just lucky to be here. This wasn't lost on me: If you love to visit beautiful places, make it a point to recognize and listen to their original inhabitants. 
You Don't Need That Fancy Thing
Akin to the separation of church and state, dad believes there is no place for capitalism in the outdoors. More stuff isn't going to improve your experience— in fact, he'll say, it'll probably make it worse. Outdoor media often focuses on faster, bigger, newer, lighter, and tougher, but this is capitalism in another form. Anytime I find myself sliding into this realm, dad reminds me to just go for a run outside, wherever I am. Often that's all I need—an hour or less or sweat on my face and dirt on my shoes— to remember you truly need almost nothing to be happy.