Getting a Dog Taught Me to Love the Outdoors All Over Again
How hiking with my canine companion gave me a new perspective on adventures.
Heading out the door? Read this article on the new Outside+ app available now on iOS devices for members! Download the app.
I was on a Backpacker winter gear testing trip when I knew I was ready. It was five days of skiing and camping in Oregon's Wallowa Mountains. Cotton candy sunsets and perfect corn turns punctuated the long skins, sticky snow, and frigid nights. There was plenty to be blissful about: great food, cheerful company, and a snow-blanketed mountain range seemingly to ourselves. And yet my favorite part of the trip? Our guides' two golden retrievers, who accompanied us on every tour. 
Luna and Sadie rode shotgun into our basecamp on their owners' snowmobiles. They trotted alongside us on every ascent, and when it was time to descend, they barrelled down each pitch with such displays of joy that I fell instantly in love. 
I grew up with dogs, and have always known I'd have my own some day. But having just turned 25, my future felt too uncertain to make such a long-term commitment. Luna and Sadie, though, flipped a switch in me. They were the perfect adventure pups: playful, obedient, and complete rippers on the snow. Plus, nothing is better than a warm puppy snuggle on a winter night in camp. As soon as we got back to town I turned on my phone and began scrolling rescue sites. I didn't want just any dog; I wanted one who would love to play outside as much as I do. 
Six months later, Juno came home. She was an 8-week-old border collie mix. Throughout my search for the right pet, I'd been adamantly opposed to the idea of a herding dog; too much energy, I thought. But as soon as I saw her photos, in which she looked simultaneously like an innocent stuffed animal and a little maniac, I knew she was mine. 
Few of my friends had dogs. They're too much work. It would hold me back, they'd say. Like many 20-somethings living in Boulder, Colorado, we spent every winter weekend on skis and every summer one on the trails. After-work hours were for bike rides or climbing sessions. We could decide on Friday afternoon to make a spontaneous trip to Moab or Crested Butte and be in the car by 5. Would getting a dog change all that? 
Juno's homecoming brought a wave of joy into my life. She was adorable, fun, and remarkably well-behaved. We bonded right away. But on my second Saturday with her, I got my first dose of FOMO. My boyfriend and roommates were all out riding bikes and doing non-puppy-friendly activities. It was a gorgeous fall day, and I was home—something I was unaccustomed to. 
So I called up a friend and we planned a last-minute hike to nearby Lake Isabelle. Juno, then too young to walk more than a few minutes on her own, rode in a makeshift carrier we rigged with a daypack and towels. As soon as we arrived at the alpine lake and I let her out to explore, my FOMO melted away. Late afternoon sunlight sparkled off the water. The little ball of fluff awkwardly clambering over the talus had stolen my heart. I wasn't on my bike or on a spontaneous overnight, but I was experiencing a new brand of beauty.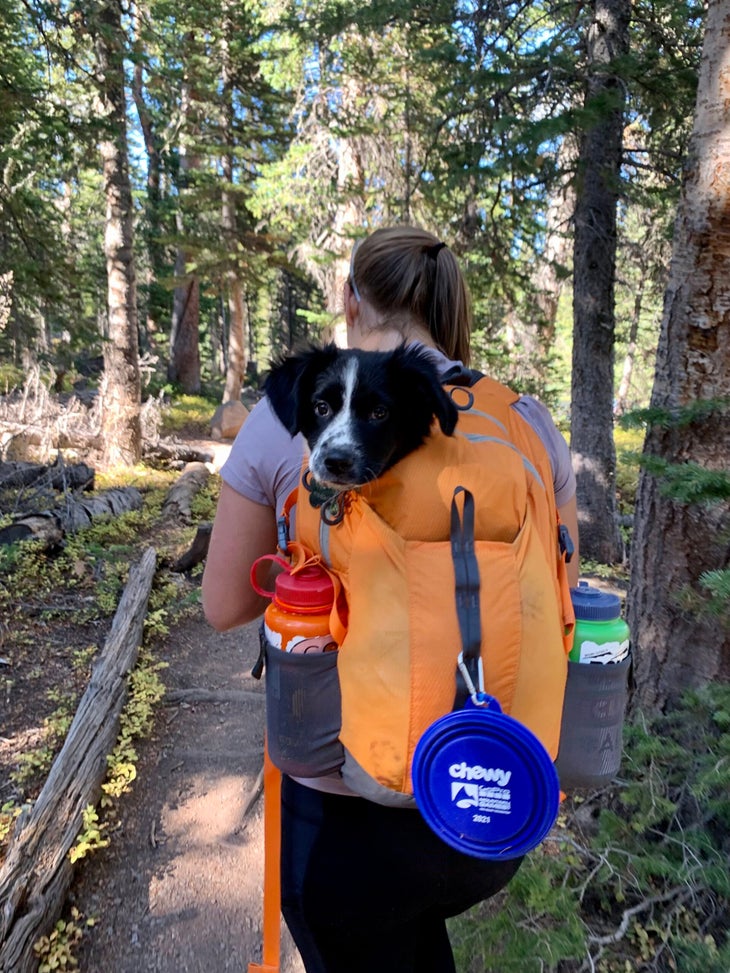 Juno has been in my life for a little over a year now, and I've fully embraced the "my dog is my personality" mentality. Even as ski season ramped up, I didn't experience an ounce of regret about adopting a puppy. Every morning, she'd greet me by baring her puppy teeth into a little smile. She quickly became beloved by all my friends, who spoiled her with new toys and Starbucks pup cups. And while I may have had to cut a few backcountry tours short to race home to her (and her signature full-body wiggling greetings), life with a dog has given me a whole new perspective on time spent outside. 
Rain or shine, the first thing I do every morning and the last thing I do before bed is step outside for a walk, whether I like it or not. I've stood under the stars more nights this year than I ever have, even if from the sidewalk outside my house. I gained an appreciation for the nature outside my doorstep and for the early-morning sunlight I'd normally sleep through. Juno and I have stopped to observe countless squirrels, and we never miss a chance to walk through the community garden and sniff the flowers. Thanks to Juno, I also got to know my neighbors. She encourages me to get up from my desk at least once every day just to appreciate the fresh air. 
The weekend warrior mindset values quality over quantity—go epic every weekend, then white knuckle it through the workweek until Saturday rolls around again. But with Juno, I've learned to treasure the small moments outdoors every single day. 
We recently moved to a new town in a state I'd never even visited before. Thanks to Juno's exercise needs, I've discovered miles of enchanting local trails that I would have otherwise overlooked for the mountains a few hours away. With her, any random Tuesday lunch break can become an adventure. When I'm tempted to lie on the couch and watch TV, she encourages me to grab the leash instead. We're both better for it.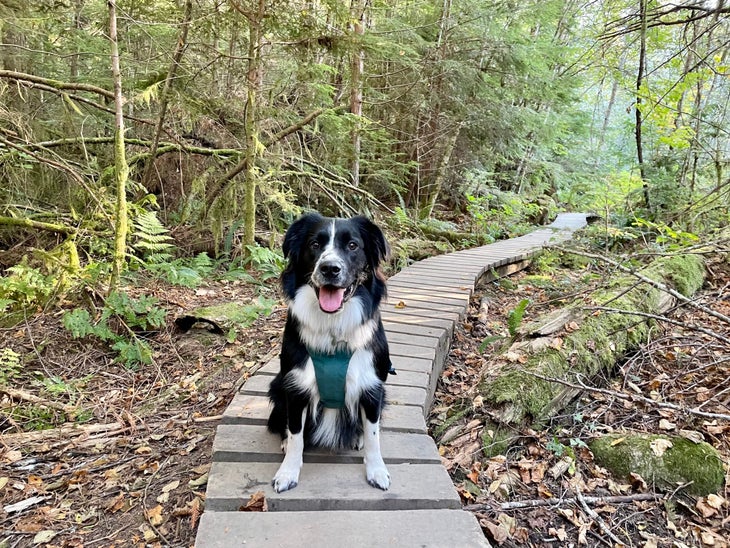 Having a dog doesn't mean I have to sacrifice my time outdoors. In fact, it's been the opposite: I'm lucky that she loves to be on the trails as much as I do, and watching her explore nature adds a new dimension to adventures that I never thought possible. At only a year old, Juno's driven across the country with me five times. She's gone rafting, skiing, backpacking, and swimming. Big trips might require a little more planning, but it's worth it to have my best friend by my side. And as soon as she learns not to bite bike tires, we'll swap out afternoon walks for trail rides. By adopting a dog, I didn't lose out on outdoor experiences. I gained the best kind of adventure partner—one who's always positive, can outrun me any day, and is darn cute. And I wouldn't trade that for the world.