Ask a Thru-Hiker: I Just Finished My Thru-Hike. What Now?
Finishing a 2,000-mile hike is tough. But for many thru-hikers, coming back to the "real world" afterward is even tougher.
Heading out the door? Read this article on the new Outside+ app available now on iOS devices for members! Download the app.
Dear Snorkel,
I just finished my thru-hike and am feeling aimless. After a season on the trail, everything seems less meaningful here back in the "real world." What should I do next with my life?
—Feeling Blue
Dear Blue,
You're not alone. On a thru-hike, you only have to worry about going in one direction (usually north or south). So it's natural to feel lost when you're trying to acclimate back to off-trail life.
Unfortunately, the return to the "real world" doesn't present us with goals as straight-forward as thru-hiking. But it is possible to take the lessons we learn from the hike and forge our own pathway. 
First, self-care after your thru-hike is of the utmost importance. Slipping into post-hike blues (sometimes called "post hike depression," though it isn't a clinical term) is a real possibility. Familiarize yourself with the signs, and tactics to address it, and then read on.
Next, I've found that keeping myself busy after finishing a hike gives me space to transition from my hike back into the "real world" so I can figure out what I want to do next. 
If you don't have one already, think about getting a temporary job. Many thru-hikes end before the holidays, where the demand for seasonal work is high. My thru-hiking friends and I have found that jobs like being a UPS runner (the person who runs packages from the truck to a doorstep) can capture some of that feeling of constant movement and purpose found in a thru-hike. Restaurant servers walk miles per day, and are in especially high demand right now. 
"I'll tell you right now: the local day-hiker's club isn't going to give you the same thrill as hiking back-to-back 20-mile days with your trail family."
Leave yourself space to process: One of the most important steps after a thru-hike is taking the time to reflect on the experience. To get the most out of our experiences, we can't just do the activity, but we must reflect and apply what we learned to the rest of our lives. Often, this means answering tough questions and sharing your answers with others. What did you like about thru-hiking? What didn't you like about thru-hiking? What did you learn about yourself on trail? What gave you purpose before your thru-hike? What kept you motivated during your hike?
The next step is to take those reflections and lessons from the trail and apply it to your life outside of hiking. Did you value having a community of like-minded people when you were on trail? Think about how you can find a similarly-minded community of people where you live right now. Maybe you can mimic those good feelings by joining a hiking club, amateur sports league, or a gym with group-based exercise programs. While exercise-based groups are an obvious way to mimic community on the trail, they aren't the only way. Consider joining a volunteer group that delivers food to those experiencing houselessness or one that walks sheltered animals. Volunteering can also get your body moving and help you build community.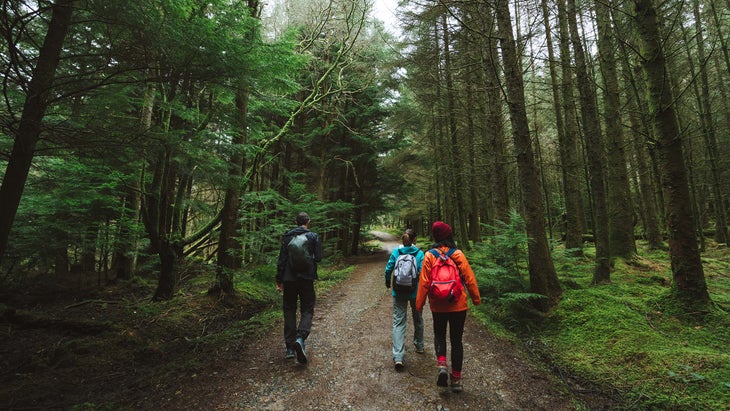 Most importantly, give yourself the time and space to find your rhythm. I'll tell you right now: the local day-hiker's club isn't going to give you the same thrill as hiking back-to-back 20-mile days with your trail family. But just like being on a thru-hike, part of what makes it work is just showing up and keeping it up. You may recall that your first days on your thru-hike were difficult. Perhaps you even considered quitting. But you kept at it and that made all the difference. The same can be said for joining a new hiking club, sports league, group-based gym, or volunteer program. 
You aren't alone if you decide that the next thing you want to do is go on another thru-hike. Many thru-hikers—myself included—celebrate finishing a hike by planning out our next big goal. Planning and saving for that hike gives us the direction we need. Many others, though, realize that they got what they wanted out of their hike and are able to find the direction they need to move forward in the "real" world.
Both conclusions are fine. What matters is that you take the time to reflect, process, and apply the lessons of hiking to your life and find what is right for you.
—Snorkel