The Most Important Skill I Learned on the Trail: How to Live as an Openly Gay Man
In one of America's least visited national parks, I find my authentic self.
Heading out the door? Read this article on the new Outside+ app available now on iOS devices for members! Download the app.
At Backpacker, we believe that the trail is for everyone. In honor of Pride Month, we're sharing this member-only story with the whole world. Want more essays like this? Become an Outside+ member and get unlimited access to everything we publish, plus training plans, event entries, and more.
A late September chill tinges the air as I gather my gear and start down to the water taxi rendezvous point. I've been coming to Ross Lake in North Cascades National Park every year since I was in the Navy, more than 13 years ago, and over that time this landscape has become hallowed ground to me. 
It was here that I started to figure out my role in the world, how to overcome the challenges I've faced, and, more importantly, how to live an authentic life as a gay man. This morning, the trees shy with the first blush of autumn, and leaves adorn the trail like flower petals at a wedding. It's a painful reminder that my own wedding was cancelled earlier this summer by the pandemic. My fiancé intended to join me on this trip, but couldn't get away at the last minute. And so, as I've done for years, I go alone.  
After 1.5 miles, Ross Lake comes into view and my entire being releases the tension that builds up in daily life. I use the telephone mounted nearby to call Ross Lake Resort and request the water taxi I reserved. Minutes later the boat arrives and we fly across the lake's calm surface at more than 20 knots. Soon, the North Cascades backcountry comes into view: mountains on all sides, their peaks sharpened to points above forested slopes.
As the boat captain drops me off at Desolation boat dock, we confirm my scheduled pickup time tomorrow. Then he's off and I'm alone once again. Waves of worry wash over me, like they always do in moments like this. What if the people at the resort look me up on social media and find out I'm gay? What if tomorrow's boat captain doesn't like my kind? 
It's dangerous to be on your own in the world. It's dangerous in the open. For centuries, gays were forced by society to perfect the art of camouflage, of invisibility. 
Here, under the pines, I'm greeted only by mosquitos and their unrelenting thirst. Soon, I come to a crossroads. To the left is Desolation Lookout, my destination. To the right is Lightning Creek, the first place I saw in this wilderness 13 years ago. A Navy buddy invited me on a trip here because of our shared love of Jack Kerouac's books, The Dharma Bums and Desolation Angels, which were set nearby.
It was my first serious hike, and going into the unknown that first time conjured equal parts exhilaration and dread. I had to rely on my friend for everything, which stoked my old internal battle between hope in others' goodness and fear of my own naivete. But from the lookout on the summit, I only felt joy as I fell completely in love with the backcountry. 
Soon these wilds became my escape from a world of discrimination, the place where I could heal from ugly experiences. I served in the Navy during the era of Don't Ask Don't Tell and stood up as a witness in the trial of a petty officer accused of sexual assault. In so doing, I was officially outed as gay. This placed me at the mercy of an unjust policy and made my sexuality the focus of a trial, rather than the allegations against a man accused of sexually assaulting a handful of men, including my boyfriend. The fact that who I love could cost me my career made my place in this world clear. And so I worked hard to find a place apart.
The following summer, as my interest in backpacking grew, I worked hard to become proficient at building fires. To get a good flow of air, I'd create a little teepee of twigs and kindling, doing my best to nurture the fire until it could sustain itself. I'd place the logs just right, so as they burned, they'd fall into themselves. The better I got at starting fires and keeping them lit, the warmer I would be in the cold of the night. Learning how to handle myself in the woods was my first step in self-care—a revolutionary act in my life—and the outdoors was the place where I first learned how to do so. The hundreds, if not thousands, of hours that I spent on trails in the subsequent years helped my body work out the trauma of my lived experience and gave my mind a quiet space to find the acceptance of all that I had been through. To find acceptance of myself. 
As I head up from Ross Lake, I see pine needles suspended by spiderwebs that gently wrap around my forehead and bare arms. No one has been on this trail today, maybe not even this week. Further uphill, the canopy starts to thin, and I walk through curtains of sun rays in a grove of hemlock. The mosquitoes have relented, and I climb higher still toward Starvation Ridge to look down on Ross Lake. 
I make it to Desolation Camp and set up my tent in a copse of subalpine fir. On a boulder overlooking the lake, I take a break and feel a deep sense of belonging. Somehow over the years I've carved out a space to be openly myself. I've fought hard for my rights and the rights of others by marching, lobbying legislators, and protesting a military policy by telling the truth when it was illegal to do so. In the wilderness, I've learned self-reliance and the confidence not to hide, and I rely on the wilds to restore me in times of trouble. I know I'll need it in the future.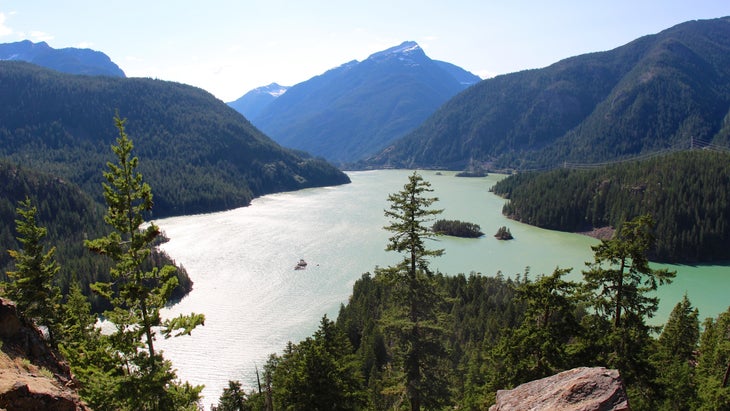 My fiancé and I plan on marrying and having children. Today, when I am alone, I can still pass as a straight, white man. When we marry and have children, we will be committing to being open for the rest of our lives, everywhere we go. What challenges will arise when I want to share this wilderness with my family? Will those we encounter on the trails support us? Will we be safe as we explore outdoor spaces in small towns across the country? Of course, beyond my own experience, there are much more pressing questions of whether this country will continue to support same-sex marriage, and with it, the opportunity to adopt children.
After setting up camp, I start the last leg of the trek, up another mile and 800 feet of elevation. At the mountain's legendary lookout—a single room cabin, painted white with propped up shutters and windows on all sides—I find the man whom I'd corresponded with over the winter when I set up this trip. His name is Jim Henterly, and he was the subject of a beautiful short film came out in early summer 2020 called Ode to Desolation, which tells the story of his life as fire lookout. He invites me inside. The interior is painted a shade of mint green called Irish meadows. It has a small cot, an even smaller oven, a desk, books, and a fire finder. As I look at the stickers and quotes that decorate the walls, we chat about the importance of the wild places of earth and how they are vital for future generations. His words strike deep in my psyche: "I think we are all in essence pilgrims seeking our truest nature and that of the world, and nowhere is that pilgrimage more successful than in wilderness."
We look out the windows to the panorama beyond. There are peaks in all directions, in layers of ridges. To the southwest is Luna Peak, at 8,310 feet tall the highest and most notable in the Picket Range. Earlier this summer I embarked on a quest to climb Luna with a Seattle climbing club. Our group had to navigate off-trail, bushwhacking and route finding. I felt more animal than human. Off-trail, you look for the path of least resistance. In the dense, demoralizing bramble of devil's club and slide alder, the feeling of being lost was suffocating. But then we saw logs turned to mulch from footsteps, snapped branches and twigs, bushes with ripped leaves. Anyone who had gone before us made the route finding that much easier. I hope to do the same for those who follow my path here and as a part of society. 
Back at Desolation Camp, I prepare a freeze-dried dinner while sunset perches on a ridge over Ross Lake. Over the years I've learned that self-care is self-reliance. Both are not only acts of resistance, but of self-determination. Emerson famously said, "To be yourself in a world that is constantly trying to make you something else is the greatest accomplishment." It's taken me years in society and in the wilderness to attempt to put Emerson's words into practice. In the wilderness, there's space for your fear and your grief. There's space for your anger and your joy, and there's space for your tears. But most of all, in the wilderness there's space for you to find your own sort of peace. 
Alone on this ridge with the wind blowing gently and the sunset starting to fade, I realize I hold the peace I've been searching for. It's inside me, in the middle of it all, and out in the open.