A Record-Setting Hiker's Best Advice? Know When to Quit.
Bro, I'm straight up not having a good time.
Heading out the door? Read this article on the new Outside+ app available now on iOS devices for members! Download the app.
We are in the age where influencers promote "the grind": a lifestyle where you suffer through a world of discomfort to get to the finish line, no matter what. At least on the trail, that's an all-or-nothing, toxic, terrible mindset. The backcountry isn't a CrossFit gym to measure yourself against the person next to you. It's a wild and changing environment. There are times when you grit your teeth and push ahead, but there are also times when quitting is your best option. There are many reasons to quit or change plans, and doing so doesn't make you any less of a hiker. 
In the fall of 2021, I went for a new fastest known time on the Superior Hiking Trail (SHT). Like on every FKT attempt, I dove right in and went for it, motivated and moving well, starting off at over a 50-mile-a-day average while carrying six days of food. But by day three, it turned into a slog. I was having no fun and felt like I was pushing toward a record for the wrong reasons. The allure of speeding down the trail and having the accomplishment was more enticing than the actual process of doing it. So, I quit. My mind and motivation were overwhelmed with other factors in life, and my headspace was off. What is often an enjoyable experience on the trail became a chore to move forward at a breakneck pace and I wasn't into it. Deciding to end the sufferfest was a relief.
I hitchhiked 100 miles back to my car and spent the remainder of the six days I had planned for my FKT exploring Minnesota. I immersed myself in the fall colors, took in the views of Lake Superior, and experienced a region stretching far wider than a single trail. The end of one adventure led to another, and by the end, I wasn't miserable anymore. When I reflect on my experience in Minnesota, I remember the fun, not the misery. If I had gutted through the SHT in 2021, I would only remember the pain and be more hesitant to hit the trails again today. 
Safety isn't the only reason to turn around early, stop, or change plans. I gave up on the SHT record attempt simply because I wasn't enjoying the experience. My heart wasn't in it. I felt I was wasting precious days of my life grinding out something meaningless. It took three days of high-intensity effort to accept that I was in the midst of the beautiful Minnesota boreal forest, but I felt no gratitude, excitement, or motivation.
Quitting is rarely an easy decision, but it's often an important one with effects that reverberate beyond your current adventure. Make yourself miserable, and you won't just spoil the current trip; you'll also tarnish your passion and desire to backpack for years. 
Ultimately we should appreciate the backcountry as a place to disconnect and recharge. While there are many different ways to do that—from FKT attempts to short overnights—realizing when the grind has become a dreadful slog is an essential skill. It is as simple as reflecting on the experience so far and continually re-evaluating your options going forward. In order to keep vibes high on a trip, you can adjust mileage, add in stops, or just plain cut your trip short. Quitting is not a failure; in many cases, it is a sign of growth, maturity, and knowing yourself. And quitting doesn't mean you can't (or won't) come back another time.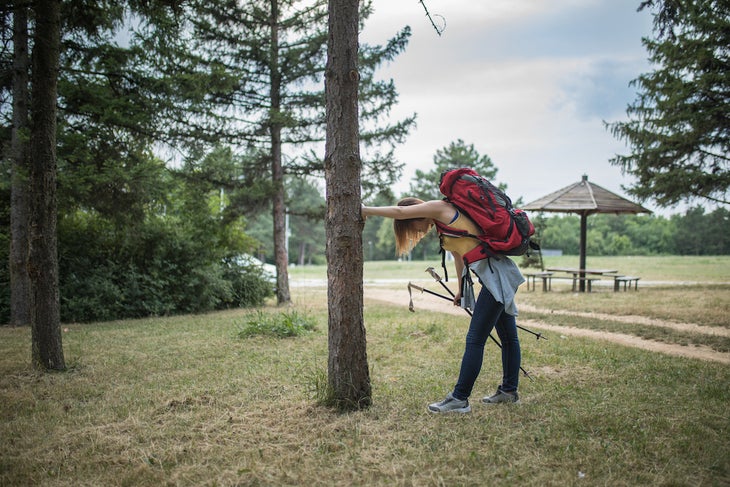 How do you know when to quit?
The biggest sign that I'm having a bad time is if I am looking for distractions beyond the current environment. By day three of the SHT, I was texting friends so frequently that my phone battery was almost drained. I was trying to find motivation from them instead of from within. 
This same thing happened during my Nolan's 14 record attempt. On top of the first peak, I had an asthma attack. After a few minutes of puffing on an inhaler, I ran on. By the time I reached the top of the second peak, though, I knew I wouldn't be able to muster the drive and focus to tackle all 14 peaks on the iconic Colorado route. I was anxious, and once again, out there for nothing other than accolades and accomplishment—not to enjoy the process. The "why" of this adventure wasn't standing up to the highs and lows of two sleepless nights bagging peaks. It was the first time I quit in the middle of a big attempt, and it was difficult to admit defeat and failure. But it was the right decision and showed me that even in the most audacious efforts, you have to have appreciation, gratitude, and happiness every step of the way.
Don't quit before you start.
While you should listen when your body and mind tells you to quit, that doesn't mean you should let them keep you from toeing the starting line. It may sound cliche, but "you don't know unless you try" has always been my motto. When preparing to attempt the John Muir Trail record, I dealt with a lot of fear and doubted that I was up to the challenge. But I compartmentalized it and showed up at the trailhead to give it my best shot. 
Within the first five hours, a funny thing happened: I found myself completely focused and present in the effort. Once I began the adventure, gratitude replaced the anxiety, nerves, and fear I held on to until that point. More often than not, I find my way to this mental state in the midst of an adventure. Each time I get nervous at the trailhead, I just have to give myself that reminder again.