A Letter to the Thru-Hikers of the Future
Personal air conditioning, new trails, a dozen new Leave No Trace principles: For Backpacker's 50th anniversary, we asked Triple Crowner and columnist Liz "Snorkel" Thomas to speculate about what thru-hiking could look like a half-century from now.
Photo: Jose Azel / Cavan via Getty
Heading out the door? Read this article on the new Outside+ app available now on iOS devices for members! Download the app.
This year marks Backpacker's 50th anniversary. To celebrate, we asked four of our favorite writers to write a letter to the backpackers of the future—specifically, to 2073, when Backpacker will turn 100 years old. Here, thru-hiker and columnist Liz "Snorkel" Thomas speculates about what the long walks of the future might look like.
To the thru-hiking Class of 2073,
I am so proud that with all the changes our world has seen, there are still people out there who want to go walk for months at a time. 
Don't get me wrong: I am not surprised you are still drawn to the calm of nature, the peace that comes from putting one foot in front of through changing seasons and ecosystems. Despite all the technological advances of your era, our human appreciation for the simple act of walking is what ties your time to my generation, just as it ties us both to the hiking legends of the past like Earl Shaffer and Grandma Gatewood. 
Some things have definitely changed. I can't blame you for the drone resupplies. How many times have I fantasized about having pizza delivered to a mountaintop? It reminds me of a Triple Crowner I knew, Brice Hammick, who finished thru-hiking the Appalachian Trail, Pacific Crest Trail, and Continental Divide Trail in the 1990s. He told me he understood why thru-hikers of my time were switching to navigating with our phones: "If I'd had it, I would've used it!" I know there's some entitled hikers who don't follow Leave No Trace Principle #26 about having food delivered only at trailheads. But I'm still jealous.
Speaking of GPS, it's so cool that when you look at a landscape, the chip in your eye (or is it in your brain? I'm a little forgetful these days.) shows you where the trail is! Even if the PCT in the Sierra is buried under snow or fog is bathing the AT, your line is right there. You can look off in the distance on the CDT and see the line switchbacking up Gunsight pass. You can zoom in on a mountain and never wonder "Which one of those pointy things is Tumanguya?" (Your old guidebooks may still call it Mt. Whitney.) But I bet it gets annoying always seeing that line. I hope you can turn it off occasionally and experience the unmediated wilderness. 
As a gear nerd, I'm drooling over your 2 pound base weight. Can you believe I used to carry 10 pounds?! That's why thru-hikers could only cover the length of a single marathon on a good day. My favorite piece of your gear is that temperature control bubble. I know at 4 oz, it's got a weight penalty, but I don't know how you'd be able to hike a summer afternoon on the AT without it. I personally would've dished out extra for the built-in bug zapper, though.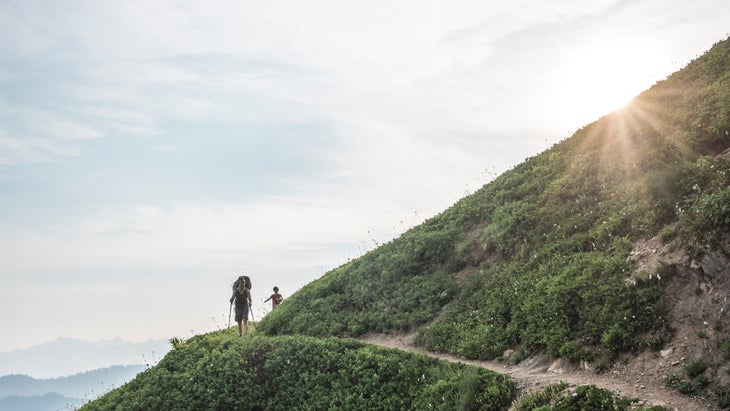 I wish that we had taken better care of our public wildlands for you. I'm sorry that so much of the PCT is burnt now. I promise you the trail once had great shady forests that smelled of pine in Oregon and Northern California. I'm sorry that it's been decades since a thru-hiker has known the joy of connecting their footsteps from Mexico to Canada in a single season. I wish you had been able to see the Arizona Trail (along with, well, most of that state). 
The solar wells seem to keep down your water carries through dry areas like the San Juans on the CDT, though. My respect and gratitude to the droves of trail maintainers who shore up flooding on the Ice Age Trail and North Country Trail. It's cool to see those northern trails have become the "it" place for thru-hikers!
Perhaps the most miraculous change of your era is the willingness of so many thru-hikers and trail town locals to work together with their hands creating and keeping up trails. You've really built a community around it. (The requirement to do a day of trail work to get a distance hiking permit really seemed to help.) My era never seemed to get it. Your culture values (and puts money!) into keeping up trails no matter what.  
In my day, it seemed like we were always trying to educate people about the physical and mental health benefits of hiking. Now, going for a long walk is a normal transition and rite of passage for the young and newly retired alike. Your generation got the memo: Nature works. Your cities and counties have built trails to connect neighborhoods and small towns alike to the great trails of the national trail system. I'm so proud that for people in 2073, the value of hiking, camping, and backpacking isn't in dispute the way it was for us. 
I can't wait to strap my pack on to check out the new long distance trails you all built in the regions that still have water–Minnesota, Michigan and Maine. I may be over 80, but I still have some kilometers left in me.
With respect,
Snorkel