"Don't Go Winter Camping," and 5 More Brilliant Winter Camping Hacks to Help You Stay Warm
Camping in winter will never be comfortable. Camping in winter will never be entirely safe. Sorry, we totally forgot where we were going with this.
Photo: Boy_Anupong / Moment via Getty
Heading out the door? Read this article on the new Outside+ app available now on iOS devices for members! Download the app.
Backpacking is serious business, except when it's not. Chuckle along in our semi-regular humor column.
Some people say that winter camping is a waste of time. They say that being cold for days on end is no fun, that no one actually enjoys it, and that winter hikers only do it in some kind of misguided attempt to prove how tough they are. And to that we say: nothing, because we don't need that kind of negativity in our lives. It's called self-care, look it up.
With that said, we can't deny that winter camping can be a challenge. But if you're one of those hardy souls who's ready to rise to it, Backpacker is here to help. We polled our editors, writers, strangers in the checkout line at Target, and some guy who keeps DM'ing us on Twitter (thanks, doctor_pigeons1982) for their favorite survival tips. What we ended up with is partially tested, mostly legal, and ready to rock your next snowy-season trip.
Find a Well-Protected Campsite With a Windbreak, Firewood, Four Walls, and a Roof
We know, we know: When you've been walking all day, it's tempting to just toss your pack down at the first open campsite you find. But resist the urge: While an exposed site might work during the summer, you'll need to be a little more discerning when it comes to winter camping. There's a few criteria you should look for in a good fourth-season site. If you're planning on having a campfire, you'll want easy access to firewood, each piece wrist-sized or smaller per Leave No Trace guidelines. You'll want to avoid low spots, where cold air gathers. Finally—and this part is key—you'll want your campsite to be inside a building, preferably with central heating. You don't need to be TOO picky—you can rough it with a bad paint job, ugly carpeting, or even no HBO Max. After all, what would winter camping be without a little Type 2 fun?
Boil a Nice, Hot Bowl of Soup and Pour it All Over Yourself
Need to warm up in a hurry? There's nothing like a nice, hot bowl of soup to help take the chill off. Save it for an after-dinner treat—you'll want to wait until you're just about to go to bed to get maximum warmth out of this tip. Simply fire up your stove and bring the soup of your choice to a rolling boil. Then, strip down to your sleeping layers and douse yourself in it from head to toe, soaking your entire body in a layer of fragrant, steaming hot soup. Now that's what we call cozy! (Contrary to what you'll read online, the caloric content doesn't matter—from a rich New England clam chowder to a simple, ultralight-friendly broth made from bouillon cubes, pouring any kind of soup all over your body will help you warm up.)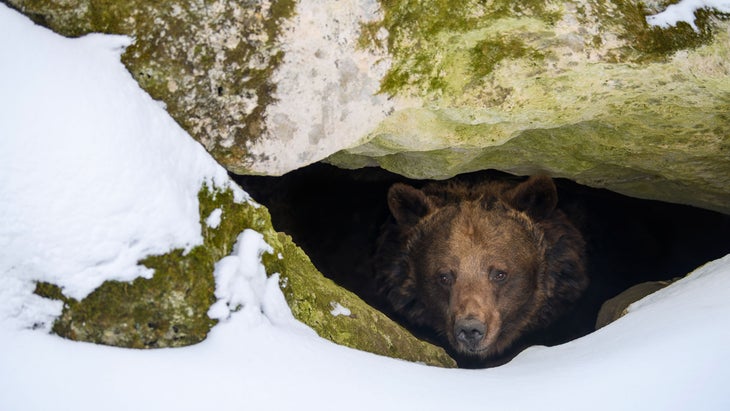 Cuddle With a Hibernating Bear
Both grizzly bears and black bears spend the winter months snoozing in excavated dens alone or with their cubs. Sounds cozy, doesn't it? Borrow a little bit of that ursine warmth by finding a den, crawling in, and making yourself at home. You'll want to be quiet: Any bear expert will tell you that bears don't technically hibernate, they brumate, and do sometimes wake up during the winter. (Ignore all that other stuff that they say about "bite wounds" and "fatality risk" and this being "the worst idea they've ever heard.") Bonus: No need to worry about hungry bears raiding your campsite.
Make Sure Your Friends Are More Miserable Than You
It's a basic principle of human psychology that we tend to judge our happiness in comparison to the people around us—the worse everyone else around us has it, the better we feel about our own lot in life. If all else fails, you can take advantage of that tendency by screwing up your friends' trip as badly as possible. Did they "accidentally" bring an empty fuel canister, forcing them to choke down a series of half-frozen cold-soaked meals while you chow down on steaming hot chili mac? What a weird coincidence! Did their sleeping bag "tear," sending down insulation floating around the tent like spindrift while they desperately try to duct-tape it back together? You feel for them, from inside your own 0-degree bag, but there isn't much you can do about it. Winter camping will never feel comfortable, exactly, but with every "delaminated" pair of boots or "forgotten" baselayer, you'll remember that it could be worse.
Make a Sacrifice to Xoggoloth, the Dread Lord of Winter
So you packed your warmest sleeping bag, your hot water bottle, and all the hand warmers you could fit in your pack, but you and your partner are still shivering in your tent, feeling your grip on reality slip away from you as the hours tick by? Try this Backpacker-exclusive trick for maximum cozylicious vibes: Make a sacrifice in the name of Xoggoloth, the horrid and ancient ruler of the icy wastes. It's simpler than it sounds! Just grab a down jacket, the higher-loft the better, and eviscerate it on an altar while beseeching His aid in the forbidden Frozen Speech. Soon, you'll notice you don't feel the cold at all! (You may also notice that your breath comes out in a flurry of snowflakes, you have icicle-like horns sprouting from your forehead, and you begin to melt as soon as the temperature rises above freezing, but look, Xoggoloth's blessing isn't free and overall, we think it's a pretty good deal.)