Died and Gone to New Zealand
Hiker heaven, redefined, is a month-long hike/paddle/camp in Adventureland.
Heading out the door? Read this article on the new Outside+ app available now on iOS devices for members! Download the app.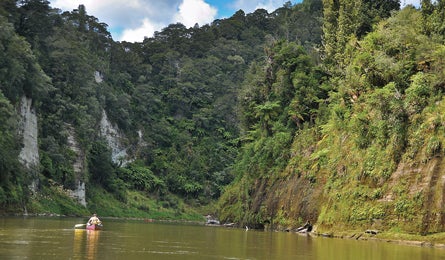 Whanganui River, North Island (Michael Lanza)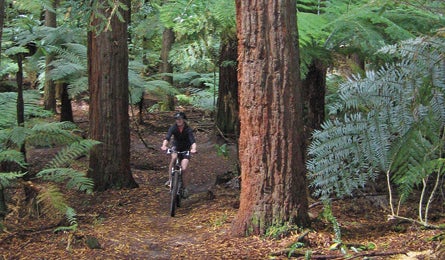 Mountain biking in Whakarewarewa Forest, North Island (Katie Herrell)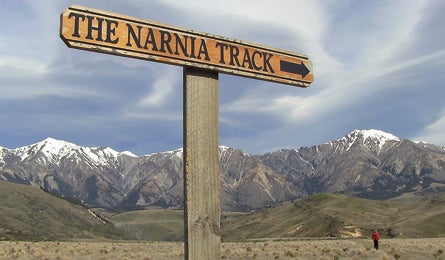 Narnia Track, South Island (Jonathan Dorn)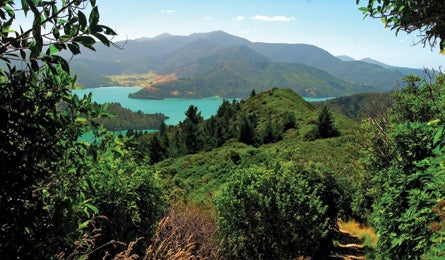 Queen Charlotte Track, South Island (Scott Bischke)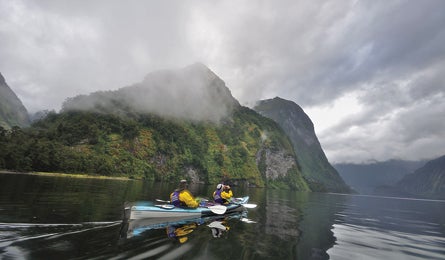 Doubtful Sound, South Island (Michael Lanza)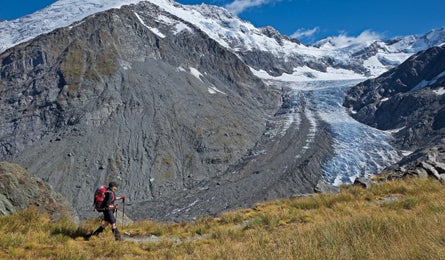 Rees-Dart Track, South Island (James Kay)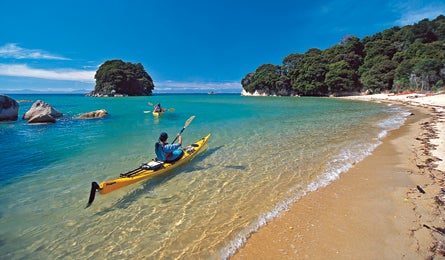 Abel Tasman Coast (David Wall)
Not that we're complaining, but it seems almost unfair that one country could have so much world-class terrain—mountains, beaches, fjords, volcanoes—packed into a landmass the size of Colorado. Yes, the adventure capital of the world has it all—including, unfortunately, hordes of trekkers seeking to tick the Routeburn and Milford Tracks off their bucket lists. But you can escape the crowds without missing the iconic scenery. We scoured both islands, consulted locals and guides, and sent two scouts into the field to create the perfect Kiwi vacation—a month's worth of adventures, no reservations required.
(Note: Daily cost per person in U.S. dollars based on double occupancy: $ <$50 $$ 50-100 $$$ 100-150 $$$$ 150-200 $$$$$ >200. See Kiwi Quick Start for more planning resources.)


THE WHANGANUI RIVER, NORTH ISLAND

Discover a local favorite: paddling through the heart of a Maori historic homeland.

Launch a canoe into the green waters of the Whanganui River and you'll understand why the native Maori believe that every bend in this stunning waterway had a mauri, or "life force." All along the 54-mile stretch from Whakahoro to Pipiriki— mostly within Whanganui National Park—sandstone and mudstone cliffs soar hundreds of feet out of the water, creating a nearly unbroken gorge of sheer walls draped with ribbon waterfalls and a jungle of foliage. Life force, indeed. You'll explore side slot canyons like Mangaio Stream, and well-preserved Maori villages like Tieke Marae—a cluster of huts with an ornately carved totem pole scowling over the grounds. The route also passes the infamous Bridge to Nowhere, a span built across a deep gorge after World War II to provide access to the river for Kiwi settlers—who eventually abandoned the remote outpost. At night, camp riverside (budget) or stay in a hut or lodge (luxe); either way you'll go to sleep with the sounds of exotic birds like the brown kiwi echoing through the trees. The class I-II river is straightforward for experienced paddlers, but some rapids are challenging in high flows. The last major rapid before Pipiriki is notorious for swamping canoes, although it's an easy-to-swim wave train (and can usually be avoided to river right). Got extra time? Paddle the entire Whanganui River Journey, a 90-mile, five-day trip from Taumarunui to Pipiriki; it's the only water-based adventure listed among New Zealand's vaunted Great Walks.
Do it The three-day trip begins at Whakahoro and ends at Pipiriki. Spend night one at John Coull Hut (inside or camp) at mile 23, and night two at Bridge to Nowhere Lodge (campsites are adjacent and across the river at mile 41). Guide/gear rentalcanoesafaris.co.nz and whanganuirivercanoes.co.nz. Guidebook/map Guide to the Whanganui River, $9NZ Info/huts/campsitesdoc.govt.nzCost $$*
TONGARIRO NATIONAL PARK, NORTH ISLAND

Explore a colorful moonscape in the North Island's geothermal hotbed.

New Zealand's first national park is no secret: On clear summer days, hundreds of dayhikers traverse the 12-mile Tongariro Alpine Crossing, where cone-shaped volcanoes tower above old lava flows and electric blue lakes. It's worthy terrain for shoulder- season trips, when traffic slows to a trickle, but in high season avoid the conga line. Instead, take this 12.1-mile loop that hits the route's highlights—and bags the summit of two volcanoes. Start on the Tongariro Alpine Crossing Track and follow it across a barren landscape of sharp-edged black rock for three miles, onto the broad saddle between Mt. Tongariro and Mt. Ngaurahoe. There, leave the standard route and turn south for the steep, loose, 2,000-foot, off-trail ascent of 7,516-foot Ngaurahoe—allow three hours out-and-back, and watch for rockfall. The volcano erupted 45 times in the last century, most recently in 1977, and it looks plenty active today: At the rim, explore whistling fumaroles belching out steam, peer down at crater walls wildly colored in black, gray, white, gold, and blood red, and get a view of neighboring volcanoes, including Ruapehu, the North Island's high point at 9,177 feet. After descending the way you came, cross South Crater and make the 600-foot climb onto the rim of Red Crater, with its sangria-colored rock and view of the glowing Emerald Lakes and Blue Lake. Follow the ridge west over the summit of Tongariro, where you'll find constant views of Ngaurahoe and other volcanoes. Continue west along the open, trailless ridge; at around 4,400 feet, descend south to cross Mangatepopo Stream and regain the trail back to the parking lot.
Do it Start before 7 a.m. or after 9 a.m.; most day-trippers arrive on buses between 7:30 and 8:30. Fog, mist, and strong winds are common; wait for a forecast of fair weather, with clear skies over the volcanoes in early morning. Campsite Stage your hike from Mangatepopo campground. Infodoc.govt.nz/parks-and-recreation/nationalparks/tongariroCost $
THE NARNIA TRACK, SOUTH ISLAND

Hike to Aslan's refuge on a picturesque sheep farm in the South Island's most-overlooked national park.

Smack in the middle of the South Island is a vast, verdant upland whose crown jewel is a lightly visited preserve known as Arthur's Pass National Park. The region teems with fluffy sheep that graze beneath mountain landscapes worthy of a Swiss postcard, and is split by the aptly named Great Alpine Highway. Midway along the highway is Flock Hill Lodge, a ranch so large its owners visit the back acres by ultralight helicopter. And threading across this working sheep station is one of our favorite South Island hikes. The 15-mile Narnia Track crosses tundra-like pastures ringed by snowcapped peaks, offering horizons you feel like you could hike towards forever and never quite reach. The rarely-hiked route also visits multiple filming locations from the C.S. Lewis classic The Lion, The Witch, and The Wardrobe. You'll pass under Aslan's Rock, detour into the valley where William rallied his troops against the White Witch, and cross a broad meadow where the production crew camped.



Do it Simply ask permission and get a map at the main lodge (flockhill.co.nz) before hiking the track. Cost $
QUEEN CHARLOTTE TRACK, SOUTH ISLAND

Go ultralight on the country's best coastal track.

Backpackers visiting New Zealand must thru-hike one of the great mountain tracks—the Routeburn, Caples-Greenstone, Milford, or our new fave, the Rees- Dart (next page). They deserve their reputation as bucket-list classics. But if you can spare another week, head to the north coast and fill your bucket to the brim. One of the South Island's best-kept secrets is this lush, 44-mile ramble along the pristine, sparsely populated coast of Marlborough Sounds. You'll wander through ancient beech forests bursting with exotic flowers and ferns, traipse sheep-worn paths across bucolic farms, awake to exquisite bird symphonies, and score ridgetop views of Keneperu and Queen Charlotte Sounds, the deep, sparkling fjords to either side. Roughly every six to eight miles, you'll encounter a small settlement—in some places, just a simple lodge, in others, a cluster of quaint homes and hotels. Backcountry campsites dot the QCT , but the perfectly placed lodges are a better choice. Besides carrying a lighter load, you'll get to dine on the region's famous Greenstone mussels—likely harvested hours earlier by a local fisherman—or local lamb hot from the grill.
Do it Take three to four days and hike the QCT from north to south, which allows the scenery to build. Book a ride from Picton to the trailhead on the Magic Mail Boat (beachcombercruises.co.nz), one of the most—well, magical—experiences in all of New Zealand. Part tourist attraction and part pony express, the ride features fascinating narration about the area's cultural and natural history, plus a taste of New Zealand-style wilderness living as you tie up at private docks in far-flung coves to deliver mail. The hike starts at Ship Cove, a boat-access-only trailhead where English explorer James Cook docked five times in the 1770s. From there, a two-hour hike leads to Furneaux Lodge, where you'll bunk in a dormitorystyle farmhouse or a private cabin, then eat fresh fish-and-chips in a rustic pub. On subsequent nights, we recommend the Punga Cove and Portage Resort trekker hostels (bunkrooms save money, but more upscale rooms are also available). To get back to Picton, arrange a boat pickup from any cove (Cougar Line Water Taxi, cougarline.co.nz); we recommend Mistletoe Bay, which is several miles short of the southern terminus but far enough to cover the QCT's prettiest miles. Info Get route info and all lodge contacts at qctrack.co.nz. Cost $$
DOUBTFUL SOUND, FIORDLAND NATIONAL PARK, SOUTH ISLAND

Sea kayak beneath soaring mountains in waters that scared off early explorers, with dolphins and penguins for company.

When Lieutenant (not yet captain) James Cook explored the wild southwest coast of the South Island, where long, deep fjords probe like crooked fingers into mountains smothered beneath rainforest, he feared trying to sail into this particular sliver of sea—he thought the prevailing westerly winds would prevent his ship from maneuvering back out. He dubbed the place Doubtful Harbor, and the name stuck. It should be called Certain Sound today, because modern explorers in nimble kayaks are guaranteed an only-in-New Zealand experience. Unlike better-known Milford Sound to the north, with its constant cruise boat and ferry traffic, the wilderness here is unchanged since Cook's time. Sheer granite walls erupt straight out of the sea to 4,000-foot summits, and fur seals, bottlenose dolphins, and nesting crested penguins thrive in the pristine environment. On a beginner-friendly overnight sea kayaking tour from Deep Cove to Hall Arm, on Doubtful Sound's often-glassy waters, you'll paddle beneath 1,000-foot waterfalls on cliffs so choked with twisted podocarp and fernlike punga trees that the occasional "tree avalanche" rips down the walls. Each day involves four to five hours of leisurely paddling, and the campsite alone is worth the effort: It sits tucked in the forest behind a secluded, rocky beach with a panorama of vaulted cliffs reflected in the water. In the evening, stroll to the beach for a southern hemisphere sky machine-gunned with stars, and look for Orion standing on his head (in summer).
Do it It's possible to BYO sea kayak for a DIY trip, but the put-in at Deep Cove is remote and requires a ferry ride across Lake Manapouri. Best bet: Go with Fiordland Wilderness Experiences ($399NZ/person including transportation and food; fiordlandseakayak.co.nz.). Infodoc.govt.nzCost $$$
REES-DART TRACK, SOUTH ISLAND

Hike through classic Southern-Alps scenery on a 37-mile route that has everything but the crowds.

Just 30 minutes after leaving the Muddy Creek trailhead, where this trek begins, expect to stop for a well-deserved photo session. The Rees Valley sprawls out ahead, golden grasslands dissected by a braided, meandering river. A fat waterfall tumbles over cliffs. Glaciers pour off a row of sharp peaks slashing at the sky. Most likely, you'll have the scene to yourself—setting the tone for this entire trip. Although just spitting distance from the world-famous Routeburn Track, with scenery copied and pasted from the same Southern-Alps template, the longer and more rugged Rees-Dart remains largely overlooked. Other than at the huts, expect to see almost no one else. A swinging bridge crosses the Rees River at mile 8.4, leading to a forest of moss-draped, twisted beech trees, where the ferns and greenery put Olympic National Park to shame. Stay the first night at Shelter Rock Hut, then ascend about two miles past tussock grasses and the daggerlike fronds of a plant called Spaniard, to 4,747-foot Rees Saddle. Time your arrival for morning or evening, when soft light makes the greens, browns, and grays glow on mountainsides where enormous fins of rock erupt from the earth. From there, descend steeply into a gorge wallpapered with waterfalls and cross the foaming Snowy Creek on a footbridge to reach the Dart Hut at mile 16. Allow an extra day at Dart to make the 12.4-mile, out-and-back hike to 5,000-foot Cascade Pass. The route follows the angry whitewater of the Dart River upstream, ascending hundreds of feet above the heavily cracked, dirt-streaked glacier that spews the gray river from its snout. The trail crosses a glacial moraine of rocks and dirt, where little more than mosses and lichens grow. In the open terrain, look for New Zealand's endemic kea, an alpine parrot that sings with a high-pitched chortle as it slices the air. Cascade Pass commands a sweeping view of the lushly green Matukituki River Valley. The sharp pyramid of Mt. Aspiring towers above the valley, and icy mountains stand shoulder to shoulder for as far as you can see. The next day, from Dart Hut descend the Dart Valley for 10 miles, through more otherworldly forest interspersed with meadows below glacierdraped peaks. Spend your last night at Daleys Flat Hut before the final day's 10 miles along the Dart River to the Chinamans Flat trailhead.
Do it Hike counterclockwise to have the strong downstream wind in the Dart Valley at your back. Don't attempt the trek during heavy rain; some creek fords become impassable. Start at the Rees trailhead (Muddy Creek) and end at the Dart trailhead (Chinamans Flat). The shuttle between trailheads is more than an hour long and rough, so park your van in Glenorchy and get transportation (starting from $70NZ per person, buckleytransport.co.nz or infotrack.co.nz). Pack a stove and cookware for huts on this track. Infodoc.govt.nzCost $$
KIWI QUICK START

Huts Use DOC huts (doc.govt.nz) for most tracks. Prices vary with services, but start at about $15NZ/night. Also, check the New Zealand Alpine Club huts (alpineclub.org.nz/hut). All are near life-list quality treks and packed with artifacts and guidebooks.
Maps Get 1:50,000 topos at outdoor stores or DOC offices. The Topo50 series covers both islands; maps cost $9NZ each: linz.govt.nz/topography/topomaps/topo50/sheets.
Guidebook Tramping in New Zealand, $22NZ, lonelyplanet.com
Infodoc.govt.nz; newzealand.com/us/
GPS data Get free tracklogs and waypoints for all of the trips listed here—and more—at backpacker.com/nz12.



HOW TO PLAN THE PERFECT ROAD TRIP

"It's a roving basecamp, rustic love nest, and budgetsaving bombshelter rolled into one," our editor-in-chief says of the cozy campervan he and his wife rented for their 20th anniversary trip to the South Island. "You can go anywhere, anytime, and never worry about waiting out storms in a tiny, sodden tent." The price of freedom— about $180NZ/ day for a two-berth campervan with shower, toilet, sink, microwave, refrigerator, and satellite TV—is less than you'd pay for a car-andhotel combo, with lots more storage space. Bring your own towels, and reserve an automatic transmission in advance if you can't drive a lefthanded manual. Rent fromkeacampers.com
PARK IT

Our scout's favorite South Island campervan sites

» Franz Josef Franz Josef Top 10 Holiday Park, mountainview.co.nz

» Mt. Aspiring/Wanaka Aspiring Campervan Park, campervanpark.co.nz

» Mt. Cook Glentanner Park Centre, glentanner.co.nz
DON'T MISS
Ride Rotorua, North Island

Flowy. That's the word locals use to describe the mountain biking in Whakarewarewa Forest. One-way singletrack careens through trees, with banked turns and well-marked drops that let you float through the landscape, barely pushing your pedals. Rent a bike in town, then hop a shuttle or ride fire roads to more than 50 miles of trails. Inforiderotorua.com
Vineyard Side Trip, South Island

Want proof that New Zealand produces world-class chardonnays? After your QCT trek, stop at one of Marlborough Sounds' climate-blessed vineyards and sample the crisp, fruity evidence. Allan Scott Winery (allanscott.com) also serves meals and packages bottles for shipping to the U.S.
Paddle Abel Tasman, South Island

Contrarian advice: Other mags lavish praise on the Abel Tasman Coast as a multiday trekking and kayaking destination, but we recommend a guided daylong paddle instead (Kaiteriteri Kayaks, $180NZ, seakayak.co.nz). You'll cruise within feet of seals, see thousands of shorebirds, and get a splendid sampling of the area's famous arches and aquamarine coves—without the crowds of campers and sand fleas.
Mt. Cook, South Island

Schedule some downtime at the DOC Visitor Center in Mount Cook National Park: It houses a fascinating adventure archive and the Old Mountaineers Café, which serves tasty organic sandwiches, beer, and hot drinks.
Canyoning the Routeburn, South Island

Think of it like a cross between bungee jumping and whitewater kayaking—without the rope or boat—as you swim/slide/jump/rappel down a slot canyon. This is Kiwi crazy at its finest—squeeze it in before or after the Rees-Dart Track. From $210NZ; canyoning.co.nz